How to Move from MailEnable to Webmail (cPanel) Account ?
Karen Chard
~ Modified: 03-06-2022 ~ How To ~ 5 Minutes Reading
Overview: Are you looking for a solution to transfer emails from MailEnable to Webmail account ? Or want to know how to move from MailEnable to cPanel account ? If so, then your finding end's here. In this article, you will get a method which directly migrate emails into Webmail account without any issues. So, keep reading this post to know more.
Email migration is something we do holistically. Recognizing that we think email is important, that's why we move from one platform to another. In addition, we restore old messages to webmail when it is important. Still, what happened when you want to move MailEnable Emails to Webmail.
Well, MailEnable is a mail server that provides secure email and collaboration services as compared to Microsoft Exchange. It is widely recognized as the most famous Windows Mail Server platform on the planet. MailEnable supports IMAP, POP3, and SMTP email protocols while being hostile to spam and offering antivirus for its customers.
If we talk about webmail, then it is an email service that can be accessed through a computer browser. Webmail is exceptional for individuals who like to move their lives forward and need adaptability. A large number of webmail's are free. This implies that you won't have to pay for the authority email service.
"Hello, I am utilizing MailEnable as my essential email server to oversee and text with others through messages. Presently, I want to move MailEnable to cPanel Hosted Webmail accounts because of some expert reasons. Since the cPanel Webmail account gives an authority name of each email account, that is the reason we really want to transfer from emails into the Webmail account. If it's not too much trouble, help me!!!!"
A Direct Way to Move from MailEnable to Webmail Account
RecoveryTools MailEnable Migrator is the only solution in the online market that offers a direct solution. One can easily move from emails from MailEnable to Webmail or cPanel Webmail account directly. The solution supports both Windows and Windows Server machines. You can download the solution by the below buttons.
Get the Solution Now:
Note: With the free demo version of this tool one can convert 25 emails to Webmail with all attachments. When they are fully satisfied, users can spend money to purchase license keys to export emails without restrictions.
Steps to Transfer MailEnable Emails to Webmail
If you need to move emails into a cPanel Webmail account, then follow these steps given:
Launch the solution on your computer.
Select the MailEnable files with dual mode.
Choose the required email folders from the list.
Select the Webmail option in file saving options.
Start the process to move from MailEnable to Webmail.
How to Migrate Emails from MailEnable to cPanel Webmail Account ?
First of all, you need to get and install the solution on your computer.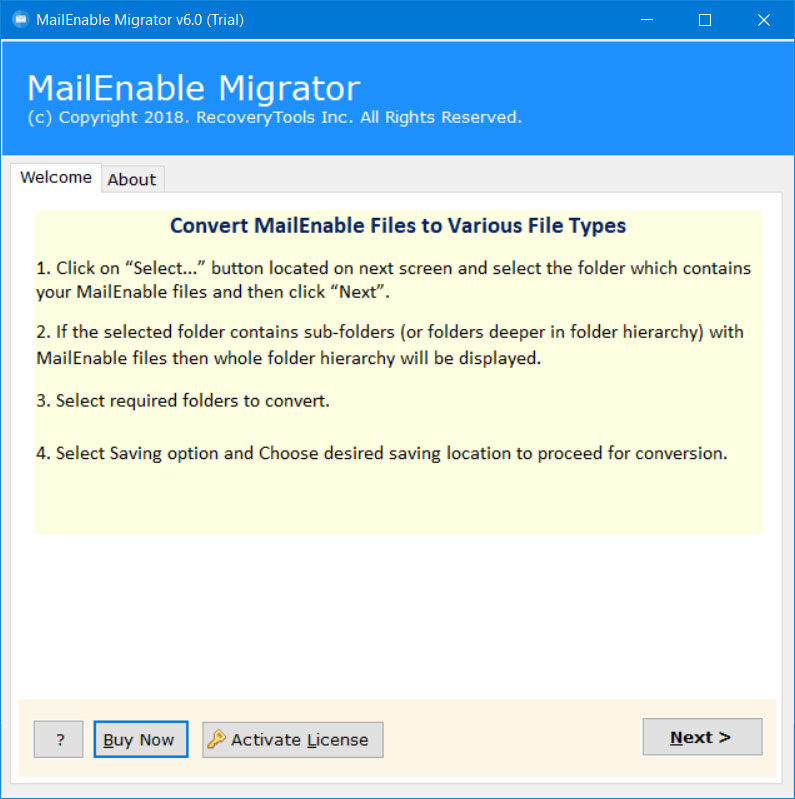 Select the MailEnable mailbox files with dual selection options.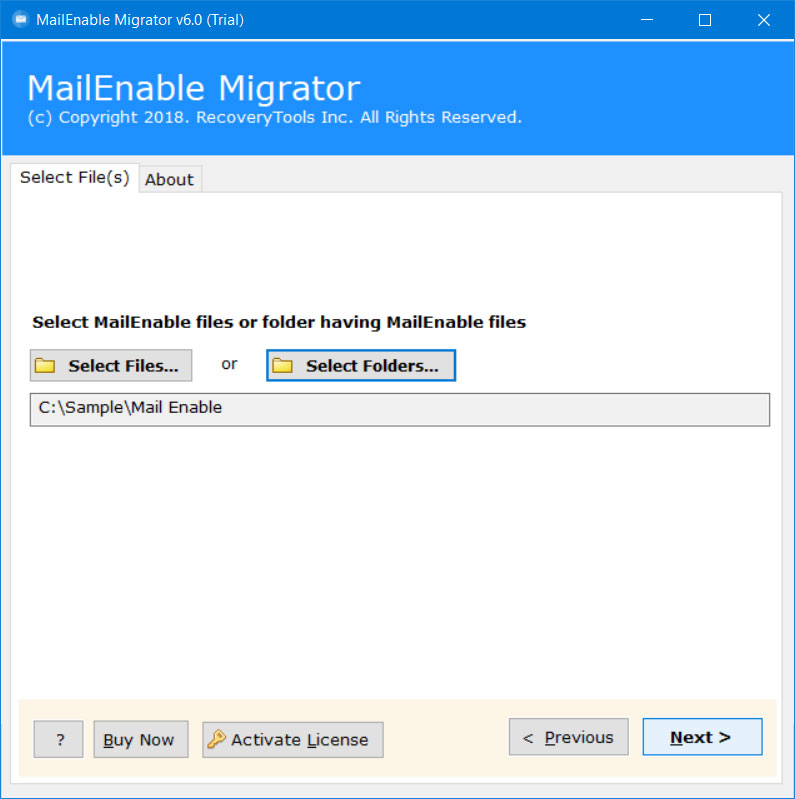 Choose the required email folders from the list of given folders.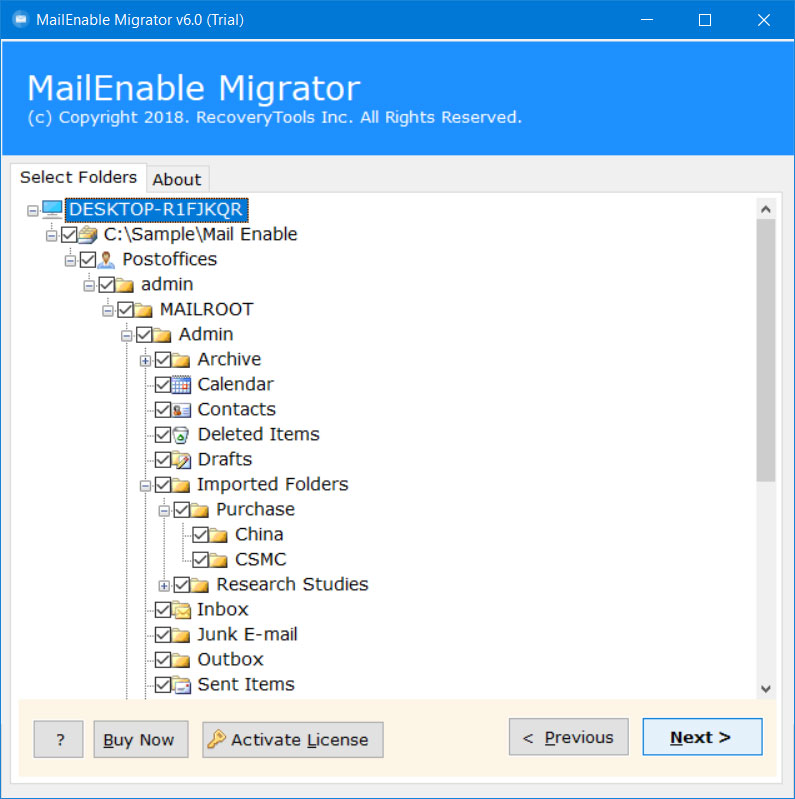 Select the IMAP option in the list of file-saving options.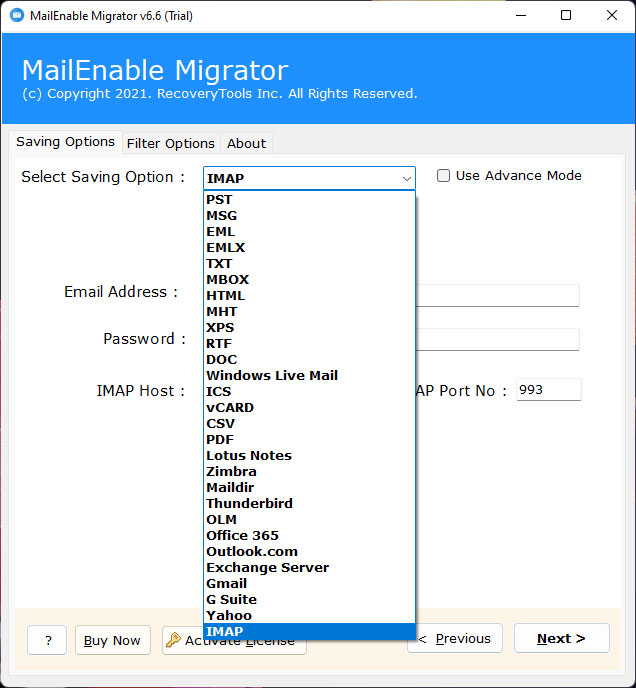 Choose the additional filter options for the selective email migration process.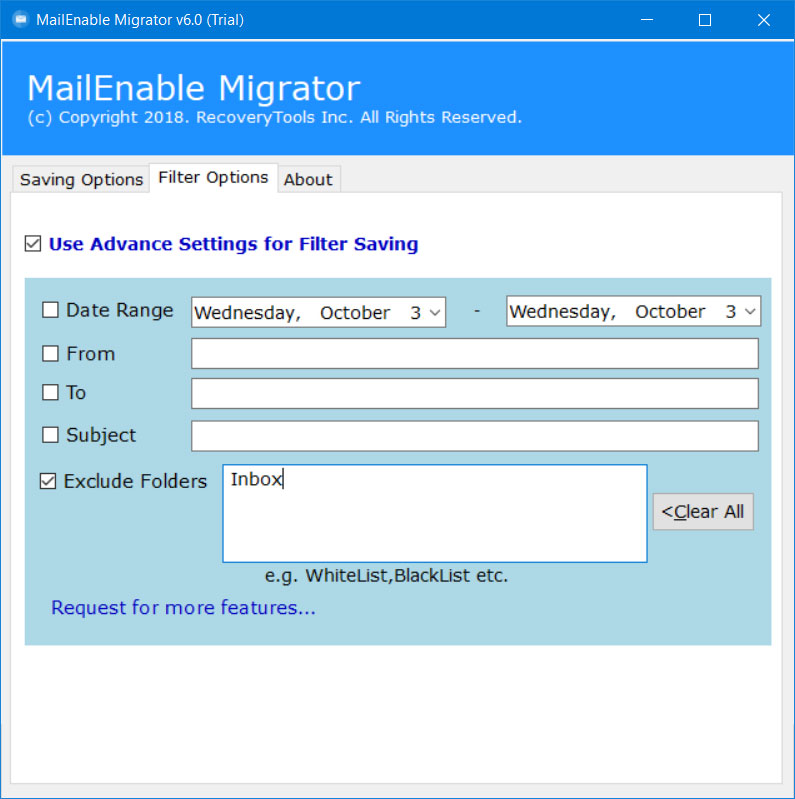 Enter your Webmail account credentials in the user interface panel.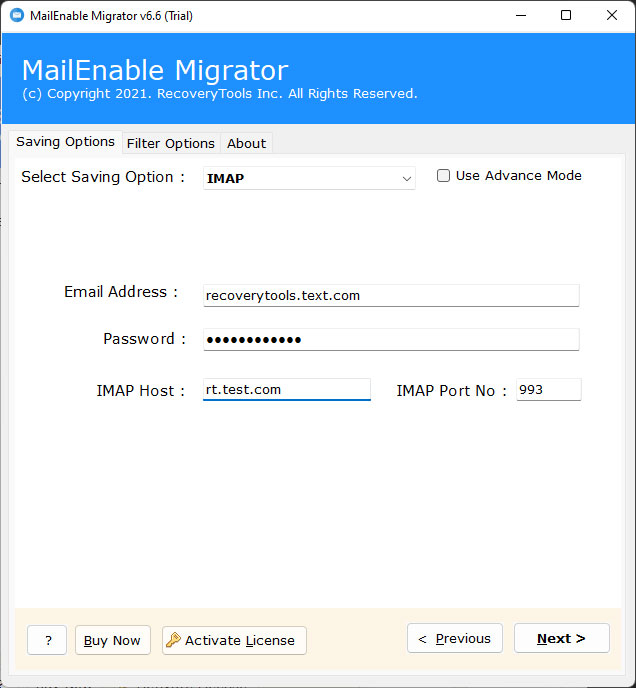 Press the next button to start the process to export MailEnable to cPanel process.
Top Features of MailEnable to cPanel Migration Tool
Secure and Easy to utilize Interface:
The solution provided by RecoveryTools is a technology company that has been providing solutions for email migration, email backup, and much more for the past few years. Also, the product is developed with all the latest technologies to move emails from MailEnable to Webmail account easily.
Move Multiple User Mailboxes at Single Process:
The software allows us to transfer numerous MailEnable mailboxes to a Webmail or cPanel Account directly. Utilize Select Folders alternatives to choose multiple user profiles data at once. Also, you can use the select files option to choose only required files in the user interface panel.
Maintain Email Properties:
It is the most trustworthy method for moving messages to Webmail or cPanel Hosted accounts. During the process, the utility will stay the email properties. Customers get the original copy of the mailbox's emails in the webmail account without any changes. It keeps all emails with attachments, internet header, date and time, and many more.
Advanced Options for Select Migration Process:
The software allows us to export only a few and selected emails from MailEnable to Webmail account. You can likewise choose the required messages using the filter options to transfer messages to the cPanel Hosted account.
Support with All Microsoft Windows:
RecoveryTools solution is compatible with all the editions of Windows and Windows Server. Users can also easily transfer emails to webmail on Windows 11, 10, 8.1, 8, 7, and Server editions 2019, 2016, 2012, 2008, etc.
Conclusion
In this article, we are going to explain the complete way to move emails into cPanel Webmail account. One can utilize the solution on their Windows and Server machines easily. The demo version of this application allows you to export only a few emails from MailEnable to Webmail account. For complete migration, you need to purchase the solution for lifetime use. One can also take the help of our technical advisor free of cost.