How to Transfer AOL Emails to Gmail with Attachments?  Step-by-step Guide
Karen Chard
~ Modified: 03-06-2022 ~ Cloud Backup , Move Data ~ 6 Minutes Reading
Want a better email service than AOL and decided to give Gmail a try? Or do you want to transfer AOL emails to Gmail for good reasons? If any of the cases are true, this guide is useful for you. Here we will tell you about a professional solution and step-by-step guide to transfer AOL mail folders to Gmail account securely.
Among the various global email services, AOL Mail has got tremendous client traffic. However, the AOL Mail web is somewhat moderate, it provides instant messaging to be accessed through AIM.
Reading these facts still, why AOL Mail users search techniques to export AOL mail folders to Gmail. What are the particular reasons that enforces them to make a switch to this email platform? Users should know the reasons first, prior to going for the solution.
Reasons To Transfer AOL Emails to Gmail Profile
In the following section, we have mentioned few problematic areas that enforces AOL Mail users to quit this email service.
Inability to send messages from AOL mail
AOL mail not properly receiving messages in Inbox folders
Log-in problems in AOL mail
Deactivation of AOL Mail client
Change in email platforms due to Switch in the workplace environment
Acknowledging these issues, users are very serious and need AOL support to tackle such problems. But, you can yourself resolve such issues and change from AOL mail by transferring AOL email to Gmail.
Why only Gmail? – Reason is clear and satisfying because Google Mail is a perfect email management system for any professional user. It's amazing features like Google Drive, task manager makes it easier for any user to conveniently use the email service for emailing tasks.
Transfer AOL Mail Folders to Gmail Account – Professional Solution
AOL free email service doesn't give any direct or straightforward way to transfer AOL emails to Gmail account. Any manual procedure to transfer AOL emails to Gmail gives no assurance of complete results. Moreover, it is not of use for the non-technical user at all. Now, you can try professional and ultimate software for your requirements. RecoveryTools Email Backup Wizard is a one-stop solution. It allows the users to directly import AOL email to Gmail accounts with attachments. The solution is completely safe and quick. It has the ability to transfer multiple AOL Mail messages to Gmail profiles with all information in original form.
Get the Solution Now:
Download for Windows Download for Mac
Also Read- Export AOL Email to Office 365
How to  Transfer AOL Emails to Gmail Account with Attachments ? [Step-by-Step Guide]
Please Note:- Firstly, we recommend you try the demo edition of the software. It helps you understand the working and features of the solution. Also, you can transfer some AOL emails to a Google account directly. After satisfaction, buy the license key that gives you the freedom to transfer AOL emails to Gmail without any file limitations.
So, if you are wondering how you can transfer AOL emails to Gmail with attachments, here's it is how to do it.
Steps to Transfer AOL Mail Folder to Gmail Easily
Select AOL Mail as the required source and enter your AOL email account email address and password.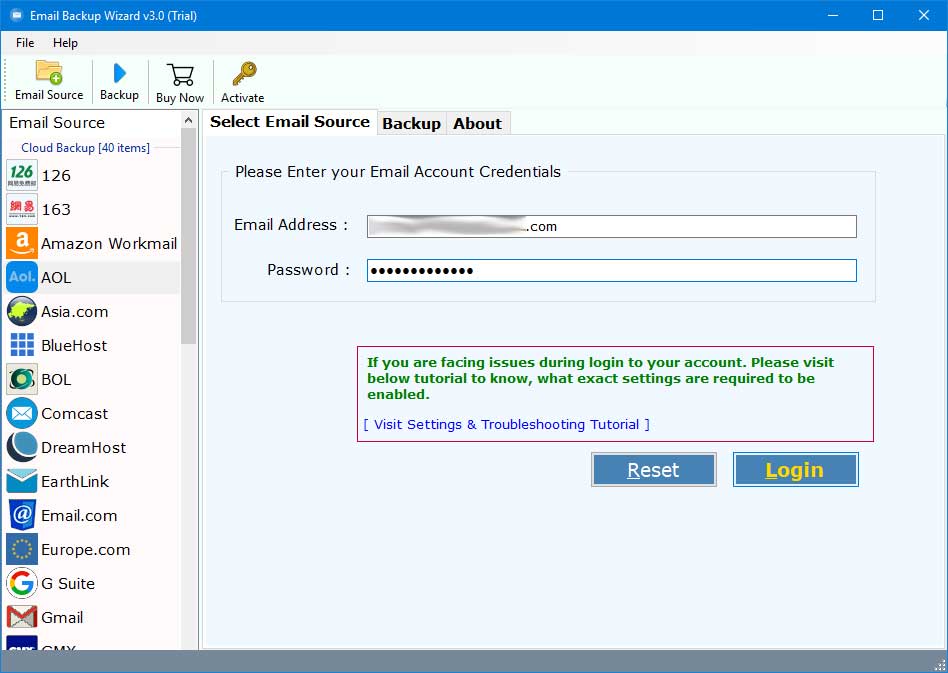 The moment you click on the Login button, the software starts analyzing mailboxes and folders.
Now, choose the folders you want to transfer AOL emails to your Gmail account.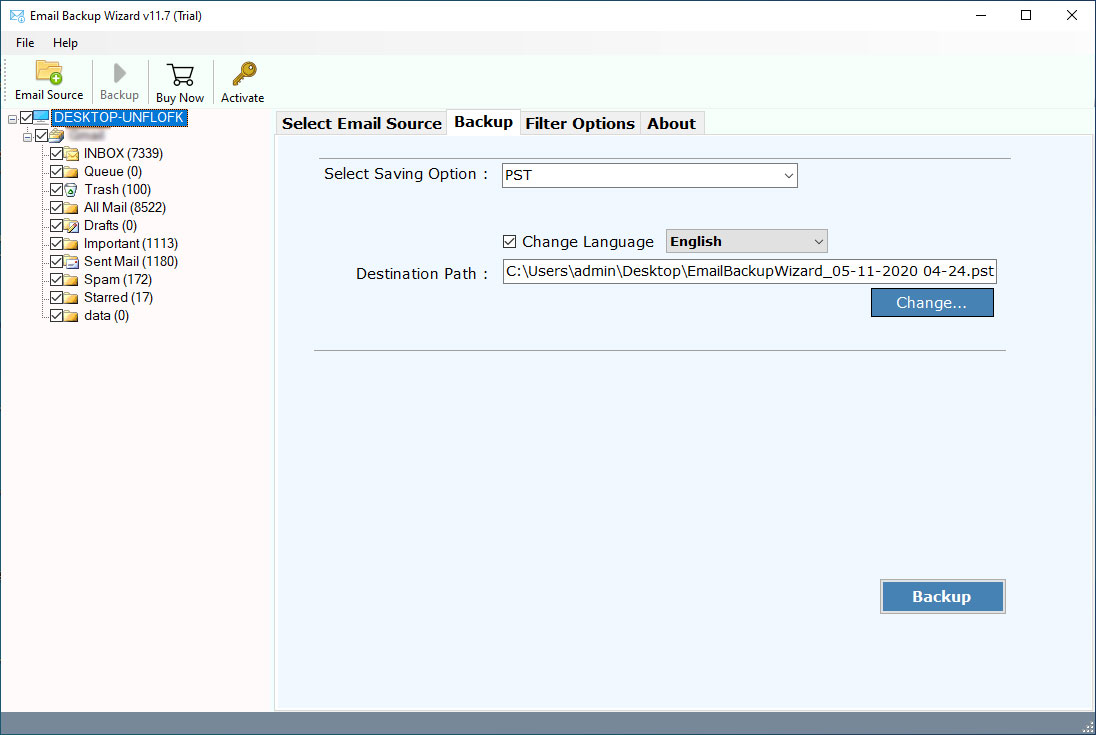 Scroll down the select savings list and click on Gmail.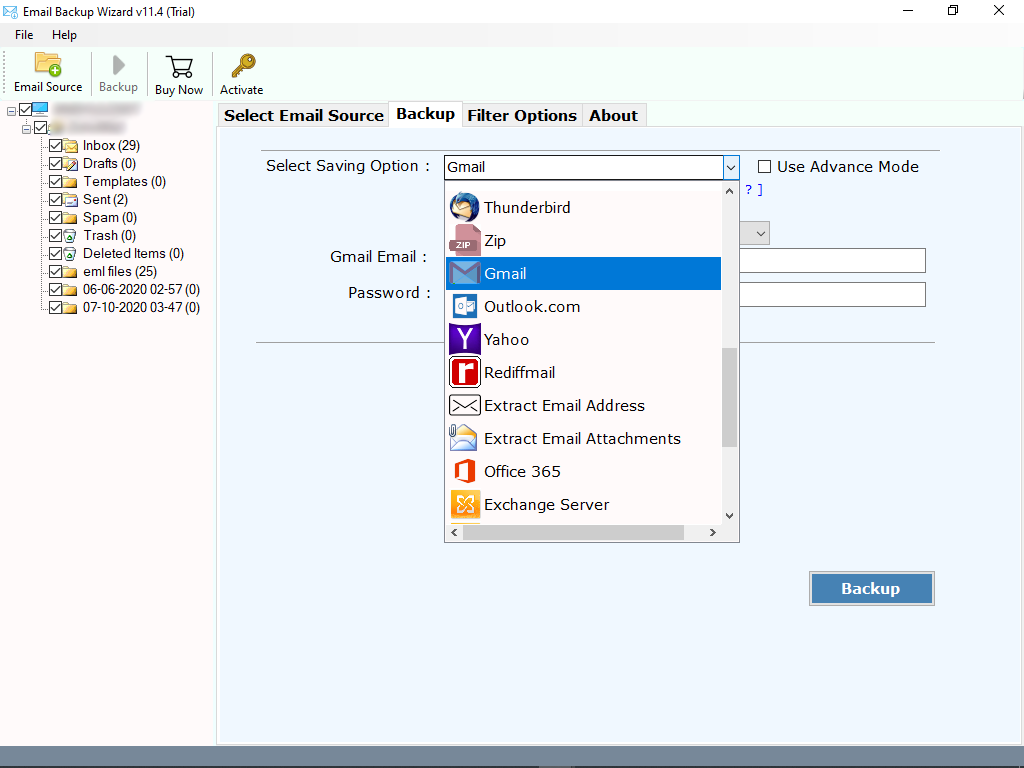 You can also choose some additional options like 'Save messages in Default folders' and 'Change language' if required.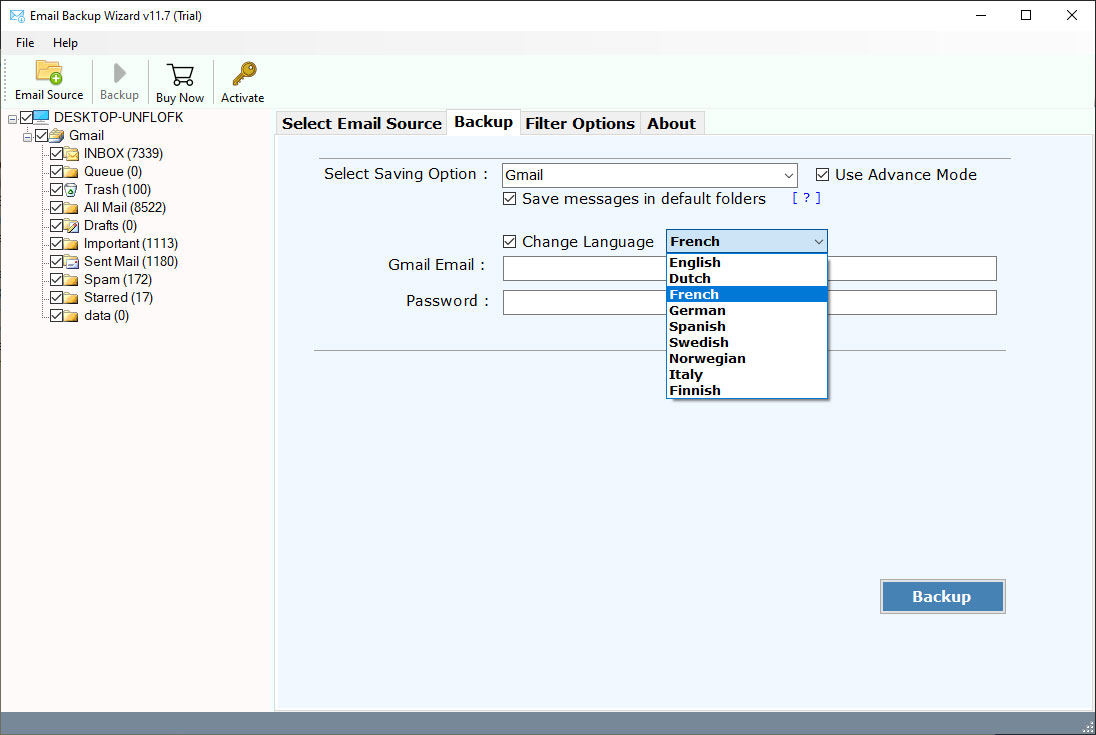 Enter login credentials of your Gmail account.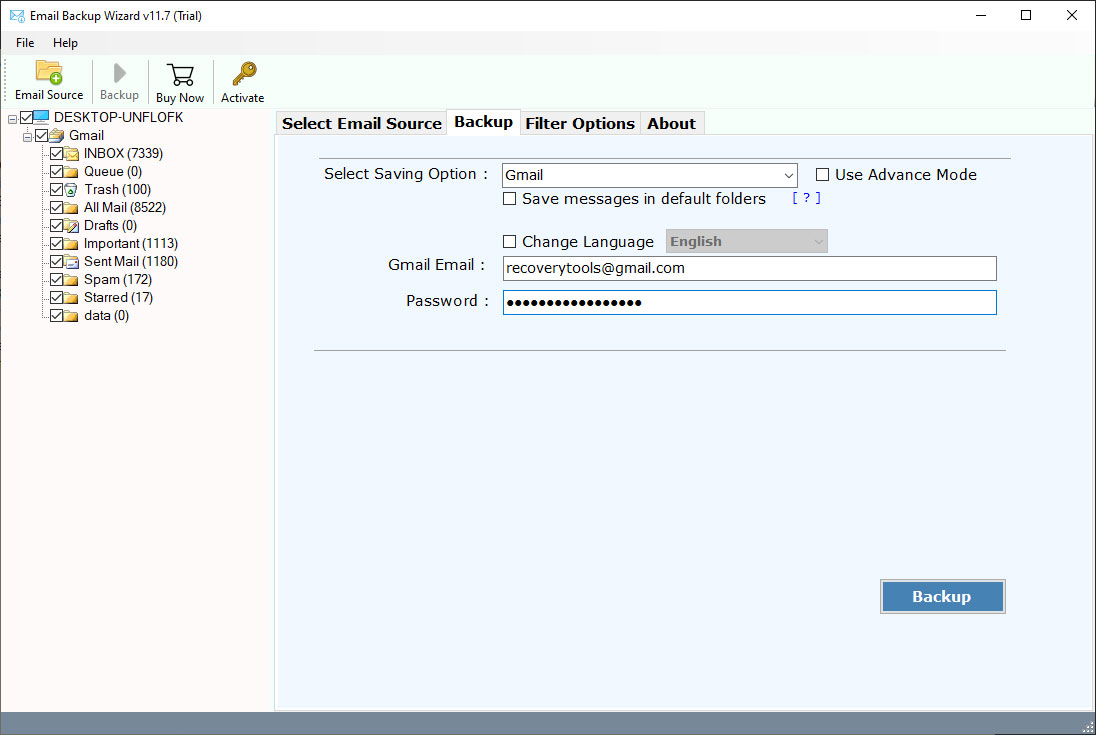 Press the Backup button and start the process to transfer AOL mail to Gmail account.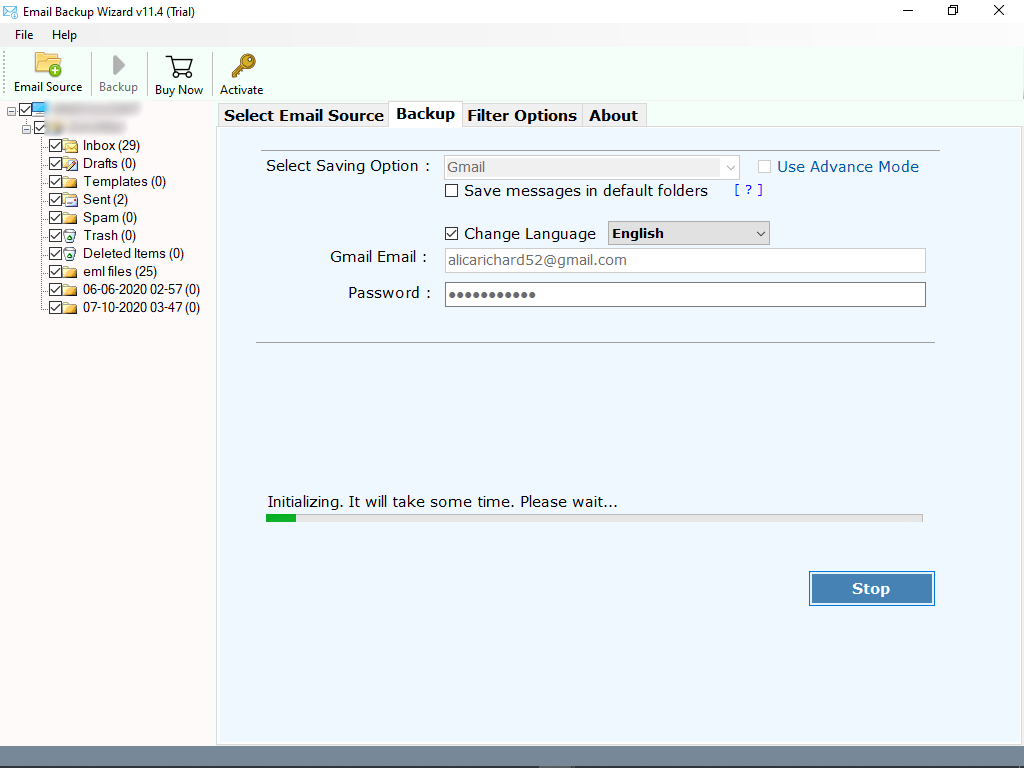 AOL Email to Gmail Transfer Tool – Benefits of Software
Transfer AOL to Gmail with complete safety:  The expert solution is tried and tested with AOL bulk mailboxes. The results are 100% accurate and completely safe. It ensures the transfer of AOL emails to Gmail with no modifications.
Selective mailbox transfer from AOL to Gmail: You can choose a single and several mailbox folders to export AOL mail folders to Gmail account. You can also use advanced filter options to transfer selective emails and sort messages as per date range, subject, email address, etc.
Save AOL messages in Gmail default folder:– Using the ultimate software, you can transfer AOL email to Gmail default folder such as Inbox to Inbox, Sent to Sent, and more.
Maintain data consistency: The original email metadata (including metadata) retain during the transfer of AOL Mail folders to Gmail. Also, the key elements are also maintained.
Complete mailbox transmission: The software transmits the entire AOL mailbox data, including inbox, sent mail, outbox, drafts, spam, junk, and any other folders created by users.
Keep key elements: In order to transfer AOL emails to Gmail, the tool will retain all the critical elements of the email, such as carbon copy, Bcc, date and time stamp, header information, hyperlinks, Unicode text, etc.
Windows OS Compatibility: You can use this software on almost all versions of Windows (such as Windows 10, 8, 7, Vista, and XP). Users can run this software on 32-bit and 64-bit computers.
User's Queries
Query 1: I  created a new Gmail account and wanted to transfer most of my AOL emails into it. I have tried many solutions but most involve the AOL mail setup process in Gmail (configuration). Also, the method is highly technical and complicated. Can anyone tell me a quick and easy way to transfer AOL emails to Gmail?" – Joseph, California
Query 2: Due to the congested interface of AOL mail, I have finally decided to change my personal email platform to Gmail. Since this migration process needs some sort of technical help, thus I searched on the internet for the same. There are some manual ways but they look like they will take days for completion. I need a quick and hassle-free solution. Can you please suggest to me a professional software to transfer AOL emails to Gmail? – Henry, Germany
Conclusion
That's it! With this solution, a beginner or a user with basic knowledge can transfer AOL mail messages to Gmail in just a few clicks. In the above blog, we have described an expert solution that completes the process without any configuration or technical process. We have provided a complete step-by-step process to transfer AOL emails to Gmail account with attachments. AOL Mail to Gmail transfer tool is an entirely automatic and expert solution. If you wish to evaluate the proficiency of the software, then you can try the free demo version. For more queries, please contact our support team via live chat.