How to Recover Emails from Windows Live Mail Crash ? Direct Solution
Are you here to find a solution to recover emails from Windows Live Mail crash? Do you ever face situations like your Windows Live mail not responding while opening or sending emails? Don't worry we will help you. In this blog, we are going to discuss how to recover email data from crashed Windows Live Mail application
"Hi, I am a Windows Live Mail user from a very long time. Recently while creating a new email message unexpectedly my WLM application crashed. After that, I can't open or access my email data. Can anyone please help me to recover my crashed Windows Live Mail email. I have a lot of important data on it. Thanks in advance."
Nowadays several similar queries are appearing in the technical queries. Are you facing issues like this Windows Live Mail is not responding, WLM crashes when opening, sending or creating new email, Suddenly application got close & not able to open?
Then, here is good news for you. Now you can recover email after Windows Live Mail crashed & securely convert into your required format. Go with RecoveryTools Windows Live Mail Migrator for the instant solution.
Recover Emails from Windows Live Mail Crash – Secure Solution
RecoveryTools Windows Live Mail migrator is an expert software solution. It enables the direct conversion of your Windows Live Mail data from the crashed application. Also, it provides an advance feature that automatically detects & recover emails from the configured account even at the time of Windows Live Mail crash. So you don't need to waste your time on searching for the mailbox location.
The utility comes up with various saving options. It will help the user to convert & secure email data after recover emails from Windows Live Mail crash. The software facilitates the instant conversion of Windows Live Mail to different email clients or services without any special requirements. The below-given step by step procedure will help you clarify all your doubts & recover Windows Live Mail data from the crashing issue. Then, Let's get started !!!
How to Recover Email from Crashed Windows Live Mail ? – Steps
Follow these simple steps to recover email data after Windows live Mail crashing issue & securely covert different formats.
1. Install & run Windows Live Mail migrator on your system.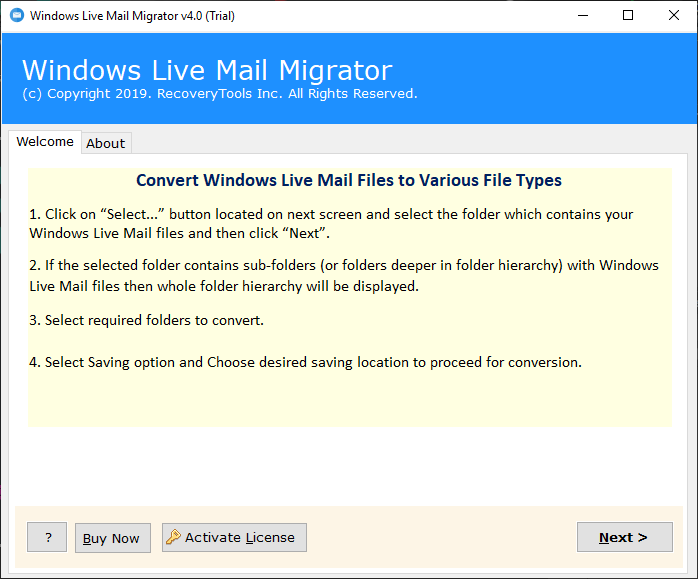 2. Then, choose Convert configured Outlook mailbox data & hit Next.

3. After that select required email data that you want to recover from crashed WLM.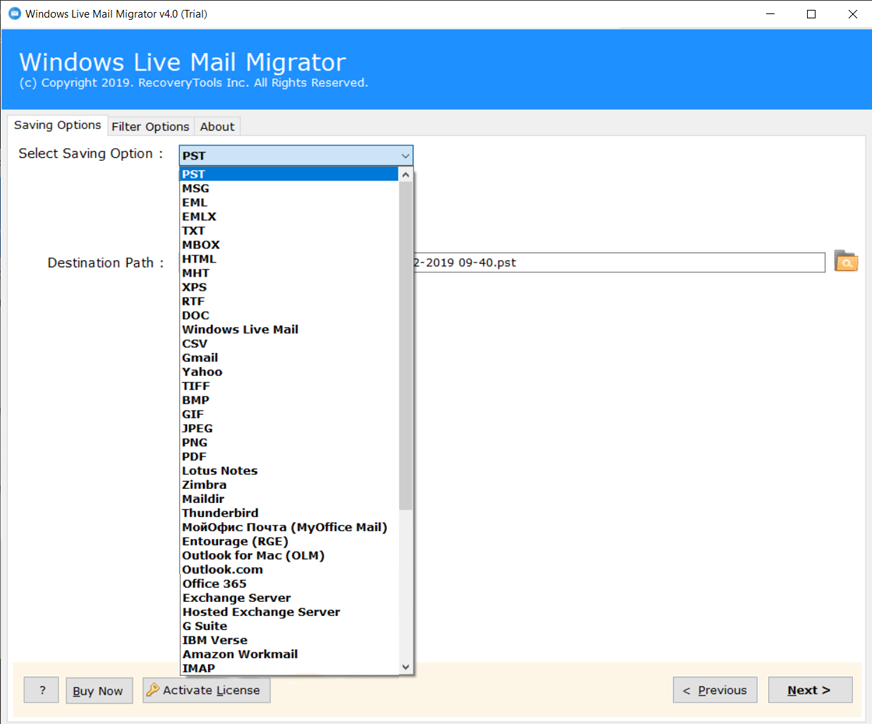 4. Then choose the desired saving option to convert recovered email data.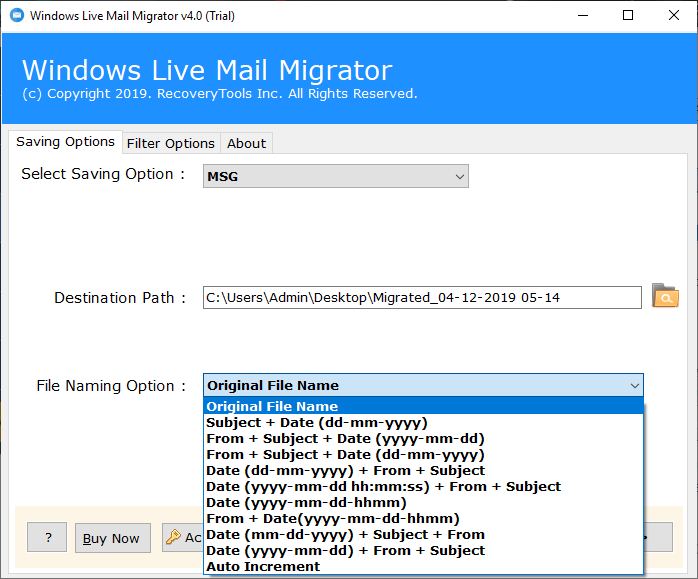 5. Finally setup other conversion options & click on the Convert button.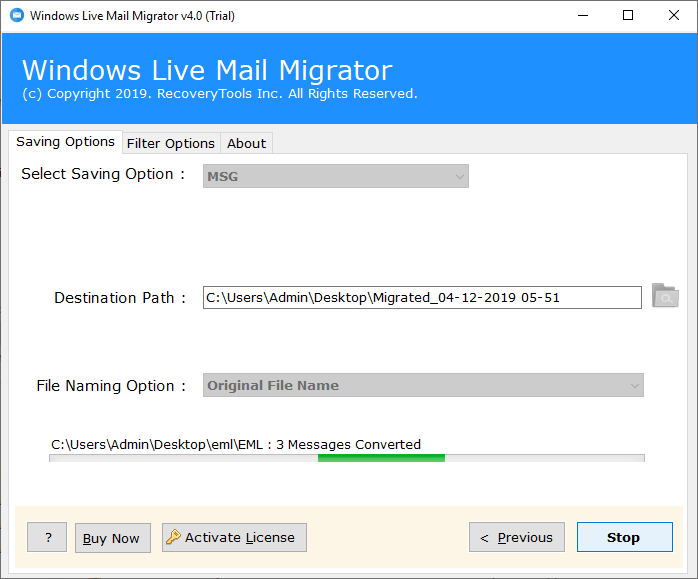 After the successful conversion, you can access all your recovered Windows Live Mail mailbox data through the destination folder.
Expert Software Features
No mailbox Size Limitation: The software doesn't have any restriction on the email data size or number while recovering emails from Windows Live Mail crash.
Batch Conversion: The utility converts bulk Windows Live Mail data in batch mode. It helps the user to save their time & effort.
Data integrity: It always ensures to recover & transfer the recovered data without creating any type of modification.
Preserve All Properties: The utility recover emails from crashed Windows Live Mail by maintaining all the associated properties & folder structure as it was.
Multiple Saving Option: After recover emails from Windows Live Mail crash, users can secure their data in their desired format or in desired email clients. It doesn't need any special requirements.
Windows Compatibility: Windows Live Mail migrate is fully compatible with all the versions Windows operating system.
Recover Crashed Windows Live Mail Emails – FAQ
1 Is it possible to recover email from all the edition of WLM with this software ?
 Yes, this software support all the version of Windows Live Mail application. So you can recover emails from Windows Live Mail crash without considering the version.
2. Can I recover emails from all the email folders of Windows Live Mail ?
Yes, after detecting the configured Windows Live Mail account. The software display all the folders. You can select the required data which you need to recover from that.
3. Is this software provides an option to manually upload the mailbox data ?
You can make use of the dual option "Select File or Select Folder" to manually load & convert your Windows Live Mail data.
Final Words
In the above blog, we explained how to recover emails from Windows Live Mail crash through step by step solution. You can make use of the above-mentioned software solution to recover & convert emails from the crashed Windows Live Mail application. It will help you to secure your Windows Live Mail mailbox in your desired format.