How to Import Mac Outlook OLM Files to Yahoo Mail ?
Overview: The information provided in this blog will help you import Outlook Mac OLM files to Yahoo Mail account without hassle. Learn a simple and quick trick for OLM to Yahoo migration process.
After the huge success of Microsoft Outlook for Windows editions, Microsoft Corporation decided to launch Microsoft Office for Mac version with New Outlook for Mac version. This Outlook Microsoft for Mac 2011 version introduces a new file format extension (* .OLM).
OLM is the simple file format support by Mac Outlook for storing data like emails, contacts, calendars, notes, tasks, and so more. It can only get opened in Outlook Mac 2011 editions. So, if you want to import or convert OLM files in an email account like Yahoo, consider an automatic program.
I want to convert OLM files to a Yahoo Mail account. The problem is that I don't see an option in my Yahoo email account to do so. I ask experts if they can shed some light on my case.
One of the top brands that have an ultimate solution to import OLM to Yahoo is RecoveryTools. Its solution is reliable and tested. They have known 100% authenticity and the fastest conversion.
OLM Migrator is the most ideal choice to convert thousands of OLM files to Yahoo Mail account with attachments. It does support bulk conversion. You can also see the live conversion of the import process in the software window.
Quick Solution: OLM to Yahoo Migration Tool
We suggest you to download this RecoveryTools OLM to Yahoo Migration tool to transfer OLM emails to Yahoo Mail. The software is available in both Mac and Windows editions. You can use this solution to import multiple OLM files to Yahoo Mail at once.
Download for Windows Download for Mac
Note: The trial version of this application is for importing only 25 emails per folder to Yahoo Mail account. This version is used to test the efficiency of the utility before purchasing the licensed version. Satisfied users can purchase the license key to activate the software for lifetime use.
Steps to Import OLM Files to Yahoo Mail:
Download and launch the software on your PC.
Choose Select Files and Select Folder tabs to pick .olm files.
Choose the OLM files for the Outlook for Mac to Yahoo Mail conversion.
Select Yahoo Mail and provide credentials like email address and password.
Hit the Convert button and wait to get a final log document report.
How to Import OLM to Yahoo Email Account ?
First of all, install or launch the software on your Windows and Mac Computers. Thereafter read some key pointers mentioned in the software window and tap next.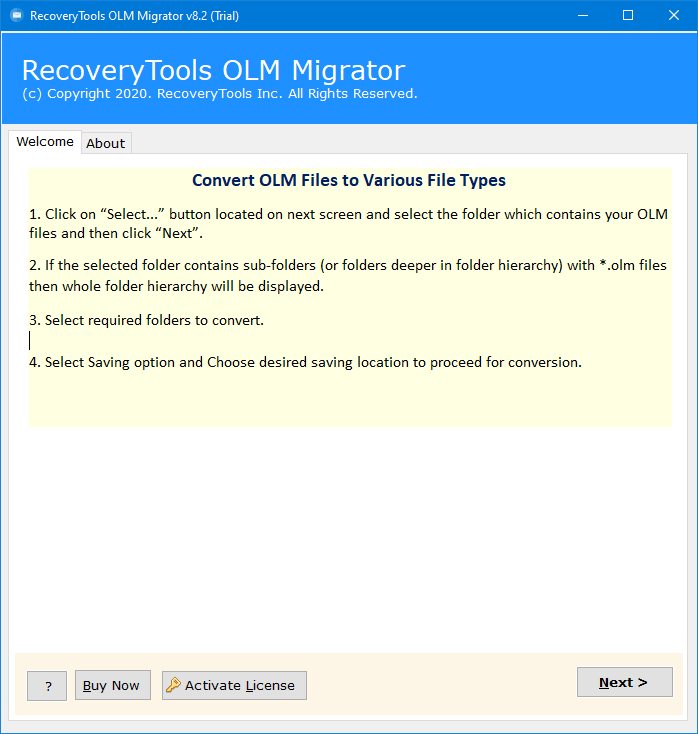 Now, you have two choices to pick OLM files. Select Files helps you choose individual .olm files whereas Select Folder lets you choose a complete folder containing multiple .olm files. So, go for as per the requirement. Click on the Next button.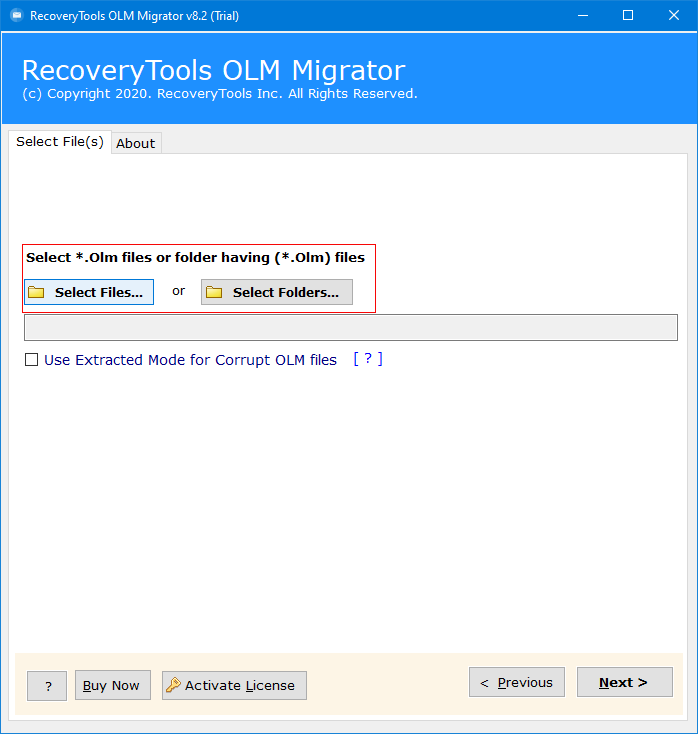 Choose the required OLM file or folder to continue the import process and tap on the Next button.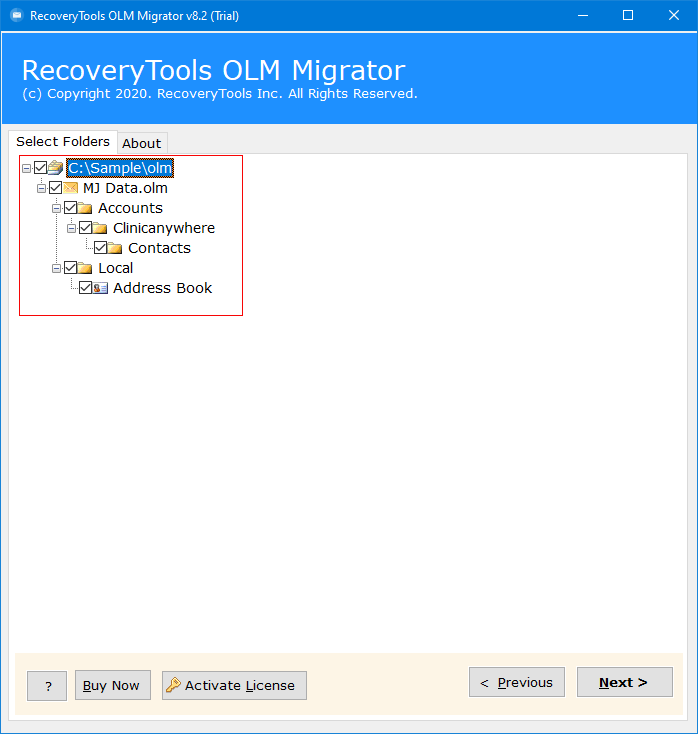 After that, select Yahoo Mail in the list of file-saving options.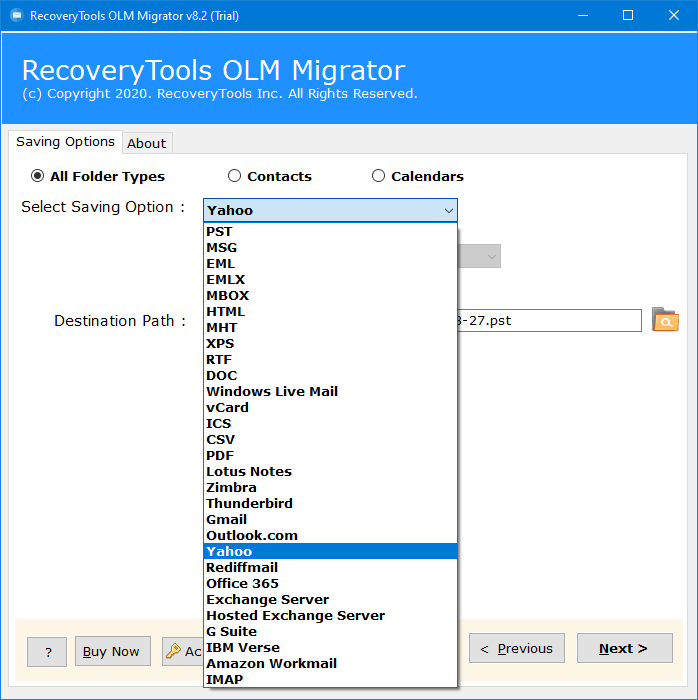 Enter your Yahoo email account credentials such as email address and password.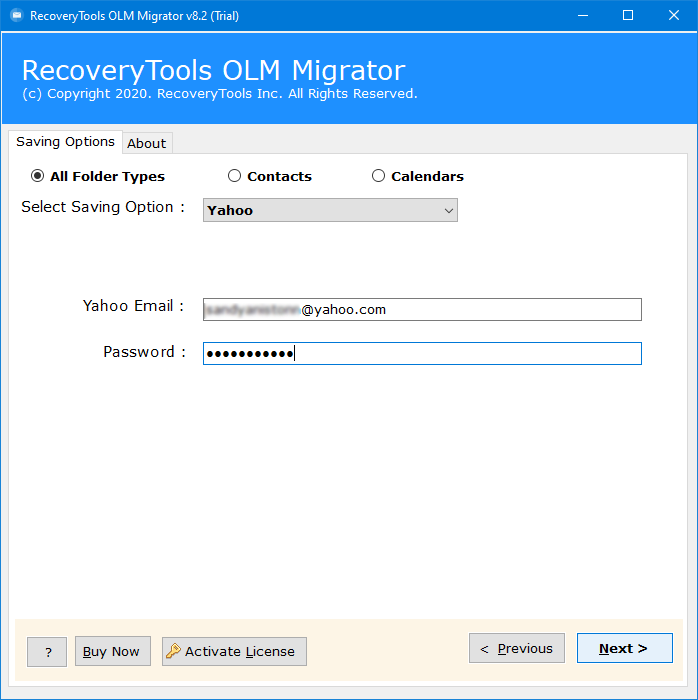 Now, press the Convert button and analyze the process.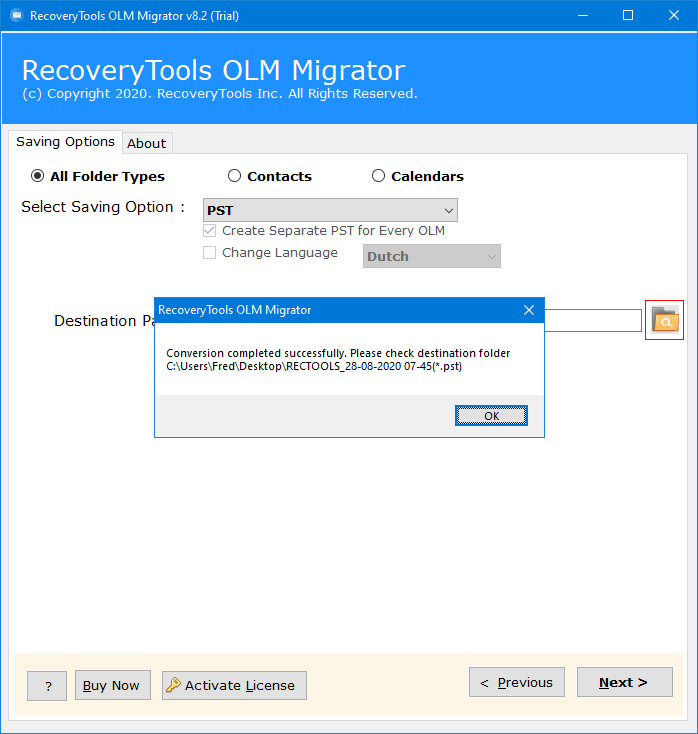 The After Work:
You can see the live import process from OLM to Yahoo Mail in the software panel. The moment it ends you get a complete conversion. Click on its OK button and then get a log text document report. It has all the proper information about the task. Now, login to Yahoo email account and get a folder named OLM.
Learn About the Exciting Features of OLM to Yahoo Mail Converter 
It provides an advanced option to upload OLM data files directly to Yahoo! email account.
This utility has a batch mode option, which allows you to import multiple Mac OLM files into your Yahoo account at the same time.
This tool can effectively import OLM into Yahoo Small Business accounts without losing any items.
The software will retain the original metadata attributes and the folder hierarchy of the OLM mailbox.
It is a one-stop solution to easily transfer Mac OLM emails and their attachments in Yahoo Mail account.
It is completely independent and can upload Outlook for Mac data without installing the Mac Outlook application.
The software can run successfully on almost all versions of Windows operating systems (including Windows 10, 8, 7, etc.)
RecoveryTools OLM to Yahoo Import Wizard – User Reviews
In this quick and simple way, you can open Outlook for Mac OLM files in your Yahoo email account with attachments. The results are accurate with maintained properties.
Now, read the feedback of the users and organization that believes OLM to Yahoo Mail conversion process is easiest than ver.
"I have very important information in my OLM files. However, I wanted to import it into my Yahoo Mail Company's account. I asked many people but didn't get anything useful. Then, I read about the OLM to Yahoo Mail migration tool. It imports all my .olm files to Yahoo in the least time. The tool has done a great job for me."
Antony, United States
"Hice una conversión exitosa de OLM a Yahoo Mail usando la herramienta OLM Migrator. Es ideal para uso de organizaciones. El equipo de soporte también es muy útil."
Emily Cooper
Now, let's have a look at the detailed working process of the OLM file to Yahoo Mail Converter tool. Follow the below-mentioned steps.
Get to Know about Free & Demo Edition
You can see a Download Now button in green. If you click on it the free edition of OLM to Yahoo Mail converter downloaded in your Windows OS. Open it and follow the steps mentioned below. But, note that it maximum import 25 .olm files in your Yahoo Mail. To overcome this limitation, you need to check the Pro edition of the software. It works brilliantly and capable to convert as many Outlook for Mac files to Yahoo account as you want.
The Conclusion
Now, you have complete information on how to import OLM Mailboxes to Yahoo Mail with attachments. You don't have to go through long and complicated anymore. The OLM to Yahoo email account is automatic and quick.