Best Way of Military Grade Data Wipe & Shredding Techniques in the Digital World
Karen Chard
~ Modified: 22-02-2023 ~ Data Wipe ~ 5 Minutes Reading
Here, I will list the military standard data wipe methods and their application. You will learn the major difference between all these military-grade data erasure modes and which shredding method is best suited to your individual needs. Some popular military-grade disc cleaning techniques are US DOD (5220.22-m), NIST 800-88, Write Zero, Random Data, US Navy – MFM, US Navy – RLL, US Air Force, NATO Standard, and Peter Gutmann.
In this article:
Why So many Military Grade Data Wipe Methods
Random
Zero
US DOD (5220.22-m)
NIST 800-88
Peter Gutmann
Conclusion – Best Military-standard Data Wipe Mode
Why There are So Many Military Grade Data Wipe Methods?
We all know that there are many Military Grade Data Wipe methods. I mentioned some of them above, but there is doubt in the minds of users as that why there are so many modes. Reasons it provides multiple advanced hardware-based Hard Drive Data Recovery Software available at present time. 
These applications recover data even the wiped off from devices. So, many governments and organizations have independently devised many modes to overwrite data. They prefer to use these military-grade data wipe methods to completely erase the data.
How to Clean Disk with Military Grade Standards?
There are several applications available to erase data completely by using military-grade data wipe methods. One such software is RecoveryTools Disk Wipe Software. The utility provides users with many military-grade standards including Zero, Random, WipeFile, Zero & Random, Random & Zero, US Navy, US DoD, US Air Force, Microsoft Cipher, Bit Toggle, NATO Standard, Peter Gutmann, etc.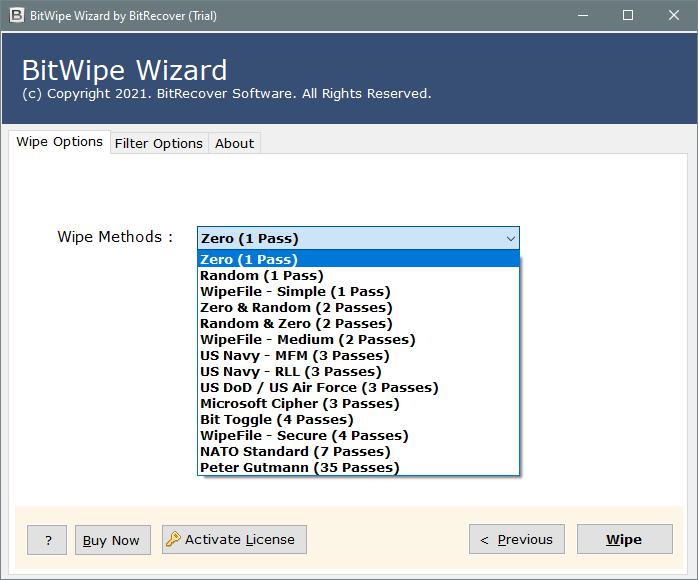 Free Download the Application from the given button:
Follow these steps to Learn its works:
Install & Run the software on Windows PC.
Load Files or folders to wipe data. Users have the choice to select Logical Drive also.
Choose the items that you wish to erase from the list displayed in its panel.
Select from the list of Multiple Military-standard Disk Wipe modes.
Apply filters and click the Wipe button to start the process.
Random Data Wipe Method:
In the Random Data Wipe technique, users can overwrite the existing data stored in a disk with Zero & Ones. However, in some cases, the random data erase method overwrites the data with other random characters as well.
Users can apply Random Data Wipe with Zero or 1 Pass.
Pass 1: Write a random character. By default, the software will provide a DIY data sanitization process for the Data Wipe method.
Zero Fill Wipe Method
In this approach, the software will overwrite data with a Zero value. After wiping data with Zero Fill, most data recovery software fails to retrieve data from a single pass. More passes make the erasure of data more secure but it will also take much time in wiping information.
US DOD (5220.20-m) Data Wipe Standard:
This method completely complies with the data erasure security specification, i.e., 5220.22 M for the removal of data from the US Department of Defense.
The US DOD Data Wipe method usually implements three passes:
Pass-1: In the first pass, the tool overwrites all paths and locations with binary Zeros.
Pass-2: In the second pass, all addressable locations will be overwritten with binary One value.
Pass-3: In the third pass, the software will overwrite all address paths with a random pattern.
Finally, the tool will verify the final overwrite pass.
NIST 800-88 Data Wipe Method:
The NIST (National Institute for Standards & Technology), 800-88 was released in 2006 & later revised in 2012. In the NIST wipe method, the tool will use the strongest overwrite pattern to completely delete data from the drive. At present, most organizations prefer NIST standard data wipe in the USA.
It has three different categories to wipe data completely from the disk.
NIST-Clear: In the NIST Clear mode, data be wiped from all user-addressable locations with logical techniques.
NIST-Purge: Physical and logical techniques are applied to prevent data recovery via any lab technology.
NIST-Destroy: It is the process of physical destruction with advanced techniques to avoid any possibility of data recovery. You cannot reuse the device after it undergoes the NIST-destroy mode.
Peter Gutmann Data Wipe Method:
Peter Gutmann uses a total of 35 passes to completely wipe out data from the disk. This method was developed by Peter Gutmann in the year 1996 and was one of the most advanced and robust techniques to wipe data. Peter Gutmann uses a random value, in place of just zeroes like in other methods, for the initial four and the last four passes. In between, it uses a very complex pattern to overwrite data from Pass 5 to Pass 31.
Which is the Best Military-grade Data Wipe Method?
In this article, I have explained many ways to perform military standard Data Wipe methods. Some of the most popular techniques are US DOD (5220.22-m), NIST 800-88, Write Zero, Random Data, US Navy – MFM, US Navy – RLL, US Air Force, NATO Standard, and Peter Gutmann. However, choosing the best out of them completely depends upon your hardware and requirements.
For example, in the 90s, hard drives used completely different encoding techniques, so recovering data from those drives was quite easy even after wiping them with a professional toolkit. In that scenario, the best way to shred data was Peter Gutmann, which uses 35 passes, which makes it almost impossible to retrieve data.
An important thing that needs to be kept in mind while choosing the military-grade data wiping mode is that the more the number of passes, the more your data will be erased securely and the more time it will take to perform the process.
So, if the data that you wish to wipe off from your drive is not so important or confidential, then just choose the simplest method, i.e., Zero Random or both. This will save you a lot of your time.