How to Import Yandex Mail to Yahoo Account Directly without Professional Help ?
Karen Chard
~ Modified: 17-05-2022 ~ Convert Data ~ 6 Minutes Reading
Summary: Want to now how to do Yandex to Yahoo mail migration? Do you have emails, contacts, tasks in Yahoo mail account and intend to import Yandex mail to Yahoo? We understand that email migration becomes difficult when you don't know about an accurate automated solution. That's why we here to help you! Read this blog and we promise that at the end of your reading, you will get a complete overview about conversion of Yandex emails to Yahoo mail.
Among the best email hosting for small businesses, Yandex mail is securing its position strongly. You can register up to 1000 free mailboxes with the facility of Yandex. Connect ( a collaboration of multiple tools including contacts, calendars, messenger, cloud disk). Also, each user gets 10GB of online data storage per year with Yandex mail.
On the other hand, the user's favorite Yahoo mail service offers a swift signup process with an email account of 1 TB free storage space absolutely free of cost. There are so many users across the world who ask us daily about Yandex to Yahoo mail migration.
To solve your query – we have come up with a professional, automated, and quick solution to import Yandex mail to Yahoo account.
RecoveryTools Yandex Email Backup tool – A perfect utility for converting Yandex emails to Yahoo mail service. So, now, get unlimited emails, contacts, and complete data items from your Yandex mail account into Yahoo mail with the full pro version of this software.
But, what if you want to test the software before buying it? Well, have a look at this free demo version of Yandex to Yahoo mail migration utility. It will not cost a single penny for tool evaluation. You can get a whole idea and satisfaction with the software.
Why Should I Do Yandex to Yahoo Mail Migration ?
Among those who are willing to switch from Yandex mail to Yahoo, can rejoice now. Yahoo mail offers a clean and intuitive interface with a lot of benefits.
With Yahoo standard Yahoo mail service, you can enjoy sending, receiving emails like a pro. Along with it, you can handle contacts and organize your important calendar events periodically.
You can explore advanced communication methods with Yahoo mails service. Yes, now import Yandex mail to Yahoo and send quick messages from your Yahoo account. Even you have the facility to install Yahoo messenger on your PC and smartphones and can chat with others.
Like Google webmail service, Yahoo too gives you the option to search your query in the Yahoo search box.
One of the important factors why users want to export Yandex mail to Yahoo is that they don't like some features of Yandex mail. And thus they jump over to Yahoo mail so as to enjoy a smooth email communication.
How to Import Yandex Mail to Yahoo Account ?
Before exploring a complete step-by-step procedure to migrate Yandex emails to Yahoo mail, first download and launch the utility on any Windows machine.
*Download Yandex to Yahoo mail migration tool on any Windows-platform. It runs rapidly on Windows 10, 8.1, 8, 7, XP, Vista, Windows Server, etc.
After installing, launch it on your Windows Computer.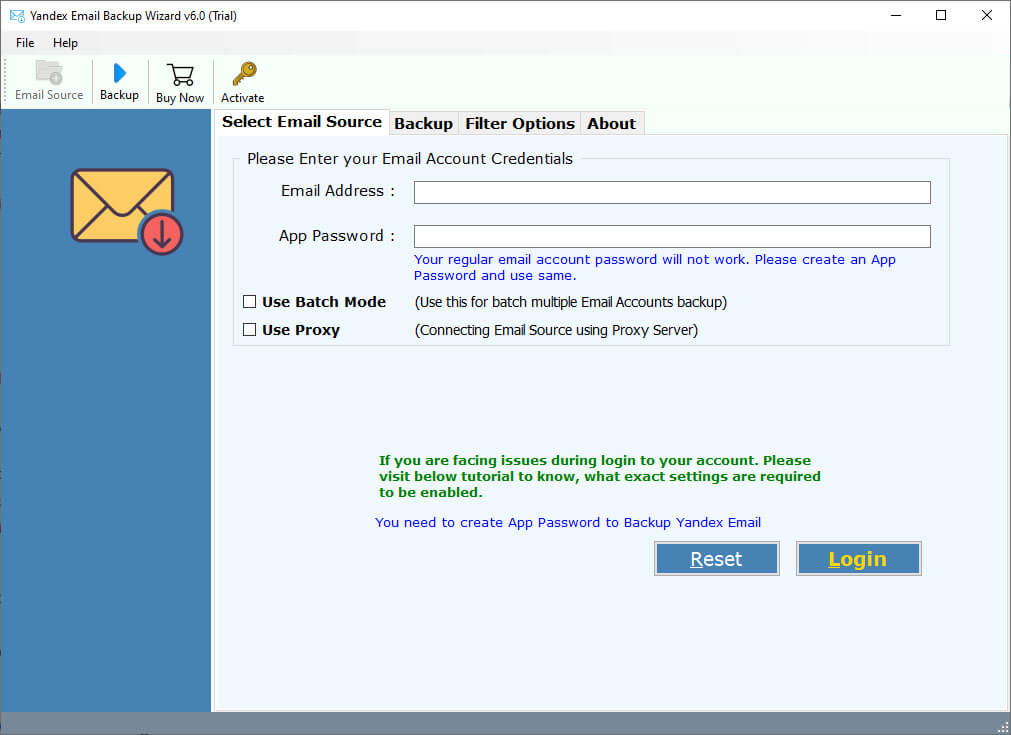 Thereafter, enter the email credentials of Yandex mail – your email address and password.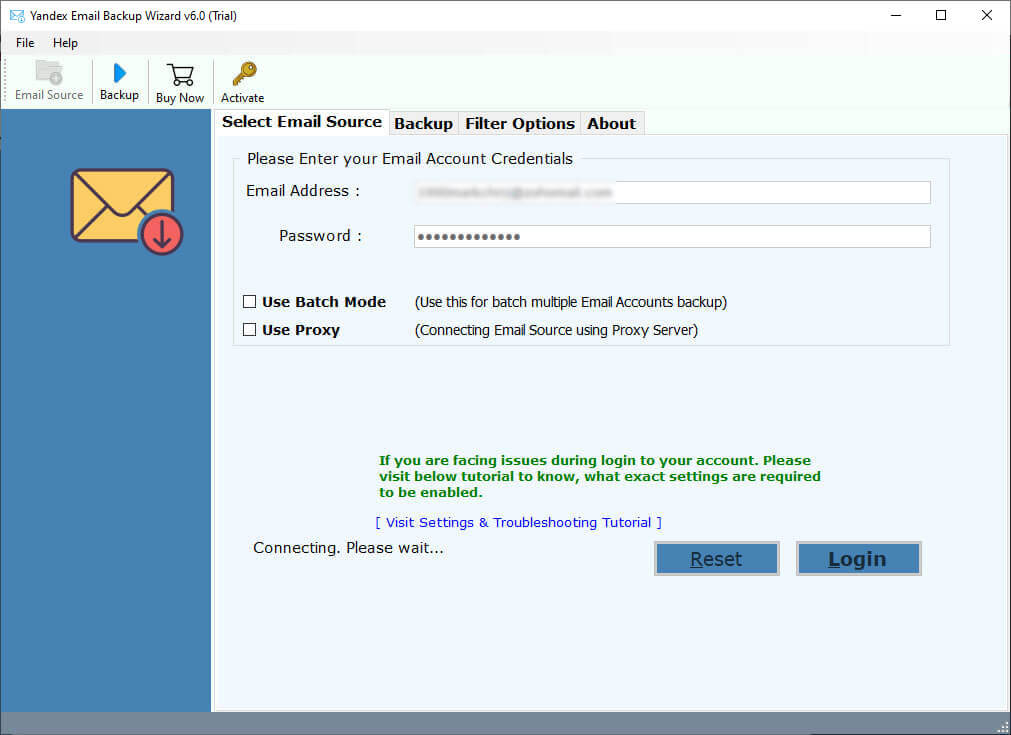 Thereafter, hit on the login button and the tool will automatically load emails in the software panel. Now, enable your required Yandex folders/ sub-folders to start to import Yandex to Yahoo.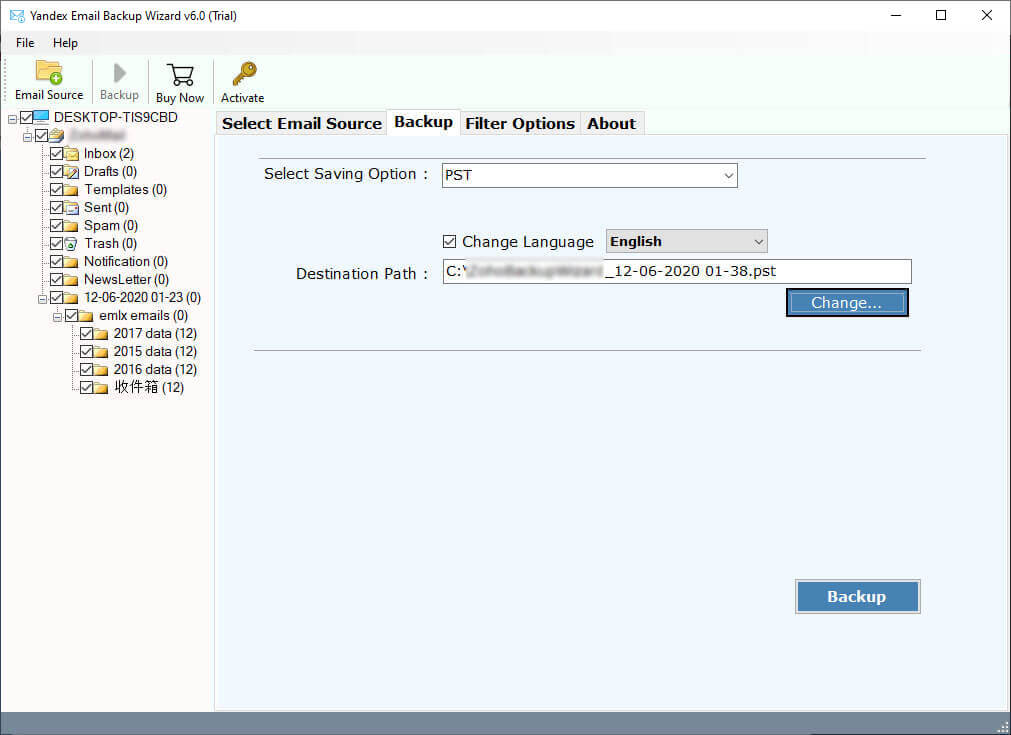 After that, go to the saving options list and choose Yahoo mail.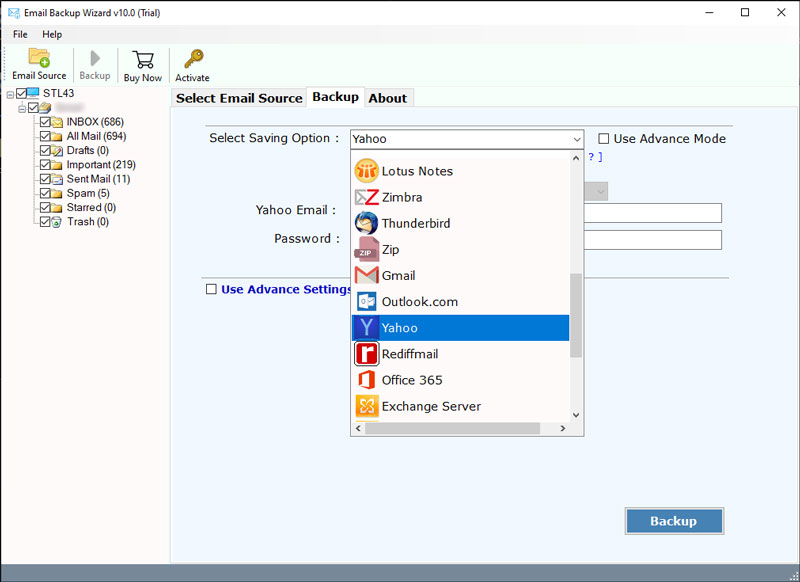 Thereafter, enter the login details of your Yahoo mail account.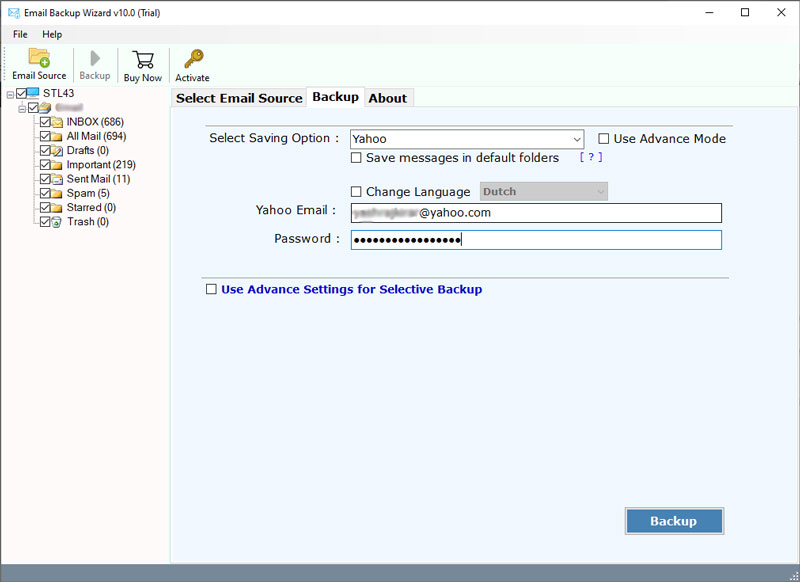 Lastly, Press on backup tab to start to convert Yandex emails to Yahoo.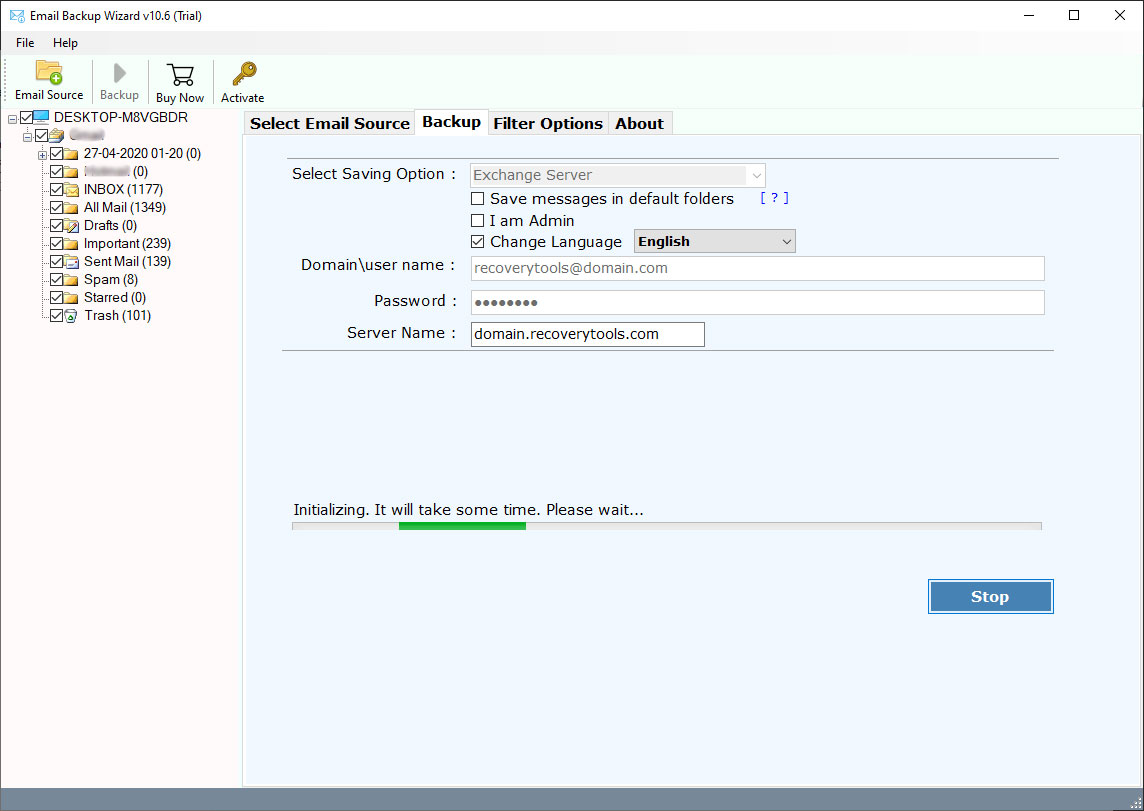 In the end, you will see a conversion complete message. Now, check you Yahoo mail account containing the Yandex messages.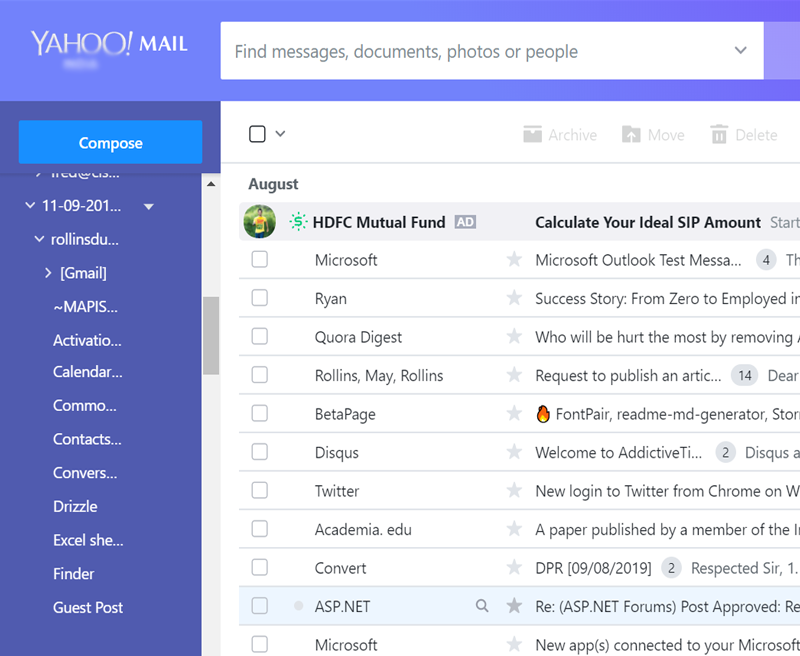 Yandex to Yahoo Mail Migration Tool – Benefits & Features
There are many useful benefits associated with Yandex to Yahoo transfer tool. Some of them are highlighted in this section.
Advance Settings for selective backup:- This featured helps users to selectively move messages from Yandex mail to Yahoo. You can choose emails of a specific date, email address, subject, etc of Yandex account for Yandex to Yahoo conversion.
Smart and reliable tool:- This software provides a 100% error-free and quick migration of Yandex emails into Yahoo. Hence, the tool does not ask anything, just your Yandex and Yahoo mail credentials for the entire processing.
Maintains MetaData of Yandex account:- Often users get worried while email migration. But here at RecoveryTools, we assure you to preserve the email properties of Yandex mail account such as sender and recipient information, inline images, attachments, hyperlinks, formatting, and other details.
Preserves on-disk folder hierarchy:- The Yandex to Yahoo Migrator keeps intact the hierarchy of all folders, sub-folders throughout the process to import Yandex emails to Yahoo.
Standalone application:- It does not require any external installation of any software.
Windows-compatibility:- As already explained, you can download this software on any latest and earlier version of the Windows machine easily.
Free demo version:- You can take a test drive of the demo version before purchasing the license keys.
Live conversion report:- You can check the entire conversion of Yandex mail to Yahoo and analyze it with the live conversion progressive report.
Frequently Asked Queries
Ques-1: How do I migrate Yandex mail to Yahoo?

Launch Yandex to Yahoo migration tool.
Choose Yandex email source and fill account details.
Specify desired Yandex folder/ sub-folders for conversion.
Pick Yahoo saving option and entre all Yahoo account information.
Start to migrate emails from Yandex to Yahoo.

Ques-2: Will the tool allow me to move Yandex emails to Yahoo with attachments?

Yes, along with emails, you can transfer Yandex attachments to Yahoo account.

Ques-3: How much time does it takes for a migration of messages from Yandex mail to Yahoo?

This software do a swift transfer of Yandex emails to Yahoo account. It completely depends amount the amount of data. However, it will take minimum of time and efforts to do the processing.
Bringing Up Together
So, we are concluding with this thought that now one can easily and efficiently import Yandex mail to Yahoo account with complete details. All users from a technical background or non-technical ones can access it easily as it's Graphical User Interface is quite intuitive. There are no limitations to convert Yandex to Yahoo mail account.