How to Migrate Email from GoDaddy to Office 365 Account ?
Karen Chard
~ Published: 23-07-2021 ~ How To ~ 7 Minutes Reading
Overview: Are you considering a method for GoDaddy to Office 365 Migration ? Or you want to learn how to migrate email from GoDaddy to Office 365 process. Don't fear, this write-up explains a simple way to transfer from GoDaddy domain email to Microsoft 365 account. So, stay with us and learn the process.
Most of us know that both GoDaddy and Office 365 are cloud-based services. But few people know that we can easily switch from GoDaddy to Office 365 account. But before we get a solution, let's know some differences between both GoDaddy and Office 365 platforms. Because both platforms are completely different from each other's.
GoDaddy is a domain registrar company offering web hosting, email hosting, domain registration, webmail services, and many more. It offers you to access the business email addresses with its webmail services. This webmail service is suitable for small companies to keep their business operations at ease. But when we talk about big enterprise solutions, Microsoft 365 is the first choice for everyone.
Office 365, known as the Microsoft 365 suite, is a cloud-based Microsoft productivity tool and is the first choice for many enterprises. Because it is the only platform that provides many business collaboration tools, Microsoft Office applications (familiar to everyone), and communication platforms, etc.
Reasons to Transfer from GoDaddy to Office 365
GoDaddy has many limitations when it comes to adaptability and unwavering quality. It is not present in Microsoft 365 platform as it offers a 99.9% uptime guarantee and offers flexibility and scalability.
Office 365 offers a platform where we can easily use Microsoft productivity tools like Word, Publisher, Excel, PowerPoint, Outlook, SharePoint, and many more. Which is not present in the GoDaddy platform.
Office 365 is an affordable email hosting that comes with various subscription plans. You can easily upgrade your license as your organization grows.
Daily Limits You can't send more than 500 emails in an hour with the GoDaddy webmail service. But Office 365 has no limits in these features. You can easily send unlimited emails without any complications.
Fine Solution to Migrate from GoDaddy to Office 365
RecoveryTools GoDaddy Backup Tool gives a simplified method to transfer from GoDaddy to Microsoft 365 easily. This solution is the best way for the persons who need to export GoDaddy Email to Office 365 account. It gives many solutions including selective folder migration, email migration by date, email address, subject, and many more.
Solution Download with Below Buttons:
Download for Windows Download for Mac
Note: This tool is accessible in demo mode. You can migrate few messages from GoDaddy to Office 365 account only. If you need to move multiple emails, purchase the solution.
Way to Transfer from GoDaddy to Office 365 Account
Given procedure will explain the method for GoDaddy Email to Office 365 Migration.
Launch the solution on your desktop.
Enter GoDaddy Email account information.
Choose the desired email folders for migration.
Click file saving option and choose Office 365.
Press on the next to migrate GoDaddy to Microsoft 365.
GoDaddy to Office 365 Migration Process – With Screenshots
In the specified procedure clarifies the way to migrate from GoDaddy to Office 365 account:
This solution is available for your Mac and Windows computers. You can download this solution by the above buttons.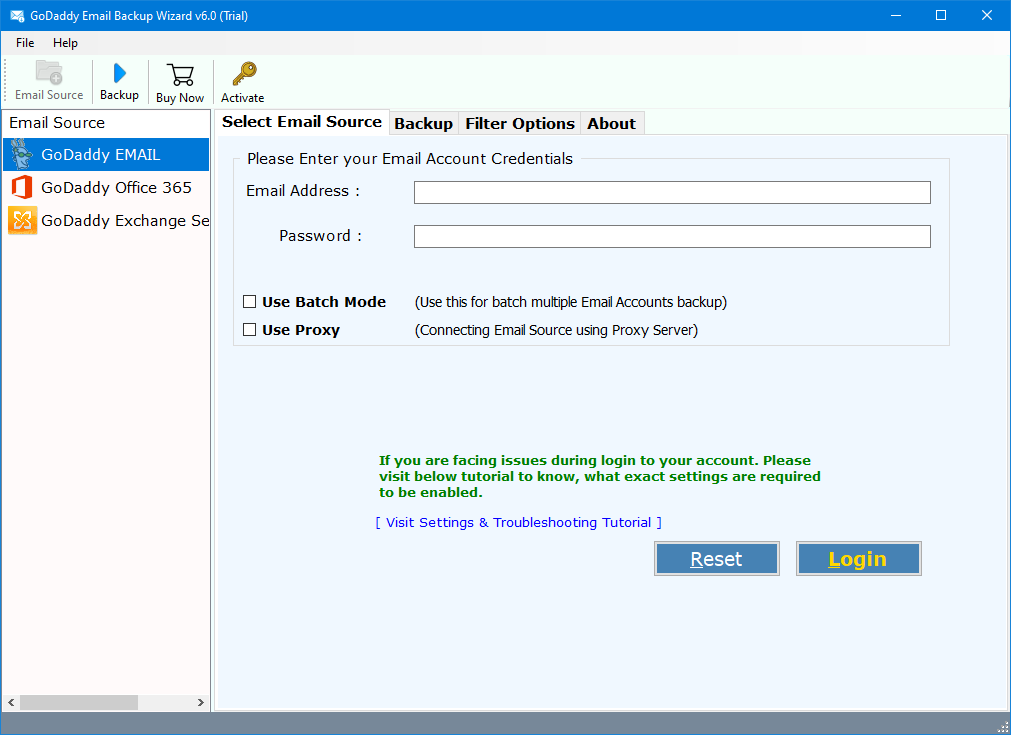 Now, pick the GoDaddy option in the list and put all the details of your GoDaddy Domain or Webmail account.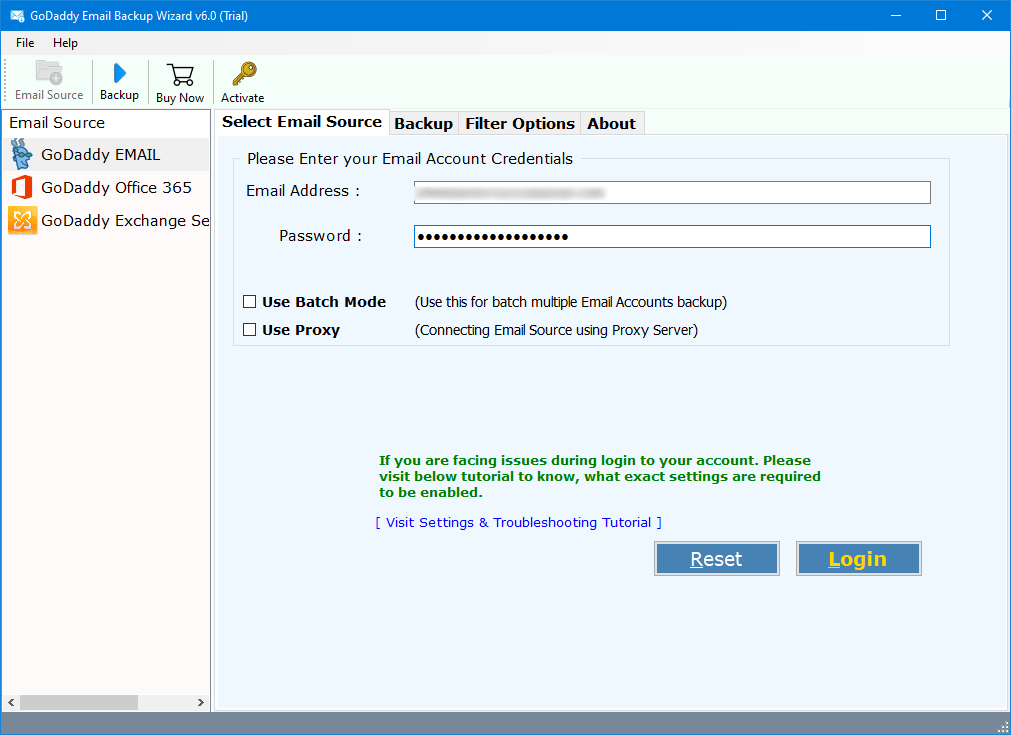 Note: If you have any further issues like unable to login, authentication failed, many more. Please check your credentials first, if it is correct, then create an app password. Or contact with us.
Also this solution gives many additional options – Batch Option & Proxy Server. Choose it when you need it.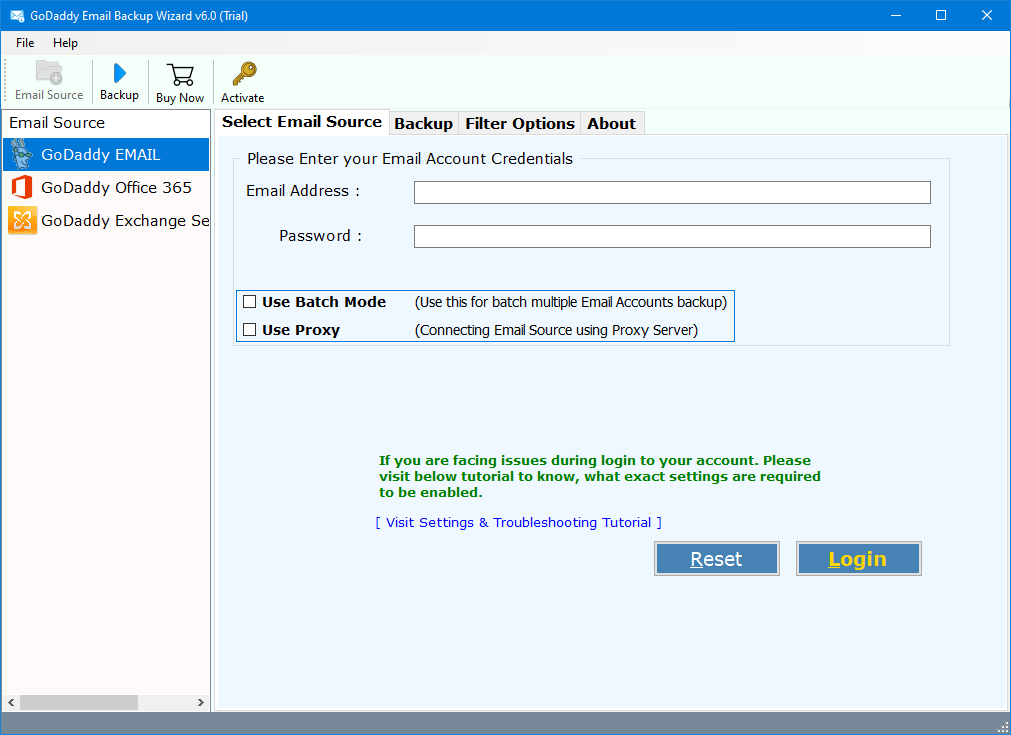 Moreover, the software starts the analyzing process. After complete it, choose the required email folders from the given list.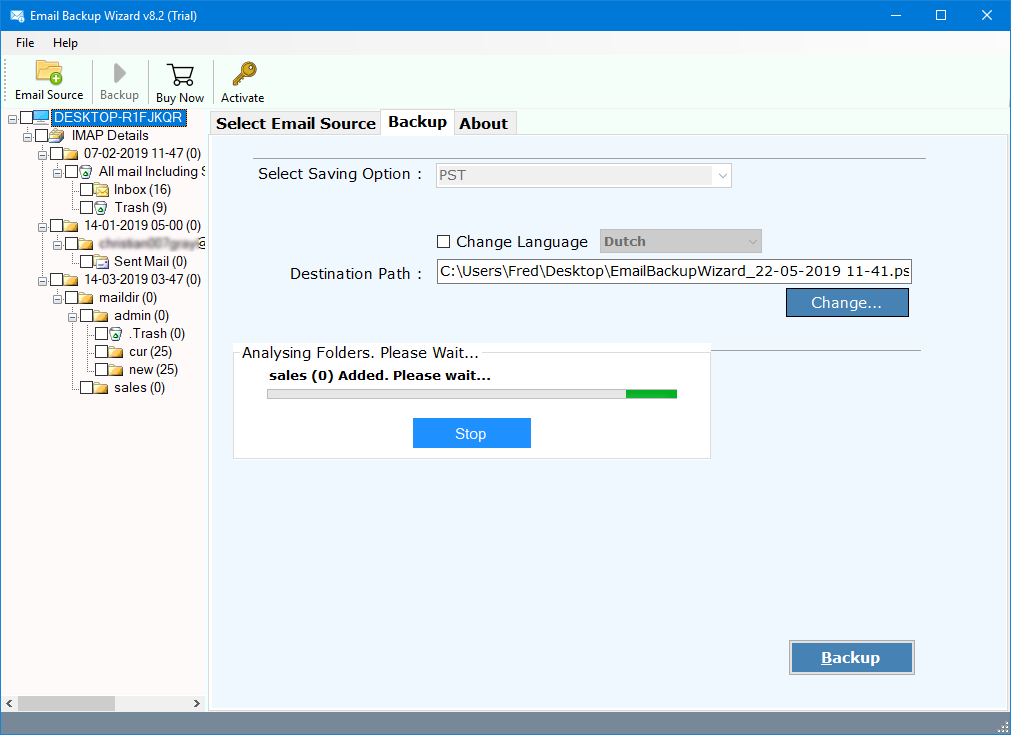 The tool gives several file saving options. In the list, you need to pick the Office 365 option.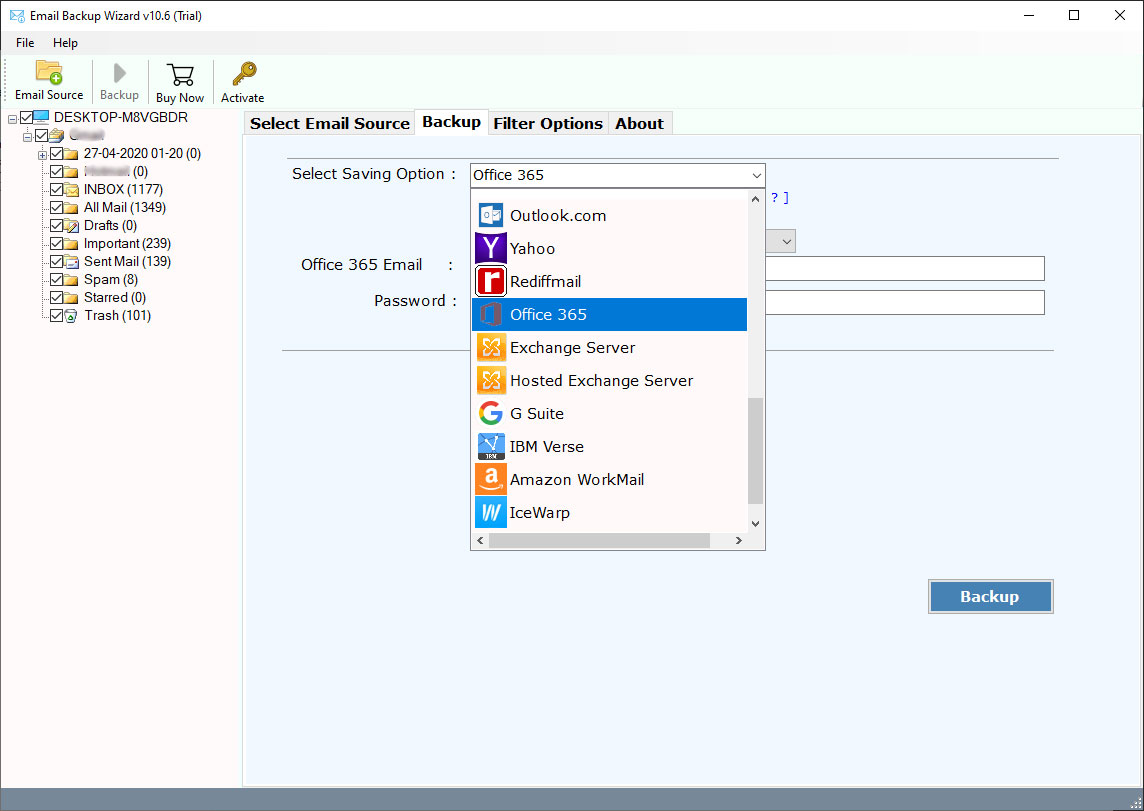 Now some more additional options appears. If you need to move only few desired email messages from GoDaddy to Office 365. Then choose additional filter options.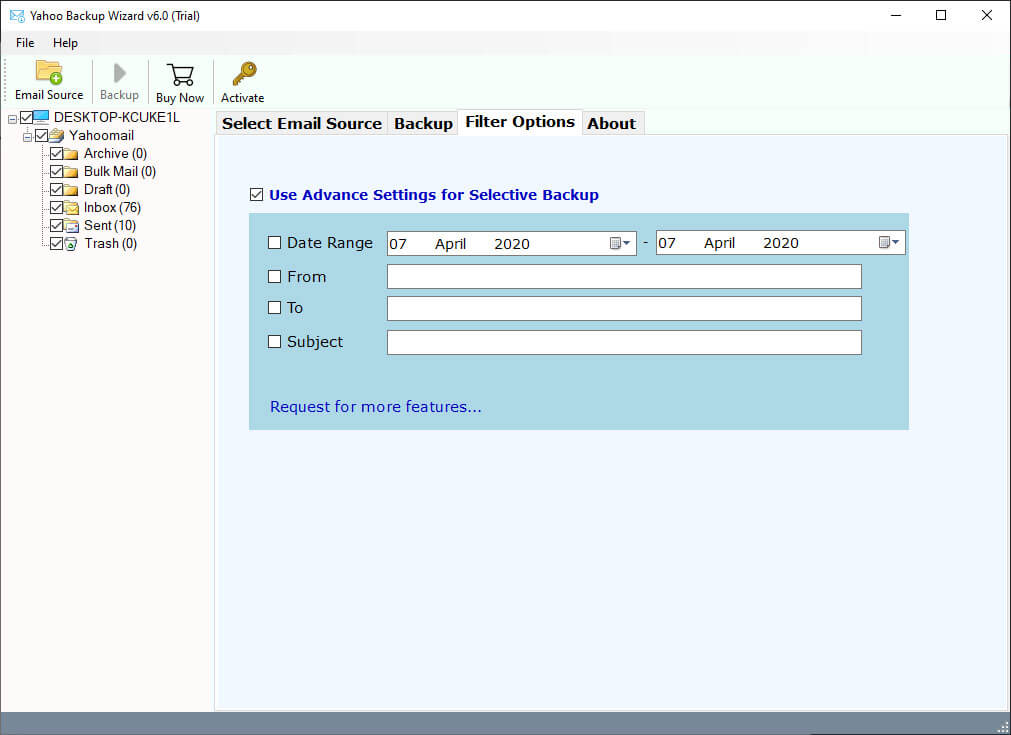 Press on the backup tab and enter your Office 365 account credentials. You can also choose some additional benefits like "I am Admin", Change Language, and Save messages in default folders.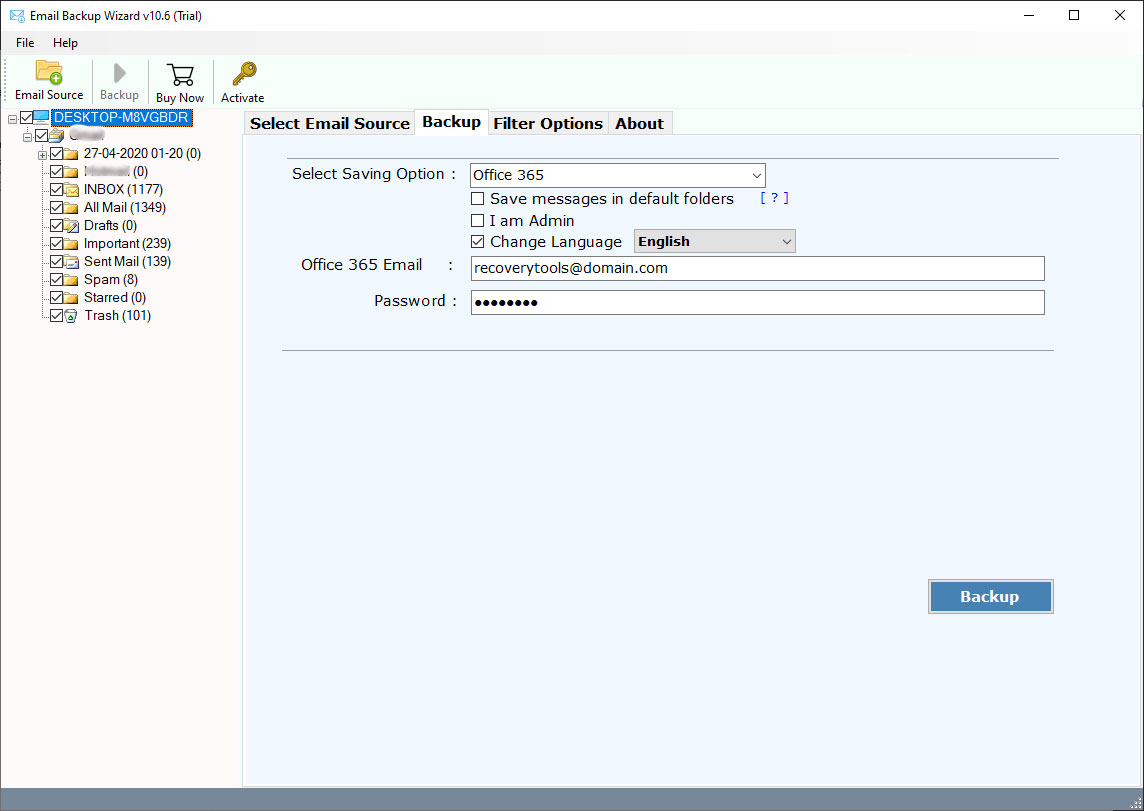 When all procedure is completed, press on the desired button to start GoDaddy to Office 365 Migration process.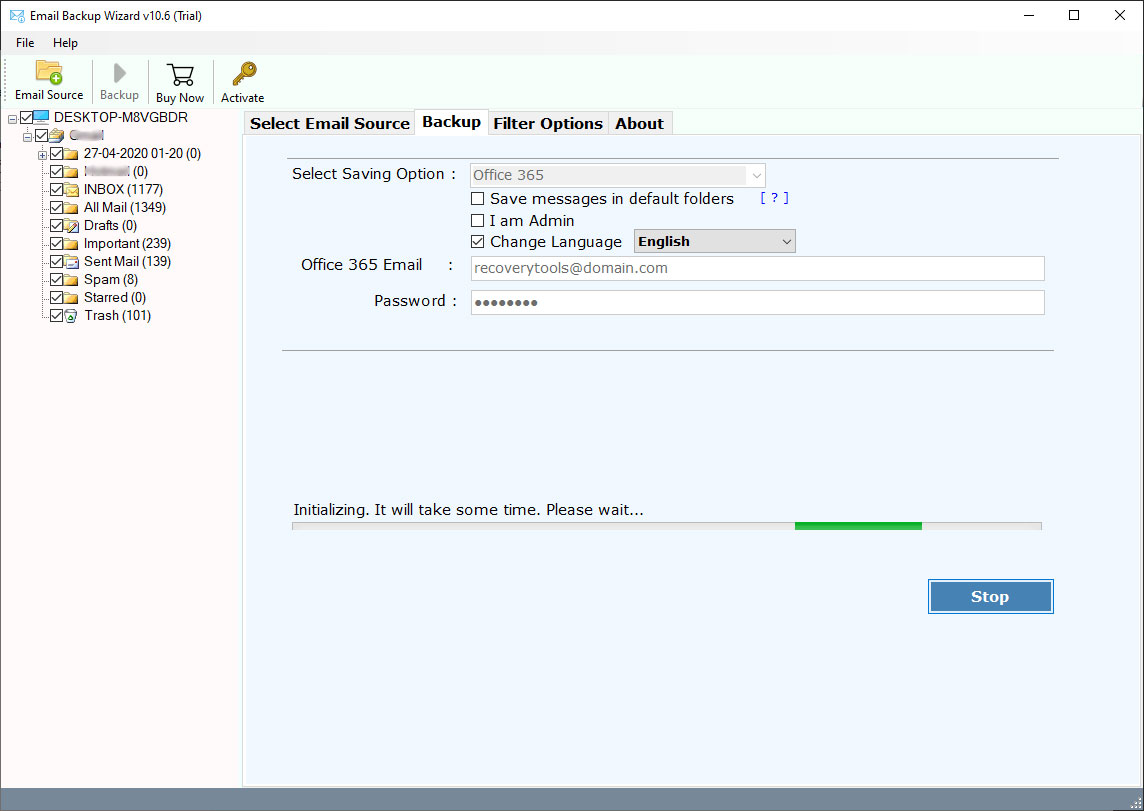 Top Advantages of GoDaddy to Office 365 Transfer Tool
The application doesn't require extremely or high-level specialized details of both platforms. However, the top few advantages of this application are explained below:
A person has to provide only user account credential details of both the webmail's. It has an inbuilt option to migrate directly from GoDaddy to Office 365.
There are many solutions available in the market that promise to transfer you directly from GoDaddy to Office 365 account. Next, it extracts the GoDaddy webmail data manually and upload them to Office 365. But this application does not require to extract data manually. It provides a cloud-to-cloud migration solution.
The program upholds the persons to migrate numerous GoDaddy mailboxes to Microsoft 365 account directly.
A person can select the proxy server option to log in with your GoDaddy account by any location with the help of a proxy server login.
The program preserves all email elements including addresses (to, bcc, from, cc), internet header properties (date & time, subject, IP location), etc.
The utility offers its users to migrate all mailbox emails to Office 365 from GoDaddy.
A person can utilize the advance batch option benefits during the process of this application. This option allows its users to migrate several GoDaddy mailboxes to Office 365 account easily.
The application will retain the original on-disk system folder structure while the procedure. It will never done any changes to the original content of the mailboxes.
The software also does not make any changes to the basic email components. It provides a completely safe user interface that never stores user account credentials in the panel cache.
One of the best thing about this application can supports all editions of Windows and Mac machines.
General User Issues
Does it anyway available to transfer only required GoDaddy Emails to Office 365 account ?
Sure, this utility offers many email filter options to move only required GoDaddy emails. The solution offers you to migrate emails by date, by subject, by email address, etc.
Can I download the utility on my office Windows Server 2016 computer ?
Of course, this solution is not only dependent on Windows and Mac operating systems. You can use it on your Windows Server machines also.
While entering my GoDaddy webmail account credentials, the tool shows me an error authenticating message. How can I solve it ?
This message appears when you entered the wrong account credentials. Please check it and if the message shows again then create an app password. Or contact our technical experts.
The quota limit for my GoDaddy webmail account was exceeded. Now, I'm not receiving any new email messages. Does the solution allow me to move folders from GoDaddy to my Microsoft 365 account ?
Sure, this program allows the way to choose the required email folders before starting the migration process.
Final Words
In the end, I would like to say that if you finding a way to migrate email from GoDaddy to Office 365. Then this write-up is for you. You will get a flawless solution to resolve the issues related to GoDaddy to Office 365 migration process. You can also use the trial edition to migrate few email from GoDaddy to Microsoft Office 365. For any help related to the product. Contact the Technical support team.