How to Migrate Emails from Eudora to IMAP Server ?
Karen Chard
~ Modified: 02-06-2022 ~ How To ~ 6 Minutes Reading
Summary: Through this blog post, you will learn a perfect approach to do migration from Eudora mail to IMAP server. Here, we have outlined the complete steps to transfer Eudora to IMAP email account.
In the present situation, each one of us knows the significance of an email application. The second it quits working, we suddenly come into alarming mode. Envision a scenario, when you hear that the email client you were utilizing for quite a long time, will soon stop providing services. Exactly the same thing occurred with Eudora when its development team declared to halt the further improvements of Eudora.
About Eudora – Eudora is a product of Qualcomm Inc. which quit creating it, in 2006. It's a matter of fact that Eudora is a cross-platform email application and effectively runs on various working OS like Windows, Mac, palmtop. Users can avail two versions of Eudora that is – The light (or free) version and the Pro (Commercial) version.
The Necessity of Migration from Eudora to IMAP Server
Even though Eudora mail has marked its hold on the digital market for more than 1.5 decades but still it has suffered a downfall. The reason is obvious – the arrival of new ages of email applications like Gmail, Office 365, G Suite, Microsoft Outlook, Thunderbird, Windows Live Mail, Apple Mail, etc.
So, acknowledging the drawbacks of Eudora mail, numerous users have taken a drastic step to switch from it. For doing so, users need to migrate Eudora emails to a file format that is compatible with their favorite email application. Or, this can even be done by implementing the migration from Eudora to IMAP server.
After converting Eudora emails to IMAP, users can easily access their old email messages from multiple devices like computer, laptop, tablet, phone, etc.
100% Reliable Solution – Eudora to IMAP Migration Tool
Conversion of Eudora emails to IMAP can be done by an expert solution like RecoveryTools Eudora Migrator Tool. It empowers users to import multiple Eudora mailboxes to IMAP server along with embedded attachments. The interesting and most beneficial thing is that you can transfer almost everything from your Eudora account to IMAP servers such as emails, contacts, and calendars.
Just download the solution by hitting the button given below:-
Steps to Migrate Eudora Mail to IMAP Account
Open the software on your Windows PC.
Load all Eudora emails, contacts, calendars in tool.
Choose required mailboxes for conversion.
Select IMAP Server & enter IMAP account login details.
Begin the migration of Eudora to IMAP.
What are the Complete Steps to Transfer Eudora Mailbox to IMAP Server ?
Download and install the Eudora to IMAP backup tool on any of your Windows machines.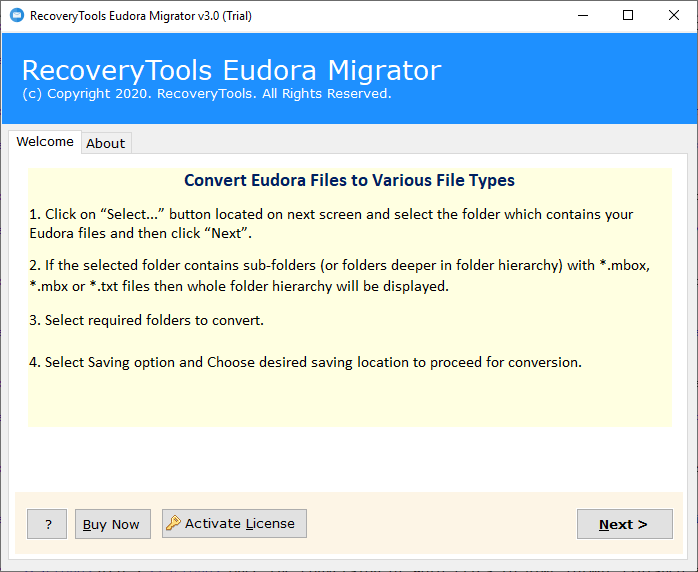 Now, select your Eudora data that is emails, contacts, or calendars. This can be done in dual ways:
Convert configured Eudora mailboxes data- Enables to upload data from the default storage location
Let me select my Eudora mailboxes data- Enables to select Eudora profile folder or Eudora files.
Click on Open to choose the Eudora folder and finally hit on the Next button.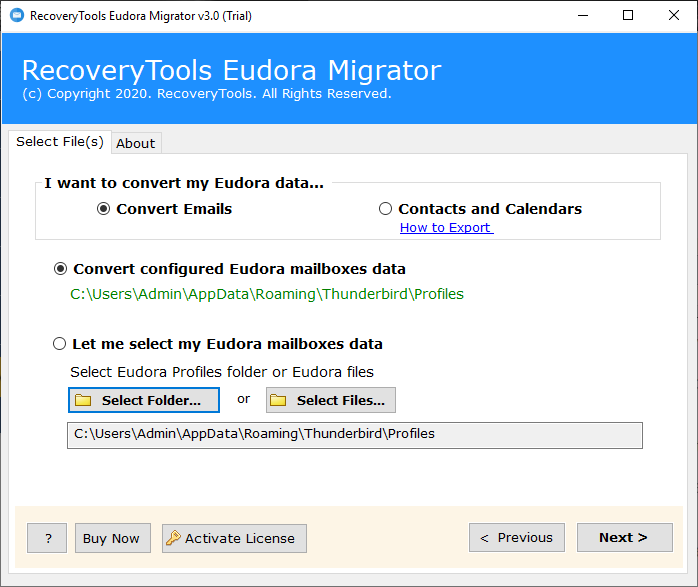 Then, select the necessary email folders or contact, calendars which you need to migrate from Eudora to IMAP server.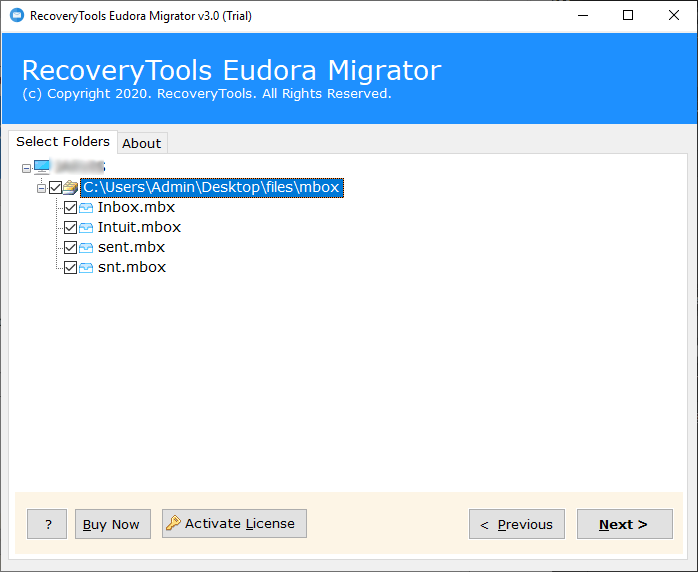 Thereafter, choose IMAP server from the saving options list.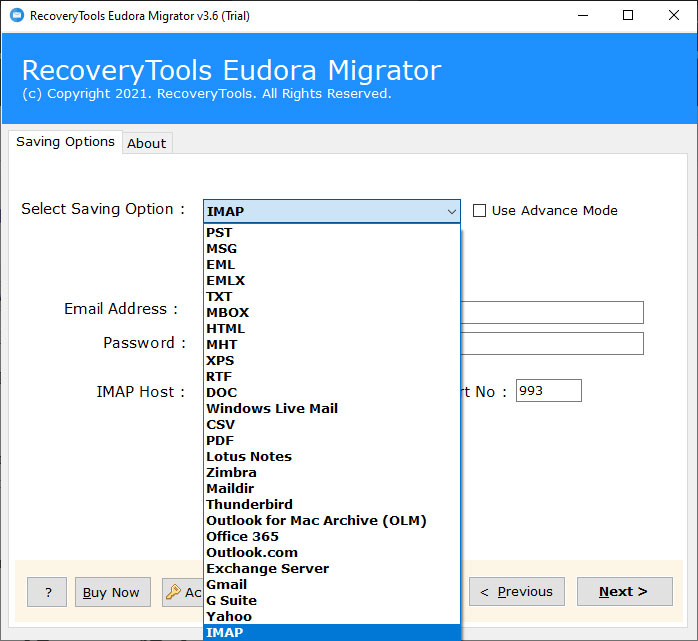 Enter the email address and password of your IMAP account. Also, specify the IMAP Host as well as IMAP Port no.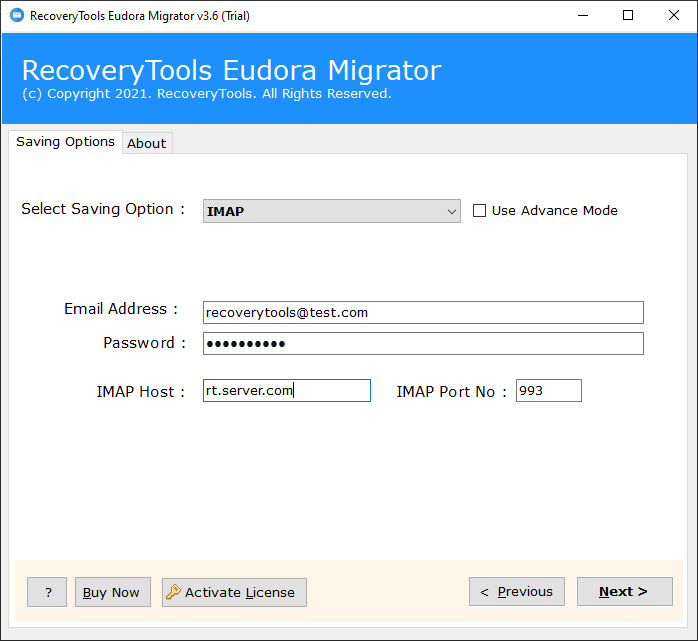 Finally, hit on the backup tab to migrate emails from Eudora to IMAP server account.
Top Benefits and Features of Eudora to IMAP Transfer Tool
Preserves Internal Folder Structure:
During the task to migrate Eudora emails to IMAP server, this software maintains the on-disk folder hierarchy.
Exclude Unnecessary Folders:
After selecting the Eudora profile, users can exclude the unwanted emails, contacts and calendars. This will enhance the efficiency of Eudora to IMAP email conversion.
Keeps Intact Email Properties:
While you transfer Eudora mailbox to IMAP, the utility maintains all email headers, attachments, images, hyperlinks, formatting of text, all email elements.
Bulk Transfer of Eudora emails to IMAP:
With this software, you can migrate bulk Eudora data to IMAP server at once. Users can choose multiple Eudora emails, contacts, calendars in one go and can simplify the Eudora to IMAP migration.
Move all Contacts and Calendars:
The tool provides a separate option to migrate Eudora contacts and calendar to IMAP server.
Pick Data from Default Location:
This software has the proficiency to auto load Eudora profile mailboxes from its default location.
Compatible with All Windows OS:
Users can install this software on any version of Windows Operating System like the latest Windows 11 and old version like Windows 10, 8.1, 8, 7, XP, Vista, etc.
Multiple Advantages which you can Avail After doing Eudora to IMAP Mail Migration
One of the interesting features of IMAP server is that after migrating Eudora mail to IMAP, your emails will be stored somewhere in the cloud. Hence, this empowers a user to read email data from all computer or devices because all data will be perfectly synchronized.
Since, after conversion from Eudora to IMAP, your data will be on server all the time, so you can access them from your home or your workplace, anywhere.
Even some mishappening occurs to your PC or you have accidentally erased data, then you can anytime access the Eudora emails because then it is easy to backup and restores emails.
Huge local storage is saved because the Eudora to IMAP converted data is stored on server.
General Asked User Queries
Can I migrate Eudora address book contacts to IMAP with this tool?
Yes, use this application to transfer contacts from Eudora to IMAP server.
Can the software export hundred emails from Eudora to IMAP account?
Yes! You can choose any number of emails to migrate from Eudora mail to IMAP server.
I want to know if this tool can move Eudora profile mailbox to IMAP with email headers?
Yes, the software has the capability to migrate Eudora mail to IMAP server along with all email headers.
I don' have Eudora mail on my system but have Eudora MBX files. Can I still perform Eudora to IMAP conversion with your software?
Yes, you can choose the manual file selection option using which you can select Eudora MBX or MBOX files for conversion.
Conclusion
The above blog explained the perfect way to migrate emails, contacts and calendars from Eudora to IMAP server. You can check out the free trial version for tool's evaluation purpose. With it, you can transfer few email items from Eudora mail but for large scale migration, please buy the licensed version.