How to Open OLM Emails in Hotmail Account ?
Karen Chard
~ Modified: 03-06-2022 ~ How To ~ 5 Minutes Reading
Analysis: Are you finding a method to Import OLM to Hotmail account ? Or you have emails in Outlook for Mac client and intend to access emails in Hotmail ? Here we are giving the best answer for rapidly redirect messages from OLM to Hotmail account. Look at this basic aide suggested by specialists and read this write-up.
An OLM file is a data storage format used by MS Outlook for Mac to store Outlook profile data on a local PC. All data in an Outlook profile, including messages, contacts, calendars, folders, attachments, and notes, are stored in this format.
"Hello, I recently got an email notice from my office. My boss needs some important documents on my Hotmail account. But all these messages are stored in my local Outlook for Mac application. So, I need local storage space. Required. But I don't want to know how to import OLM in Hotmail account? Please help me to learn the process."
About Hotmail: Created and made by Sabir Bhatia and Jack Smith in 1996. Procured by Microsoft in 1997 and dispatched as the world's first webmail service. In August 2012, Microsoft improved Hotmail and retitled it Outlook.com. Presently all Hotmail accounts have been moved up to Outlook.com. In this way, you can utilize Hotmail account with next to no difficulty.
In this thing, we will explain the entire technique to move messages from OLM to Hotmail account. Moving Outlook for Mac email to Hotmail is a simple process with the assistance of RecoveryTools utility.
Direct Solution: OLM to Hotmail Migration
Whenever you have chosen to import OLM to Hotmail. Use RecoveryTools OLM Migrator Utility. The solution grants you to export all emails from Outlook for Mac database to Hotmail account directly. While the procedure, the product will hold email header properties as well as folder structure. You can also download this application on your Windows and Mac Computers.
Get the Solution Now:
Note: The free edition allows you to export only a few emails from OLM to Hotmail account directly. For more and unlimited migration, you need to buy this product for lifetime use.
Steps to Import OLM to Hotmail Account
Launch the solution on your computer.
Select the OLM files with dual selection options.
Choose the required email folders from the list.
Choose the Outlook.com option and fill credentials.
Start the process to import OLM to Hotmail account.
How to Move Outlook for Mac Emails to Hotmail Account ?
First of all, you need to install this application on your computer.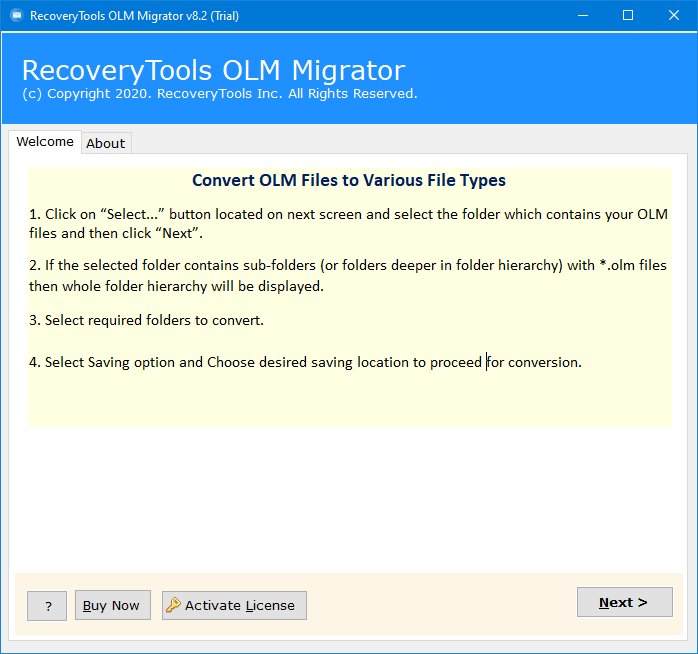 Now, select the required Outlook for Mac or OLM files with dual selection options.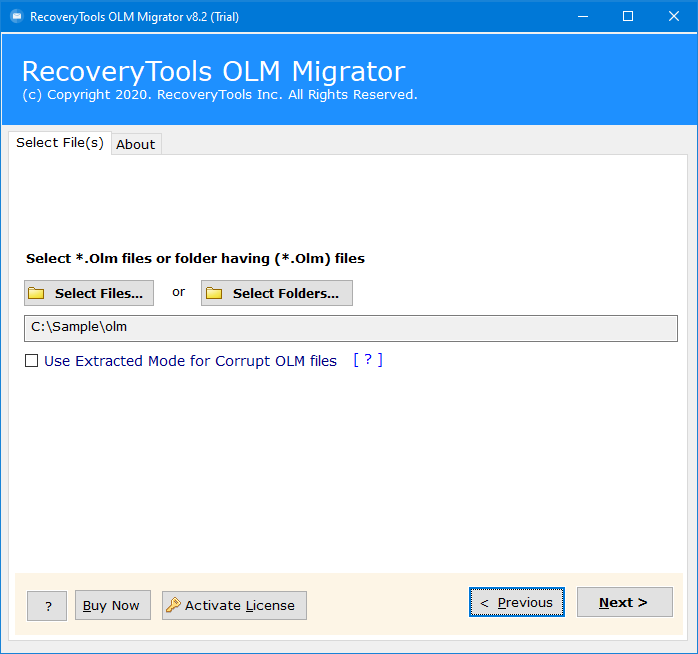 Choose the required email, contact, and calendar folders from the list.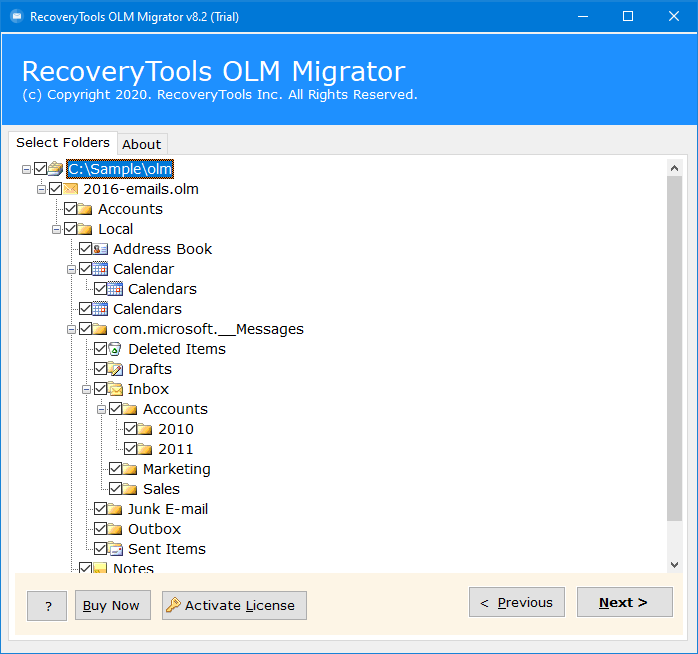 Select the Outlook.com option in the list of file saving options.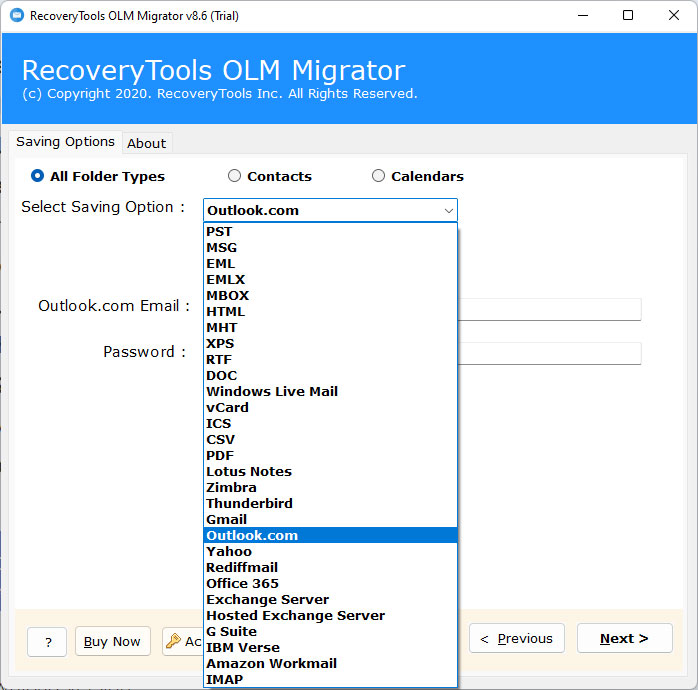 Now, enter your Hotmail account credentials in the user interface panel.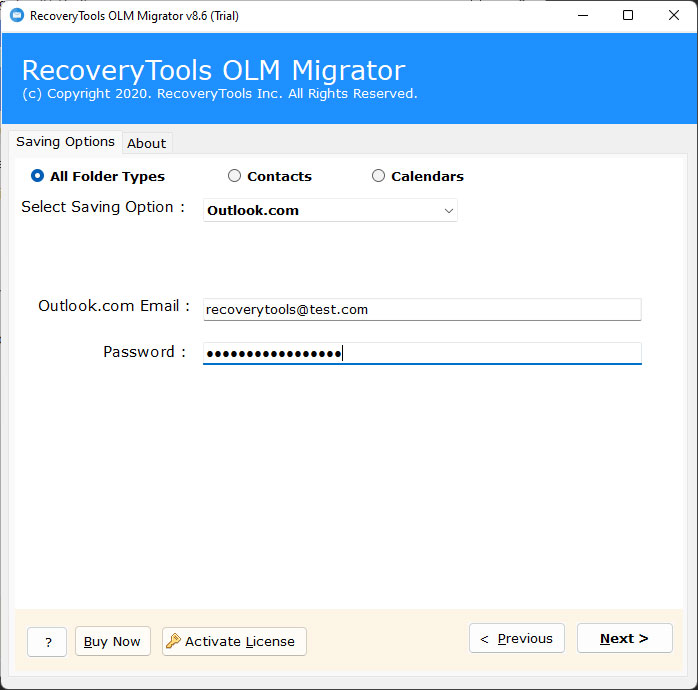 Press the next button to start the process to import OLM to Hotmail account.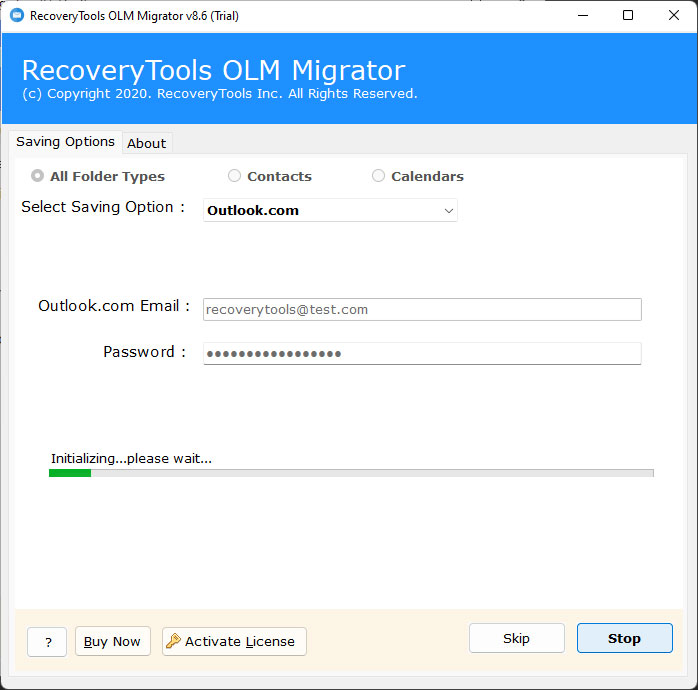 When the process is completed, press the ok button to end the process.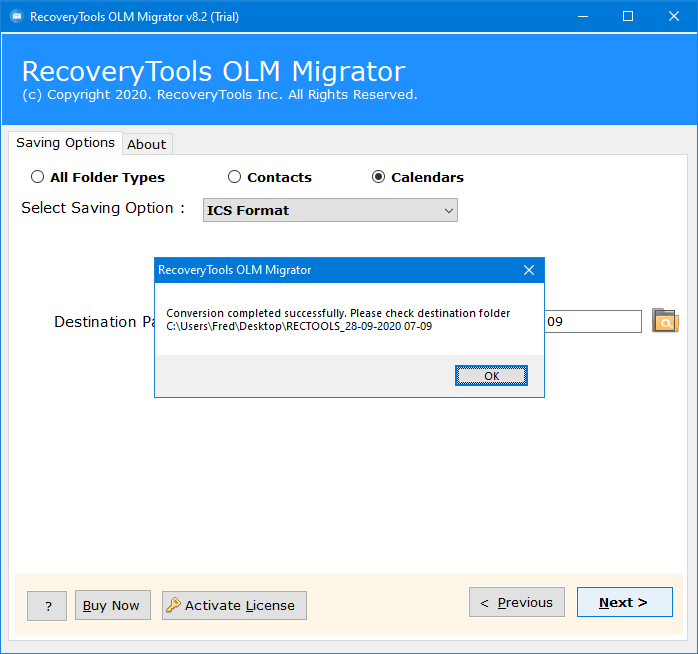 Top Features and Benefits of OLM to Hotmail Migration Tool
The OLM to Hotmail Migrator comes with advanced options to move many Outlook for Mac profiles into Hotmail account. One can easily use the dual selection options to choose multiple OLM files at once. The Select Folders option allows you to choose many Profiles and database files at once.
100% Safe Software Panel:
One of the major issues faced by many users is a safe environment. This solution comes with a 100% clean user interface panel. There is no security lack faced during the migration process. You can trust the solution because it was tested in many labs.
Maintains Metadata & Email Properties:
Email properties are another one of the major issues while moving emails from one place to another. But RecoveryTools promise you to ensure the email properties of your OLM emails during the process to import into Hotmail account. It keeps all email elements including attachments.
Simple and Consistent Procedure:
Many users have come from a non-technical background. But don't worry now. This application comes with a simple and easy-to-use GUI panel. here, you can easily import OLM files to Hotmail account directly without any technical guidance.
Maintain Email Folder Hierarchy Structure:
There are many users who are worried about their folder structure. That's why this application solves these issues and keeps your email folder structure after completing the process. ​During the procedure, the product keeps up with the email order structure.
Windows and Mac Supportable Solution:
The solution supports both Windows and Mac computers to import OLM to Hotmail account. One can easily use this application on Windows 11, 10, 8.1, 8, 7 and Windows Server 2019, 2016, 2012, and lower versions. The solution supports all Mac OS X editions.
Conclusion
In this article, we are going to explain the complete process to import OLM to Hotmail account. If you have the same issues, then you can easily download the solution with the above buttons. The solution is available for your Windows and Mac computers. You can easily download it and test it without investing your money. If you have any further issues, then you can also contact us via chat or email process. Thank you for reading the blog.