How to Import OLM Contacts to Google Contacts Easily ?
Karen Chard
~ Modified: 03-06-2022 ~ How To ~ 5 Minutes Reading
Overview: Are you looking for a solution to import your Outlook for Mac database file contacts to Gmail ? Or want to know how to import OLM Contacts to Google Contacts ? If so, then you are at the right place. In this article, we are going to explain the complete method to export OLM file address book to Gmail account. So, keep reading this article to know the process.
In the present time where applications like Skype, WhatsApp, We-Talk, Viber are continuously administered to provide communication in real-time. But Email or Messaging is by far the most overwhelming phase of sending and receiving messages in corporate life.
Using multiple email accounts is a new trend these days, overall, individuals use an alternate email account to deal with their office life and personal life. However, time and again situations arise when we need to import information from our personal records into a professional email account.
In this article, we are going to explain a similar issue. Let's understand it with a user query:
"Hi, I was using Mac Outlook for the past few years. That's why I store multiple contacts in my address book. Recently my application has crashed and is not working even after many repairs. But I have found my database *.olm file. Does anyone know how to transfer my contacts to a Gmail or Google Contacts account? please help me!!!!"
Most contacts are stored in CSV or vCard files. Gmail or Google is the only platform that supports both the contact formats. However, OLM is a format that stores all the databases of Outlook for Mac including emails, contacts, calendars, notes, tasks, attachments, and many more. That's why we need a proper solution to extract contacts from OLM files.
A Simple Way – Import OLM Contacts to Gmail
RecoveryTools OLM Migrator is the only solution in the market that provides multiple contact formats. You can easily extract contacts from OLM files in vCard or CSV format. These formats are easily supported with Gmail or Google Contacts. Additionally, during the process, the solution maintains all contact properties and meta descriptions. You can use this solution on your Windows and Mac computers as well.
Get the Solution Now:
Steps to Import OLM Contacts to Google Contacts
Start the solution on your computer.
Select OLM files with dual mode of selection.
Choose only contact folders from the list.
Select CSV or vCard option in the file saving options.
Start the process to export OLM Contacts for Gmail.
How to Upload OLM Contacts to Gmail or Google Contacts ?
First of all, you need to install this application on your computer.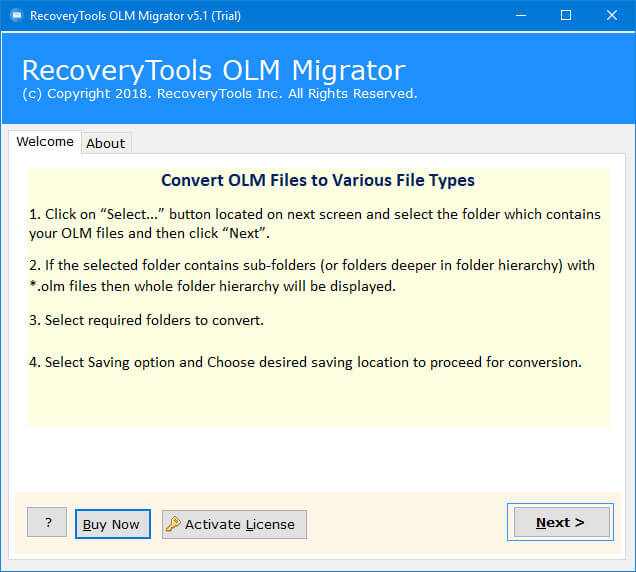 Now, pick the required Outlook for Mac database files with dual options.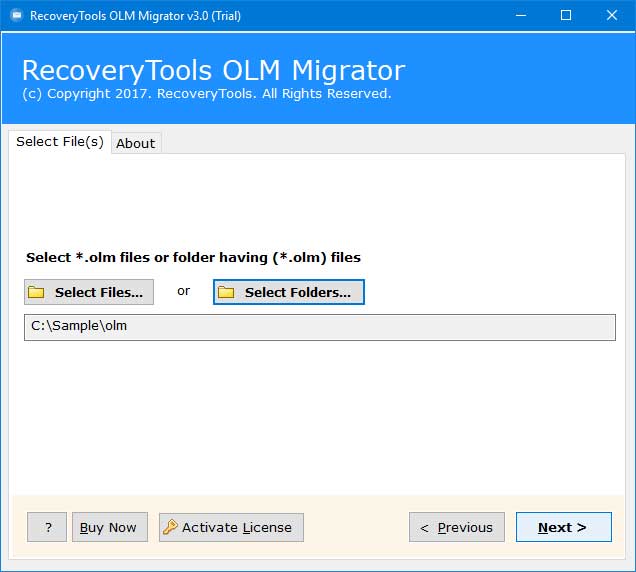 Choose the required contact folders from the list of given folders.
Select the vCard or CSV option in the list of file saving options.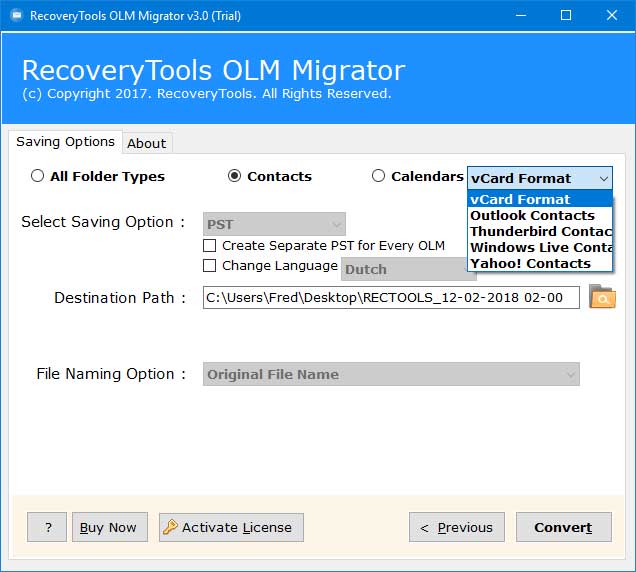 Now, set the destination location path and start the process to export OLM contacts to vCard format.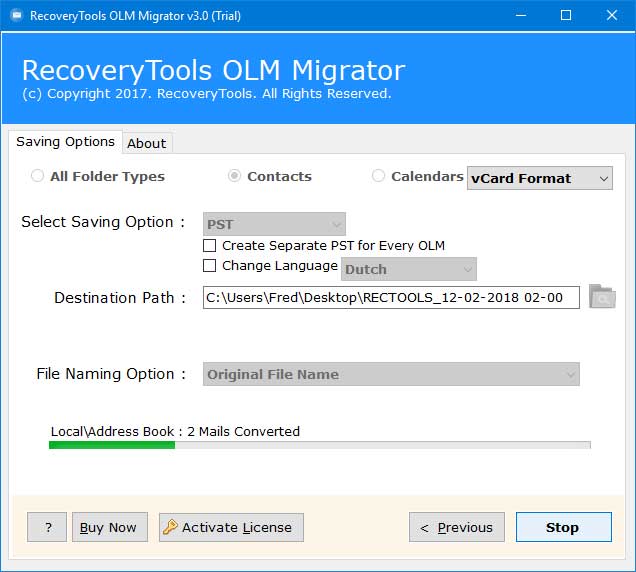 Access the resulting files received after the conversion process is finished successfully.
Now we will learn how to import resultant files to Gmail or Google Contacts.
Browse Google Contacts or click on this URL: https://contacts.google.com/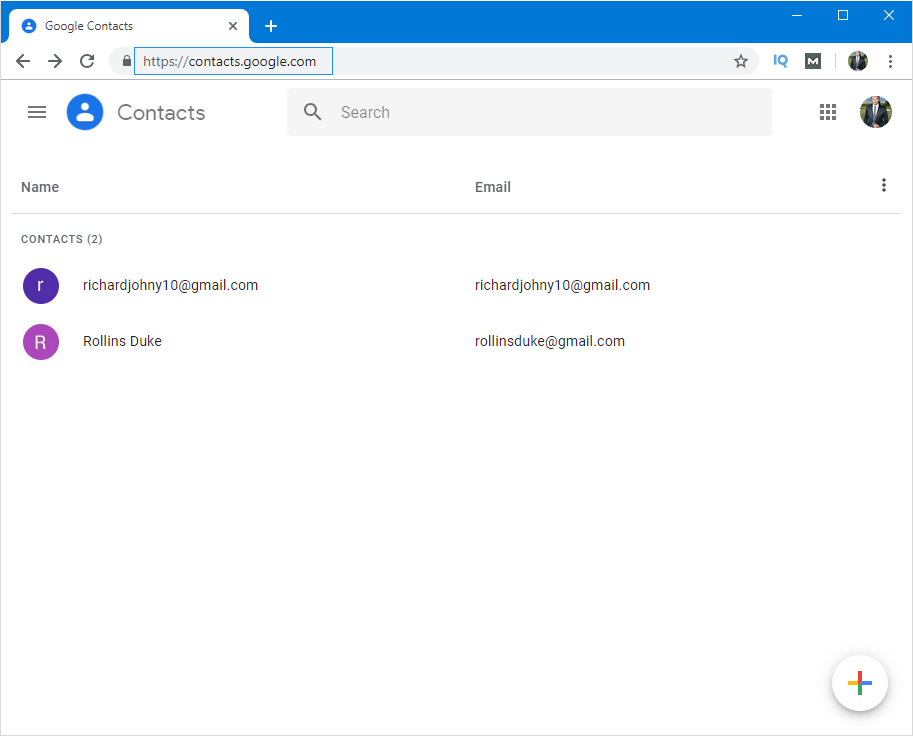 In the left menu, choose the Import option to upload the resulting files.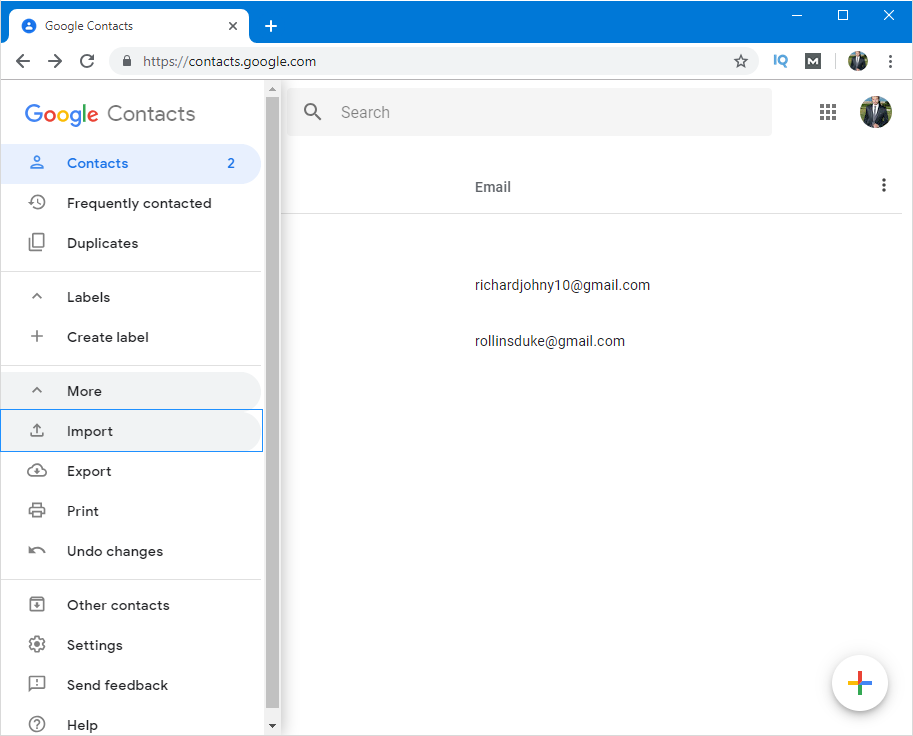 It will ask users to select CSV or vCard files as per their choice.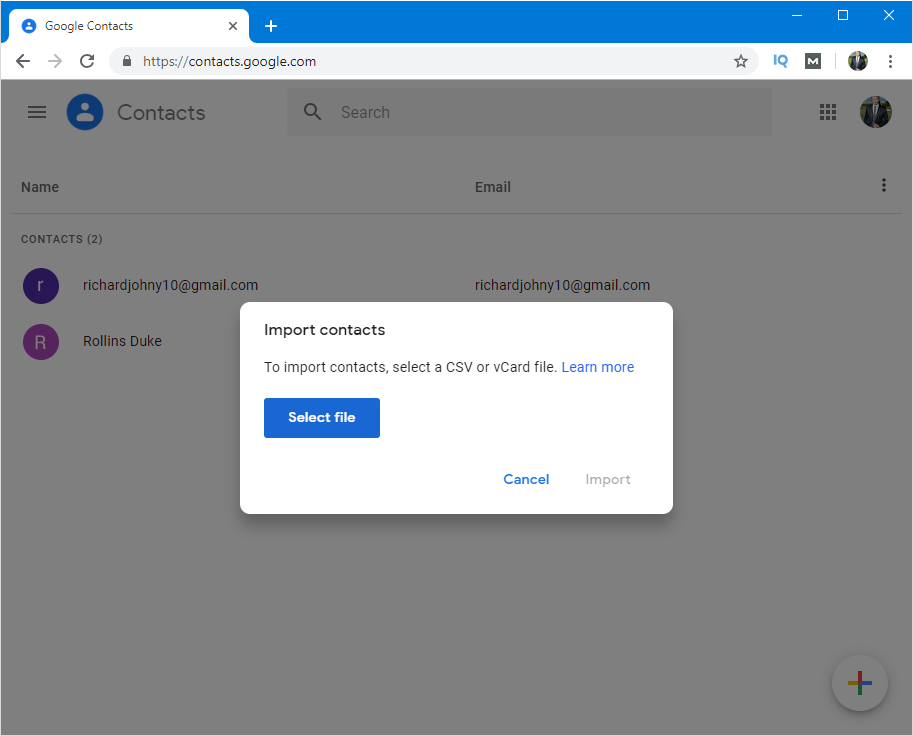 Select the resulting file in which the contacts are saved and click on Open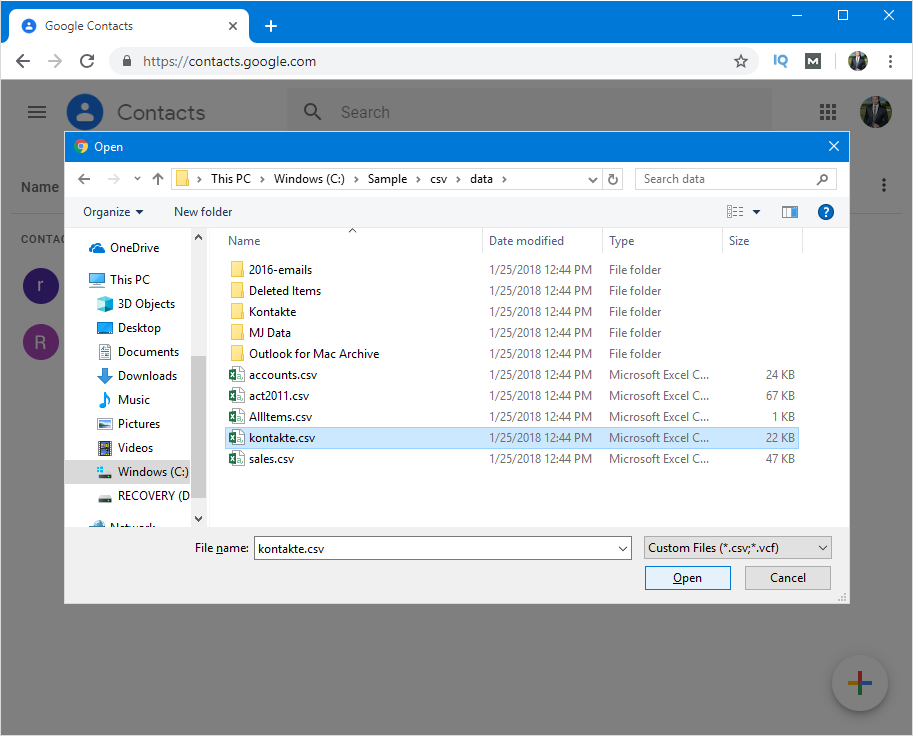 Verify the source of selected file location again and click Import
The import process will soon start displaying a label at the bottom.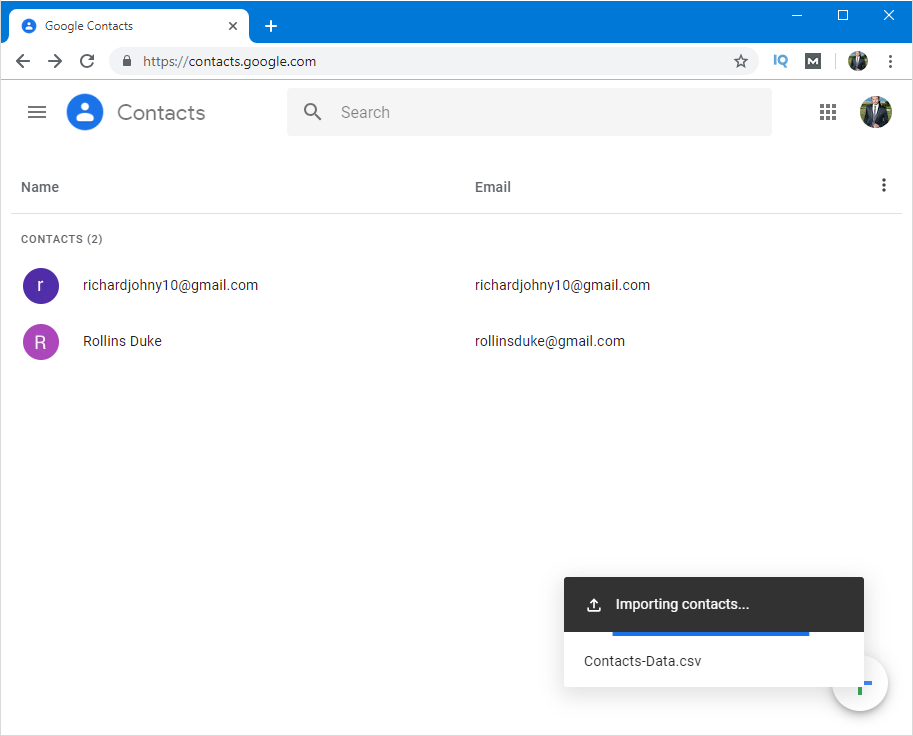 Once done the software will display a confirmation message on the right-bottom pane.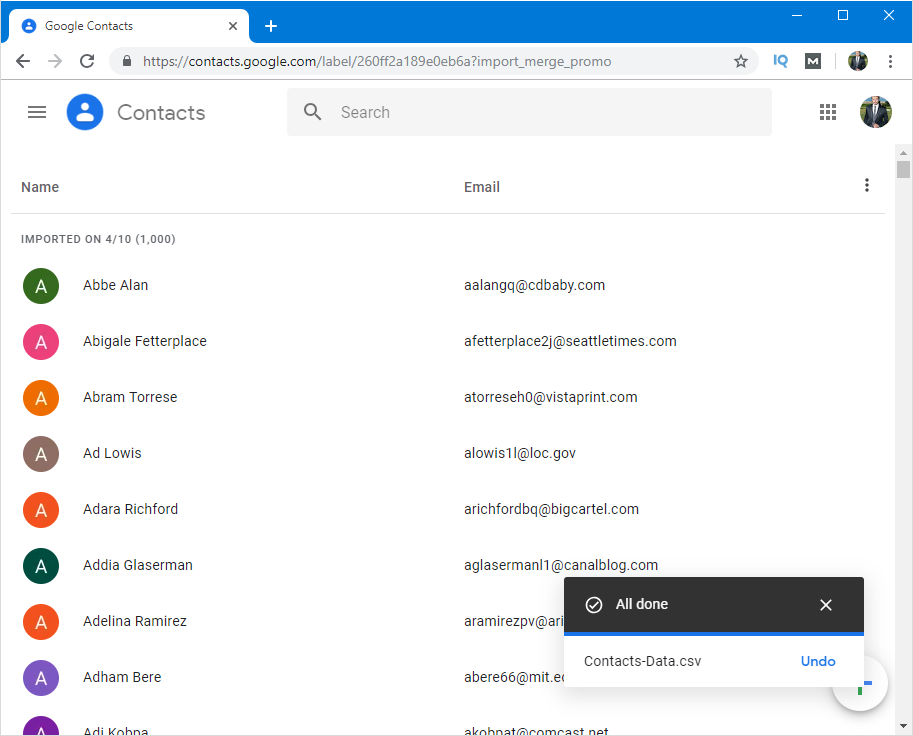 Top Advantages of OLM Contacts to Gmail Conversion Tool
The software is designed with advanced algorithms to provide a large number of advantages to its users. Some of them are listed below:
Import Multiple Outlook for Mac Profiles Contacts to Gmail:
The solution will enable the users to bulk export multiple users' information from OLM Contacts to Gmail at once. Just choose multiple OLM files with dual selection options and upload many profiles contacts to Gmail at once.
Simplified Approach to Import Contacts into Google:
The working interface of the utility is very easy to understand with a simplified approach. This will create ANSI vCard files that are supported in Gmail and Google devices. The software is completely standalone to perform its work without requiring Outlook for Mac on your PC.
Change and Choose Destination Path:
The utility will by default save the resulting VCF files to the desktop which the user can modify as per their choice. Users can also create a new folder directly through the application panel if a user wishes to save the resulting files to a new folder.
Keep OLM Contacts Properties and Details:
The utility will preserve all the basic details of Mac Outlook contacts i.e. first name, last name, business address, home address, email id, phone number, etc. The software will provide users the option to create separate vCard files for each OLM Contact.
Support All Microsoft Windows and Mac OS:
The software is compatible with all the latest versions of Microsoft Windows i.e. Windows 11, Windows 10, Win 8.1, Win 8, Win 7, Win XP, Win Vista, etc. for both 32-bit & 64-bit OS editions. Also, you can install this application on all Windows Server machines. You can also download the Mac version of this application to import OLM contacts to Gmail easily.
Conclusion
In this above blog, we will discuss how can a user successfully import OLM Contacts to Gmail and Google Contacts. If you want to know the process, then read this article to get an easier method to import contacts data into a Google account. You can also take the help of RecoveryTools solution to instantly import OLM contacts to Gmail. For more information, contact us via chat or email process.