How to Import (Outlook for Mac) OLM Calendars to Gmail Account ?
Overview: Are you planning to extract calendar from OLM files ? Or want to import OLM Calendar to Gmail account ? If yes, then in this blog I am going to tell you how you can do it easily. For this, we need a proper solution that directly moves Outlook for Mac calendar to Google Calendar account. So, keep reading the post.
Microsoft Outlook, a remarkable professional email program. It is created and refreshed by Microsoft Corporation. MS Outlook was first introduced in 1997, followed by more recent versions. Initially, it was also available for Mac computers.
As we all know, that OLM file is an information storage document used by MS Outlook for Mac to store disconnected Outlook profile information in the local computer store. The whole information of Outlook profile includes messages, contacts, journals, tasks, calendar, and notes are stored in this format.
If you intend to extract calendars from OLM files to Google Calendar, then at that point, in this blog I will tell you how you can do it without any problem. But before that, we need to understand why we need to extract and import OLM Calendar to Gmail account?
"I need to import OLM calendar to Gmail account. I have a vagrant Mac .olm document that stores my organization's most recent long-term meetings plan. Currently, I need to fix this and add the OLM calendars to Google Calendar. Is there any solution available to extract OLM Calendar for Google Account ?"
A Simple Way – Import OLM Calendar to Gmail
RecoveryTools OLM Migrator is the best solution in the market that offer many file saving options including calendar. One can easily use this utility to export OLM Calendar to Gmail account directly. The solution keeps all the details of your calendars data while the process. You can also install this application on your Windows, Windows Server and Mac machines.
Get the Solution Now:
Note: This is a demo edition of this solution which allows you to export only few calendars for Gmail account. For more, you need to purchase the solution key.
Steps to Import OLM Calendar to Gmail Account
Launch the product on your PC.
Select the OLM files with dual selection options.
Choose the Calendar option and select ICS format.
Set the location path to save extract calendar data.
Start the process to import OLM Calendar to Gmail.
How to Upload OLM Calendar to Google Calendar ?
Download, install and run the solution on your computer, & Read all Important Instructions.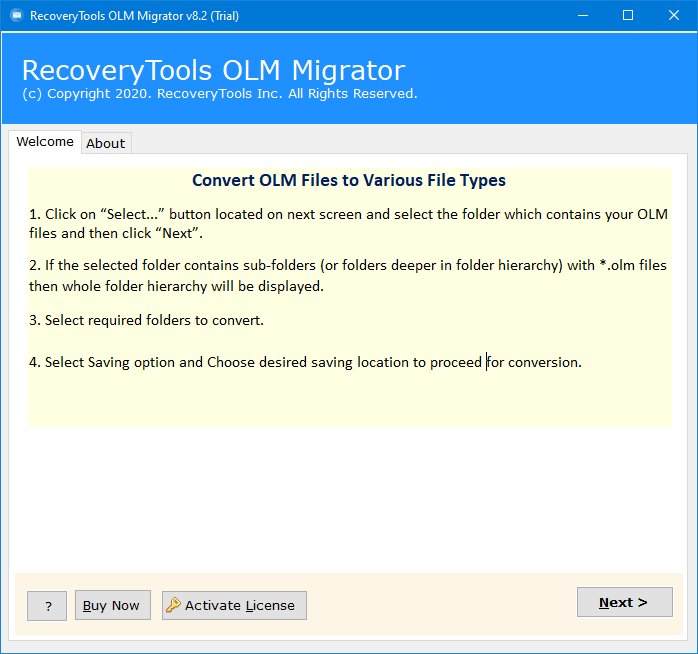 Click on the 'Select Files' or 'Select Folders' option & browse the OLM folders/files.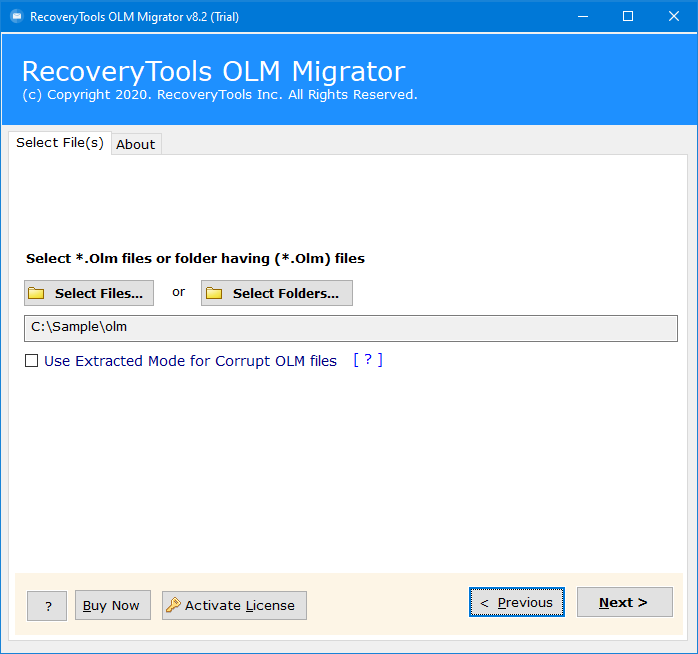 Choose the Required Mac Outlook Calendar folders from the given list.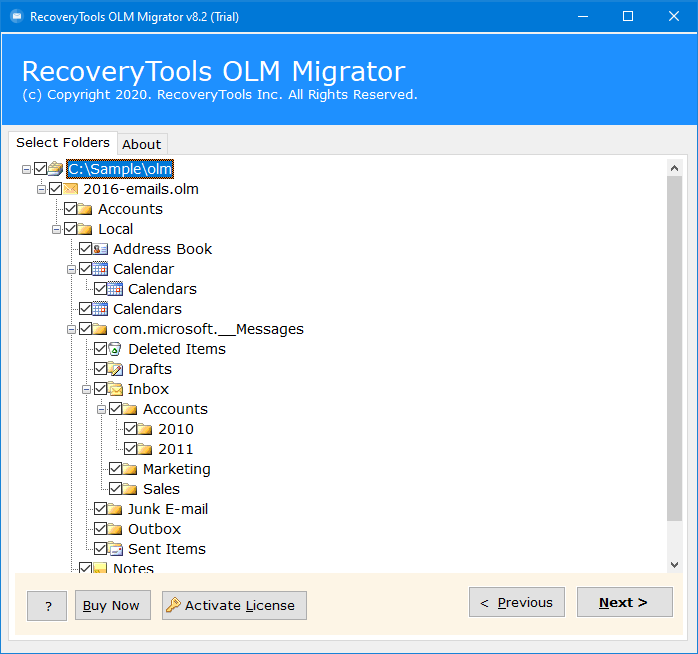 Choose Calendar options and select ICS format from the list of file saving options.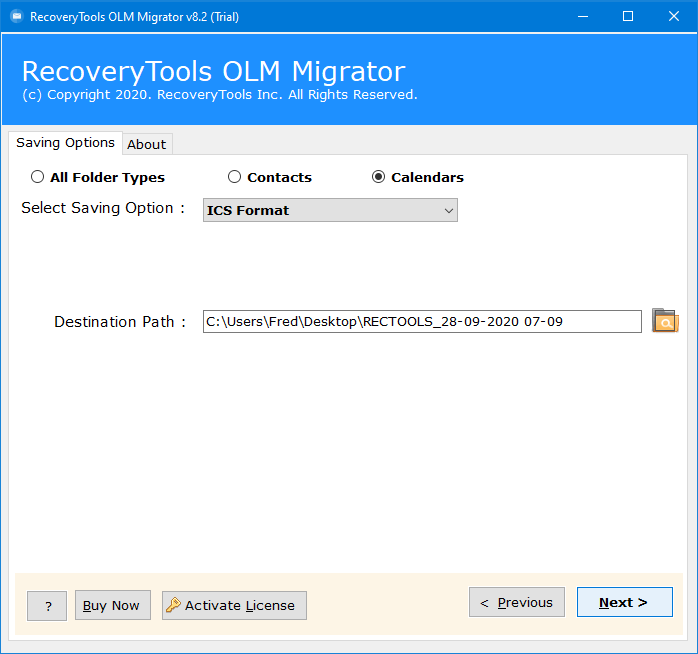 Analyze the live conversion process to import OLM Calendar to Gmail account directly.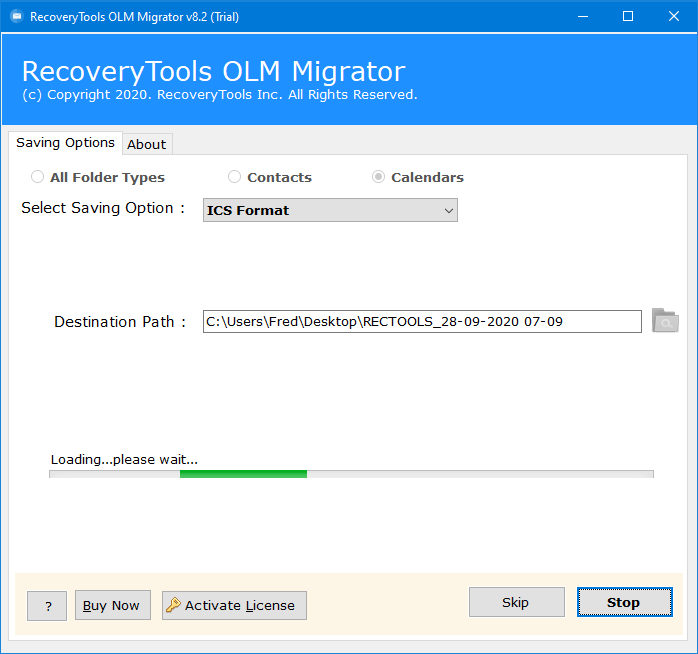 Once Conversion Finished, click on the OK button to Confirm & Exit.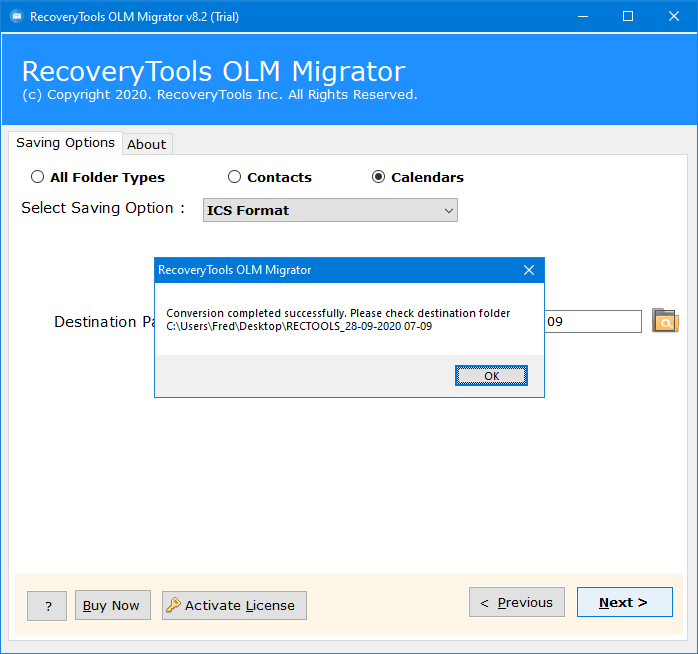 Access the resultant Calendar Items from the Default Destination location.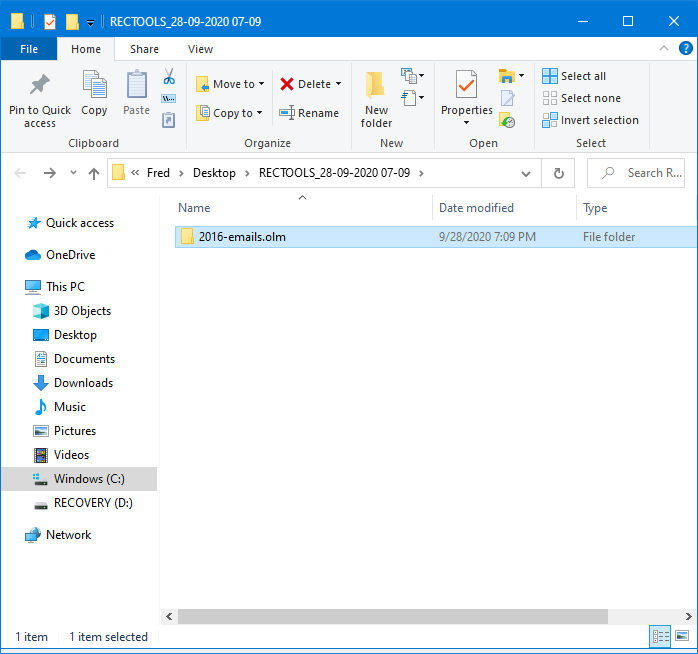 Now you have an ICS file extract from Outlook for Mac Calendars.
Open your Gmail account and click on the Calendar option.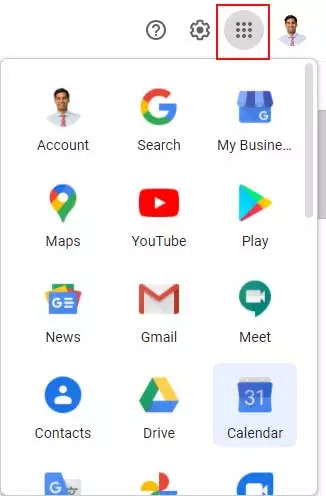 Click on the "Add Other Calendars" options.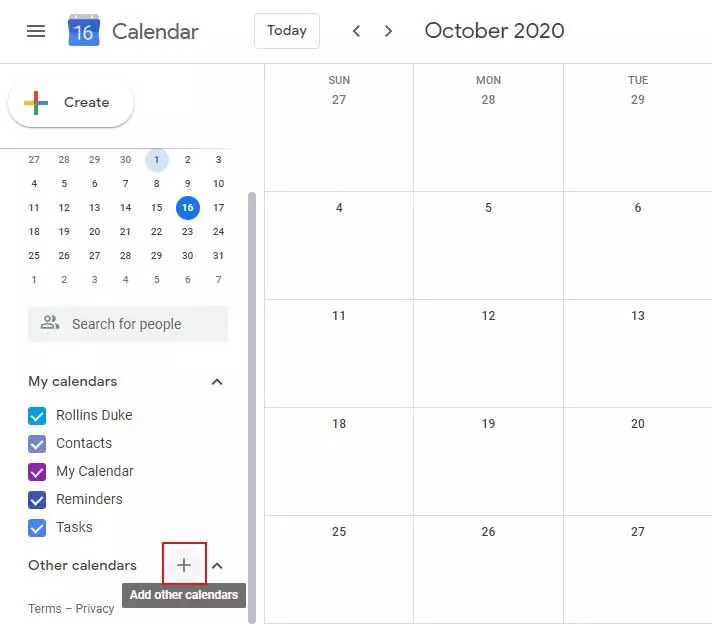 Now you need to select the Import option.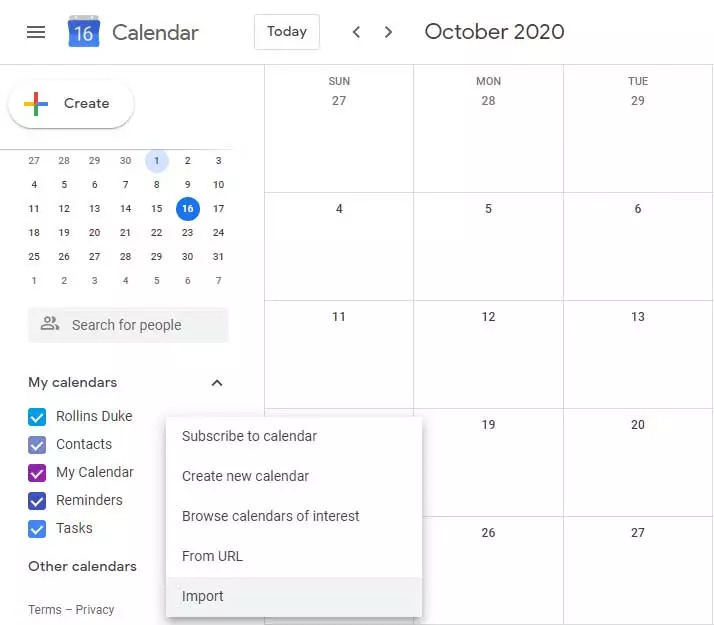 Choose the file from your computer location.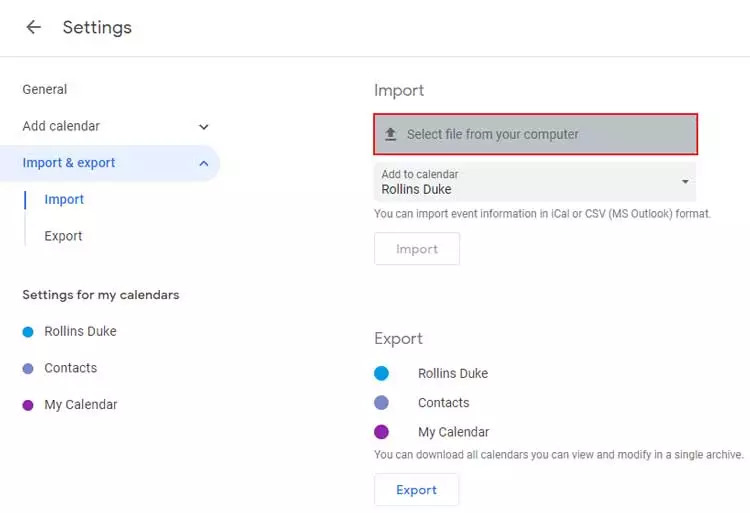 Then click on the Import button.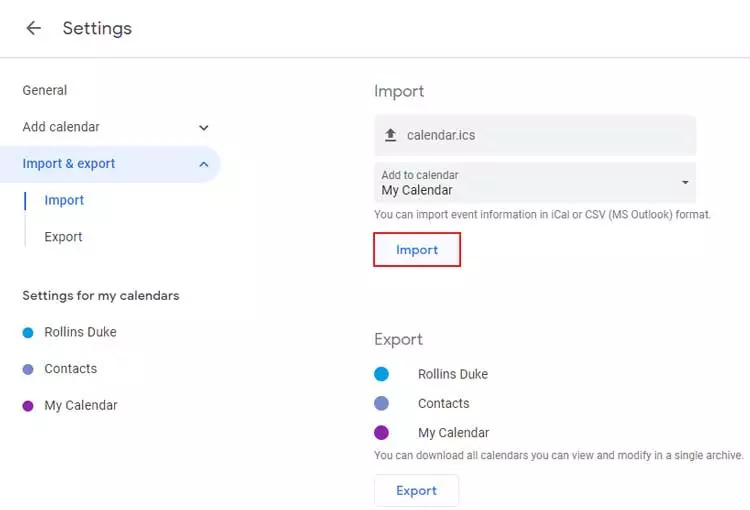 The process to import OLM calendar to Gmail or Google has been completed successfully.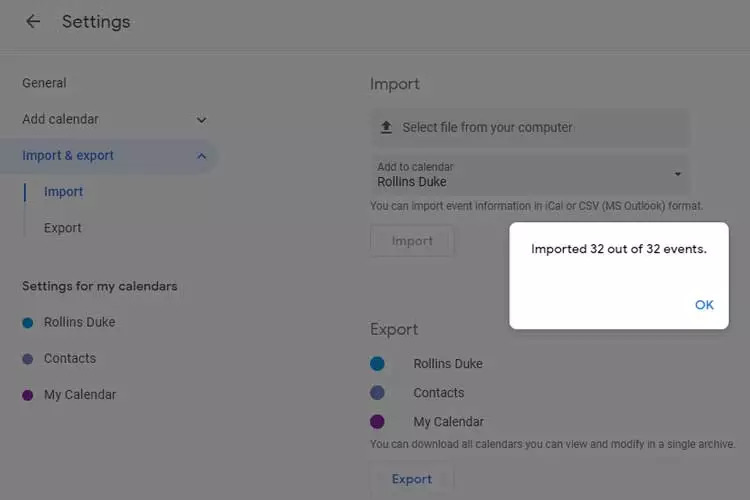 Top Benefits of OLM Calendar to Gmail Migration Tool
Batch Options to Select Multiple Outlook for Mac Database Files:
The solution provides dual selection choices to select multiple Outlook for Mac database files at once. The select folders option allows you to load many Outlook for Mac profiles calendars at once. Which is a very interesting feature for many users.
Convert Large Outlook for Mac Data Files Easily:
The product can import large-sized OLM file calendars to Gmail account without any size issues. ​It can easily handle large ICS files without any extra effort.
Keep Calendar Meta Properties:
During the process, the solution keeps all calendar meta properties such as events, tasks, meetings, start or end timing of meetings, location, notes, appointments, attachments, etc.
Simple and Consistent Interface:
The solution comes with an easy to understanding solution for every person. Which comes from technical and non-technical backgrounds. One can easily use the solution without taking the help of a technical person to import OLM calendar to Gmail account.
Windows & Mac Supportable Utility:
The product is available for both Windows and Mac computers to import Outlook for Mac calendar to Gmail account. One can easily install this application on all editions of Microsoft Windows & Windows Server editions such as Windows 11, Windows 10, Windows 8.1, Windows 8, Windows Server 2019, Windows Server 2016, Windows Server 2012, and it's below variants. The solution works on all Mac OS X editions.
Conclusion
You can follow the previously mentioned steps to import OLM calendar to Gmail with all unique data. The product is available with a trial edition to import a few calendars into Gmail account. After getting 100% satisfaction, grab its license keys at a pocket-friendly price to avoid all limitations. You can also take the help of our technical adviser anytime. Thank you for reading.