Tips to Import MBOX File to IMAP Server
Karen Chard
~ Modified: 03-06-2022 ~ Mac MBOX ~ 5 Minutes Reading
Overview: This article gives you a detailed process about how to import MBOX to IMAP Server. After reading this article, you will learn to upload Mailbox files into IMAP Server account by providing credentials. A user can successfully migrate MBOX emails to IMAP Mail Server using a professional toolkit.
In day-to-day technology life, lots of users use different email client applications. Most of these email clients support MBOX format for storing their mailbox data locally such as Thunderbird, Apple Mail, Entourage, Eudora, etc.
Due to the obvious reason, there are plenty of users who have plans to import Mailbox files to IMAP account. Whenever users try to transfer emails from MBOX file to IMAP account, they faced the problem of data conversion.
Let's Understand by a User Query:
"Hello, I was using Apple Mail (the default Apple Mail app) on my Mac desktop computer. Recently I shifted from Mac to Windows platform. But before leaving the Mac computer, I backed up my Apple Mail mailbox. The copy is taken in MBOX format.

Now, I need to use this Mailbox file email on my configured IMAP account. Kindly help me in understanding how to export the MBOX file to IMAP account with all details!!!"
Most of the users faced problems while trying to export Mailbox file emails to IMAP account. They asked about the solution to their problems on various forums & platforms.
Best Solution for MBOX to IMAP Migration
A user can successfully export MBOX files to IMAP account in a quick & simplified manner. You can do it with the help of  MBOX Migrator Software. This software directly provides IMAP option that will help them to directly import Mailbox files into IMAP account.
Free download the solution from the below button
Download for Windows Download for Mac
Trial Limitation: A user can free download & use the trial of this software. With the trial edition, a user can convert only the first 25 emails for free. So, if you want to export more than 25 emails, then you need to first activate this software.
Steps to Upload MBOX to IMAP
Run the tool on your computer & load MBOX files.
Select only the required folders from the list.
Choose the IMAP option from the saving format list.
Set up MBOX to IMAP options by providing login credentials.
Now, click on the Convert button to start the process.
Amazing Features of MBOX File to IMAP Migration Tool
Load MBOX Data in dual ways:
This software provides users with dual ways to export data to an IMAP account. A user can export a single Mailbox file to an IMAP account or multiple files to an IMAP account in batch mode using this tool.
100% Safe & Secure Application:
It is a 100% safe & secure application to export MBOX files to IMAP account. It will not save any of the user's account login credentials in its database. This software is well known to preserve the privacy of a user.
Apply Filters for Selective Conversion:
A user can also apply filters settings for the conversion of selective MBOX emails to IMAP account. You can apply all these filters settings on the basis of certain parameters including To, Date Range, From, etc.
Preserve Original Meta & Properties:
This tool will preserve the original metadata & properties of MBOX files while trying to import them into IMAP account. It will not make any changes to the email details like email headers, inserted attachment files, signature, or hyperlinks.
Easy to Use Windows & Mac OS Software:
It is a very powerful & user-friendly application to import MBOX to IMAP account. You can run this software on both Mac & Windows OS devices. It is compatible with Windows 11, 10, 8, 7, XP, etc. For Mac OS, you can run it on all Mac OS X Catalina, Mojave, or High Sierra, etc.
Know Working of MBOX to IMAP Converter 
This software is designed to convert Mailbox files to IMAP account in a quick & simple way. Users can understand the complete work of this software by following these simple steps.
Run MBOX to IMAP software & then read all the file conversion options.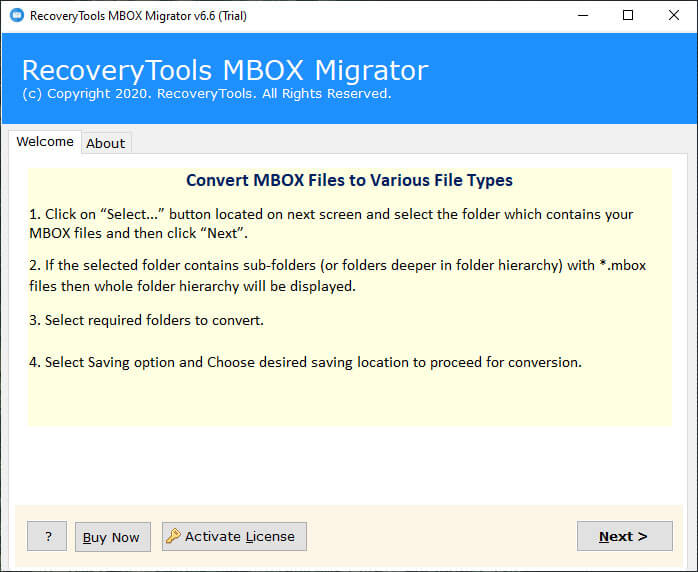 Select files or folder having .mbox files in dual ways. Click on the Next button.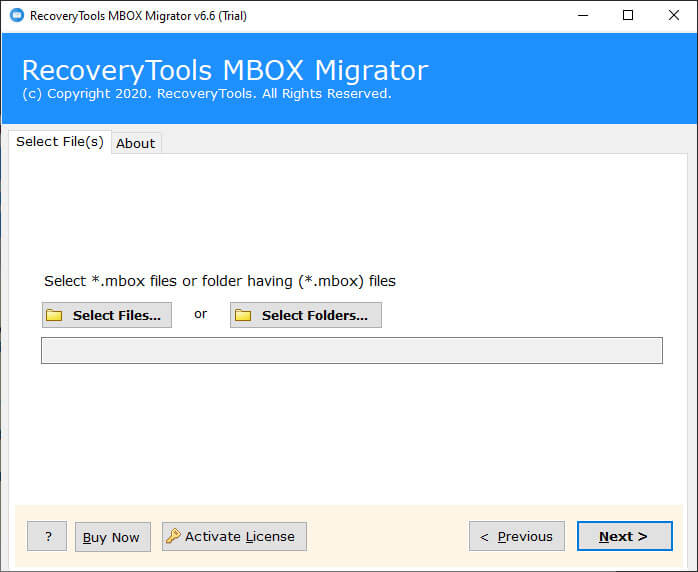 Choose all or only the desired mailbox folders to upload into IMAP account.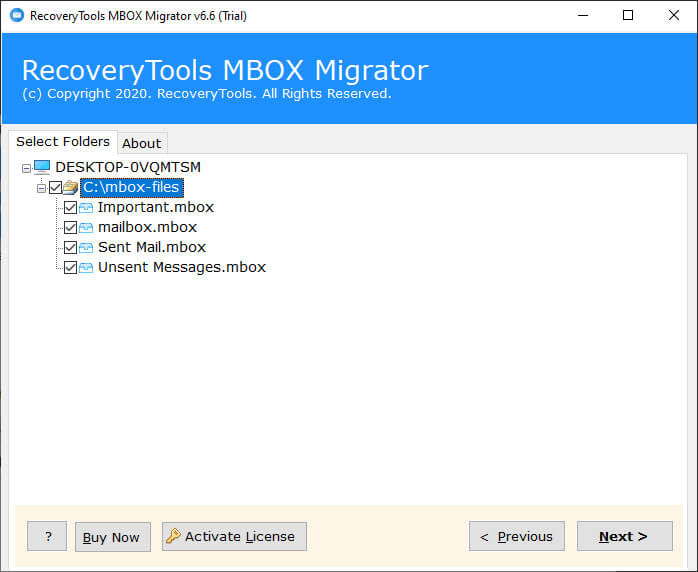 This will display a list of 30+ saving options in the utility panel. Choose IMAP option from here.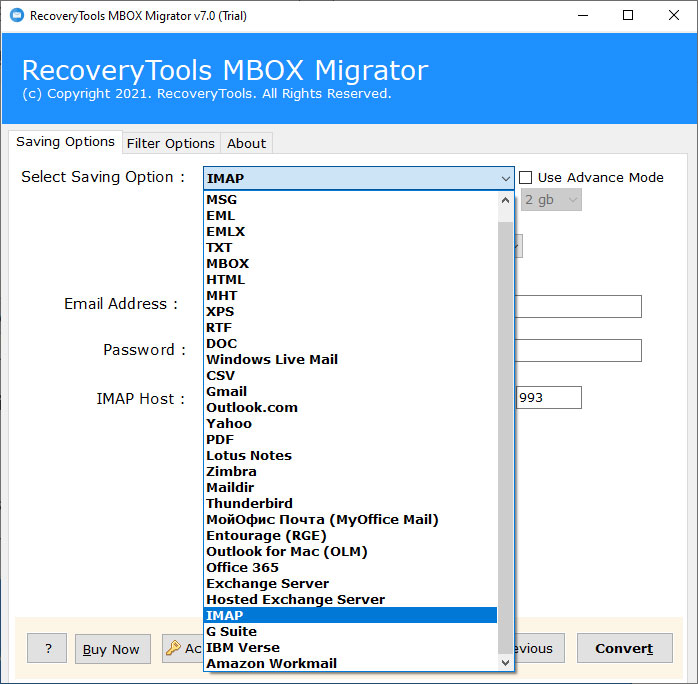 Users can also apply filters to export only specific MBOX data to IMAP account.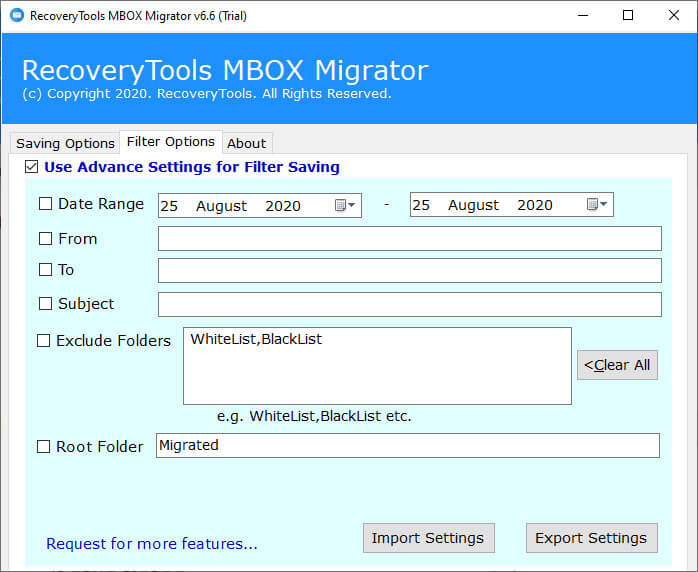 Users are required to enter the login credentials of their IMAP account in the software panel at the desired place.
Now, click on the Convert button to start uploading MBOX files to IMAP account.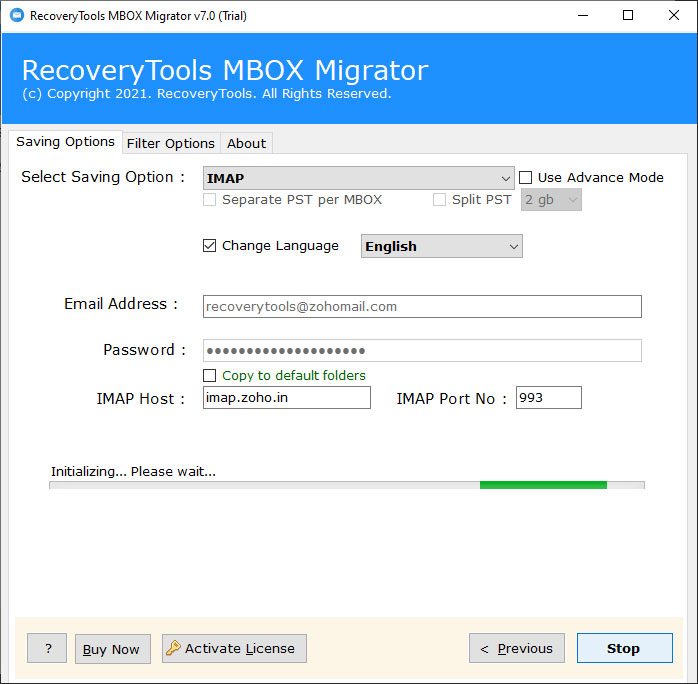 Finally, the tool will pop up a confirmation message box. Users can click on the OK button.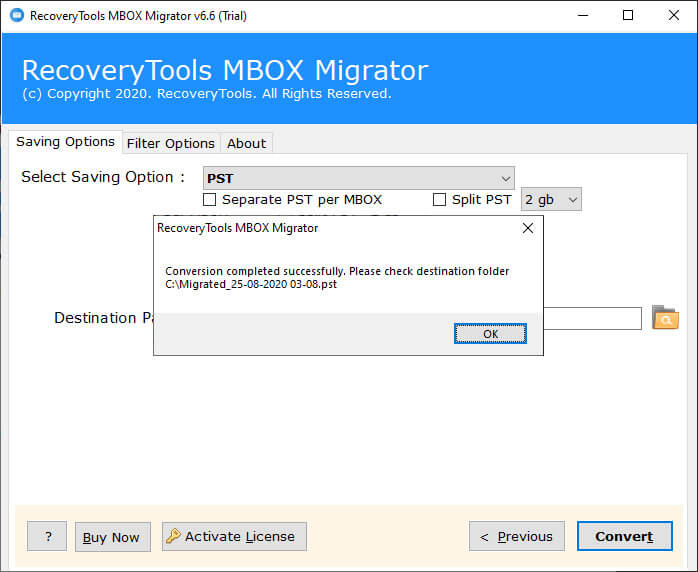 Frequently Asked Queries to Upload MBOX File to IMAP
Does this tool allow me to upload multiple MBOX files to IMAP?
Yes, this application fully supports the batch migration of multiple MBOX files to IMAP.
Does this application preserve the integrity of my emails?
Yes, this tool will allow the users to preserve the original email headers, meta properties, & other items during the conversion.
I want to use this tool on my Mac OS X device. Is it compatible with Mac OS also?
Yes, This application is fully compatible with both Mac OS & Windows OS.
Do I need advanced technical knowledge to use MBOX to IMAP migration?
No, it is a very user-friendly & easy application that provides a Wizard layout to upload Mailbox files to IMAP account.
Concluding Remarks
This article provides the best solution of how can a user upload MBOX to IMAP account. There are many users who want to know how to export MBOX files to IMAP in an easy & simple way. So, try RecoveryTools MBOX to IMAP Converter which provides users a direct option to do so. Hence, users only need to enter the credentials of their IMAP account.