How to Import MBOX to cPanel (Horde, Roundcube, Squirrelmail) Webmail ?
Learn here the easiest procedure to import MBOX to cPanel webmail. Basically, all the cPanel Webmail services (Horde, Roundcube, Squirrelmail) have a direct option to import Mailbox files in cPanel. Here are the steps on how to do that?
The need of the Hour
MBOX files are the best format to store emails & messages in an accurate & reliable way. This files created by a large number of email clients including, Thunderbird, Mac Mail, PowerMail, Kmail, Netscape Mail, Spicebird, Google Takeout MBOX files, Google Vault files, Claws Mail, Backupify, Postbox, Mulberry, SeaMonkey, etc.
Components of MBOX File:
Email Headers for Metadata details & Properties.
Email Body includes the message body like Signature, Formatting, & Images.
All types of Email Attachment files like DOCX, PDF, ZIP, JPG, etc.
MBOX Files contains the information of the user Profile.
A mailbox file may contain Archive data of any account.
cPanel is cPanel. No other word can describe it better. It is a control panel interface that is required to manage any hosting account. User can also manage their business emails & accounts through cPanel.
It has mainly three different webmail supports i.e., Horde, Roundcube & Squirrelmail. You can import MBOX files to cPanel through these webmail clients.
Quick Solution: Export MBOX to cPanel
MBOX Converter is a perfect solution to transfer MBOX files to cPanel. You can directly migrate mailboxes of MBOX files to the cPanel account by entering your username & password. The software comes with a simple and easily to use solution for all types of users. You can download the solution on your Windows and Mac computer easily.
Free download the trial from the below button:
Download for Windows Download for Mac
Note: You can use both editions of this utility free of cost. The free edition allows you to export only 25 emails per file into cPanel account. If you want to upload all emails into cPanel account, then you need to purchase the solution for lifetime use.
Steps to Import MBOX to cPanel:
Start the software on your computer.
Load MBOX files by dual ways i.e., Select Files/Select Folders.
Select all the required mailbox folders for conversion.
Choose the IMAP option from saving options.
Setup MBOX to cPanel migration options.
In the end, initialize the migration process.
Methods to Import MBOX file to cPanel:
There are two ways available to import emails from MBOX file to cPanel account.
A). Using Horde Webmail
A user can import MBOX files into Horde webmail. Select the MBOX files in your local storage, & upload mailbox items to your cPanel account. Just follow these simple steps:
In the Horde, choose the folder & right-click on it.
Choose the Import option from the drop-down menu list.
Browse your Mailbox or EML file.
Choose the MBOX file & click on the Ok button.
Check your Horde mailbox window for the emails.
B). Using Roundcube
To import MBOX files to cPanel using Roundcube, follow these steps:
Click on the Gear icon in Roundcube & choose Import messages.
Choose your MBOX file which you want to import & click on Upload.
Once the process finished, you will get a notification.
Limitations of Manual Solution:
The manual process looks simple but only when you have a small amount of data. In case if you have a large number of emails in the MBOX file then I will like to recommend you not to do so.
How to Upload MBOX Files into cPanel Webmail Account ?
Run the software on your computer & then read all the file conversion options.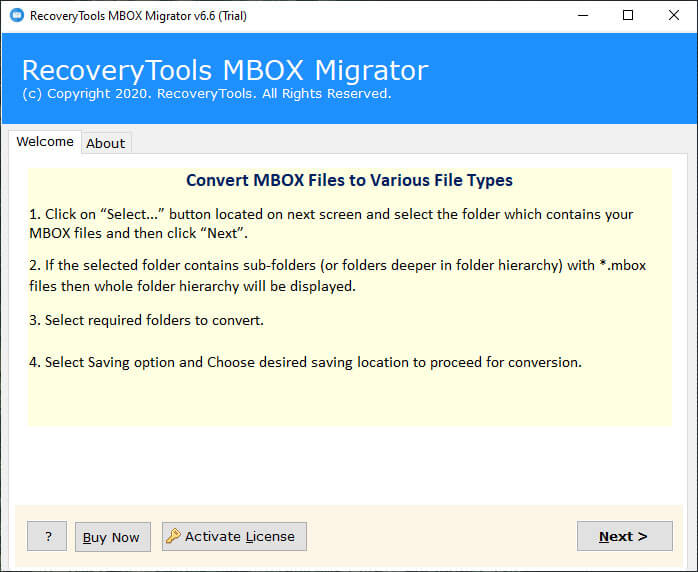 Select files or folders having .mbox files in dual ways. Click on the Next button.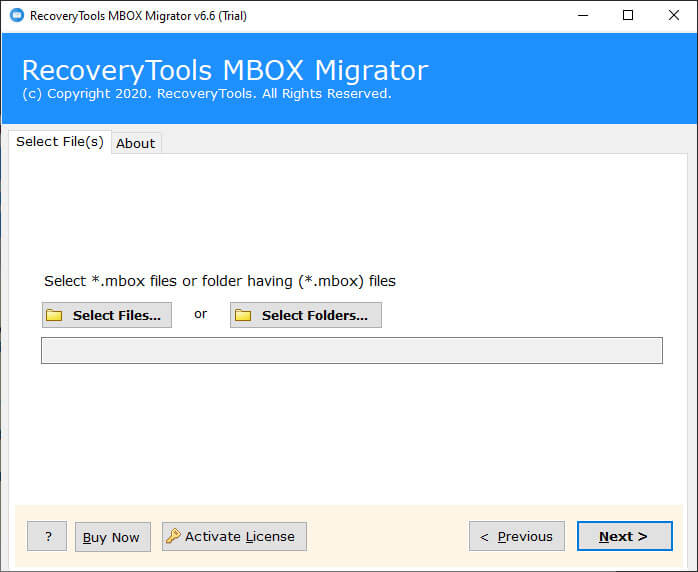 Choose all or only the desired mailbox folders to upload into cPanel account.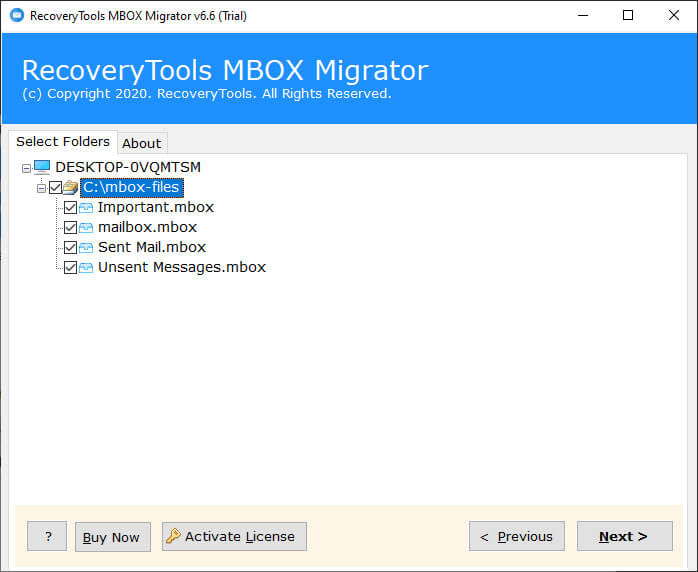 This will display a list of 30+ saving options in the utility panel. Choose IMAP option from here.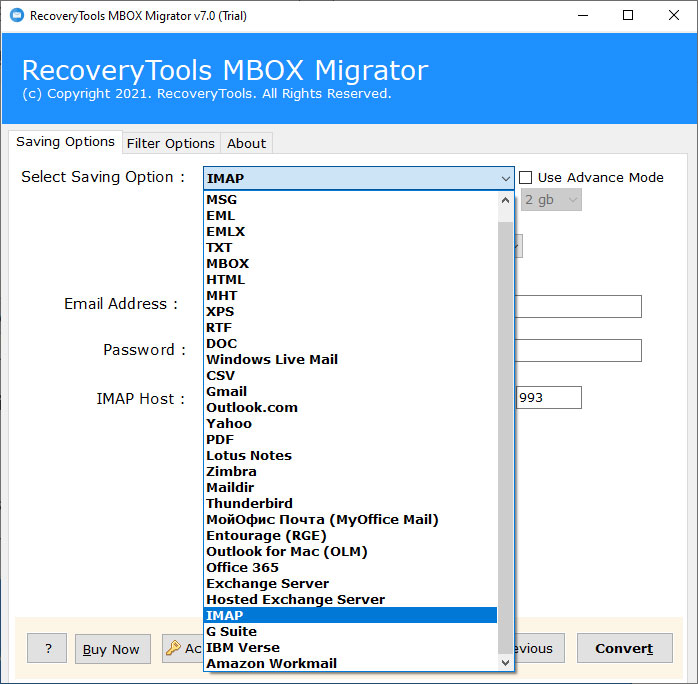 Users can also apply filters to export only specific emails into Webmail account.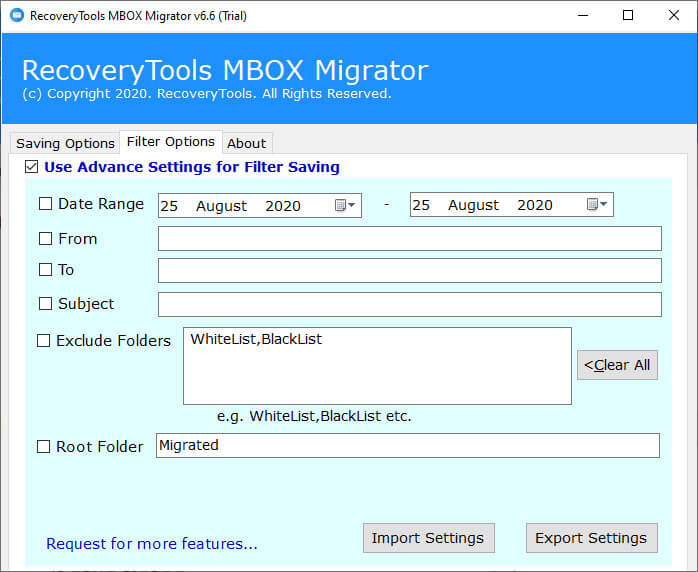 Users are required to enter the login credentials of their cPanel Webmail account in the software panel at the desired place.
Now, click on the Convert button to start the process and upload the mailbox files into cPanel account.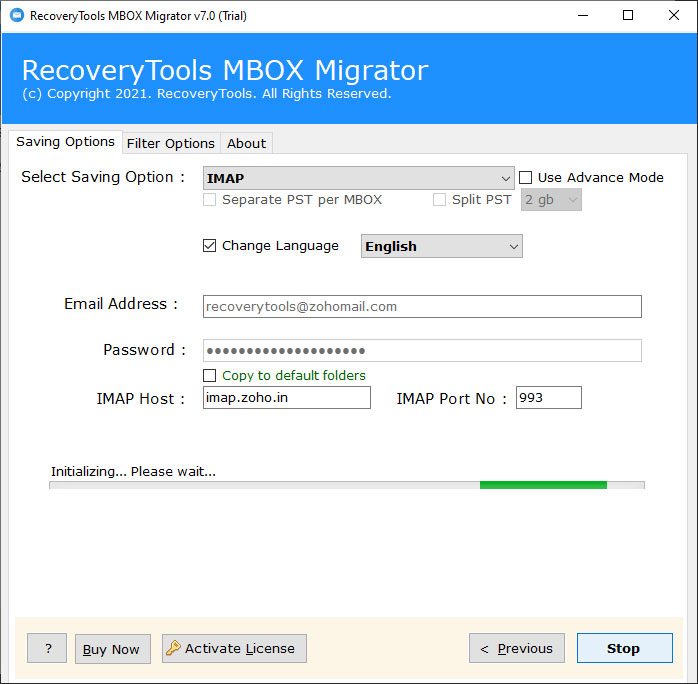 Finally, the tool will pop up a confirmation message box. Users can click on the OK button.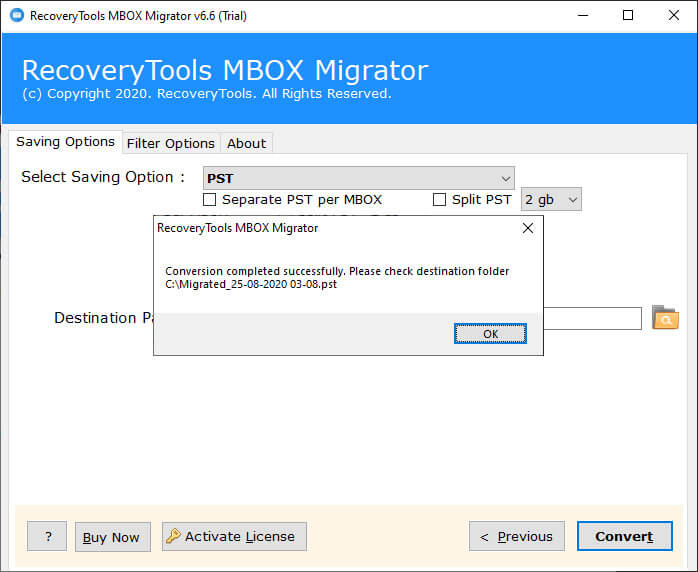 You will need a third-party professional toolkit to accomplish this task. Here are a few benefits of this software:
Why You Should Try a Professional Tool:
There are a large number of benefits that come up with this software. Here are a few of them.
Batch Export Large Amount of Data:
The utility has the option to batch convert multiple MBOX files to the cPanel account. There is no file size limitation imposed on the solution. The utility can export a large amount of MBOX data into the cPanel webmail account.
Migrate data with Credentials:
The user can migrate data in the software by entering the cPanel webmail account credentials. Choose the IMAP option from the list and then enter username, password, port number & server path.
Apply Filters for Selective Conversion:
This utility has advanced filter settings for the conversion of selective items. It will enable the users to export only specific emails on the basis of these filters. You can apply these filters on the basis of To, From, Subject, or Date Range.
Completely Independent Toolkit:
It is a fully independent solution to migrate emails into cPanel account. There is no need to have Mozilla Thunderbird or any other MBOX supported email client installation necessary in your system
The utility gives the preview of the entire MBOX to cPanel migration process. User can view it directly in its panel along with all details like number of items converted folder path. In the end, it will generate a SavingLog report that will include all necessary information.
Queries on MBOX to cPanel Migration:
Can I migrate my 17GB of MBOX file into cPanel account?
Yes, this utility offers no file size limitation for the migration. You can easily migrate your 17 GB of MBOX file into cPanel webmail account.
Does this utility protects my mailbox folder hierarchy?
Yes, the application will take care of your mailbox on-disk System folder hierarchy.
Can I import the MBOX file without extension obtained from Thunderbird email client?
Yes, the utility supports to import the MBOX file without extension.
I am not a technical user & hence I didn't know about the Port number. How can I identify the port number of my cPanel server?
Most of the time, the utility will automatically detect the default Port number. However, if you still failed to get so, try to search the IMAP settings through your cPanel account settings.
Final Verse:
The above article gives the easiest solution to how to migrate emails & mailboxes stored in an MBOX file to a cPanel server. You can access these cPanel emails through any webmail service including Horde, Roundcube & Webmail. For more inforamtion, you can also contact us via email or live chat process.