How to Migrate Emails from Eudora to Yahoo Mail Account ?
Karen Chard
~ Modified: 02-06-2022 ~ How To ~ 5 Minutes Reading
Overview: Are you wondering how to migrate emails from Eudora to Yahoo Mail? Or looking for some application like Eudora to Yahoo Migration ? So, your search ends here. Because here we are going to explain you the best way to import Eudora to Yahoo account. Read the post and learn more.
The email client application is great, portable, and backs up a lot of your emails with ease. But webmail also has many great benefits. For example, if you go somewhere without your laptop, you can easily access your mailbox through a mobile device or some other means. But we cannot do this using desktop email application.
Eudora is a desktop email application that can be easily accessed by any Linux, Windows and Mac desktop. It was designed for Mac OS computers to work with many palmtop computing systems, such as the Newton and Palm OS. But now it is out of date after Outlook 2011 launch.
I know most of us know Yahoo Mail because it is the third largest webmail service in the world. And I don't know who doesn't know Yahoo Mail? So here we explain a one shot note for Yahoo.
Well, it is a popular email service as it offers 1TB of free storage space. Yahoo is the second launched webmail service in the world after Hotmail. It also provides a business plan for small organizations and individuals. Yahoo offers all the features provided by other popular email services such as Gmail.
A Perfect Solution – Eudora to Yahoo Migration
To solve the problem and find the best product. We explain here one of the best utilities in the market – Eudora Migrator by RecoveryTools. It is the best because it gives a direct mode to load your Eudora files in Yahoo account. The solution offers so many options including webmail, file formats, document, and many more.
Download The Solution:
Steps to Import Eudora Emails to Yahoo Account
Get the product on your machine.
Pull Eudora mailbox files in the software.
Tick on the Yahoo Mail option in the list.
Enter Yahoo Mail account password & ID.
Press the migration button to start Eudora to Yahoo process.
How to Migrate Emails from Eudora to Yahoo Mail Account ?
Install the simplest solution on your Windows computer.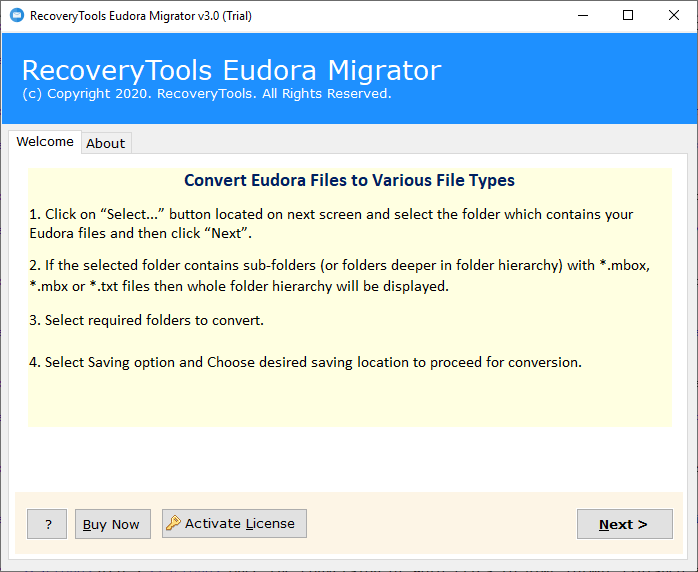 It has separate options to convert emails or contact and calendars. Also, the utility offers automatic detection features. You can also manually add Eudora mailboxes.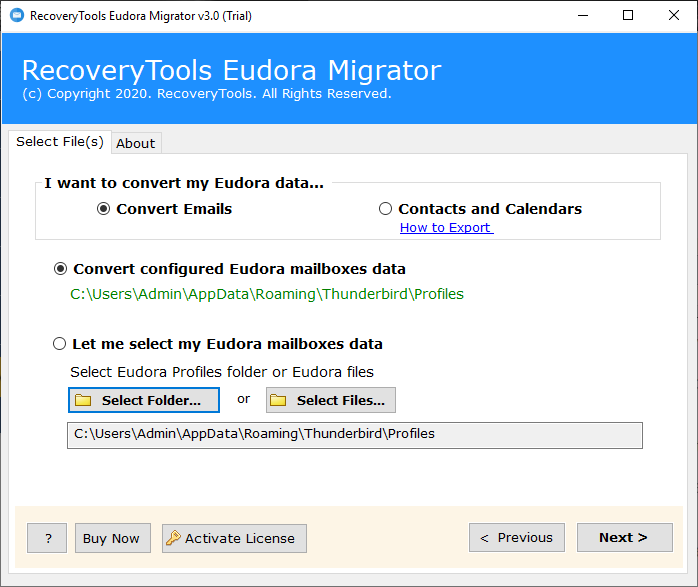 After any selection procedure, the toolkit will load all data inside the panel.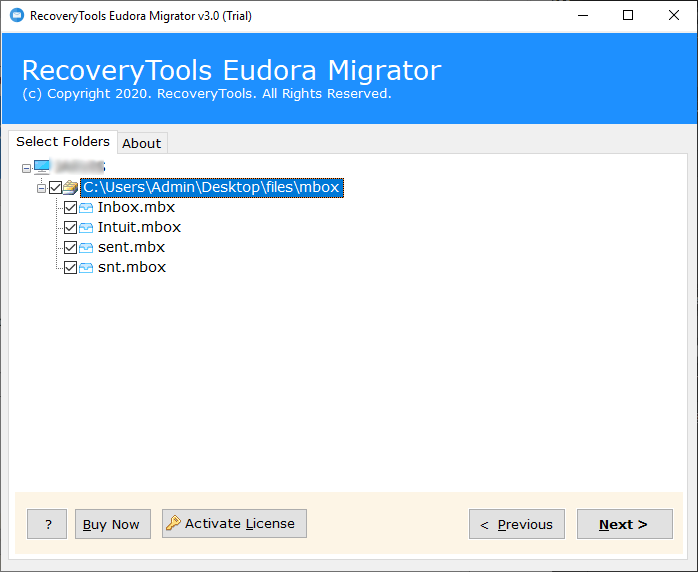 Select the Yahoo Mail option from the file saving options list.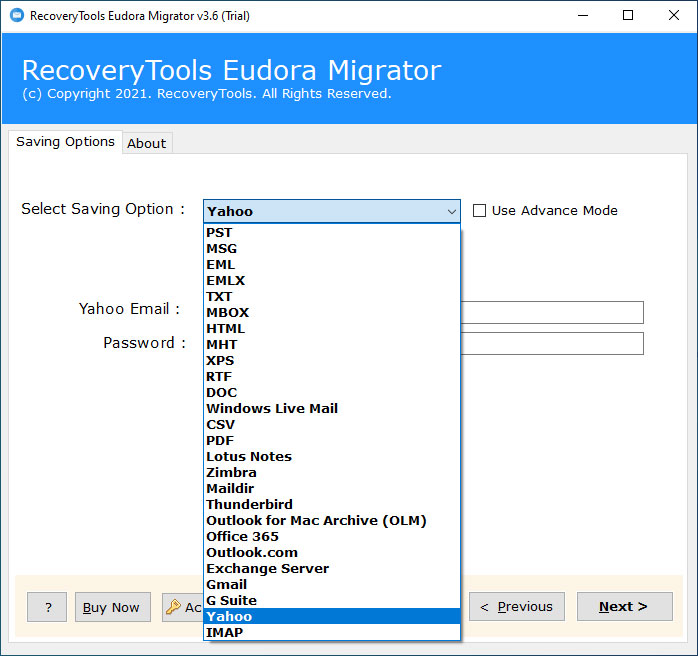 It has offered another option "Use Advance Mode" for solving connectivity issues.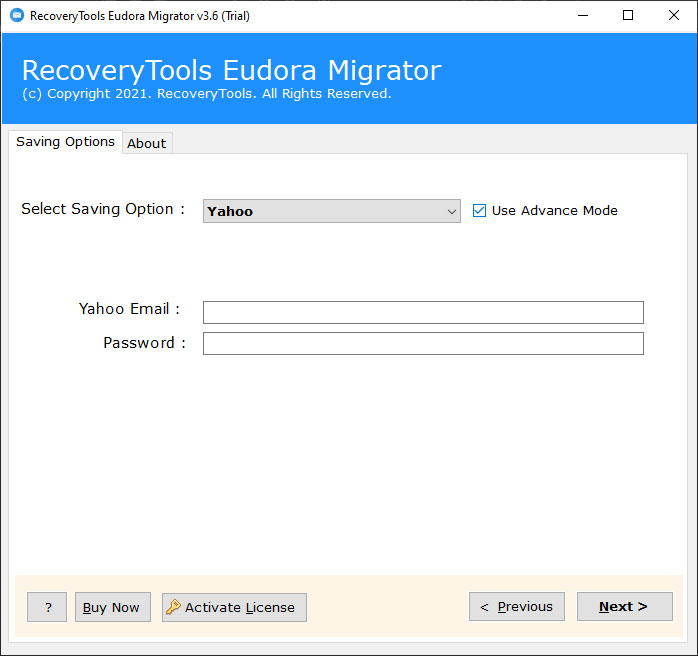 Put your Yahoo Email address and Yahoo Password in the panel.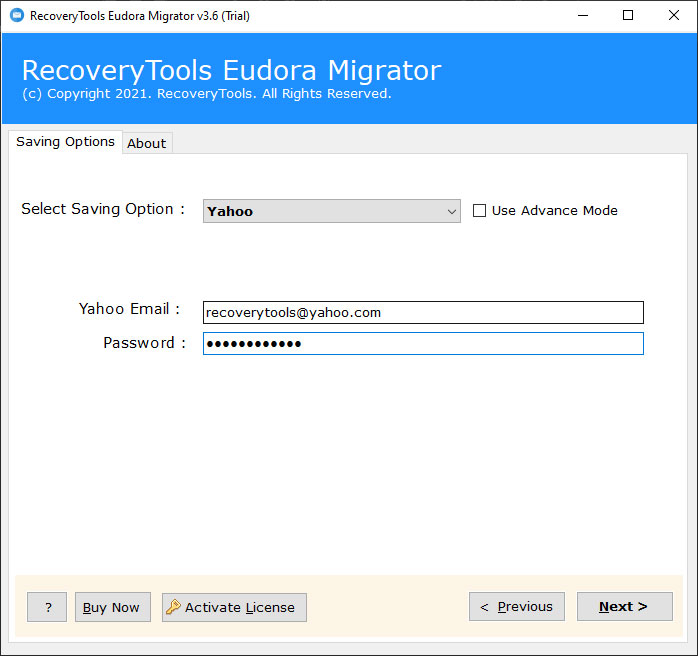 Press the ok button to start Eudora to Yahoo Migration process.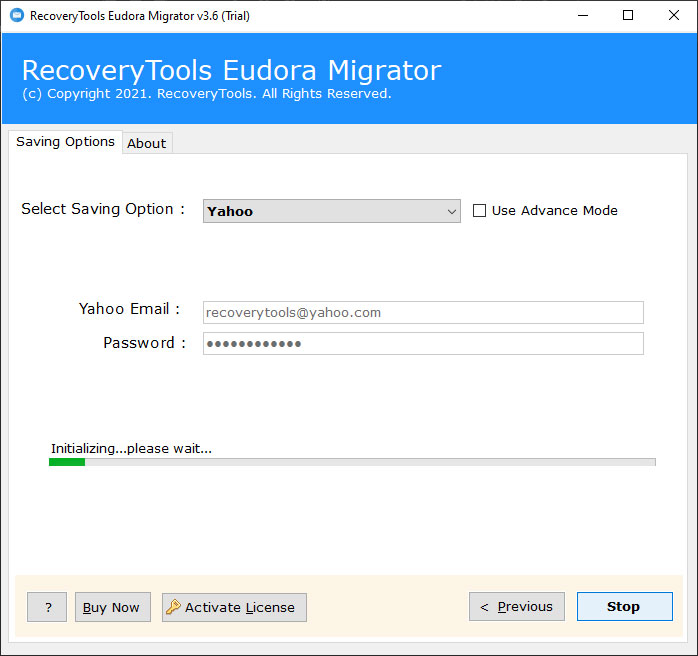 Top Features of Eudora to Yahoo Migration Tool
It has separate options for migrating Eudora emails as well as contacts and calendars.
One of the best modes provided by this utility is auto-detect features. Now you can easily locate your Eudora mailbox files easily.
Manual options are available to pick a large number of Eudora mailboxes for conversion.
Support Eudora mailbox *.mbx or *.mbox files without any compatibility issues.
It gives options to re-choose the Eudora mailbox folders after auto-detect and manually select mailboxes.
A wide range of saving options are available for the conversion of Eudora mailboxes.
Facilities to arrange resultant data with several filter options.
Hack Less features a complete secure interface that provides caches free environment.
The solution keeps the same folder layout structure after the migration process is done.
While the Eudora to Yahoo Migration process, the toolkit preserved RTF formatting & email elements.
Doesn't required connectivity with the Eudora Email client while the conversion process.
It will be delivered in all the Windows Machines without any lack.
Common Asked User Issues
Where is my Eudora mailbox file saved in my system ? how do I get it ?
If you have any confusion about your Eudora file saved in your system, check the default Eudora location in your system.
Windows:
C:\Users\USER\Roaming\AppData\Qualcomm\Eudora\
Apple Mac:
Macintosh HD:User:Documents:Eudora Folder
Can I Convert Eudora to Outlook PST format using this solution ?
Sure, it supports a large number of saving options including the PST option.
Is there any requirement for the plugins to Migrate Eudora to Yahoo Mail account ?
No, RecoveryTools Eudora to Yahoo Migration tool has been designed with the latest technology which makes it a fast and independent solution.
Final Words
This article is for users who are wondering about the method to import Eudora email into Yahoo account. If so, a complete explanation of the process is described in the write-up. You can also download the solution to check the process. For more details, read the article or the content and contact the support team. Thank you for your time.