How to Migrate Emails from Eudora to Gmail – Simple Solution
Karen Chard
~ Modified: 14-10-2022 ~ How To ~ 5 Minutes Reading
In this tutorial, I will explain the complete method to import Eudora Mail to Gmail account. For this, we can use the best Eudora to Gmail Migration tool by RecoveryTools. The software allows you to upload multiple MBX files to Gmail account at once. Read this write-up to know more about this application.
Eudora is a desktop-based email client application available on all platforms such as Microsoft Windows, Apple Macintosh, and Linux operating systems. Not even desktops, Eudora can also work on palmtop platforms such as Palm OS, Newton, etc.
Unlike Eudora, Gmail is one of the best email services in the world. Regarding other webmail services, Gmail offers an easy-to-use interface and several highlighted features such as search, management, etc.
Reasons to Migrate Eudora Emails to Gmail
"I am working as a technical analyst in a large organization. My work to manage emails and provides a hassle-free email communication system. My company uses Eudora email clients since the time I joined here. Now, the Eudora email client starts having connectivity issues. That's why we decided to import Eudora Mail to Gmail account. Does RecoveryTools help me in this matter ?"
It has been ordinarily seen that questions about changing email platforms and migrating Eudora to Gmail are very common in different discussions. Are you also one of them who wants to import Eudora mail to Gmail or Google Mail account? If yes, then here, we explain the instant solution to migrate all mailbox data from Eudora to Google Workspace account directly.
Complete Solution: Eudora to Gmail Migration
You can migrate emails from Eudora to Gmail account directly with the help of Eudora Migrator by RecoveryTools. The software provides its users to export selected Eudora emails to Gmail by multiple filter options. You can easily install this application on any version of the Microsoft Windows operating system.
How to Import Eudora Mail to Gmail / Google Workspace ?
Learn the complete step-by-step process to transfer Eudora emails to Gmail account:
First of all, you need to install or launch the software on your Windows Computer.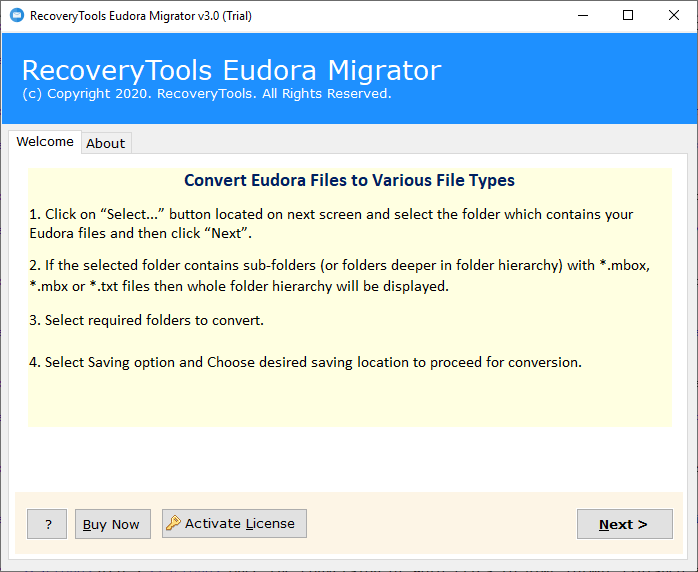 Now, choose the Auto-Detect option to automatically detect your Eudora mailbox. Or you can also choose the dual manual option to easily select Eudora files.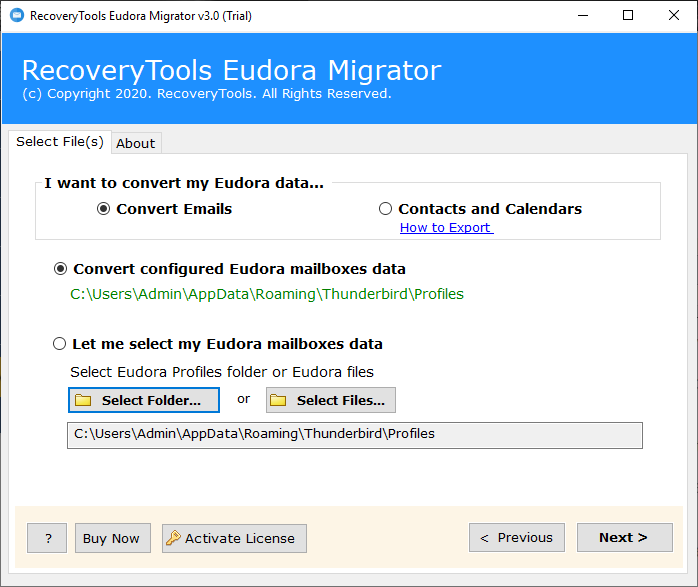 Choose from the added folder for the Eudora mail to Gmail conversation. Click on the Next button.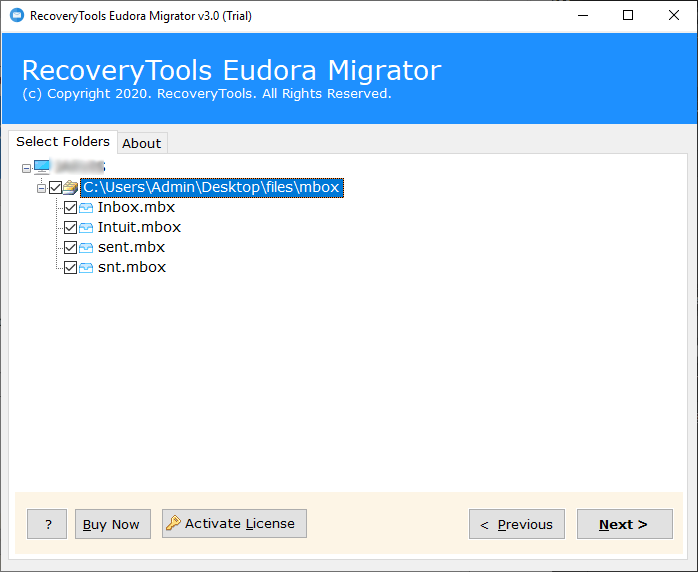 After that, Select the Gmail saving option as per need from the given list.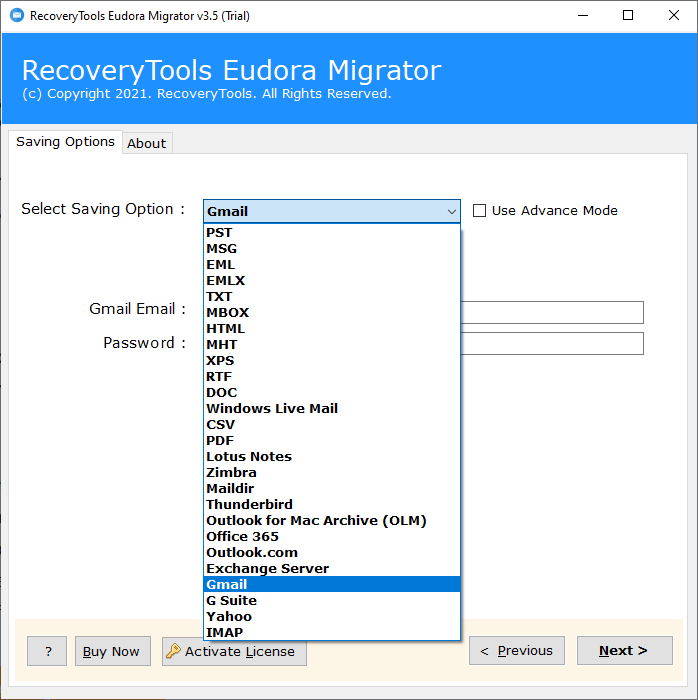 Now, enter your Gmail account details in the user interface panel.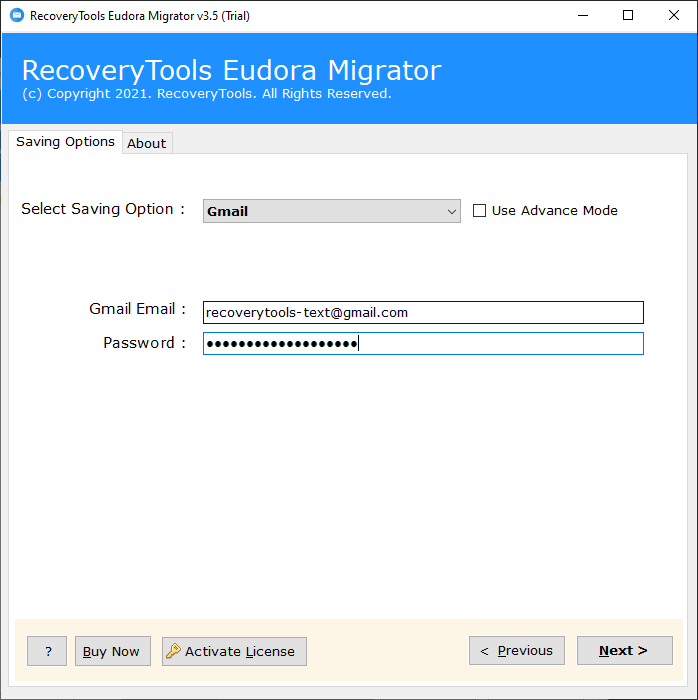 Click on the next button to start Eudora to Gmail migration process.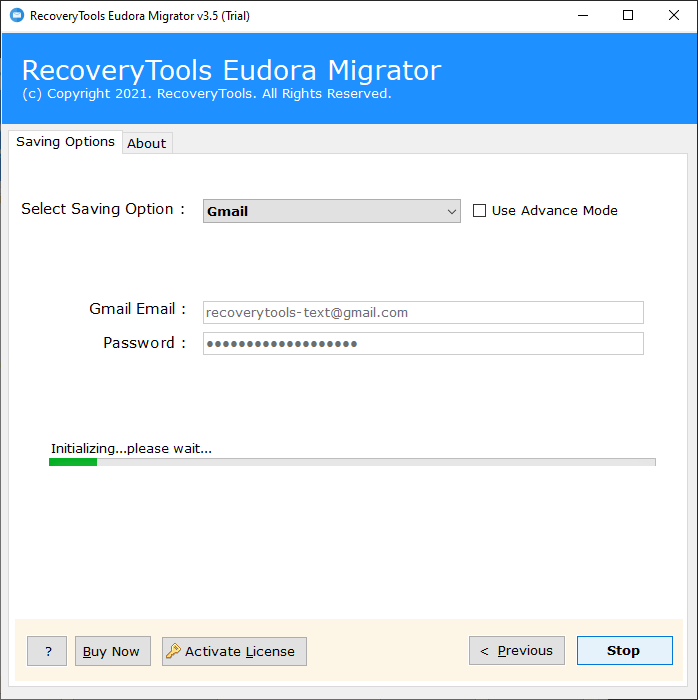 Soon the Eudora to Gmail transfer tool will give the output files on your Gmail account.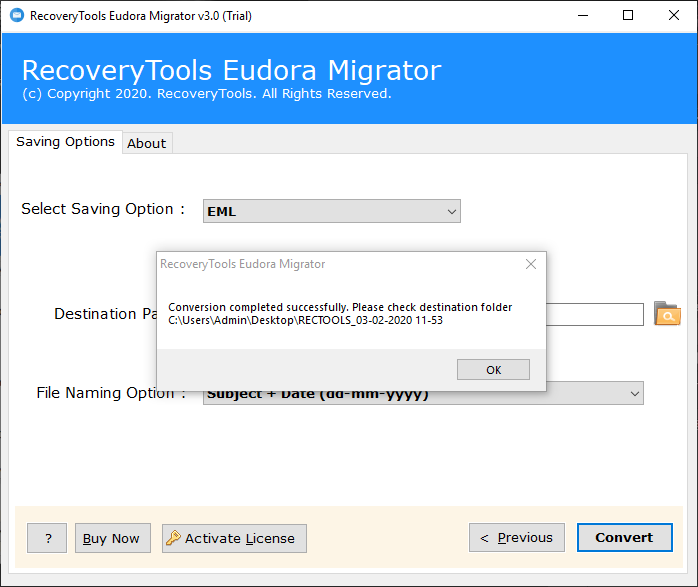 Eudora to Gmail Import Wizard – Features & Benefits
Migrate Complete Eudora Profiles: The software offers a platform where you can easily transfer complete Eudora mailbox to Gmail accounts. The software also gives you the facilities to migrate Eudora contacts & calendars to Gmail account separately.
Automatically Locate the Eudora Configured Mailbox: The program gives the facility to automatically locates the Eudora configured mailbox data into the software. This option will help users who don't have technical skills. In addition, technical uses can save time and effort when searching Eudora mailbox locations.
Batch Manual Selection Options: The utility also provides dual manual selection options. These options are used to select the old Eudora mailbox files easily. Using the select folders option, one can easily load any number of Eudora .mbox, mbx, or .txt files easily.
Maintain Email Properties During Migration: During the process, the software keeps your email meta properties such as email attachments, subject, email addresses (to, cc, bcc, from), images, internet header, formatting, hyperlinks, etc. So that, you will get the original copy of your emails in your Gmail account.
Support All Microsoft Windows Operating Systems: The software supports all editions of Microsoft Windows OS including x86 & x64 bits of Operating systems. One can easily install this application on all Windows such as Windows 10, Windows 8.1, Windows 8, Windows 7, Windows Vista, Windows XP, Windows Server 2019, Windows Server 2016, Windows Server 2012, Windows Server 2008, etc.
Common FAQs
Can I export Eudora contacts file nndbase.txt contacts to Gmail account ?
Yes, the software allows you to transfer Eudora contacts to Gmail without any issues.
Does the software keep your email hierarchy structure during the process ?
Yes, the software keeps your original folder hierarchy structure without any issues.
Can I install this application on My Mac Computers ?
Currently, the software supports the Windows environment. But if you are looking for a Mac version, then you can use RecoveryTools MBOX Migrator for Mac.
Does the software run on the RedHat Linux Enterprise edition ?
NO, the software supports only the Windows platform. You can move your Eudora Linux data to Windows and convert them into the required format easily.
Conclusion
In this article, we have explained the way to import Eudora Mail to Gmail. If you are one of those who want to migrate Eudora emails, contacts, calendars, and other items to Google Workspace account, then use this application on your Windows computer. The software provides a direct method to transfer Eudora mailbox to Gmail without any issues. If you have any further issues, contact us via email or chat process.