How to Migrate Emails from Eudora to Exchange Server ?
Overview: What assumptions are you making that may not be true? Do you want to take Eudora emails to Exchange Server ? Or wondering for a way to import Eudora to Exchange (Hosted & On-Premise). if yes then you are in the right place. Here, you can learn the method like Eudora to Exchange Migration. So, the article continues.
In today's machinery world, individuals have to choose any email client or email service from a wide range of products. Because email is very important in the business world. Therefore, users need a perfect platform.
Before today you may have heard of their many MBOX-based email client applications such as Thunderbird, Opera Mail, Spicebird, SeaMonkey, and more. But one of them has been able to use both *.mbox and *.mbx formats – Eudora.
Eudora is one of the best desktop-based email client applications that can only be used in Windows, Linux, and Mac computers. It stores all of the user databases such as emails, notes, contacts, journals, and events.
And on another side, Exchange Server is a mail & calendar server. But what is the job of Exchange Server? Actually, Exchange Server is the technology behind email and its synchronization with devices is through the Mail Exchange Server. This is a Microsoft product for small and high scale businesses.
Top Gain After Migrate Eudora to Exchange Server
Confidentiality of Emails:
At the point when you are out of your office, it gives you the adaptability of permitting your reliable partners to watch that nothing significant gets unseen. Hence, it keeps the business pushing ahead by empowering others to check your accessibility for important gatherings and book arrangements.
After moving from Eudora to Exchange, you don't need to insist on email addresses of different employees. Each address will be refreshed in the address book and will be useful during critical prerequisites such as important secret information.
Cloud Computing Benefits:
Moving after from Eudora to Exchange permits the clients to move all the data from local machines to the cloud based on their conditions.
An Ideal Solution – Eudora to Exchange Migration
Relocation of messages from Eudora to Exchange Server is not a simpler work. That is the explanation we need an expert way – RecoveryTools Eudora Migrator. This solution allows us a flawless method to import favorite Eudora data into Exchange. It has the facilities to migrate Eudora messages to on-Premises as well as Hosted Exchange servers.
Download the Solution:
Steps to Migrate from Eudora to Exchange Server
Get the toolkit on your machine.
Pull Eudora mailboxes in the product panel.
Mark on the required folders of Eudora Mail.
Tick on the Exchange option and enter details.
Start the Eudora to Exchange Migration process.
Eudora to Exchange Migration – Complete Working Procedure
Download the world's best solution for Eudora to Exchange Migration on your Computer.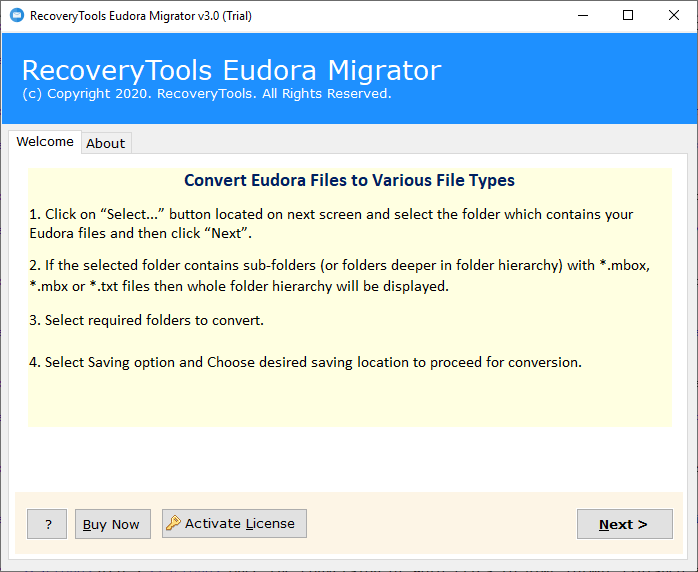 It has some independent options to convert emails as well as contacts & calendars. Also, choose Manual alternatives to bulk selection of Eudora mailboxes.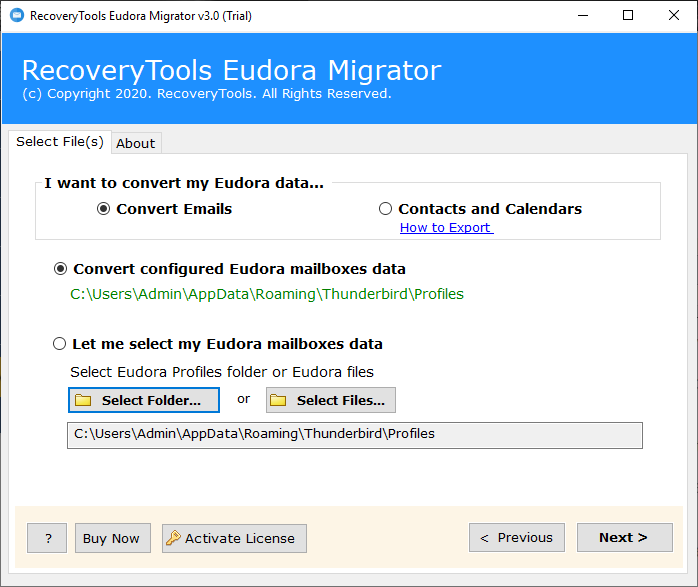 Now, after that selection of required email mailbox folders.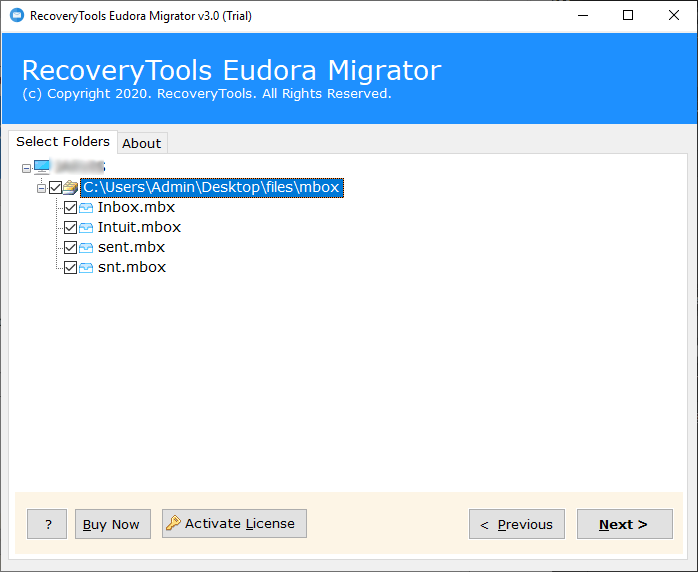 Pick the right Exchange Server option from the 25+ saving options.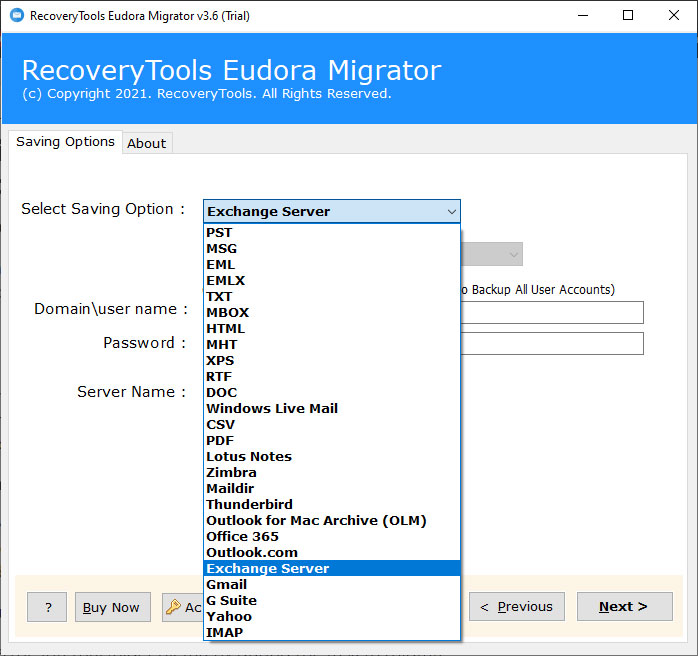 Set all additional options if needed such as change language, etc.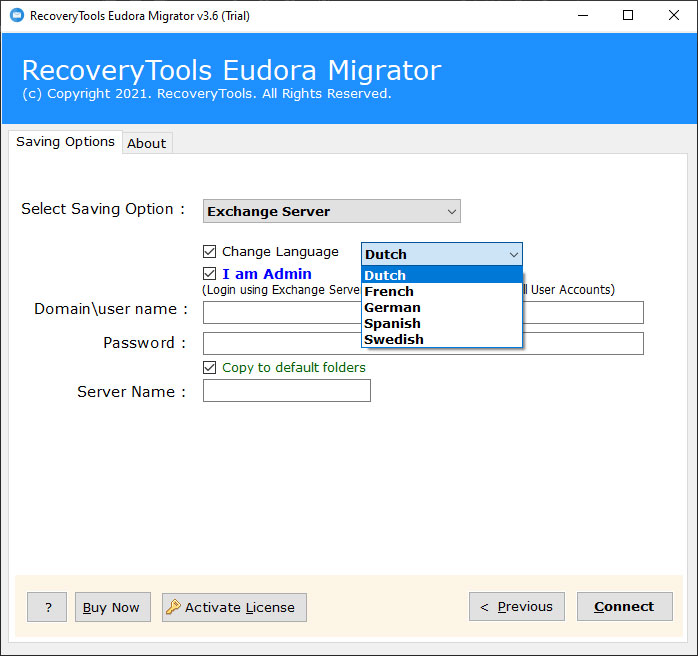 Put Exchange Server details. Here, you can enter hosted as well as on-premise Exchange details.
Hit on the next to transfer emails from Eudora to Exchange.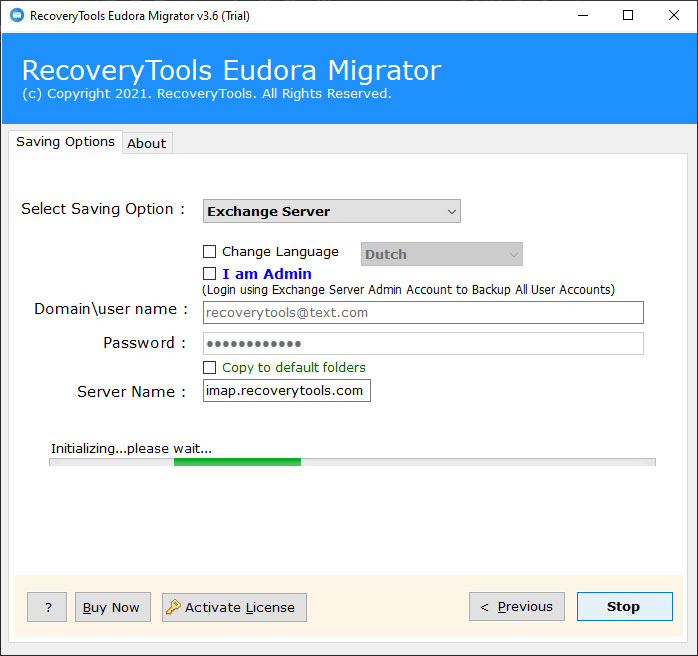 Top Benefits of Eudora to Exchange Migration Tool
This application can naturally discover the Eudora mailbox from default locations.
Manual alternatives are accessible to pick an enormous number of Eudora mailboxes for change.
It has separate alternatives for moving Eudora messages as well as calendars and contacts.
Perhaps the best approach offered by this utility is to auto-detect the default location of Eudora mailboxes. Currently, you can undoubtedly search your Eudora database without any problems.
Eudora Profile Database supports *.mbx or *.mbox storage formats without any similarity issues. That's why it is able to take both file conversions easily.
It provides options to auto-detect and re-select Eudora database after physically selecting the mailbox folders.
A wide of saving alternatives and options are accessible for the conversion of Eudora messages in different platforms.
The folder structure keeps a similar organizer format structure after the migration process is finished.
While the Eudora to Exchange Migration, the tool retains original email elements.
It will be installed in every Windows machine including the latest version – Windows 11.
User Problems – FAQs
Does RecoveryTools support Eudora email migration to On-Premise Exchange Server ?
Yes, it supports both On-Premise and Hosted Exchange Server. So, download and enjoy the benefits of the tool.
After migration from Eudora emails to Exchange, Can I still use Eudora emails ?
Of course, the solution only transfers copy data from Eudora to Exchange Server. So, don't worry your Eudora data will be safe after the procedure.
I want to share Eudora calendar data to Exchange Server. Does it possible with this solution ?
Yes, the software allows you to extract Eudora Calendar data separately.
Final Words
This write-up is for the persons who are searching about the way to import Eudora to Exchange Server. The product can access Exchange on-premises and hosted Exchange servers. So, you can easily import Eudora to Hosted Exchange as well as Eudora to Exchange On-Premises account. Hence, this application is available free of cost. You can avail of the solution by the above buttons. For any other information, the support team is available 24×7.