How to Transfer Bellsouth Email to Gmail / Google Mail Account ?
Karen Chard
~ Modified: 02-06-2022 ~ How To ~ 5 Minutes Reading
Synopsis: Are you wondering about how to import Bellsouth email to Gmail account ? Or want to learn the process to transfer Bellsouth email to Gmail account ? If yes, then look no further as in the write-up. Here, we will go through the complete method to migrate Bellsouth email to Gmail account directly.
Email is ubiquitous because it has so many properties. It's asynchronous—that is, you can reply to messages on your own schedule instead of scheduling a live appointment to talk with someone, and very convenient, in an age where almost every professional owns a smartphone. That's why organizations still use email communication as their primary use.
BellSouth, LLC (adapted as BELLSOUTH and earlier known as BellSouth Corporation) is an American media communications holding organization situated in Atlanta, Georgia. In 1984, Bellsouth was separated from AT&T company. Now, it holds the Bell logo as a component of its main corporate identity.
Gmail is one of the mainstream email platforms in the world. It offers different types of assistance like better visual interfaces, security, and a lot more inside a solitary stage. Because of the popularity of Gmail, numerous Bellsouth clients want to move their message to Gmail account.
"Hello, a few days ago I decided to transfer Bellsouth Email to Gmail account. Because Google Gmail provides many futures which Bellsouth was lacking. So now, I want to transfer all emails from Bellsouth to Gmail account. Is there any software and application available to import Bellsouth emails to Gmail account ? Please help me!!!!"
Direct Method – Bellsouth to Gmail Migration
RecoveryTools Email Backup Wizard permits you to transfer Bellsouth email to Gmail account directly. The product doesn't need any availability with any application while bringing in Bellsouth to Gmail migration process. This application accompanies a basic and simple interface for a wide range of clients. Get the solution on your computers:
Download the Toolkit:
Download for Windows Download for Mac
Steps to Transfer Bellsouth Email to Gmail Account
First, launch the solution on your PC.
Select the IMAP and fill Bellsouth details.
Mark on required folders from the given list.
Select Gmail and provide credentials of your account.
Start the process of Bellsouth to Gmail Migration process.
How to Import Bellsouth Email to Gmail or Google Mail Account Directly ?
Install the solution on your Windows and Mac computers.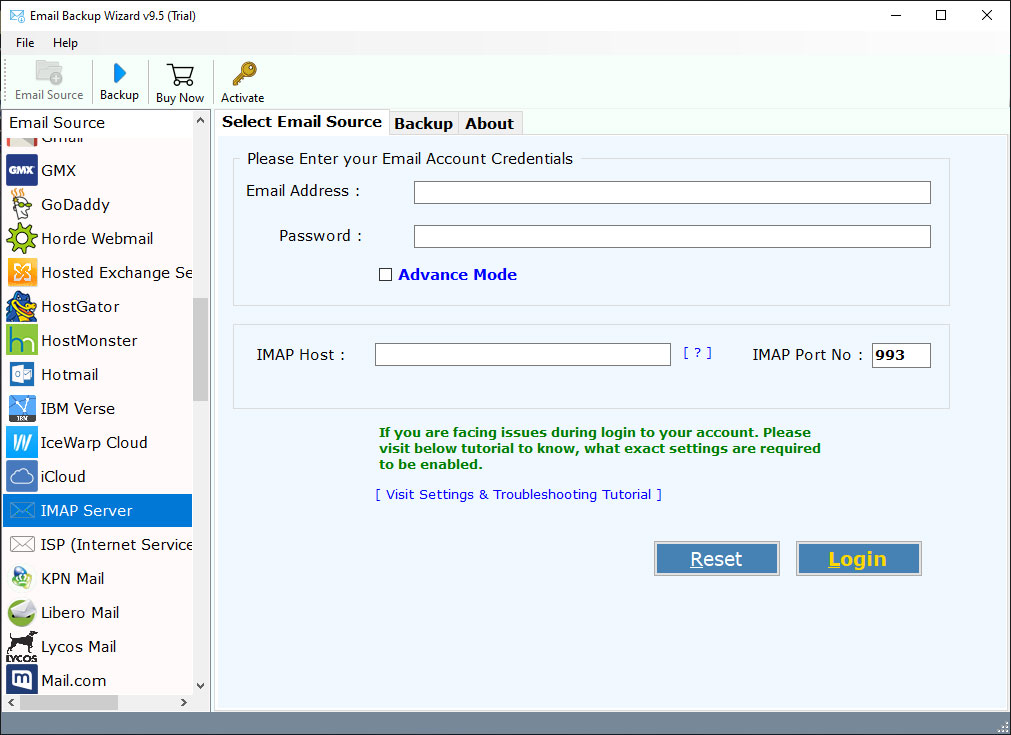 Start and choose IMAP option and fill all the details below:
Bellsouth IMAP Settings
IMAP Address: mail.yahoo.com
IMAP Port Address: 993
User Name: Your Bellsouth account email ID.
Password: Your Bellsouth account password.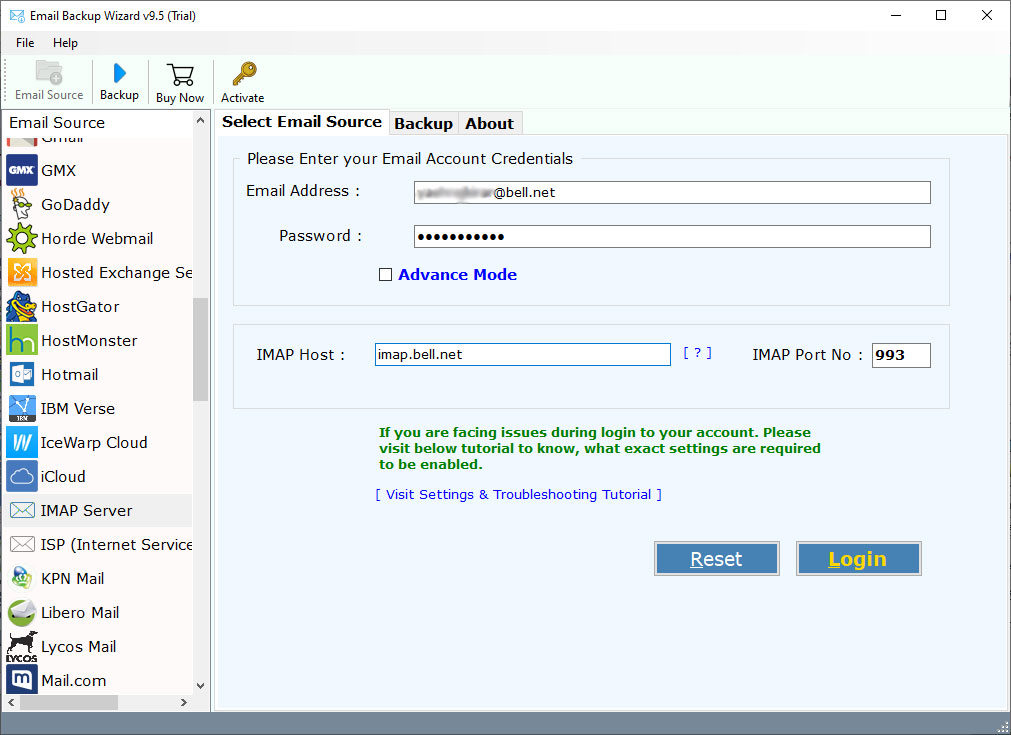 Now, choose the folders which you want to move from Bellsouth.net to Gmail account.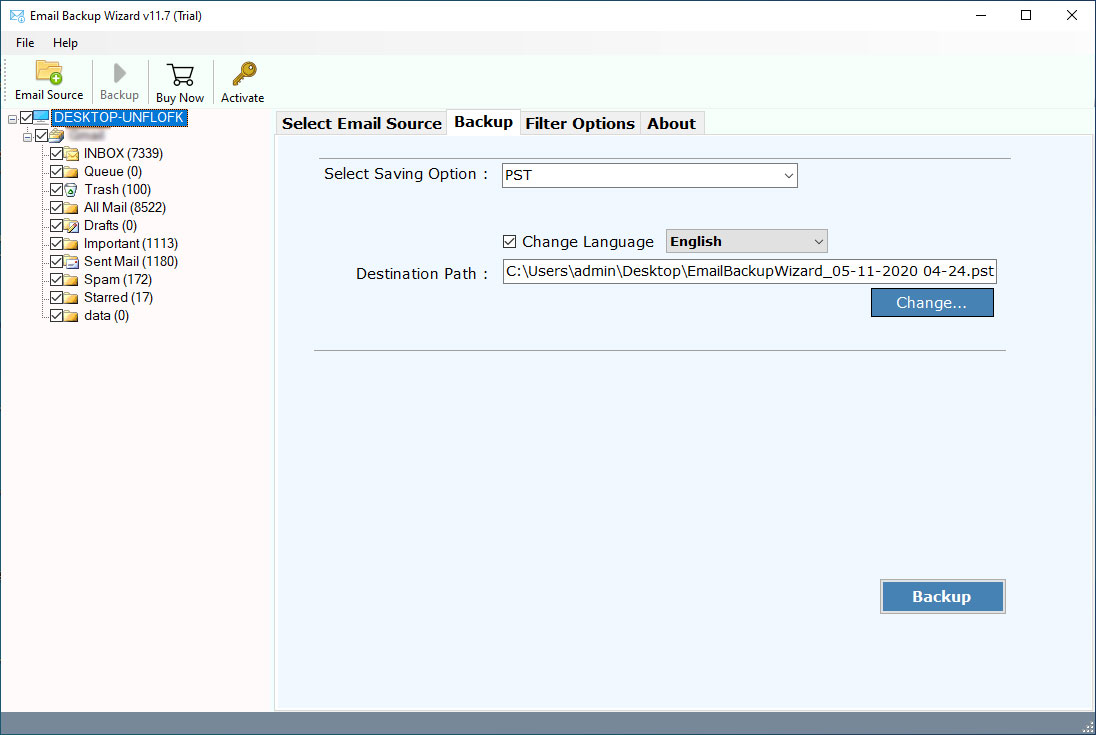 Choose the Google Mail (Gmail) option in the list of file saving options.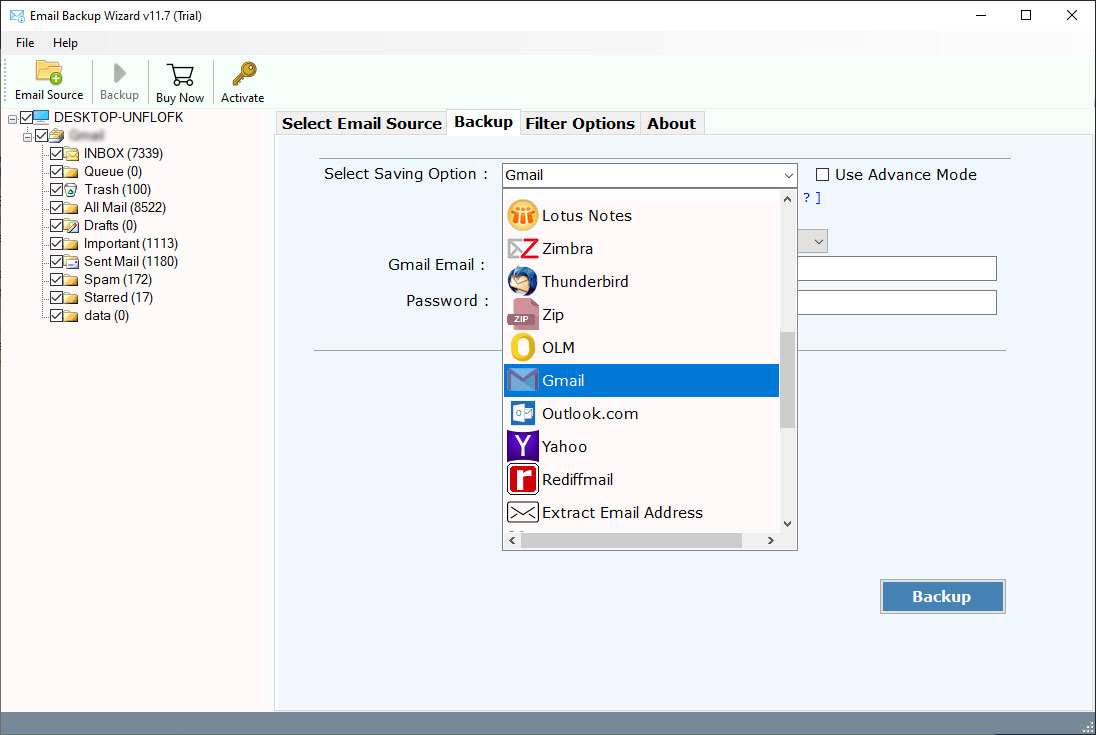 Select the additional setting options if you want to move only the required data.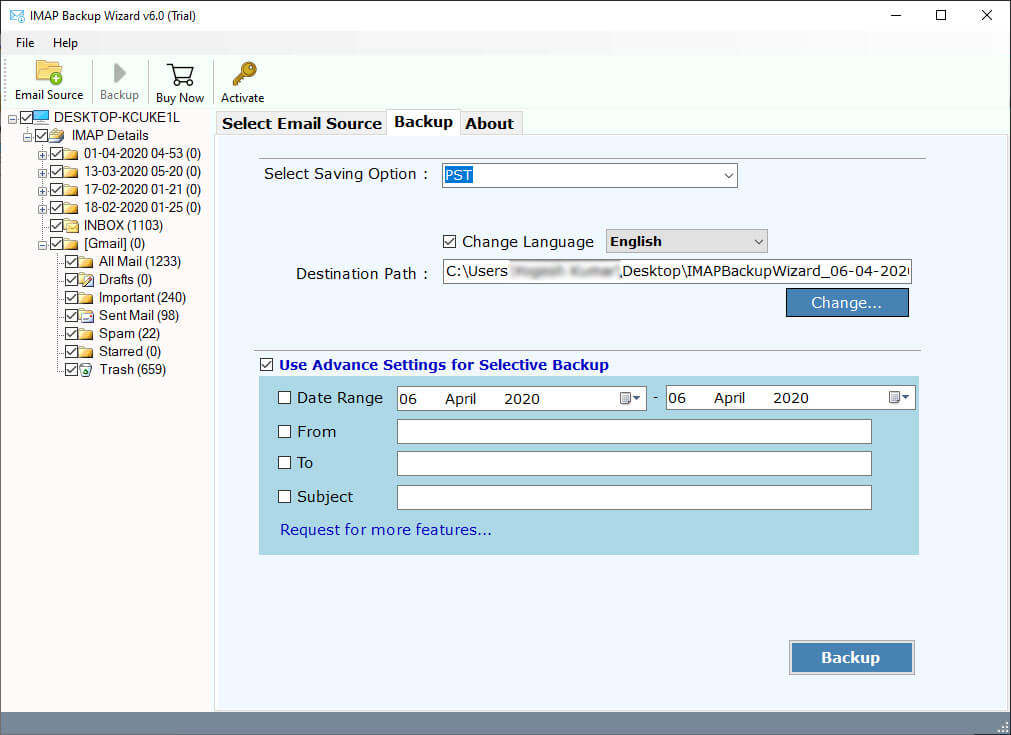 Enter the details of Gmail account in the user panel.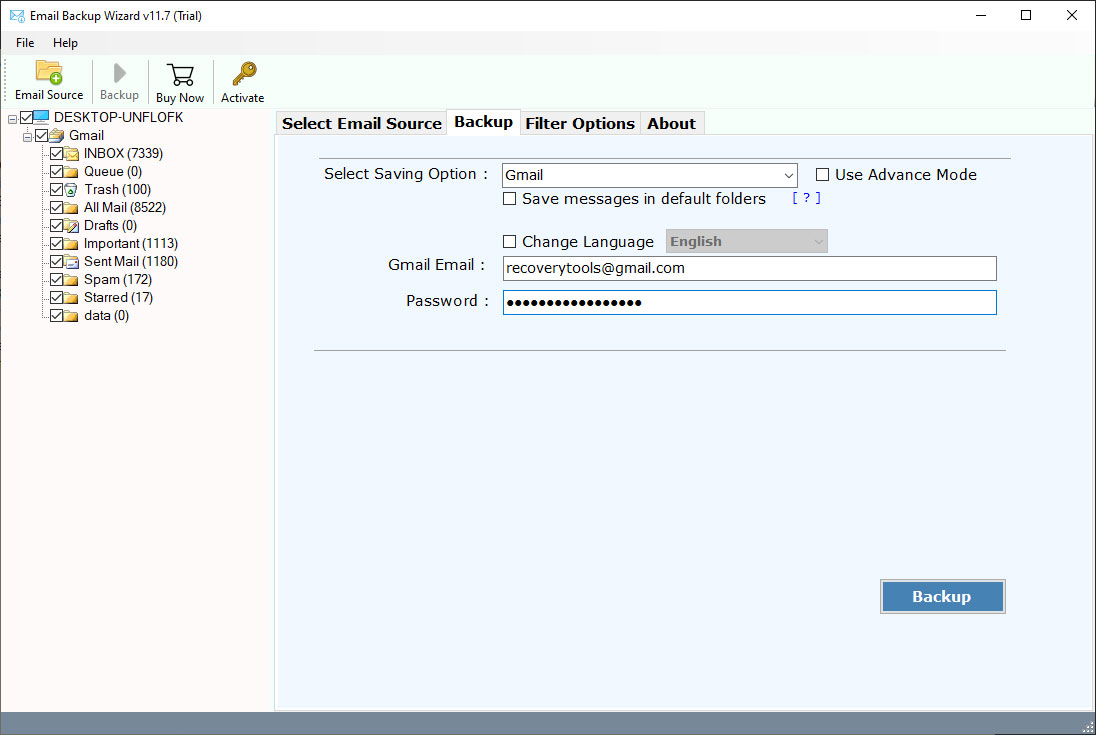 Press the backup button to start Bellsouth to Gmail Migration process.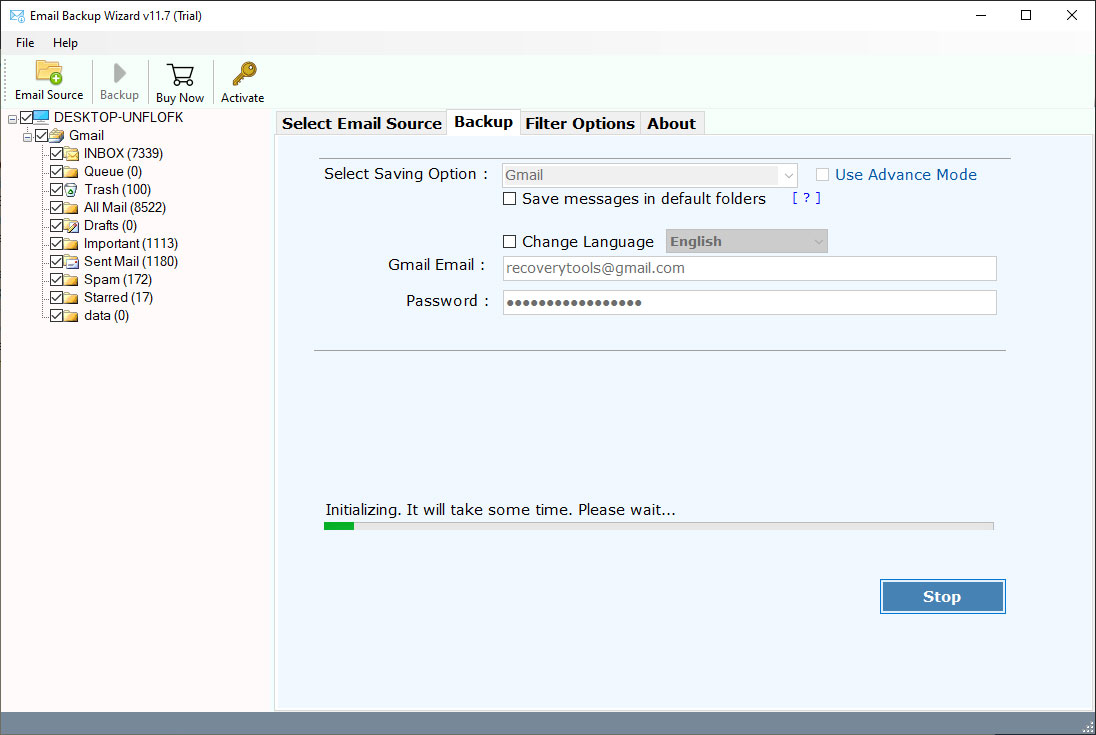 Top Features of Bellsouth to Gmail Migration Tool
This product provides a simple UI that can easily understand by any user. The solution was developed with a logical layout that avoids any confusion for users.
Selective Folder Migration:
The product gives the option to pick the necessary email directories from the complete mailbox of the Bellsouth account. You can utilize this alternative folder for particular email migration from Bellsouth to Gmail.
Specific Email Migration with Filters:
The product gives different filter choices to relocate particular messages from Bellsouth to Gmail accounts. This toolkit gives many options such as migrate emails with a date range, subject, date, and many more.
100% Secure Interface Panel:
The solution accompanies a totally independent UI to import Bellsouth messages to Gmail account. The product additionally offers a 100% secure interface with a store & cache free interface.
Keep Mailbox Folder Structure:
During the cycle process of Bellsouth to Gmail, the product keeps all email directories. It retains all folder hierarchy just like before in the Bellsouth account.
Support All Windows & Mac Machine:
You can utilize the solution on your Mac or Windows machines easily. It supports all Mac OS X editions as well as Windows such as Windows 11, 10, 8.1, etc. The solution also supports all Windows Server editions.
Client Testimonials
"The solution helps me to understand the process of migrating Bellsouth emails to my Gmail account. It provides a direct way to move all my mailbox data into Gmail easily. Although I'm a non-technical user, but this product helps me a lot to do this job without any problem."
"Este software me ayuda a transferir elementos del buzón de Bellsouth a la cuenta de Gmail al instante. Aunque no soy un usuario técnico y no estaba seguro de cómo importar el correo electrónico de Bellsouth a Gmail. Pero, este software me ayuda mucho a lograr esta tarea sin enfrentar ningún problema."
Final Words
Transferring Bellsouth email to Gmail is not a difficult task if you have the right solution. RecoveryTools Bellsouth backup tool is the best method to move, backup, or transfers Bellsouth emails easily. The manual solution explained is quite difficult for non-technical users and takes a long time. However, if you have any other issues, contact us.