Fix IBM Lotus Notes Error 1325 – How?
Karen Chard
~ Modified: 27-05-2022 ~ How To ~ 2 Minutes Reading
Problem
Many times, users face Lotus Notes Error 1325- is not a valid short file name. It is an installation error that is encountered by users at the time of new driver installation, or incomplete IBM Lotus Notes installation. Even most of the times due to re-installation error in pre-existing drive.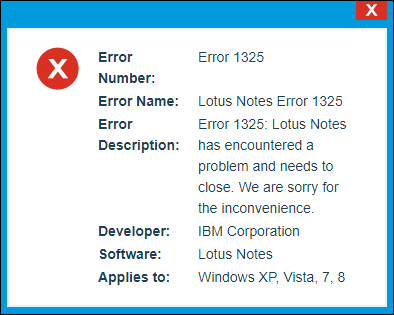 Symptoms
Your local system keeps on freezing for some seconds while working.
Respond late to any input via keyboard or mouse.
Directly shows error message "Lotus Notes Error 1325".
If present active Window closes abruptly then, it is clear sign of an error 1325 in IBM Lotus Notes.
If program is running and whole system crashes it is only due to error 1325.
Solutions for IBM Lotus Notes Error
There are some techniques discussed below that makes easy to resolve Lotus Notes error 1325.
Solution 1: Fix Corrupted Windows Registry
To repair damaged or even corrupt Windows registry follow given steps below:
Firstly, type Run in search box.
Then, type regedit in run Windows >> hit Enter key
Click on File tab >> click on Export button
Select the destination location to store file with REG file extension
Click on file REG extension and try to reinstate information in registry
Solution 2: Update Drivers of PC to Resolve Notes Error 1325
It is possible that an error 1325 is because of outdated or even damaged drivers. Therefore, update all the drivers of PC by following the mentioned steps:
Open Control Panel your machine
Then, click on the option Device Manager
Right-click on device >> click on Properties
Select an option Update Driver Software
Solution 3: Execute Complete System Scan
Another way to fix error is that run complete system scan to notice any virus and solve it. To do this, user is recommended to use a good antivirus software, which will scan the machine for any virus and repair them if it exists.
Method 4: Reinstall Lotus Notes
Go Control Panel >> click on option Program Features.
Then, click on Lotus Notes application entry.
Now, click on an option Uninstall.
Then, again download setup and reinstall it.
Final Words
Various users face such Lotus Notes error 1325 while working on IBM Notes. Therefore, we have come up with all the possible ways to fix Notes error 1325 in a way one can work smoothly to manage all their emails.