How to Convert MDaemon Emails to MBOX Format in Batch ?
Karen Chard
~ Modified: 02-06-2022 ~ How To ~ 4 Minutes Reading
Overview: Are you finding a solution to export emails from MDaemon to MBOX format ? Or get to know the process to convert MDaemon Emails to MBOX format ? If yes, then read this article completely. Here, you will get a way to convert your MDaemon emails to MBOX files. For this, we will use a professional method, as there is no manual way to export MDaemon to MBOX format. So, stay here and know more.
Email is a significant sort of composed correspondence. Today, communication is directed among business firms, associations, and organizations for the most part through messages. This isn't simply the least expensive yet, in addition, the most solid method for communication.
That's why organizations and associations use the best possible solutions for their email communication systems. MDaemon is one of them. It is a mail server that manages your email messages with many features. It provides lots of services including security, archiving, encryption, webmail, management, messenger, and many more.
However, there are lots of users who want to export MDaemon emails to different formats. One of the queries explain in below:
"Hey, I'm from Nevada and have been using MDaemon for a few months now. Recently, one of my employees wants to leave my company. At that time, we need to extract its mailbox in MBOX format. But the problem is that I don't know how to export MDaemon to MBOX file. Since I am new here, I do not understand the process of this extraction. Does anyone help to extract MDaemon email to MBOX file?"
A Direct Method – Export MDaemon to MBOX Tool
RecoveryTools MDaemon Migrator is one of the best solutions to resolve MDaemon to MBOX export queries. It is the only solution that offers many options to export emails from MDaemon to 25+ formats. The software provides a consistent UI for every user who has come from any background. You can easily install the solution on your Windows server and Windows editions.
Get the Software:
Steps to Convert MDaemon Emails to MBOX File
Launch the product on your Win-PC.
Select MDaemon files with two options.
Select the required folders from the given list.
Choose the MBOX option and set location path.
Start MDaemon to MBOX conversion process.
How to Export Emails from MDaemon to MBOX Format ?
Get the program on your computer first and read all the details.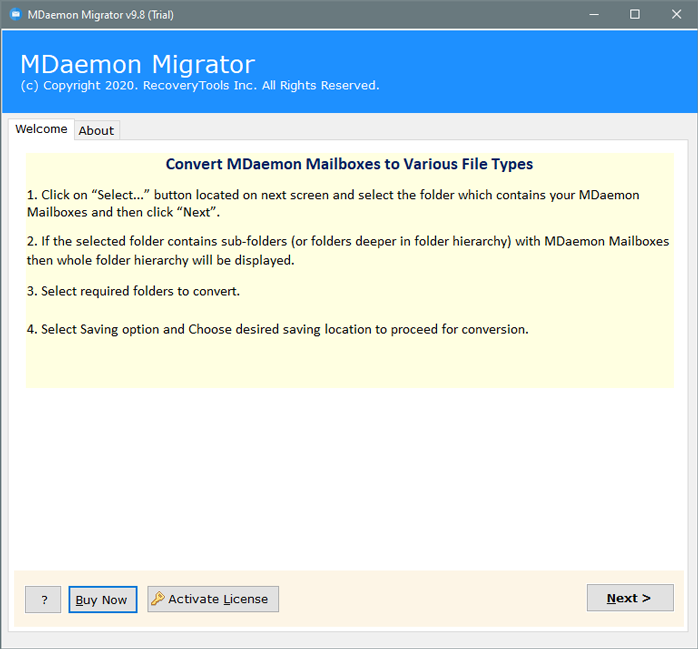 Select your MDaemon mailbox files with two options – Select Files or Select Folders.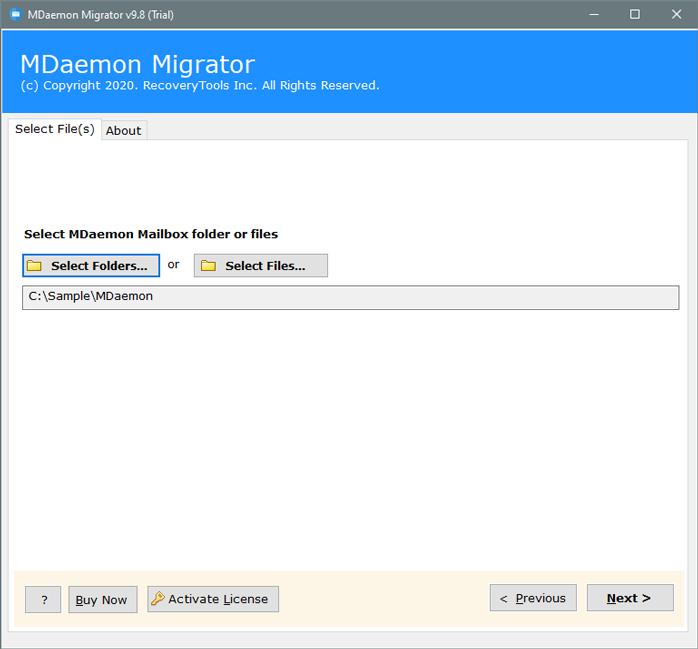 Select folders option allows you to choose multiple MDaemon mailboxes at once.
Choose the essential email folders to migrate from MDaemon to MBOX format.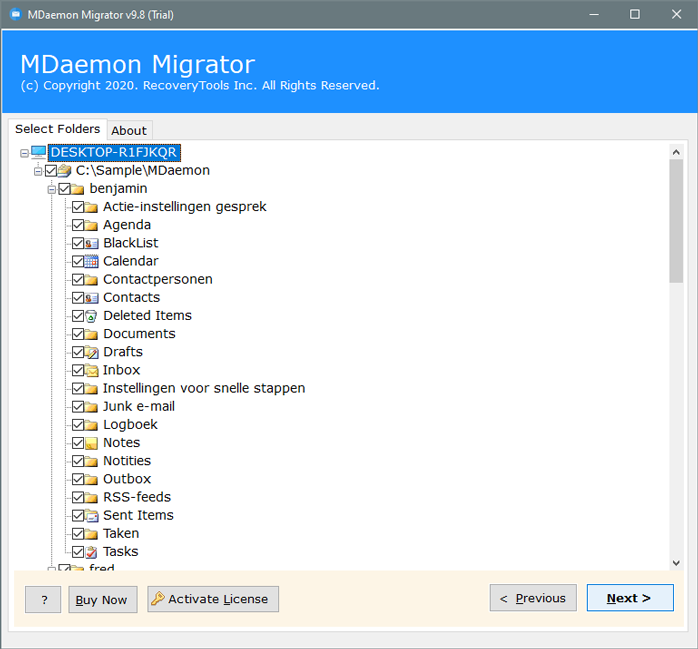 Now, the time to choose MBOX saving option in the list of file formats.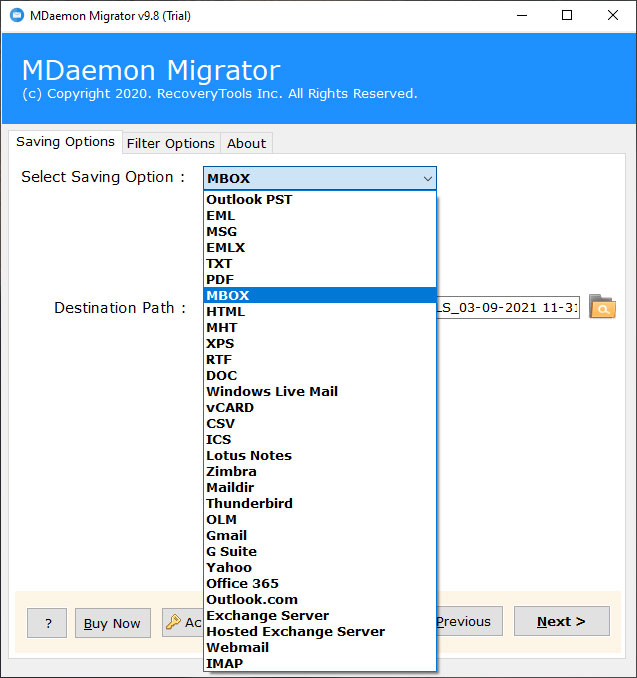 Select the destination location path to save resultant data at user location.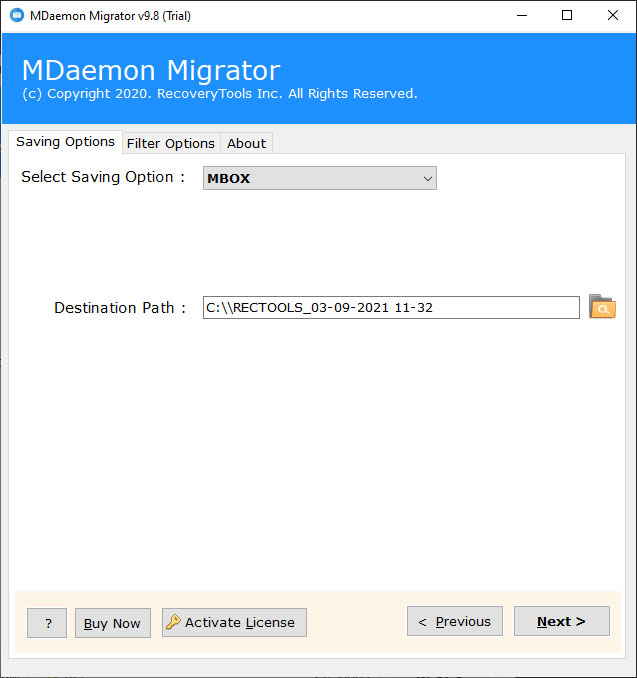 Start the process to convert MDaemon to MBOX format in batch.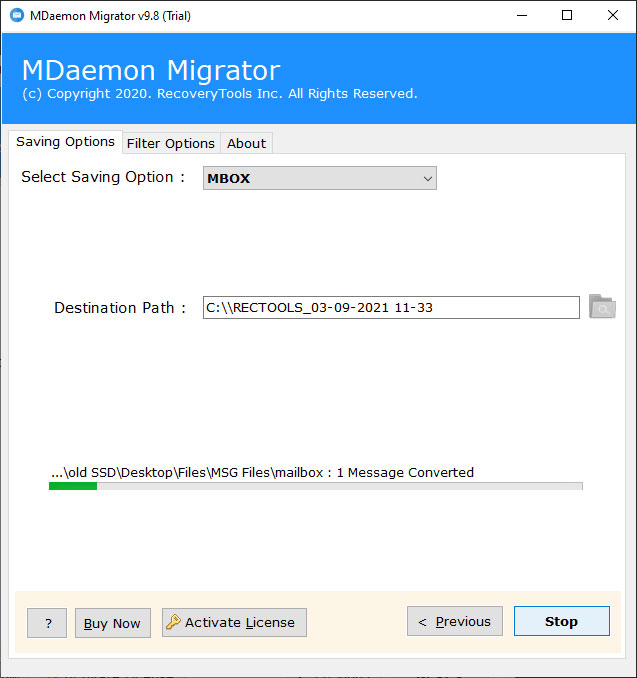 Amazing Features of MDaemon to MBOX Converter Tool
Double Selection Options:
The product accompanies double alternatives to pick various files of MDaemon without a moment's delay. In this way, you can choose numerous Mailboxes for a single conversion procedure.
Particular Email Conversion:
If you wish to convert just some particular MDaemon messages from numerous mailboxes. Then, at that point, it offers some additional email folder migration options. After loading your MDaemon files, simply check just those folders which you will actually want to export into the MBOX file.
You can utilize this product to batch convert MDaemon to MBOX archives with no issue. Along these lines, you can easily export multiple MDaemon mailboxes to MBOX files without manipulating your emails.
No external installation:
It is a totally independent utility that doesn't require any connectivity. Subsequently, there is no install any outside solution like MDaemon, or some other application or modules to change MDaemon emails to MBOX files.
Retains Email Properties & Folder Structure:
The product is planned in such a way that it keeps flawless all email attributes such as Subject, From, To, and so forth. Additionally, it keeps attachments, pictures, hyperlinks, designing, and so forth. Also, while the process, it maintains all email folder hierarchy structures.
Support All Microsoft Windows OS:
The product upholds all versions of Microsoft Windows & Server editions such as Windows11, 10, 8.1, 8, 7, Windows Server 2019, 2016, 2012, 2008, and so forth.
Conclusion
There is an enormous number of clients who are searching for an approach to export MDaemon to MBOX files. In that situation, here is the best conversion solution that assists the clients to export MDaemon emails to MBOX easily. Every email of MDaemon is kept as before like the original. It maintains folder structure also. You can also test the solution by clicking on the download buttons. For more information, contact the technical team.
Also Read: Convert MDaemon to EML