How to Convert MailEnable Contacts to vCard Format ?
Overview: Are you want to know how to export contacts from MailEnable to vCard format ? Or want to share your MailEnable contacts with Android phones ? If yes, then your search end's here. In this article, we get to know about how can user convert MailEnable to VCF contacts files. So, keep reading this article to know more.
With the current advances in innovation, especially with the increasing readiness capabilities of Android phones, there is a desperate need to permit information sharing for your gadgets. It's a well-known fact that these days contact is significant and necessary for each client. In any case, migrating contacts from email clients and servers to other platforms is certifiably not a simple task.
That's why after reading this post, we get to realize how a client can move their contacts from MailEnable server to VCF documents. The advantage of exporting contacts to a vCard file is that numerous programs and devices use VCF files as a universal contact file format for storing and exchanging data.
vCard files can be opened in Android, iPhone, Palm OS, iCloud, Windows Mail, Apple Mail, WhatsApp, BlackBerry, Entourage, Windows Live Mail, etc. Applications. But know the query arise that how can we extract MailEnable contacts to vCard format ?
A Direct Way – Export MailEnable Contacts to vCard
This MailEnable Migrator software enables the users to export the Address Book of MailEnable Server to vCard (VCF Contacts File) including all contact details such as Name, Phone Number, Local & Office Address, Email Address, etc. You can easily install this application on any Windows and Server machine. The software provides a simple and easy-to-use GUI panel.
Get the Solution Now:
Note: This is a trial edition of this application to export few contacts into vCard format. For more, you need to buy this product for lifetime use.
Steps to Export MailEnable Address Book to vCard
Launch the solution on your Windows PC.
Select Server files with dual selection options.
Choose the required email folders from the list.
Pick the vCard option in the file saving options.
Start the process to export MailEnable to vCard file.
How to Extract Contacts from MailEnable to VCF Format ?
First of all, you need to install this application on your Windows computer.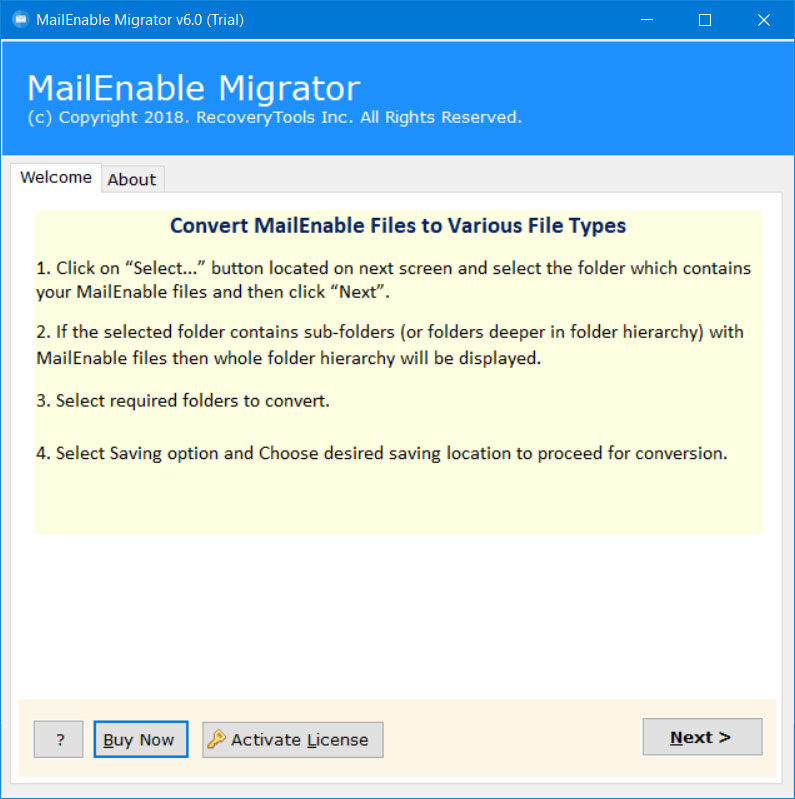 Choose the MailEnable mailbox files with a dual mode of the selection process.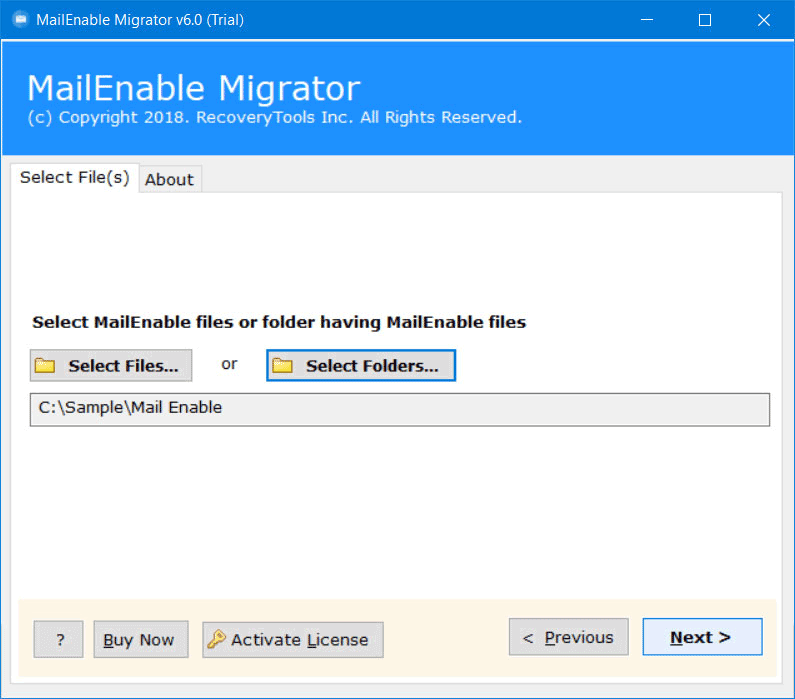 After that, mark only the required option in the list of given folders and files.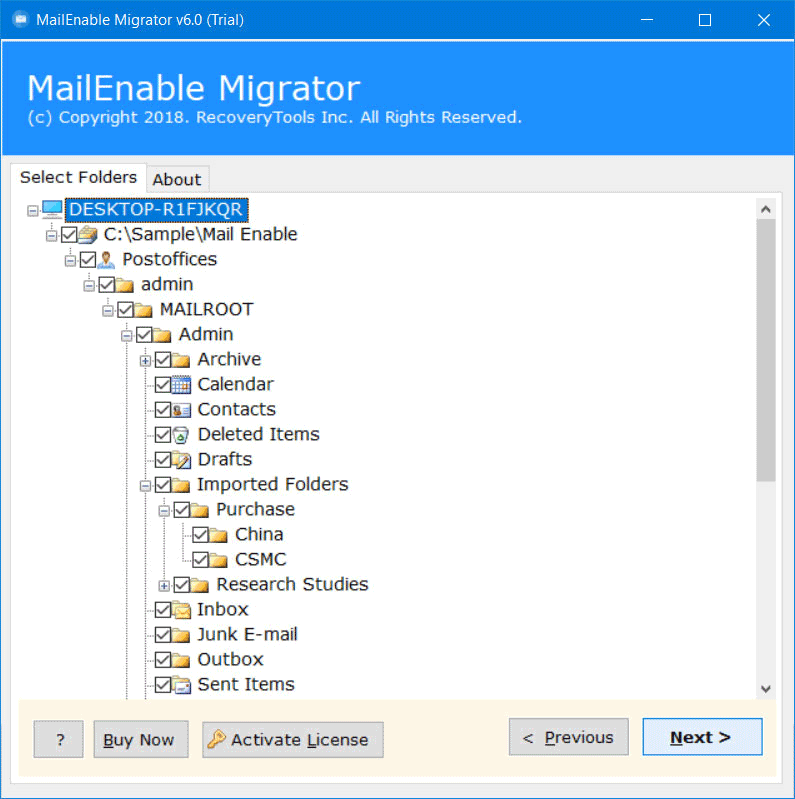 Choose the vCard option in the list of file-saving options.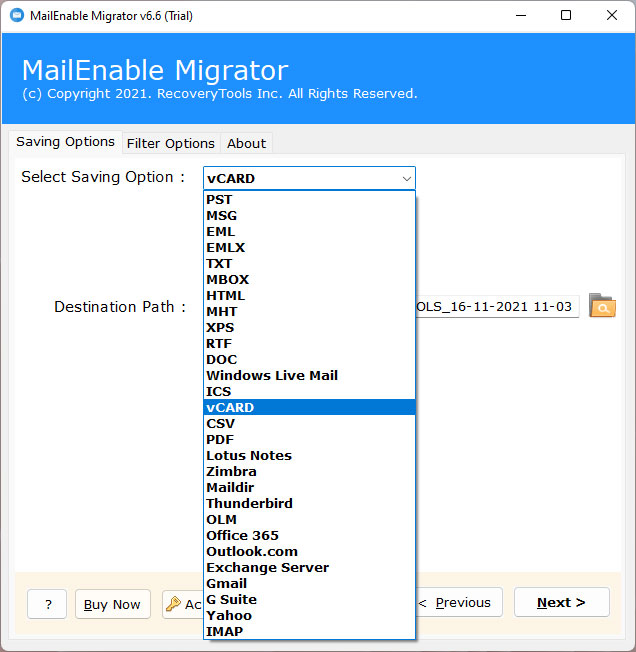 Set the destination location path to save resultant vCard files at the user location.
The solution provides many additional filter options for the selective conversion.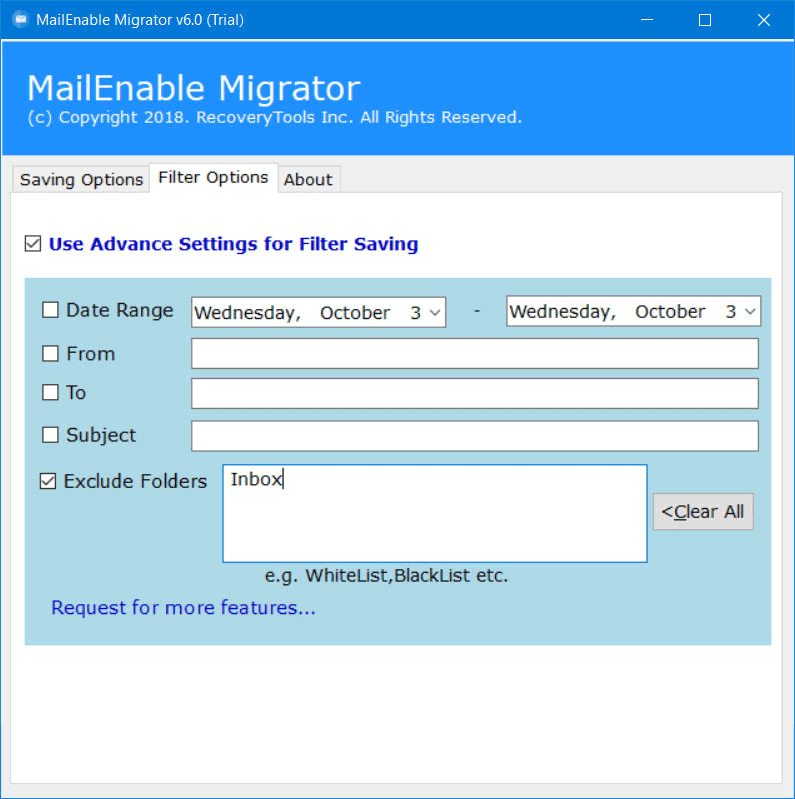 Start the process to export Contacts from MailEnable to vCard format.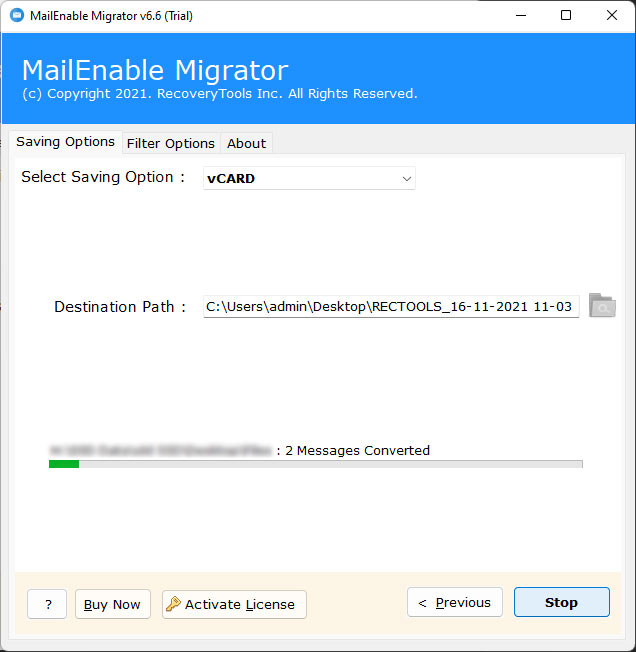 When the process is finished, process the ok button to end the process.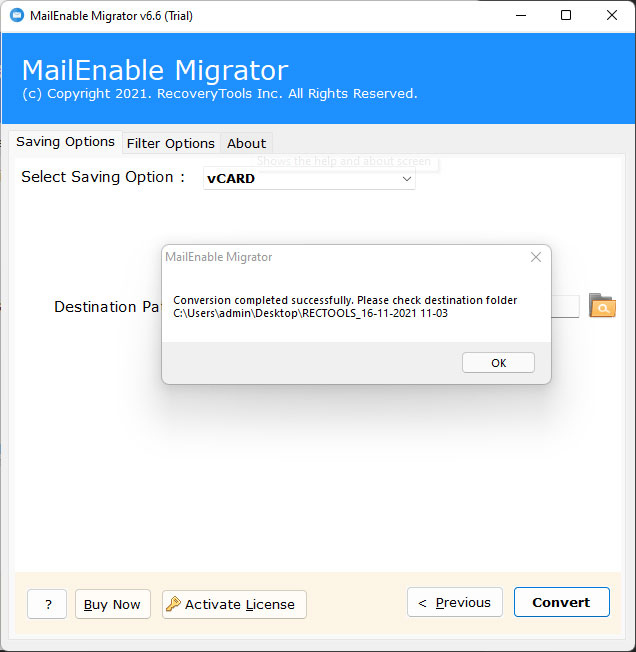 Top Advantages of MailEnable to vCard Converter Tool
Dual Mode of Mailbox Selection:
The solution provides dual selection options to choose numerous mailbox files at once. The select files option only chooses required MailEnable files from a single location. But the Select Folders option allows you to load multiple profiles at once. Just choose the option and mark on the option "I am Converting Multiple Profiles".
Universal vCard or Contact Format:
The solution generates a Universal VCF format or vCard file that easily supports all applications, web portals, devices, and many more. You can use this solution to create the latest edition of the vCard 4.0 format file easily.
Keep Original Contact Information:
The solution keeps all information of your Address Book contact details in vCard format such as First, Middle, & Last Name, Job Title, Nickname, Suffix, Gender, Birthday, Phone Numbers, Email ID, Address Book, Site, Profile, for Contacts Photos, and many more.
Advanced Filters Settings for Selective Conversion:
The solution offers many filter options which allow you to export only required contacts from MailEnable to vCard format. You can use the filter options basis on Date Range, To, Subject, From, or Exclude any Unwanted Folder or label like Whitelist/Blacklist.
Fully Windows Compatible Utility:
The software is primarily designed for only Windows Compatible devices. You can free Download & Run this software very easily on Microsoft Windows 11, Windows 10, Windows 8.1, Windows 8, Windows Server 2019, Windows Server 2016, Windows Server 2012, for both 32-bit & 64-bit OS.
Conclusion
In this article, we have mentioned a way to extract contacts and address book details from MailEnable Server to vCard (VCF) format. If you want to know the process, you need to read this article carefully or download the recommended solution on your computer. The solution supports both Windows and Windows Server machines. You can easily install this application without any technical guidance. For other information, you can also contact us via email or live chat.