How to Export Emails from Mailbird to EML Format ?
Overview: Are you looking for a solution to export Mailbird to EML format ? Or want to import Mailbird emails to EML based clients ? If so, then read this post to get a complete method. In this article, we give the best solution that allows you to safely export Mailbird files into EML format. We would like to recommend you to use the third-party solution.
In today's world, everyone needs advanced technology in its application and services. Email service is one of them. Because every communication in business is only done by email messages. That's why we need the best platform for our email service.
Mailbird is one of the best email client applications for Windows users. It provides all the benefits to its users to access any email service by IMAP or POP3 settings. But there are lots of users who want to export emails from Mailbird to EML format.
EML is one of the most standard formats for storing email messages with attachments. There are lots of email clients and webmail clients that support EML such as Thunderbird, Windows Live Mail, Eudora, Apple Mail, etc. If you try the manual method to export Mailbird to EML, it is a bit tedious.
"I'm using Mailbird for a long time as my primary email program on my Windows computer. I have more than 10000+ important emails inside this application. I want to create another copy of my Mailbird emails in EML format. Does anyone how to export Mailbird to EML file ? Please Help Me!!!"
A Simple Way – Mailbird to EML Converter
RecoveryTools Mailbird Migrator is an expertise solution that you can use to migrate Mailbird emails to EML file format. Using this solution, you can easily get your Mailbird mailbox automatically. You can also select the Mailbird data files with manual options. Also, there are no file restrictions to move emails from Mailbird to EML file format. You can easily download this application on your Windows and Server computers.
Get the Solution Here:
Note: This is a demo version of this application which only export few emails from Mailbird to EML files. For more, you need buy this application key.
Steps to Export Mailbird Emails to EML File
Launch the solution on your computer.
Select the Mailbird data with dual modes.
Choose the required email folders from list.
Select the EML option and set location path.
Start the process to convert Mailbird to EML file.
How to Convert Mailbird Emails to EML Format ?
First of all, you need to install this application on your computer.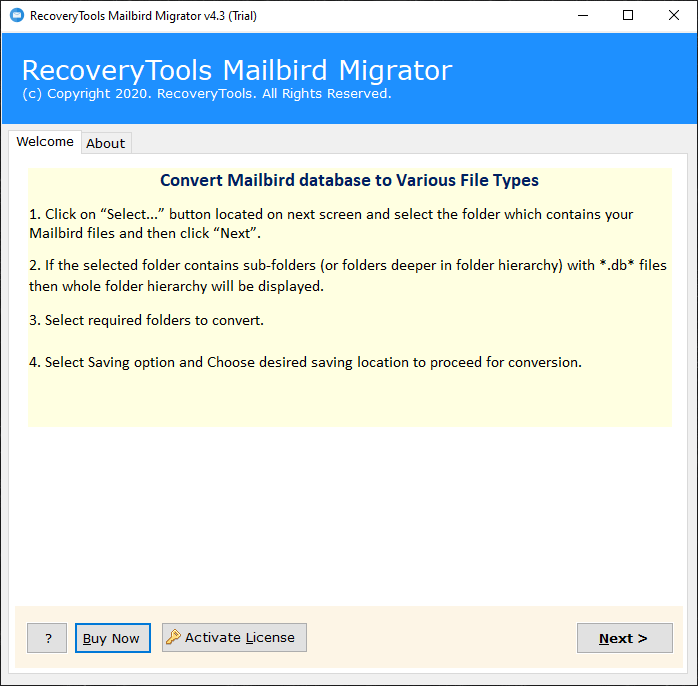 The solution provides dual options to choose multiple Mailbird mailboxes.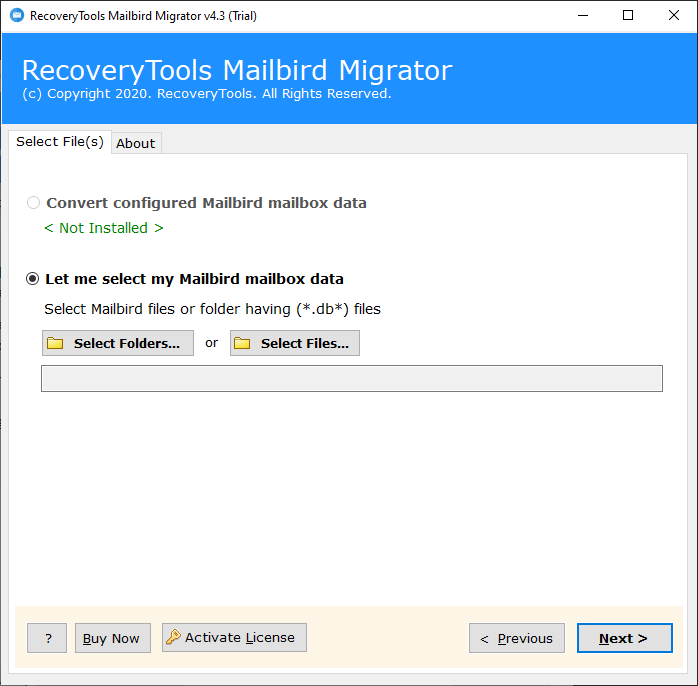 Select the required Mailbird mailbox folders from the given list.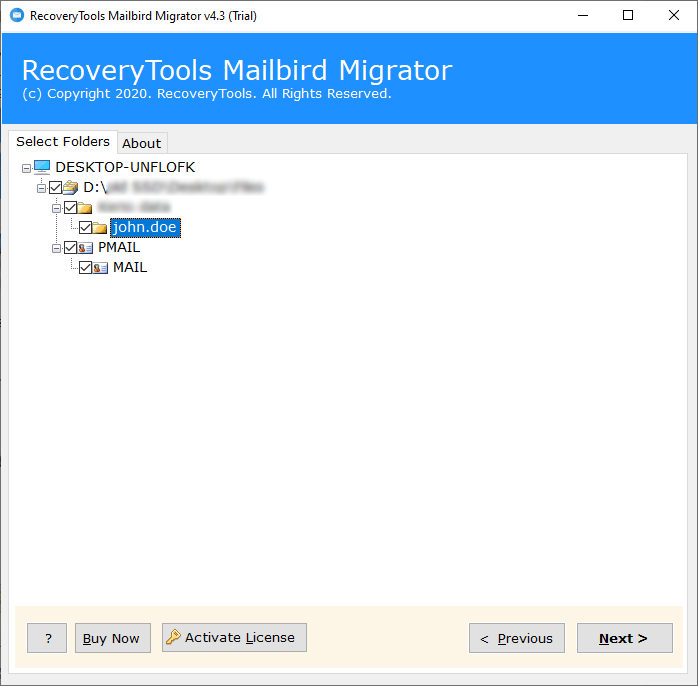 Choose the EML option in the list of file saving options.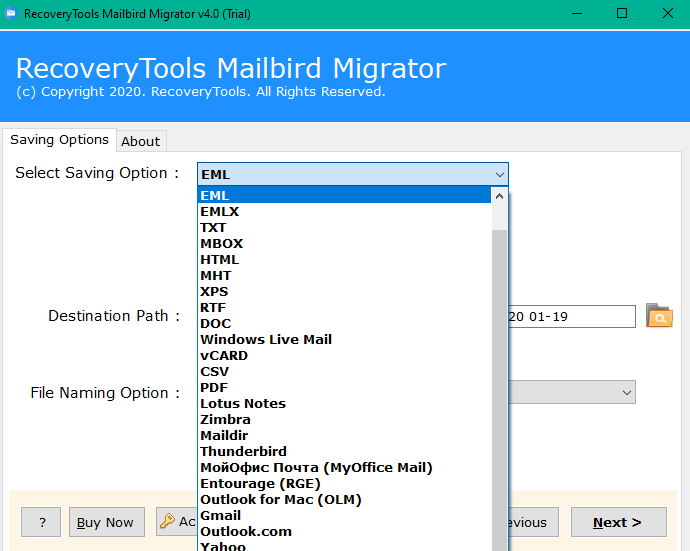 Select the location path where you want to save your resultant data.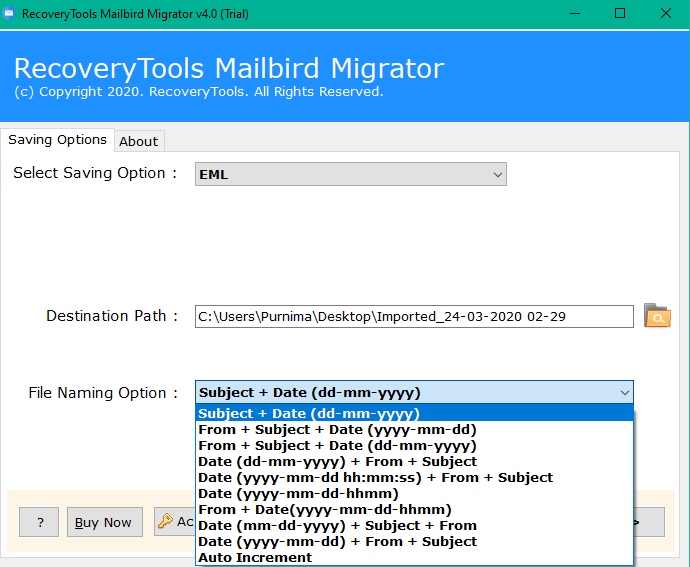 Start the process to export Mailbird Emails to EML files.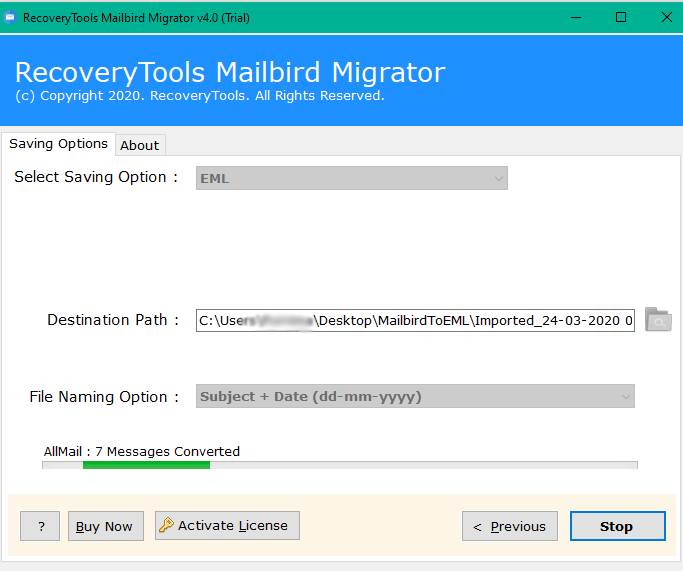 Features and Benefits of Mailbird to EML Converter
One of the best features of this application allows you to pick the Mailbird mailboxes from default locations automatically. Yes, there is no need to find the location path of this application. The solution automatically locates your mailboxes and shows them in the user panel.
Dual Options for Bulk Migration:
The solution supports batch migration of multiple Mailbird profiles at once. When you selecting your Mailbird mailboxes, the solution provides dual manual options. These options allow you to choose multiple Mailbird profiles at once.
Standalone Utility for Conversion:
The solution doesn't require any support with Mailbird and other external applications to convert Mailbird to EML files. The solution is only required Mailbird files to extract emails in EML formats.
Maintain Original Data Formatting:
While the process, there is a need for any technical changes. You will get the original structure of emails without any property's changes. Just choose this application and convert Mailbird to EML with attachments and other components.
Try the demo edition for evaluation:
The software comes with a free trial version tool. You can download it and use it to export the first 25 items from Mailbird to EML format. After that, you can easily buy this application for lifetime use.
Windows Supportable Solution:
The solution supports all editions of Microsoft Windows operating systems including Windows 11, Windows 10, Windows 8.1, 8, 7 as well as All Windows Server editions such as Windows Server 2019, Windows Sever 2016, 2012, and more.
Conclusion
In the above article, we get a flawless method to export Mailbird emails to EML files. If you want to know how to export or convert Mailbird to EML format, then read the article and get solution. The solution allows you to export multiple Mailbird profile email messages to EML format at once. You can also use this application without any technical guidance. For more information, you can contact us via chat or email process.