How to Export Emails from IncrediMail to Word Format ?
In this article, we have talked about the IncrediMail to Word Converter product that permits all clients to export IncrediMail emails to DOC / DOCX documents. IncrediMail to DOC converter toolkit is extremely simple to utilize by any user to save a huge number of IncrediMail messages to Word format.
Did you know that IncrediMail has been discontinued? Actually, the IncrediMail team was announced before the closure on 20th March 2020. But there are so many users who don't know the truth.
Now IncrediMail has stopped working completely. Be that as it may, imagine a scenario where a client needs to open the IncrediMail program's own data which has now stopped working.
That's why many people want to read their IncrediMail messages in a document format such as Word DOC or DOCX. Because the DOC/DOCX files are effectively available or opened by Microsoft Word, OpenOffice, Google DOC, and other significant free applications.
"Hey, as of late I was lost connectivity with my IncrediMail application. Presently, the program has totally stopped working. However, all my email information is stuck with this IncrediMail program. I need to open my messages in a Word document. Does anybody assist me in how to export IncrediMail messages to Word DOC file ?"
Obviously, IncrediMail files are not upheld with Microsoft Word. Because IncrediMail IMM or IML or DB files are only accessible with IncrediMail applications. That's the reason we need a professional solution.
Smart Method to Convert IncrediMail Emails to Word Files
IncrediMail Migrator by RecoveryTools is one such application that can assist associations and individuals to get emails in Word formats. This product gives a different alternative to change IncrediMail emails to DOC document files. The activity of the utility is exceptionally basic and a client will get a different Word archive document for every IncrediMail email.
Download the Solution:
Steps to Export IncrediMail Messages to Word DOC Files
Get the product on your computer.
Choose IncrediMail IMM, IML, DB files.
Select the desire folders which have your emails.
Choose DOC option in the list of file saving options.
Set location and start export IncrediMail to DOC process.
How to Convert IncrediMail Emails to Word (DOC / DOCX) Format ?
First, you need to download the products on your computer. Launch it after installation.
The product gives you dual-mode for selecting IncrediMail profiles. The first is auto and another is dual manual options.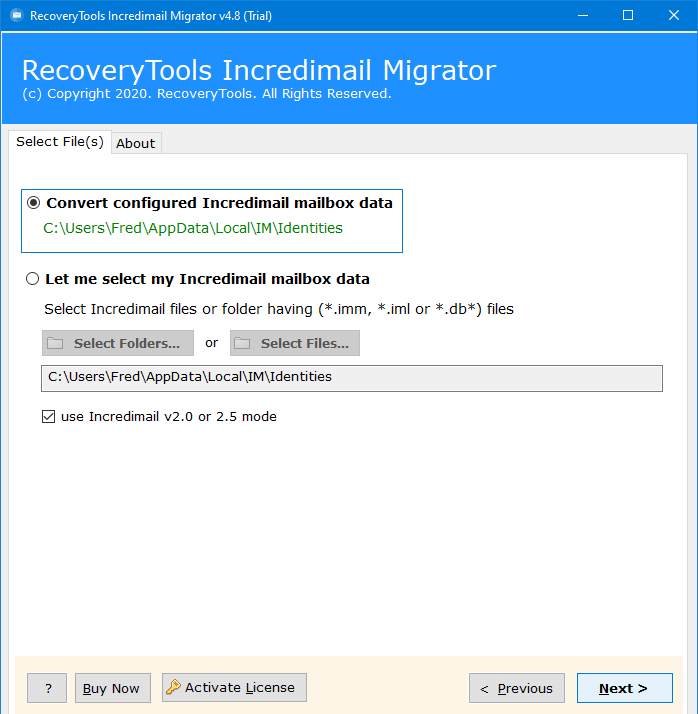 After selected your IncrediMail profiles, it shows in the user interface panel.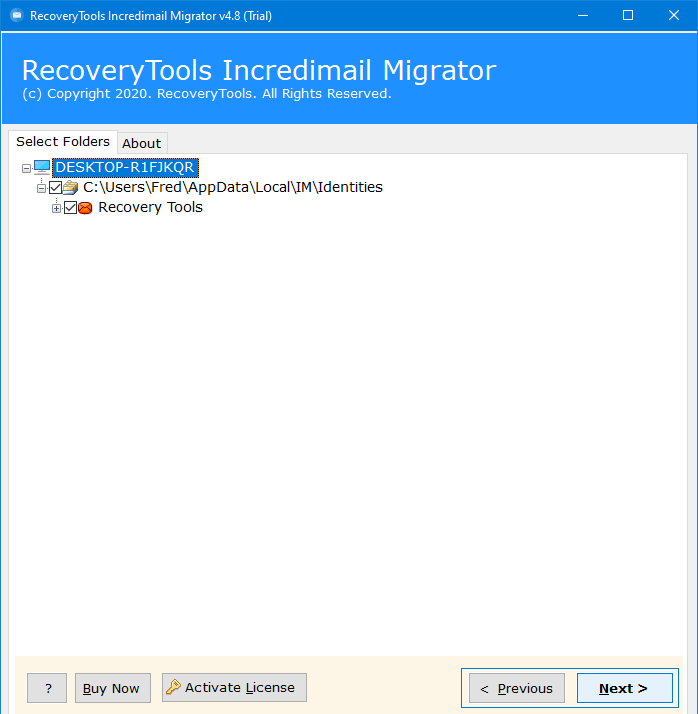 Now, choose the Word DOC option in the list of file-saving options.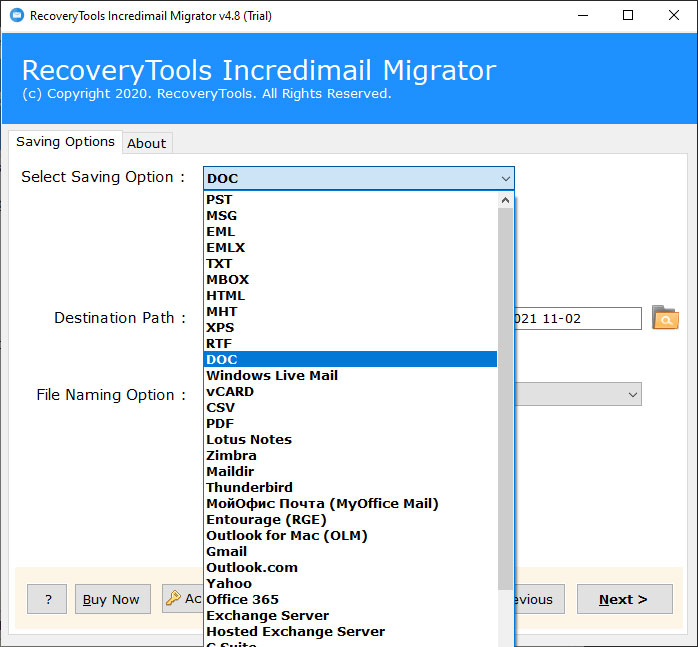 One can easily choose any location path to save its data. Also, the application gives multiple file naming options.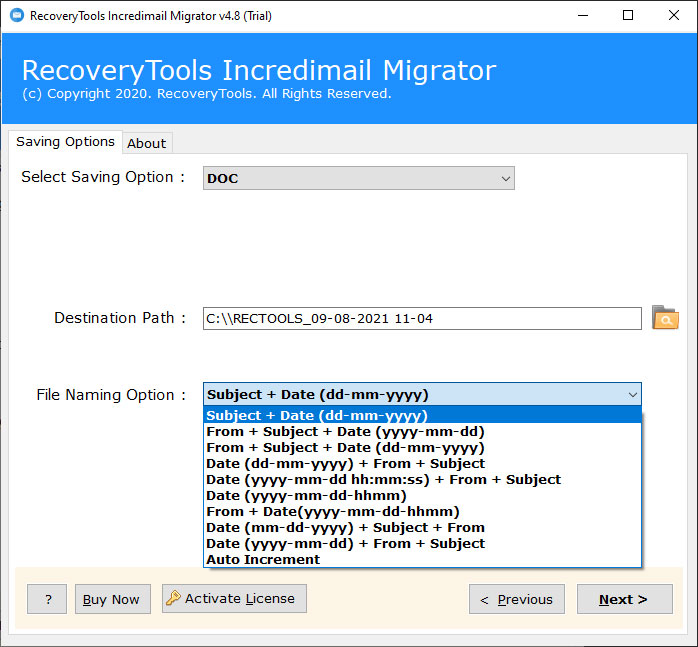 Press the convert button to start IncrediMail to Word conversion process.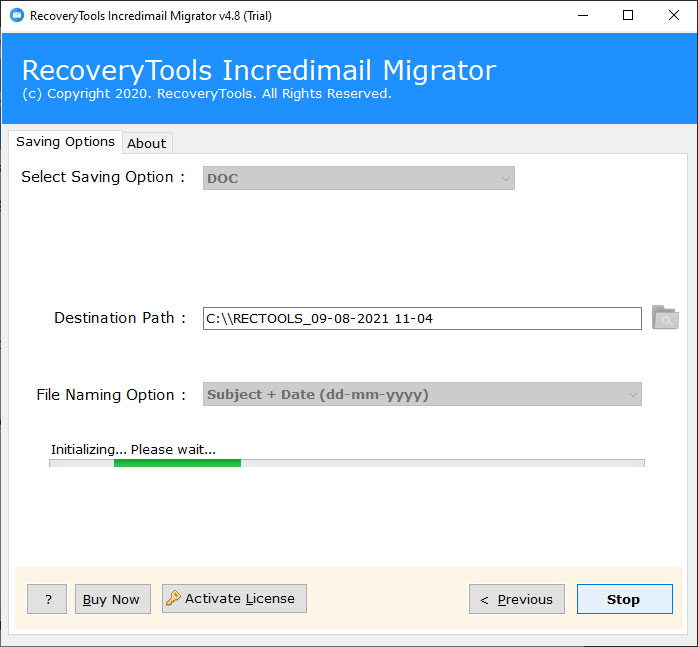 When the process is finished, press the desire option.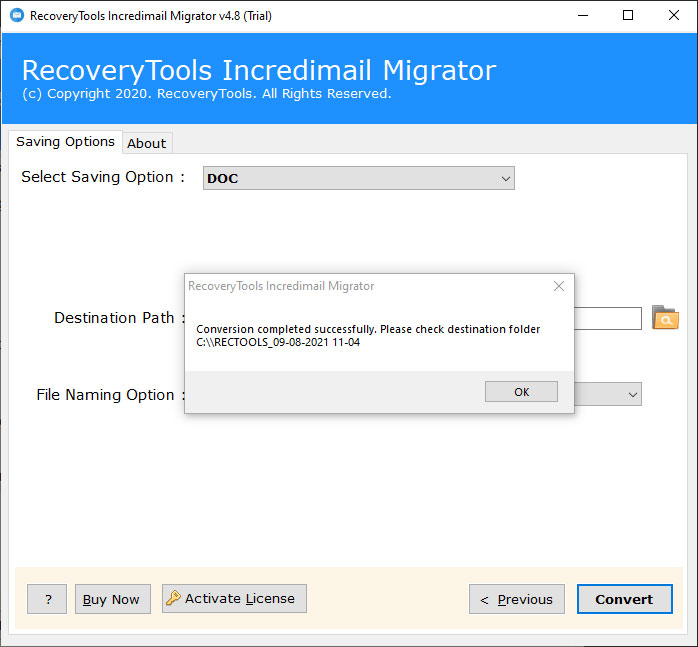 Top Features Provided By IncrediMail to Word Converter
This tool stash is intend to give the greatest advantages to its clients. In that situation, it provides progressed highlights. Some of these highlights are listed below:
A client can export a solitary IncrediMail or different IncrediMail profiles emails to Word document formats in bulk mode.
One can stack IncrediMail mailbox information from the default storage location of IncrediMail Profiles.
Also, clients can stack IncrediMail mailbox information physically by Selecting Files or Folders of IncrediMail IMM, IML, DB files.
It upholds the conversion of IncrediMail to Word DOC or DOCX format while keeping all properties. This toolkit didn't influence the original elements of your email information.
The software allows you to convert IncrediMail messages to Word files with attachments. After complete the process, it will save all your attachments of IncrediMail emails inside a separate folder.
Not only this, this product gives a facility to choose your IncrediMail folders before starting the procedure.
A client can save the resultant Word DOC documents at their ideal location on its computer. In any case, the program will naturally store the resultant file on the Desktop location.
One can change IncrediMail IMM to DOCX document format without requiring an Internet association.
A client can utilize this product effectively on both Server or Windows OS. It also supports x64 bit versions of OS and latest editions including Windows 11.
Common Issues Asked by Users
What is the difference between an authorize license and a trial version of this utility ?
The authorized license version of this utility allows you to seamlessly convert IncrediMail messages to various formats including Word DOC. And demo version allows you to convert only the first 25 messages.
I have over 20k messages in IncrediMail. Does the product convert multiple IncrediMail emails to DOC format at once ?
Yes, you can convert multiple emails and IncrediMail files to DOC format in a single process.
Does the product convert IncrediMail to Word format on Windows 8.1 machine ?
Definitely, because this application supports all editions of Microsoft Windows operating systems.
Can I use this toolkit to export only selected email folders ?
Sure, the product asked you which IncrediMail folder emails you want to convert to Word format before starting the process.
Final Words
This post explains how to export IncrediMail emails or messages to Word DOC format. As a resultant data, users will get all IncrediMail messages information in DOC or DOCX format. Also, you can get the solution free of cost to export only a few emails to Word format. You can get any resolution of this application. When you need help contact the support team.