How to Import Eudora Emails to Zimbra Desktop ?
Karen Chard
~ Modified: 02-06-2022 ~ How To ~ 5 Minutes Reading
Summary: This article describes the process of importing Eudora to Zimbra client. If you are wondering for a method like Eudora to Zimbra Converter, then your search end here. In this post, you get to know the way to export Eudora emails to Zimbra desktop directly. Read and learn the method.
Email is a method of sending messages, texts, and records between PCs via the Internet. However, it cannot be overlooked that email is by far the best medium for communication in the corporate world. But there is a need to know which email client will play the proper role for business and efficiency.
Both Eudora and Zimbra applications continue to play their rightful role in the world of email clients. But now Eudora is one of the outdated applications. That's why people use Zimbra more than Eudora. Zimbra is open-source, allowing cross-stage applications to be used on Mac and Windows, and Linux OS.
"Hi, I need to move emails from Eudora to Zimbra Desktop. Actually, I was using this application for the last 10 years. Now, I want to change. So, I decided to choose the Zimbra application. But now the problem is that I can't find a way to transfer emails from Eudora to Zimbra. So, please help me to find an easier way."
– Adam Hanewald
There is no manual and inbuilt option provided by Eudora to transfer your emails to Zimbra clients. Because Zimbra Desktop and Zimbra Collaboration Suite only support the TGZ format. Then, the questions arise what is the way to move message data from Eudora to Zimbra client.
A Best Software – Eudora to Zimbra Converter
Download RecoveryTools Eudora Migrator tool for importing Eudora emails to Zimbra client directly. The best thing about Eudora to Zimbra Conversion tool is that it doesn't need Eudora client establishment in your PC to do the conversion process. It is a totally independent application accessible right now. Simply get it from the following section.
Download Now:
Steps to Export Eudora Emails to Zimbra Desktop
Get Eudora to Zimbra Conversion tool.
Pick Eudora Messages with manual or auto mode.
Mark only the desire folders from the list.
Select Zimbra option in the list of saving formats.
Start Eudora to Zimbra Migration process.
How to Import Emails from Eudora to Zimbra – Complete Method
After completing the installation process. Start the software solution.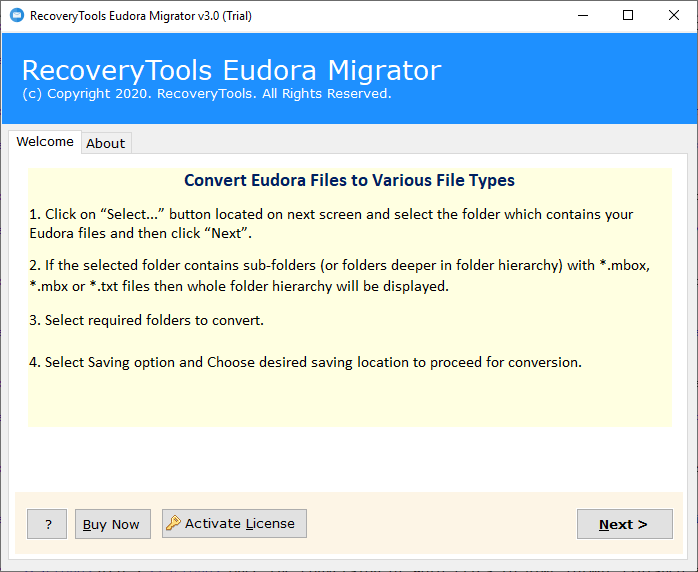 It offers a double selection procedure. If you don't know the Eudora location, then choose the Auto mode. Otherwise, you can select the manual options.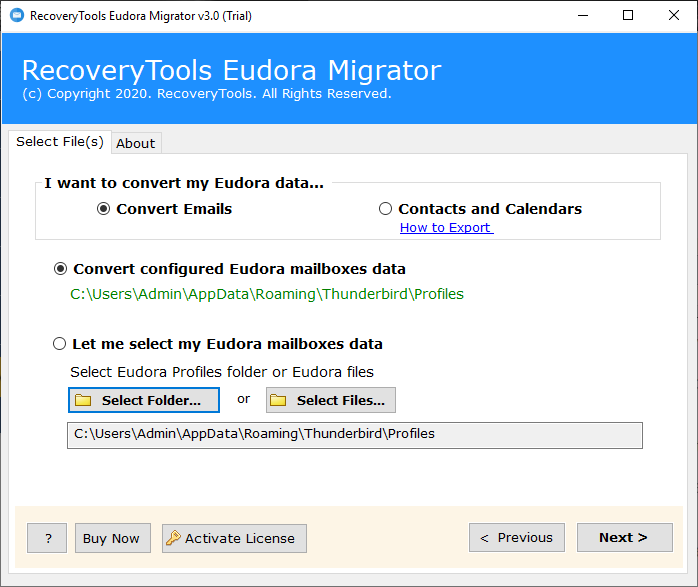 After picking the Eudora mailbox, you can easily choose folders for selecting the migration process.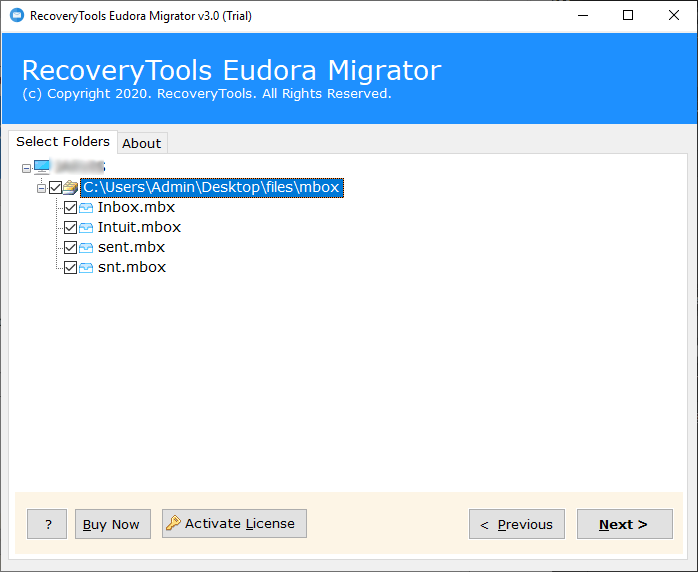 Select the Zimbra option in the list of file-saving options.
If you have already installed Zimbra, then it automatically detects them. Otherwise, it saves Eudora emails to TGZ format.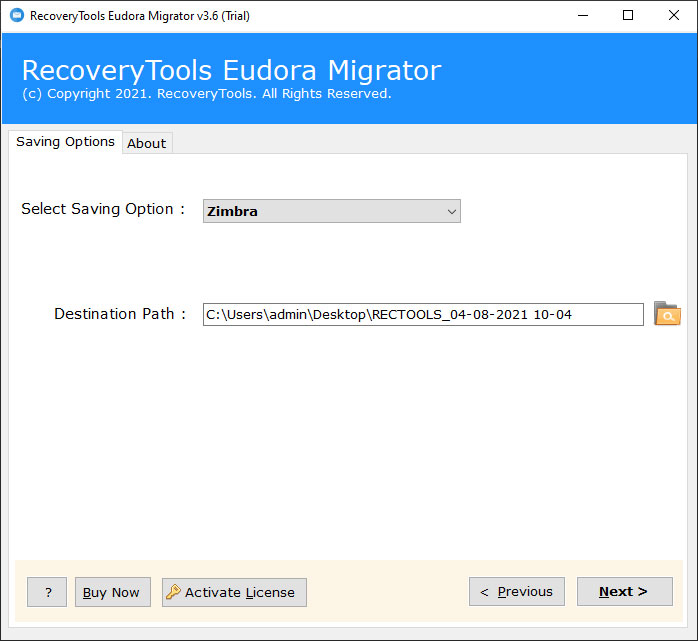 When all setup hit on the enter key to start Eudora to Zimbra Conversion process.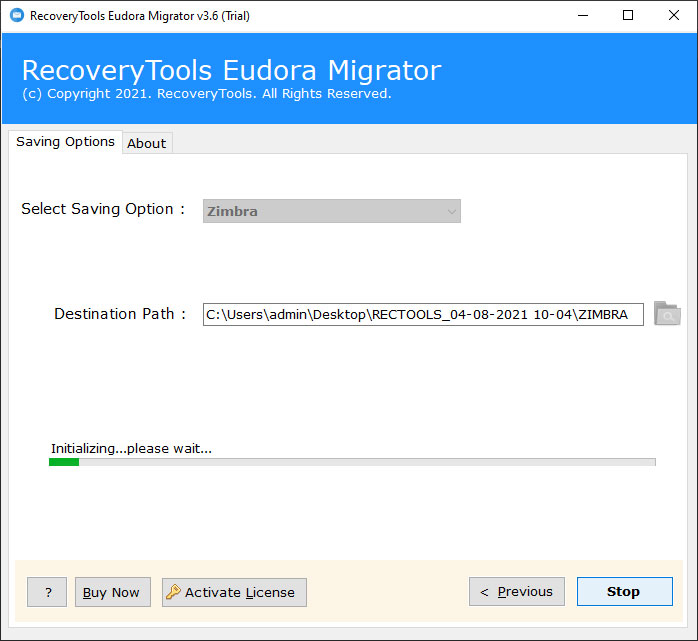 When the procedure is done, then press the ok button.
Features of Eudora to Zimbra Conversion Procedure
Eudora to Zimbra Conversion utility has many highlights that make it outstanding amongst other utilities. A portion of the significant advantages of this application are clarified below: –
It offers the auto-find highlight to consequently discover and stack Eudora mailbox files from default locations.
The product accompanies double choice alternatives to pick various Eudora mailboxes in the software.
The solution allows you to extract Eudora emails to TGZ format which is supported by Zimbra Desktop or Zimbra webmail client.
During the transformation process, the product will keep up with the email structure and meta properties.
The tool additionally comes with a free demo version which is useful for testing the features of the software. Additionally, at the time, you can't import multiple Eudora emails into Zimbra with it.
With the authorized version of this application, there is no third-party connectivity required. You can import unlimited Eudora emails into Zimbra without any problems.
Store resultant information at the client's ideal area including external or internal areas of the hard drive.
The product gives a basic and reliable interface for each sort of client that can work without issues.
Use the product on your all Windows as well as Server machines including Windows 11 also.
Common Problems
Does the product require connectivity with Zimbra during the cycle ?
This is a completely free utility. There is no compelling reason to present any application during the process.
Does the solution allow us to import Eudora emails to Zimbra Webmail ?
Definitely, it supports Zimbra as well as the IMAP option. So, you can easily export Eudora emails to Zimbra without any lack.
Is it possible to export Eudora contacts using the Converter application ?
Yes, the solution allows you to convert Eudora Address Book to vCard and CSV file format. Also, it provides separate options for this.
I have Eudora mailbox data on my Linux computer. So do you have any Linux versions ?
No, this application is only supporting Windows computers.
Final Words
In this article, we get acquainted with perhaps the best answer for migrating email from Eudora to Zimbra. The utility saves a ton of time while doing conversion of Eudora to Zimbra TGZ format. The product keeps Eudora Mailbox Metadata properties and Folders elements while transferring information from Eudora to Zimbra. Also, you can avail the demo edition of this product. You can also contact us via the live chat process.