How to Export Contacts of SmarterMail to vCard (*.VCF) Files ?
Karen Chard
~ Modified: 21-09-2021 ~ How To ~ 5 Minutes Reading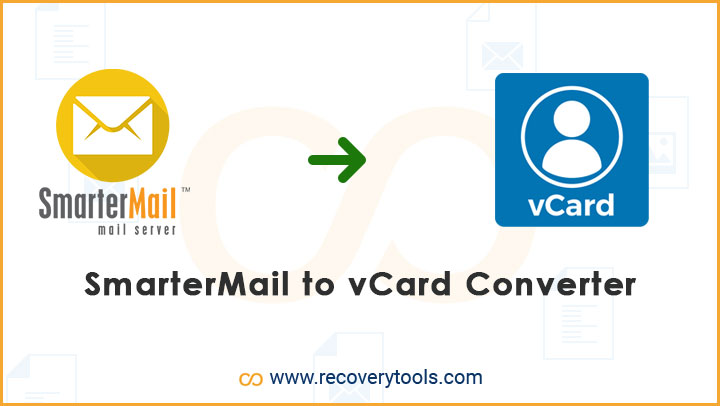 In this article, we get to know about how can user convert SmarterMail to vCard contacts files. This SmarterMail to VCF Converter software enables the users to export the Address Book of SmarterMail to VCF (vCard Contacts File) including all contact details like Email Address, Phone Number, Local Address, etc.
After reading this post, we get to know about how can a user transfer their contacts details from the SmarterMail mail server to VCF files. The advantage of exporting contacts to a vCard file is that many applications utilize VCF files as a Universal Contacts file format to store & exchange data. vCard files can be opened in iPhone, iCloud, Palm OS, Mac Mail, Apple Mail, Android, WhatsApp, BlackBerry, Entourage, Windows Mail, Windows Live Mail, etc.
This SmarterMail to vCard Export software maintains all the contacts details with Advanced Mode. A single SmarterMail contact may contain all the information like First, Middle, & Last Name, Job Title, Nickname, Suffix, Gender, Birthday, Phone Numbers, Email ID, Address Book, Site, Profile, or Contacts Photo. The software will export all address books & contacts details of SmarterMail into vCard files without making any loss.
SmarterMail to VCF Converter tool which will export VCF files from Mailbox items from SmarterMail into vCard files. The working process of this utility is very simple anyone can use it without any issue. To import selective contacts one can go with the single-mode option which is available in this utility. One can select the folder having thousands of SmarterMail Contacts details to carry on the conversion process with the batch mode option & migrate SmarterMail Address Book to vCard file at once.
A Direct Way – Export SmarterMail Contacts to vCard
This can be done with the help of a third-party SmarterMail to vCard Exporter software. One such application is RecoveryTools SmarterMail Migrator software which allows to directly convert into details of SmarterMail Address Book to vCard/VCF files. There is no automotive way to convert emails from SmarterMail to vCard format. The tool is designed with multilingual supportive algorithms i.e. no matter in which language you have your SmarterMail contacts saved in the utility will export them in their desired file format without facing any problem as well as keeping their original language.
Download from Here:
How to Export Contacts from SmarterMail to vCard Format ?
The working of this utility is very easy & simplified & can be easily understood just by following these simple steps:
Install & Run SmarterMail Contacts to vCard Export software & Read all Important instructions.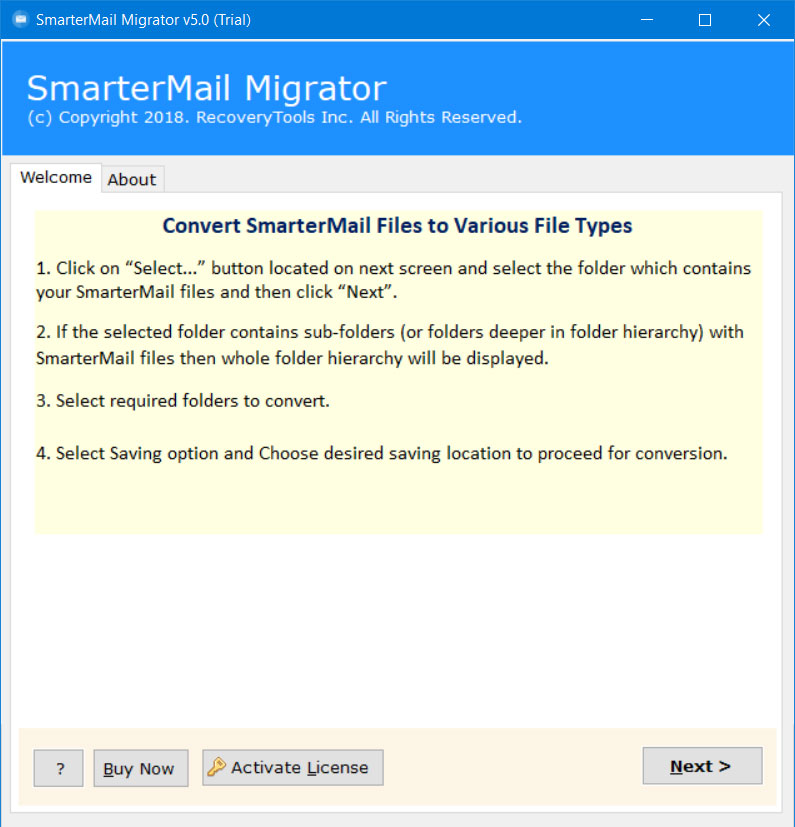 Load SmarterMail Contacts Files by click on Select Folders or Select Files.
The utility will display SmarterMail mailbox folders, choose required Contacts or Address Book folders from there.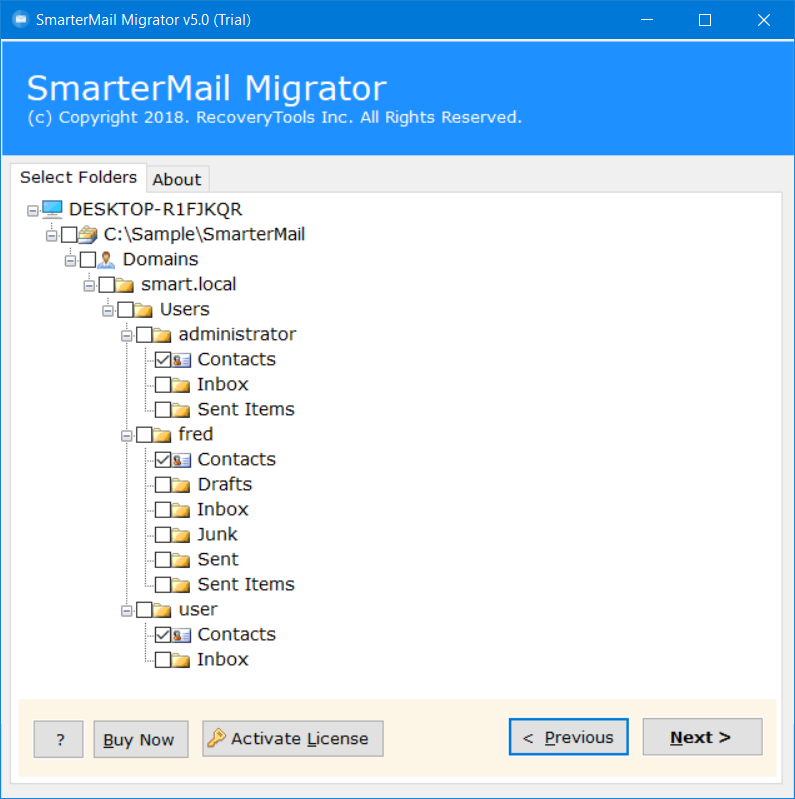 Choose the vCard option from the list of 20+ Select Saving formats.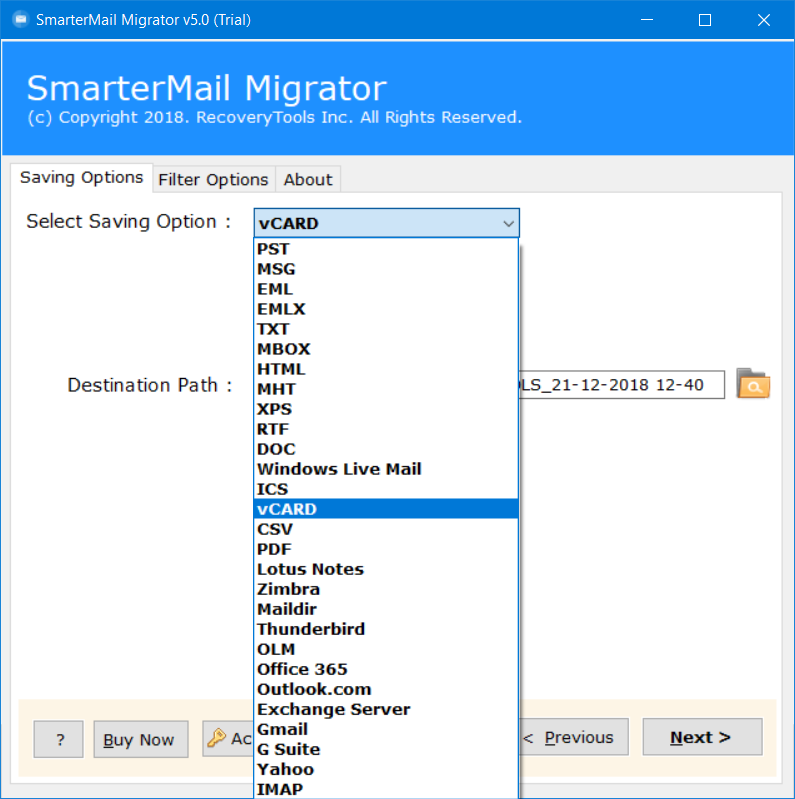 The software will display a SmarterMail to vCard Setup wizard.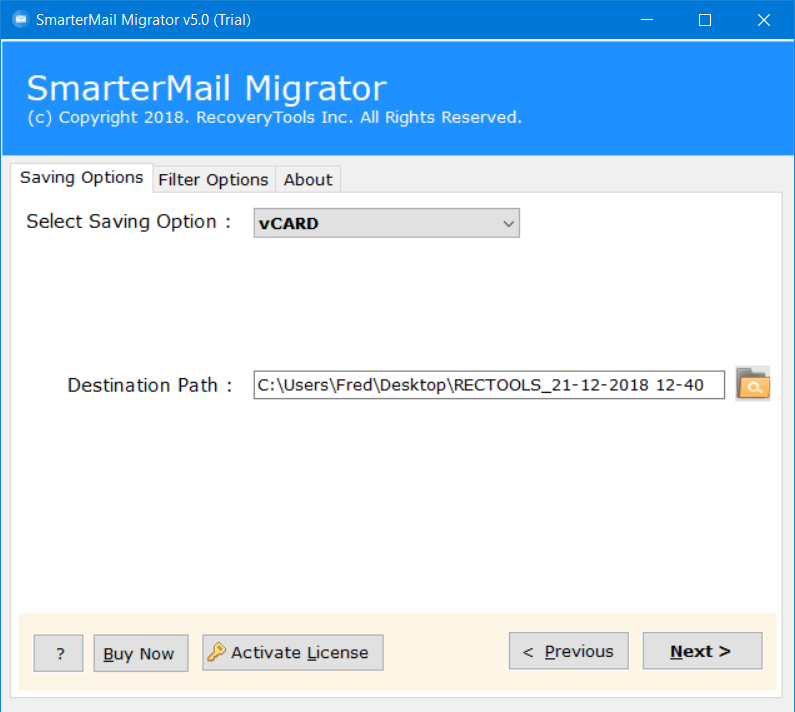 Click on Folder Icon to change the default Destination location from Desktop to any of the user's desired paths.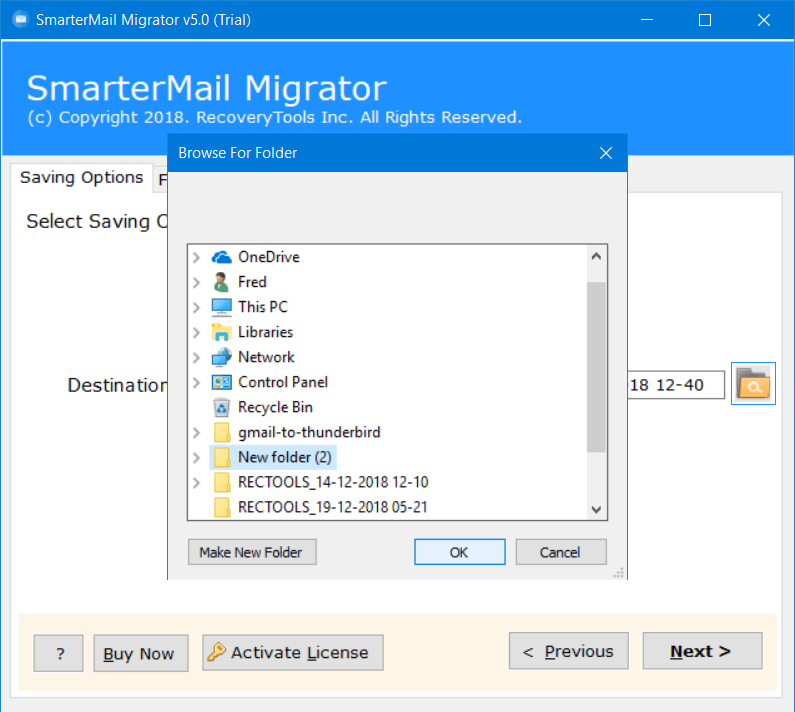 One can also apply Advanced Filters Setting to perform the selective transfer of SmarterMail contacts on the basis of Date Range, Subject, To, From, or Exclude Unwanted Folders.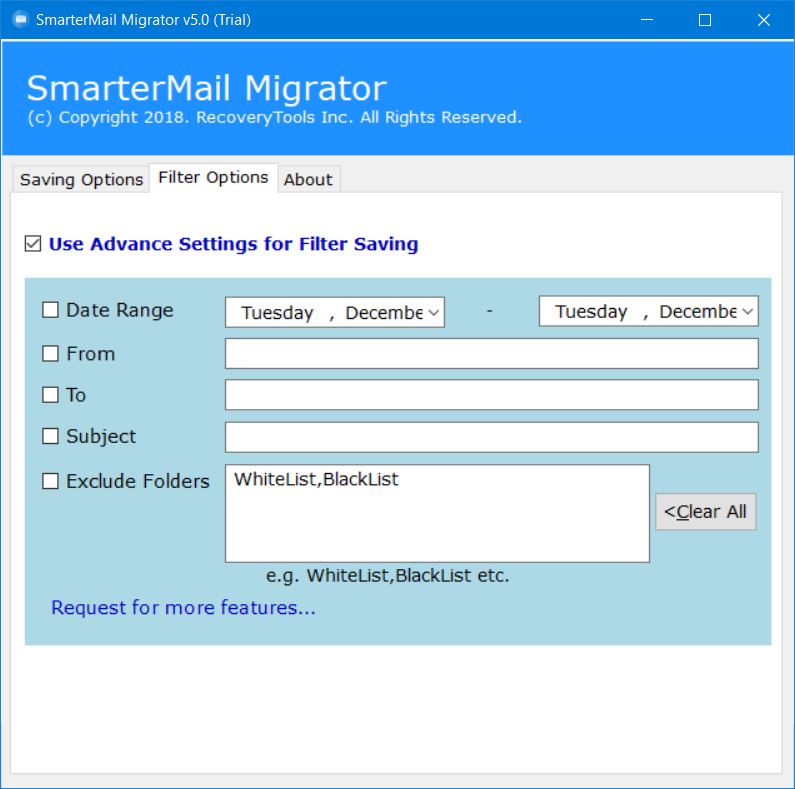 Click on the Next button to initialize the SmarterMail to vCard file conversion process.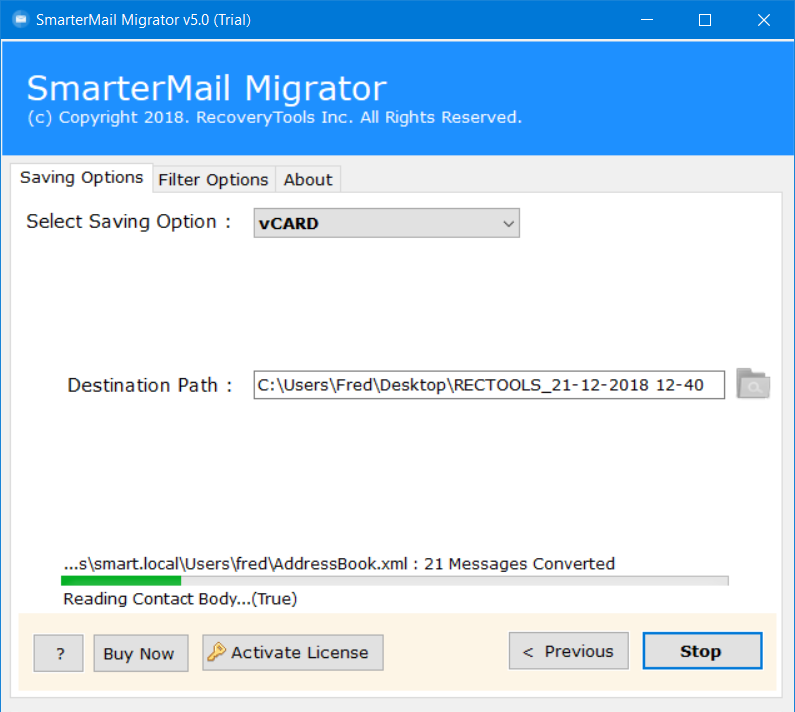 After this conversion is finished click on the OK button to exit from it.

The utility will generate a SavingLog report which will display all the important information like Conversion Process Start Date & Time, Saving Format type, Source file Path, Total number of Items Converted, Destination folder path & final Status of the process.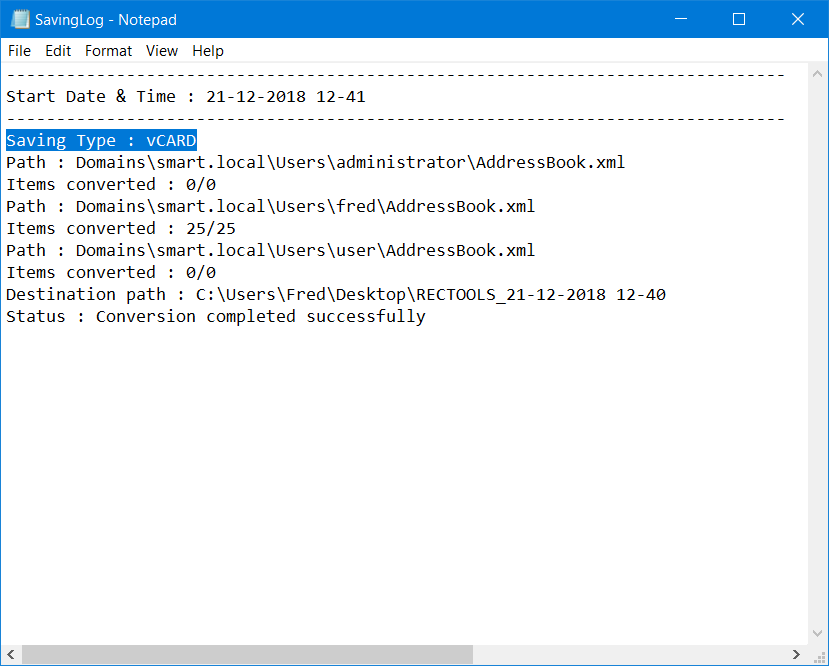 SmarterMail Contacts to vCard Converter – Major Features & Benefits:
Create Single vCard File for Each SmarterMail Contacts:
This software enables the users to create a separate vCard or VCF file having information of each individual contact separate. When a user gets access to the resultant vCard file it will only show a single vCard file but when you open this VCF file it will contain several other vCard contacts files having information about each individual SmarterMail Contact detail.
Automatically Map details of SmarterMail Contact with vCard File:
This amazing utility is very powerful in terms of its speed & accuracy. When any user selects this utility to transfer SmarterMail Contacts details then it will automatically Map all the Contacts details like Title, First Name, Middle Name, Last Name, Suffix, Company, Department, Email ID, Address Details, City, etc. with resultant vCard file.
Migrate in Batch Multiple SmarterMail Users Mailbox:
This SmarterMail to vCard Converter software helps the users to quickly convert details of SmarterMail mailbox data into vCard/VCF files. This utility provides I am Converting Multiple Users option which will load the multiple SmarterMail user's Contacts & Address Book details in the application panel to export them as vCard/VCF files.
Advanced Filters Settings for Selective Conversion:
This SmarterMail to VCF Converter toolkit enables the users to perform the selective conversion of SmarterMail contacts to vCard file. One can apply the Advanced Filters Settings available in the software panel to categories only the required SmarterMail mailbox items on the basis of Date Range, To, Subject, From, or Exclude any Unwanted Folder or label like Whitelist/Blacklist.
Fully Windows Compatible Utility:
This SmarterMail Contacts to vCard Converter software is primarily designed for only Windows Compatible devices. Free Download & Run this software very easily on Microsoft Windows 10, Windows 8.1, Windows 8, Windows 7, Windows XP, for both 32-bit & 64-bit OS.
The Verge
In the above article, we had discussed how can a user migrate or export Contacts & Address Book details from SmarterMail mailbox file to vCard file. It will help the users to import SmarterMail Contacts to various devices & applications like Android, iPhone, iOS, Windows, Cloud-Based Applications like Google Calendars, Microsoft Exchange, Office 365, Yahoo Mail, AOL, etc. Free Download SmarterMail to vCard Converter software from above which will convert the first 25 contacts from each Address Book during the trial version. Purchase the Full License to activate the software to perform the unlimited migration.