How to Convert Eudora Emails to Maildir Format in Batch ?
Impression: Are you here because you are wondering about a method to convert Eudora Emails to Maildir format in batch without any loss. Don't worry, in the post, we are going to explain the best ways to export emails from Eudora to Maildir format. So, stay with us to learn the process.
Innovation has rapidly transformed our lives, with an exceptionally short span of time to make things better. Only a couple of long time back we believed that there were a few things we would never live without. But presently those equivalent things are practically old. In fact, some innovation today isn't exactly equivalent to its predecessors like Eudora to Maildir.
Eudora was developed by Qualcomm to compete with Microsoft products. The product allows you to configure multiple accounts easily. This is the best email program for Mac and Windows or Linux computers.
Maildir stands for Mail Directory Structure and it has an efficient algorithm for storing email messages in three directories. Maildir is a new way of archiving email messages while keeping each incoming and outgoing email unique.
The Maildir Structure
New: – Every new email coming in this directory will be stored for a limited time.
Cur: – This directory is similar to New Directory. But it stores all messages after reading state.
TMP: – TMP is a temporary directory to store messages for a short period.
"Eudora is an email program like Outlook and Maildir is a structure to store emails locally. So, the task is how to export Eudora email to Maildir structure format. Because Maildir is supported by a large number of email servers and clients. Does any solution available in RecoveryTools who that convert Eudora to Maildir format. Please help!!!!"
Eudora to Maildir Converter Tool – A Best Program
After investigative the above issues, our team started proper research on Maildir and Maildir++ files. Finally, we developed Eudora Converter software. This application is specially established to migrate Eudora emails to Maildir format easily. The software is compatible with all versions of Microsoft Windows and Server operating systems.
Download Utility:
Process to Convert Eudora Messages to Maildir Files
Get the product from the website.
Run and select Eudora mailbox files.
Pick only the desired folders from the list.
Mark on the Maildir option and set the path.
Start Eudora to Maildir conversion process.
How to Export Emails from Eudora to Maildir Format ?
Get the solution and install it or launch it on your computer.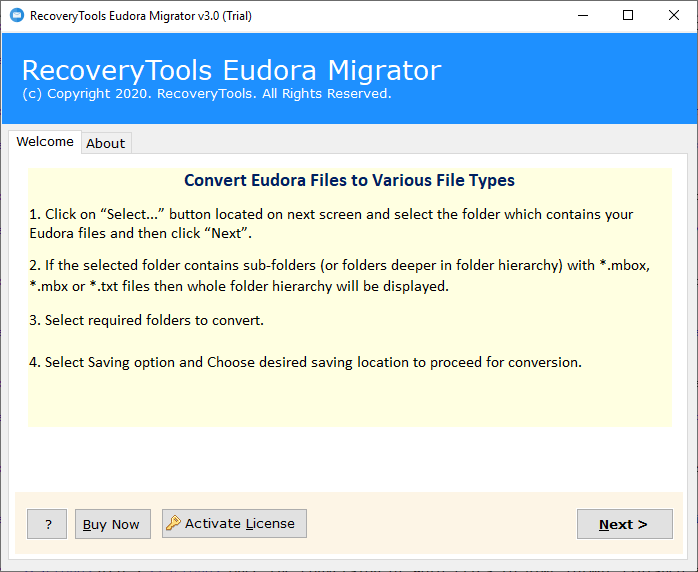 Now, three options are available. First, you can choose what you want to convert emails or contacts and calendars. Another one is the auto-discovery option to find Eudora data automatically. And the final option is manual dual options.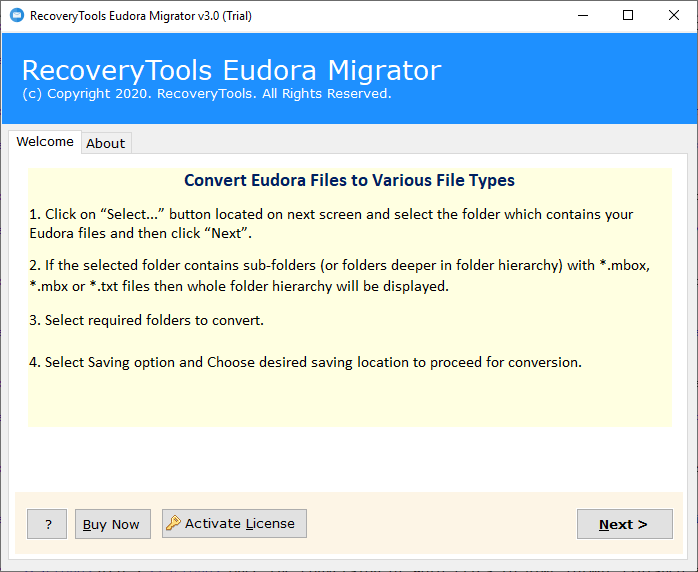 After choosing the mailboxes, select the folder from the list.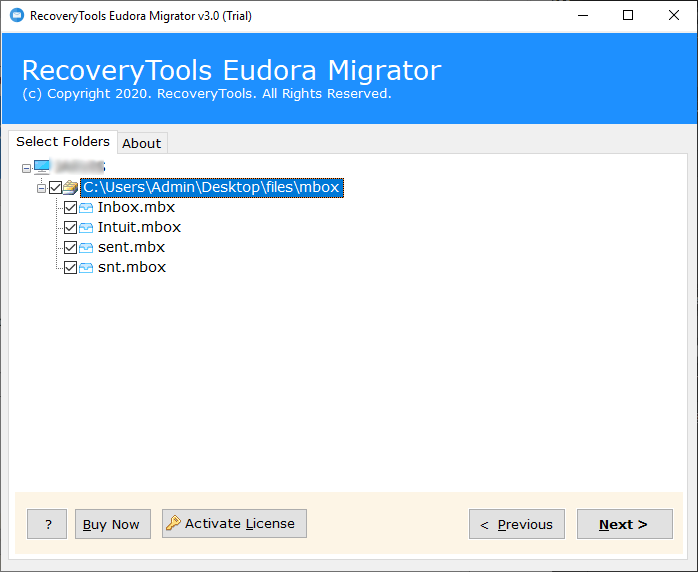 Select the Maildir option to convert Eudora emails to Maildir format.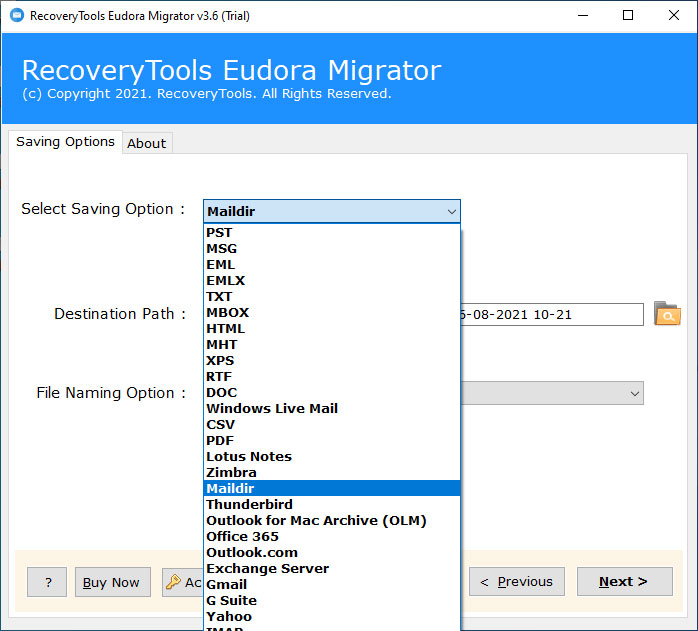 Choose your path according to your requirements, by setting up default is selected Desktop path.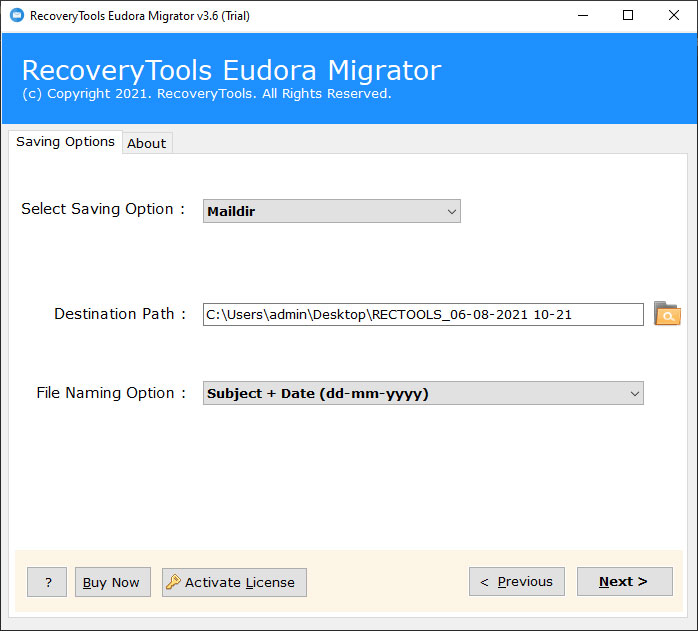 Press the next button to start the conversion process.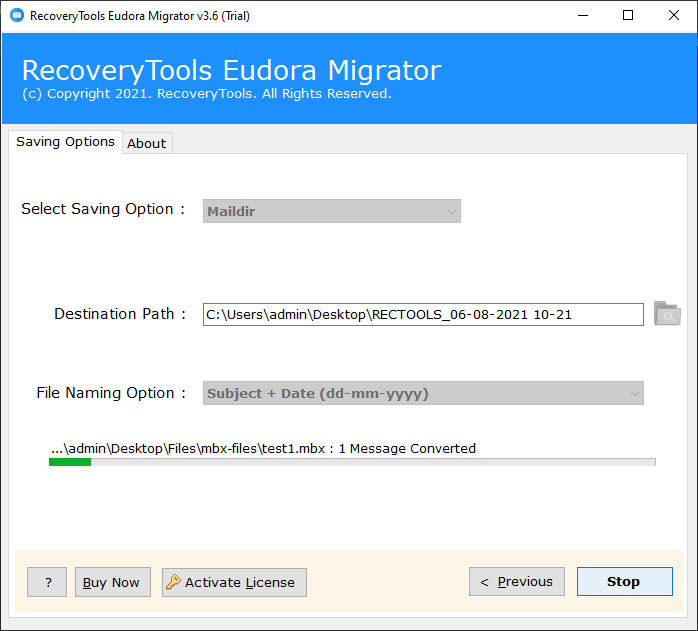 When it has ended, press the ok button.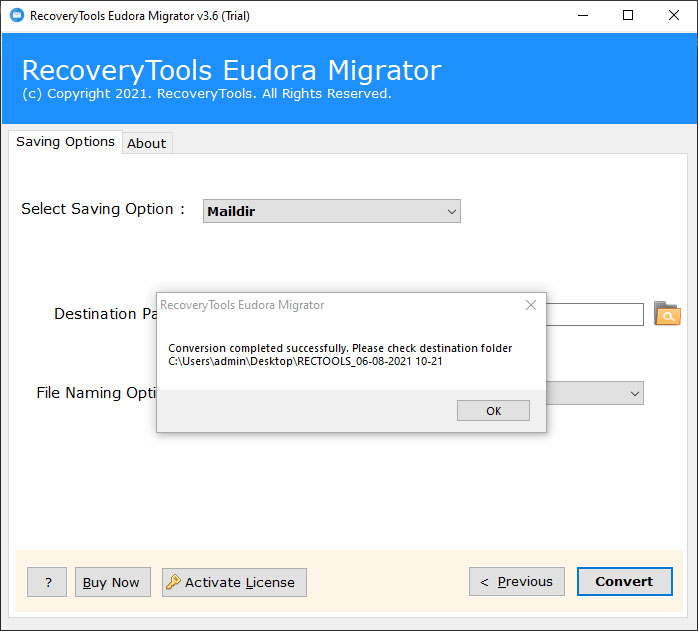 Advance Benefits of Eudora to Maildir Converter Tool
The product offers a direct way to extract and divide Eudora mailbox messages to Maildir structure folders such as temp, new, cur directories.
It allows you to import Eudora emails to multiple Maildir clients such as Thunderbird, Xmail, Courier, Qmail, Dovecot, Exim, Alpine, Cone, Pine, Malix, Mutt, Maildrop, Getmail, MSwatch, MPOP, etc.
Toolkit keeps up with the interior folder structure of Eudora mailboxes. It will keep the read and unread messages with all the others items.
It has inbuilt option to discover Eudora mailboxes from the default location.
One can use the manual selection options to choose various Eudora database files.
Also, the solution gives the option to convert Eudora contacts & calendars separately.
The product will empower the clients to change over Eudora messages to Maildir files alongside email attachments.
It will give you an alternative to pick any ideal area in your computer to store resultant folders or documents.
The product upholds all editions of the Microsoft Windows OS including Windows 11 and Server 2019.
Queries & Asked Problems by Users
Does it allow me to open Eudora messages in Dovecot ?
Yes, because Dovecot supports Maildir structure. So that you can easily import Eudora emails to Dovecot.
Can I import Eudora messages to Courier Mail Server ?
This application allows you to extract Eudora emails to Maildir format which is supported by the Courier mail server.
I want to import Eudora messages to Exim Server. Does it allow me to do this task ?
Definitely, it gives you an option to export Eudora messages to Maildir format. So, you can easily import Eudora emails to the Exim server.
Would I be able to install this Eudora to Maildir converter on Windows 8.1 ?
Sure, you can use this product on your Windows 8.1 computer without any issues.
Final Words
Eudora to Maildir converter is an extraordinary program to see all your Eudora messages in Maildir server format easily. It is protected and simple to utilize. Likewise, you can get its demo variant before buy. The product keeps all data secure and gives exact outcomes results. Thus, download the product on any Windows PC and enjoy the working process. In case you need any help, the team will help you 27×7 in a week.