Check Out Two best free ways to configure Zimbra in Outlook with all information
Karen Chard
~ Modified: 25-03-2023 ~ How To ~ 6 Minutes Reading
Quick Start – Outlook is a very convenient email client that allows you to easily manage multiple email accounts in one place. This saves time and increases efficiency. So if you're looking for a reliable way to configure Zimbra in Outlook, read this user guide. It explains how perfectly you can set up or add Zimbra in Microsoft Outlook 2016, 2013, 2010, 2007 with POP3 / IMAP.
Even the Zimbra Desktop Mail Client itself offers Zimbra Connector for Outlook Synchronization (ZCO), which allows users to easily synchronize emails, calendars, contacts, tasks, address books and other mailbox items using Microsoft Outlook.
Zimbra to Outlook Migration Tool is best and powerful application to perform this task. Learn more about Zimbra Email Client and download the software with the below secure button.

Let's have a look at the possible solutions to the matter:
How to Configure Microsoft Outlook 2016, Outlook 2013, Outlook 2010 or Outlook 2007 with Zimbra?
How do I setup Zimbra desktop in Outlook using POP3/IMAP settings?
Can I configure Zimbra account to Outlook without any compromise?
How to Connect a Zimbra Calendar in Outlook?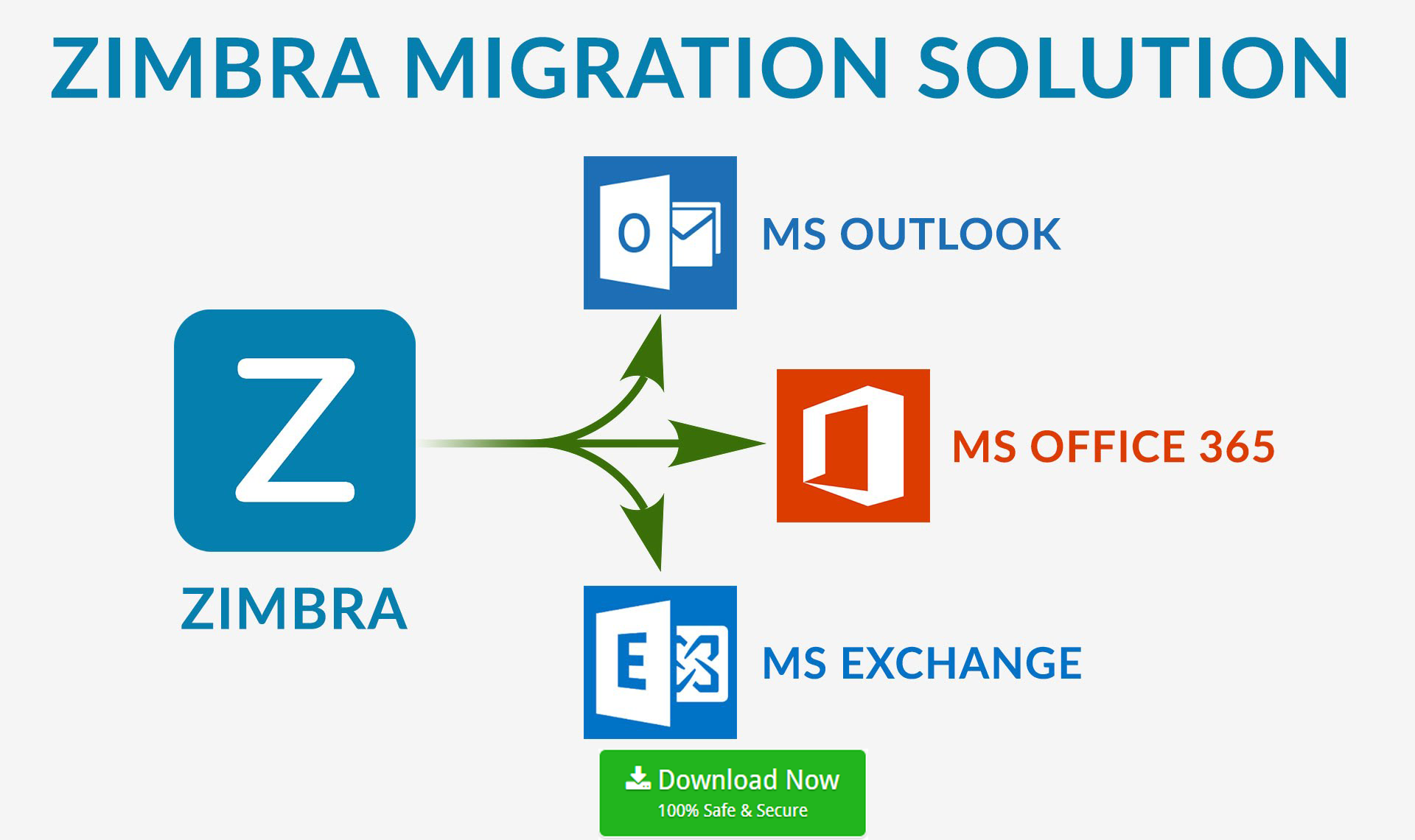 Video Tutorial: How can you easily Configure Zimbra to Outlook ?
Read the Best ways to Setup Zimbra desktop to Outlook 
Zimbra collaborates several open source projects which are supported and available for the Enterprises with single collaboration Suite i.e. ZCS (Zimbra Collaboration Suite which contains Zimbra Desktop, Zimbra Webmail, & Zimbra Server). ZCO or Zimbra Connector for Outlook successfully integrate Zimbra with Outlook & it allows users easily access the mailbox items in it.
ZCO provides real-time, dual way sync of emails, folders, contacts, tasks and calendaring between Zimbra & your Outlook account. It's working is like it creates a copy of your account data in a database file called Zimbra Database File (ZDB file).  It enables the users to work offline even when you are not connected with the Zimbra Server.
Supported Versions & Editions:
Microsoft Windows:
Zimbra Connector for Outlook supports OS including Windows 10, Windows 8.1, Windows 8, Windows 7, Vista & Windows XP in all editions.
Microsoft Outlook:
ZCO supports versions of Outlook 2016, Outlook 2013, Outlook 2010 (32, 64-bit) editions of MS Office are supported. Outlook 2007 with SP2 & MS Office Outlook 2003 with SP3 and later are also supported.
What is the use of ZCO (Zimbra Connector) ?
When a user finished the installation of ZCO in your Windows computer externally, then it requires to create a ZCO profile in it. In case you have already setup profiles you can view them from Mail option of Control Panel. A user may have multiple profiles for separate accounts according to his requirements. So, before using Zimbra Connector for Outlook, a user need to configure a Zimbra Mail account profile. The best thing with ZCO is that in case if there are no profiles, it will automatically create a new profile with Zimbra name. One only need to enter the Server name, Username & Password in it.
The Zimbra solution enables Business users to deal with:
Complete synchronization of Zimbra Email Folders, Address Book, Calendar Events & Tasks.
Sharing of resources of Zimbra including Out-of-office, Author signature, Rules, Email Headers, etc.
  Zimbra Connector for Outlook provides an enriched Zimbra Menu tab that provides dedicated enterprise features.
Users have a greater experience while opening delegated mailbox items through ZCO in Outlook in few clicks.
Now represent your different job profiles with alternate email identities or Personas, ZCO provides an easy option for the users to send emails through it by choosing a unique username by selecting From the option of File Menu.
Advance Connectivity features for Zimbra Contacts & Calendars with Outlook.
One can share Calendars Internally, Externally & Publicly. Calendars can share through a link while contacts can be shared among resources in a standard file format supported in contact applications.
Steps to Configure Zimbra account in MS Outlook using POP3/IMAP settings
Follow the step-by-step process to simply add Gmail in Outlook email client with all information.
Open MS Outlook in your system.
Home screen will prompt a message to Add or Create a new account or follow File tab >> Info >> Add Account button.
It will ask you for the option to setup outlook to connect to an email account, click on Yes to continue.
Select Manual Setup or Additional Server type settings option & then proceed to Next.
Choose POP or IMAP & then choose the Next button.
Enter all the required information including Your Name, E-mail Address, Account Type, Incoming Mail Server, Outgoing Mail Server, Username, Password, etc.
When you successfully entered all required fields, click on More Settings… button.
Click on Outgoing Server tab, select My Outgoing Server (SMTP) requires authentication.
Then, enable the checkbox for use same settings as my incoming mail server.
Also, setup options in Advanced tab in the same window, in Incoming Server label, choose SSL & change the port to 993.
For Outgoing Server, choose TLS in the type of encrypted connection & change port number to 587.
Click Next & Finish the account configuration process.
How to Connect Zimbra Calendar in Outlook? – Step-by-step
Connecting Zimbra Calendars in Outlook evolves various benefits including reduced time evolving in it. Primarily a user needs a Web Browser to view the Zimbra Calendar items as additional resources. It also increases the users experience due to its Outlook Interface. Users can now connect Zimbra Calendars with Outlook using Internet Calendar control. One can do it by following the given instructions:
Follow the given steps to directly add Zimbra emails in Outlook account.
Login to Zimbra Webmail.
Click Calendars tab in Dashboard. Right click on Calendar and choose share Calendars option. It will display the Share Properties dialog box.
Choose Public option to enable everyone to access Calendar, the dialog box will display a URL of the Calendar.
Now, copy the URL to store it for further use. Click OK to exit from Share Properties dialog box.
Now open Outlook in your system. Choose File Menu's 'Info' command to configure the account.
Click the Account Settings option to display the Account Settings dialog box.
Choose Internet Calendars tab to access all the web-based calendars & entries.
Go to New option to add a new subscription. Paste the Zimbra Calendar URL and then click on Add button.
Type the name for Zimbra Calendar and then click OK to return back to Account Settings dialog box.
Hit OK button, and Outlook will display the Calendar name in the Sidebar's Calendars list.
Finally, Outlook will also display the Zimbra Calendar in the main pane, to do so, disable all other calendar check-boxes except Zimbra Calendar to display.
Wrapping Up
After reading this user guide, you have get detailed insights about how to configure Zimbra to Outlook different version. It is a complete free method that doesn't require any extra efforts. You can do this using Zimbra Collaboration Suite as well as through IMAP and POP3 settings. We have also detailed the process to connect Zimbra calendar in Outlook application without any compromise.