How to Batch Import OLM files to Gmail Account? Let's Find
Karen Chard
~ Modified: 03-06-2022 ~ How To ~ 5 Minutes Reading
Have you still, confused about importing OLM files to your Gmail account? Don't worry. You aren't the only one. You have probably figured out some of the ways and apps that doesn't work for you.
It's our responsibility to filter out the deep ocean of internet and get you the best solution that can meet your expectations. In upcoming section you will find paid and free solution to import OLM files to Gmail account.
So, let's get straight to the solution section without any further delay.
Export OLM Emails to Gmail Profile using Automated Solution
RecoveryTools OLM Migrator Wizard is a perfect choice for all users. The software is built with advanced algorithms that enable the users to batch import Mac Outlook database files into Gmail account without any failure.
Not only this the software provides a direct option to import OLM files to Gmail account. Additionally, during the file conversion process, it protects all the internal system folder hierarchy completely original without making any change in default structure.
Also, a demo edition of OLM to Gmail Migrator is available that lets users to import 25 items from every folder. Also, you can download the software with given link. Once it gets done follow the mentioned steps for good.
Five-Step Procedure to Migrate OLM to Google Mail
1) Download OLM to Gmail Converter and Install.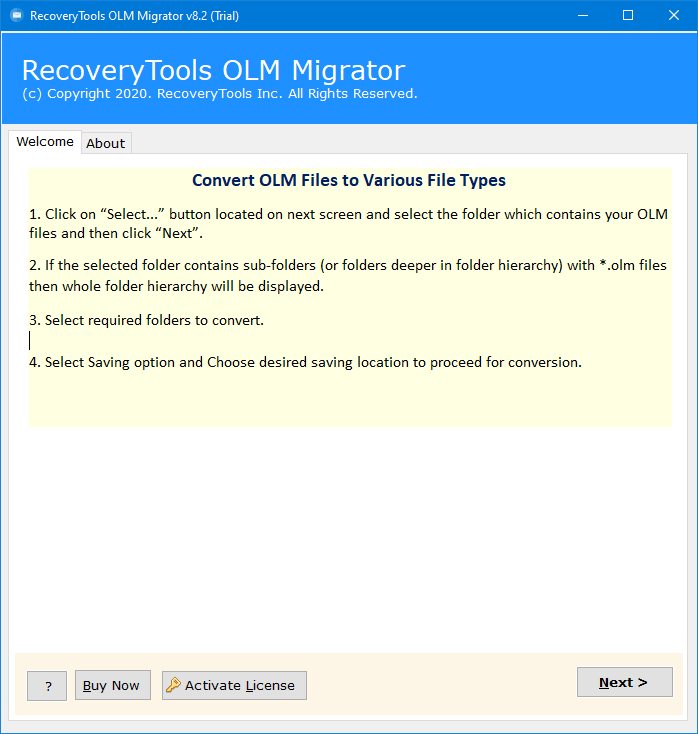 2) Load OLM files in dual ways, i.e., Select Files/Select Folders.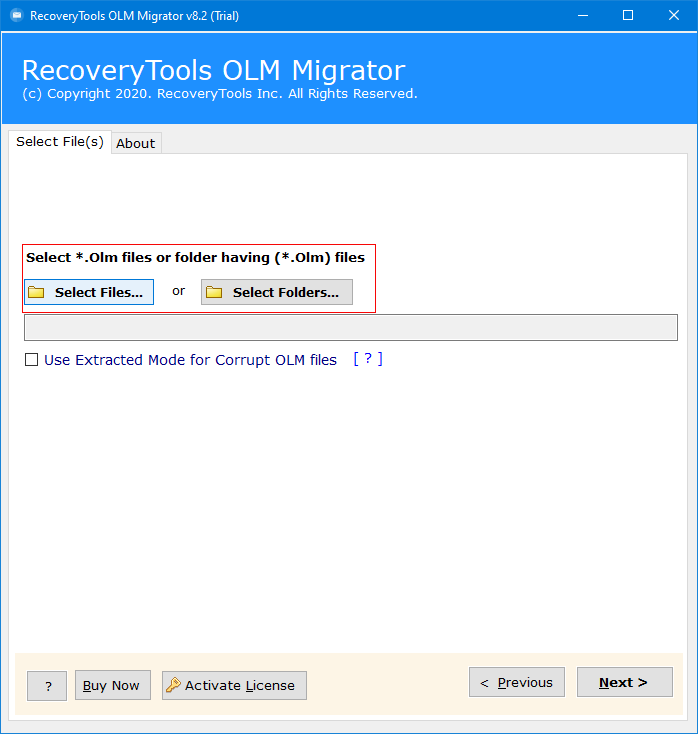 3) Choose Items for the Conversion & Click Next button.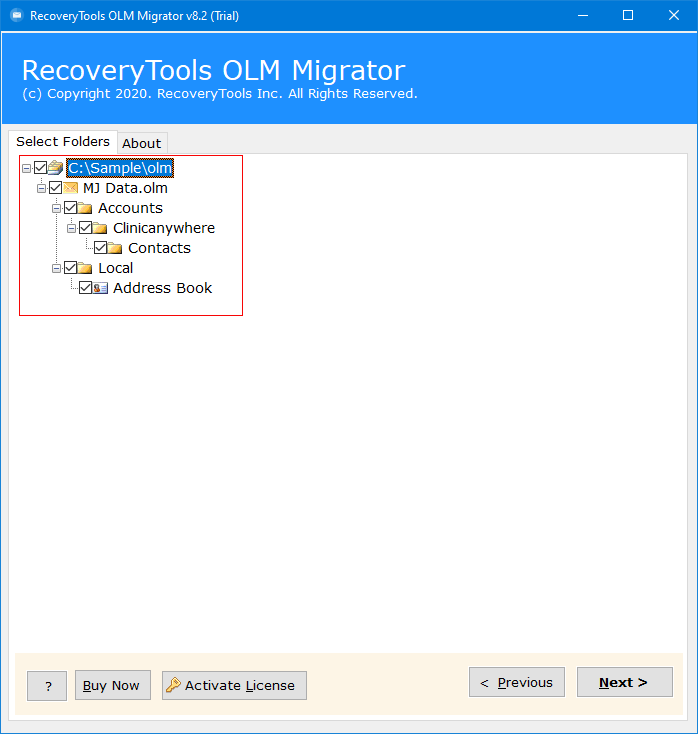 4) Select Gmail option & Enter all Details.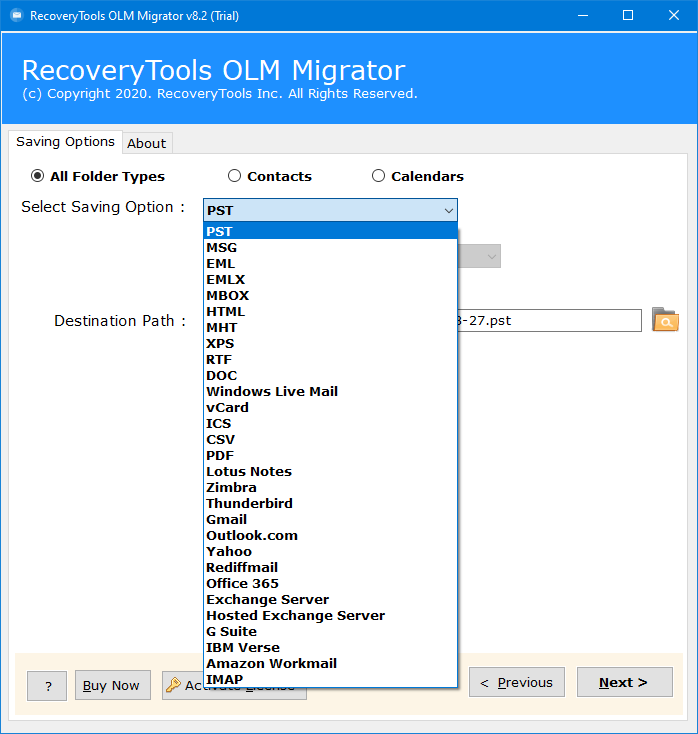 5) Start Conversion & Access Output Gmail account.
That's all about the automated solution to import OLM files to Gmail account. Let's checkout some of the advance functionality offered by toolkit.
Also Read: Procedure to Import OLM Contacts to Google Contacts
Why Automated Solution is a Prime Choice for Users?
The Software ensures you 100% safe and secure data migration.
Option to Upload Mac Outlook OLM File to Gmail Account Instantly
Export OLM Emails to Gmail Only by Asking Account login credentials
Selectively Export OLM data files to Gmail Account Easily
Bulk Import OLM Files to Gmail Account During Group wise Migration
Retains Original Metadata Properties of Emails During Migration
Export Mac Outlook 2011 & 2016 OLM to Gmail with no file size Limitation
Allows OLM to Gmail Migration with Normal & Embedded Attachments
The Software has more to offer we have mentioned some of the benefits. Go and download the wizard to know more about toolkit functionality. So, if you want a free solution to export OLM Emails to Gmail account, go through the steps listed in the next section of the blog.
Manual Procedure to Import OLM Files to Gmail Account?
To export OLM file to a Gmail account, users need to go through the three phases mentioned below:
Enable IMAP in Gmail Account
Configure Gmail to Outlook for Mac
Migrate OLM data to Gmail Account
Note: If you skip any of the steps, you might end up with nothing. So, use the manual technique on your own.
Phase 1: Setup IMAP in Google Mail
1) Sign in to your Gmail account.
2) Click on the "Setting Gear" and select "Quick Settings" button.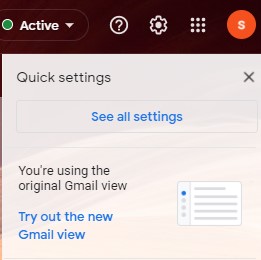 3) Navigate to "Forwarding and POP/IMAP."
4) Now "Enable IMAP" radio button is next to IMAP Access.

Phase 2: Add Gmail Account in Outlook
1) Open Application.
2) Now, click on Tools >> Accounts Option.
3) In Accounts Windows, Click on Email Account.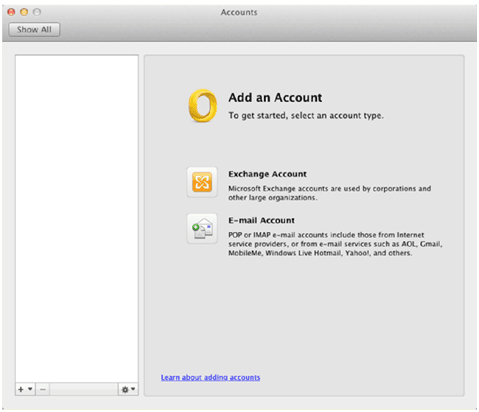 4) Fill up the details of your Gmail Account.
5) In last, click on "Add Account."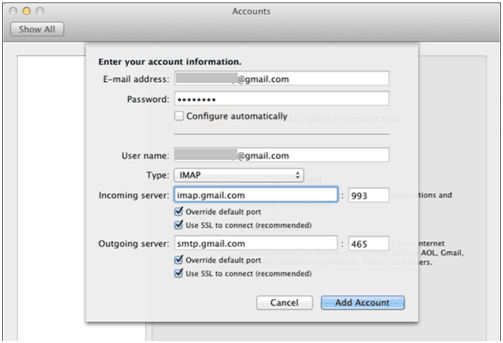 Now the app will sync your Gmail data with the local computer. This process can take hours, depending on the size. Additionally, you have reached the end to import OLM files to Gmail account. Let's perform the last step.
Phase 3: Transfer OLM files to Gmail Account
Open Gmail mailbox in which you want to transfer OLM data.
Make a right-click and select "Copy to a folder option."
Choose the newly generated label in the next pop-up window and select Copy from the drop-down list.
To finish this task, click on the send/receive icon, and now you can access all OLM emails in your Gmail account.
What if Manual Solution Fails?
The manual solution to import OLM files to Gmail account is a long process. As mentioned earlier, if you skipped any of the steps, you may have colossal data loss, which is difficult to recover.
Also, it's difficult for non-technical users to perform account configuration tasks. In addition, users can overcome all the hurdles by using an automated solution that delivers 100% accurate and precise results.
Frequently Asked Questions by Users to Migrate OLM to Gmail Accounts
Q 1) Does this software impose any file size limitation during the migration?

There is no file size limitation imposed by this OLM to Gmail Migration tool. Users can easily transfer unlimited OLM files using premium edition of toolkit.

Q 2) I have some OLM files on Mac OS 10. I want to transfer all mailbox items from mac Outlook to Gmail. Does this utility help me to Migrate OLM to Gmail account?

Yes, you can easily transfer OLM file to Gmail account with the help of this incredible utility.

Q 3) Does this Software make any loss in the original content during the migration?

When a user transfers mailbox items from OLM to Gmail, all the original components will keep preserved during the process.
So There You Have It
We have described all the possible ways to import OLM files to Gmail account in the above read. Yet the manual solution has some limitations which can be overcome by using the smart tool. Also, a technical support team is always ready to assist you with all of your technical problems.