Backup Yandex Email to Hard Drive With Attachments in 7 Steps
Karen Chard
~ Modified: 11-05-2022 ~ Cloud Backup ~ 5 Minutes Reading
It seems as you are in search of a solution to backup Yandex email to hard drive. And that is the reason due to which you are here on this page.
Jokes apart, it is our primary duty to inform you that there is no manual method exist for the same. Although you can configure your Yandex mail in Outlook and then archive all data. But, this approach isn't suitable for all. There are several challenges faced in this method that create lots of hurdles for users while executing it.
Well keeping different aspects & standard requirements of end users in mind, we have come with a direct method. This approach includes the use of an application named as Yandex Backup tool. It is an independent and direct solution to archive Yandex mail data in a hassle-free manner. Neither Outlook nor any other intermediate application is required to save Yandex emails to hard drive with attachments via this solution. You will get to know more about this approach but, before that let's see how you can backup Yandex mailboxes in simple 7 steps.
How to Backup Yandex Email in A Hassle-Free Way?
Following steps are going to describe the execution steps of archiving Yandex mail to hard disk :
1. Download and install the setup file of Yandex Backup tool on your PC. After this, immediately launch the application to begin with the process.

2. On left hand side of the screen, scroll down the menu and select Yandex option.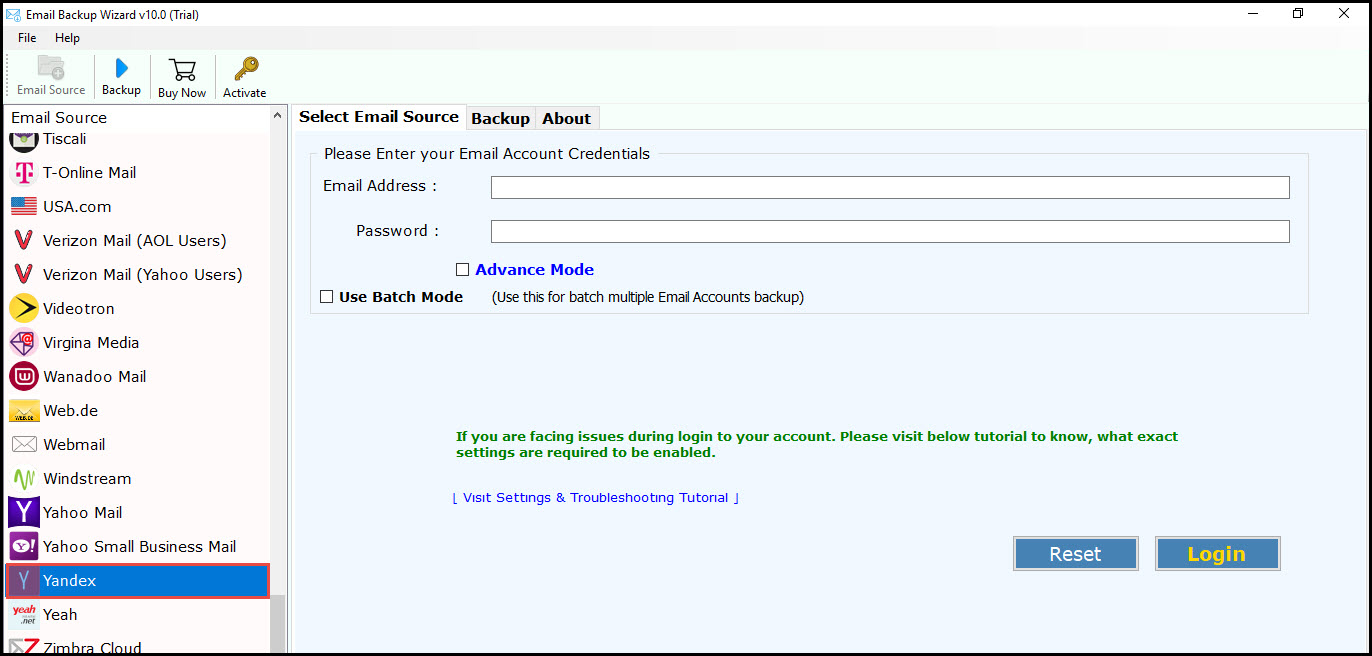 3. Enter the credentials of Yandex mail tenant in their respective fields. Then, click on the Login button.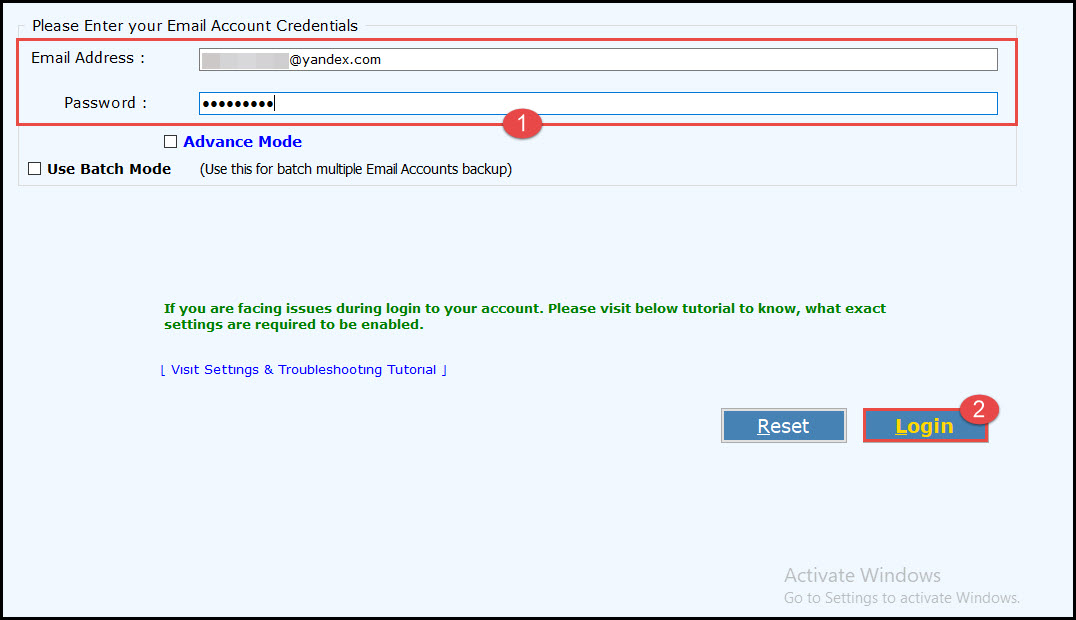 4. Now begins the second phase of the process to backup Yandex emails. In this, you have to select Yandex mail folders whose messages you want to backup. In case you wish to select all folders, directly check the checkbox of 'Yandex'.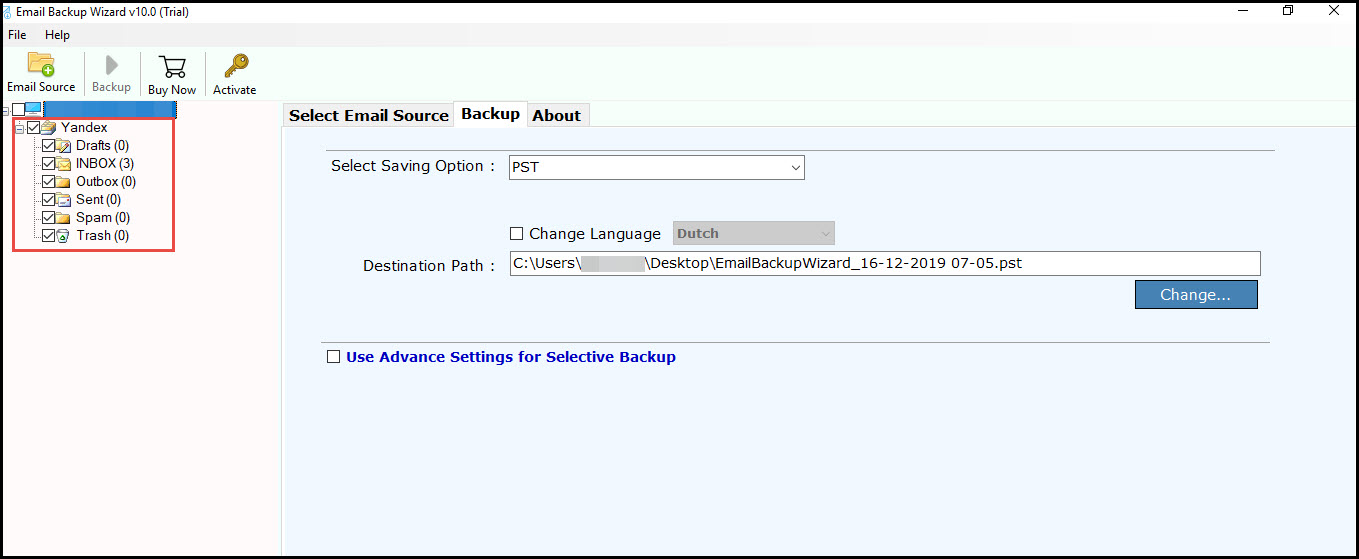 5. Move the cursor towards 'Select Saving Option', click on its drop-down menu. Select the file format of the Yandex backup file. You are free to choose any of your desired options. For instance, here we are selecting the PDF option.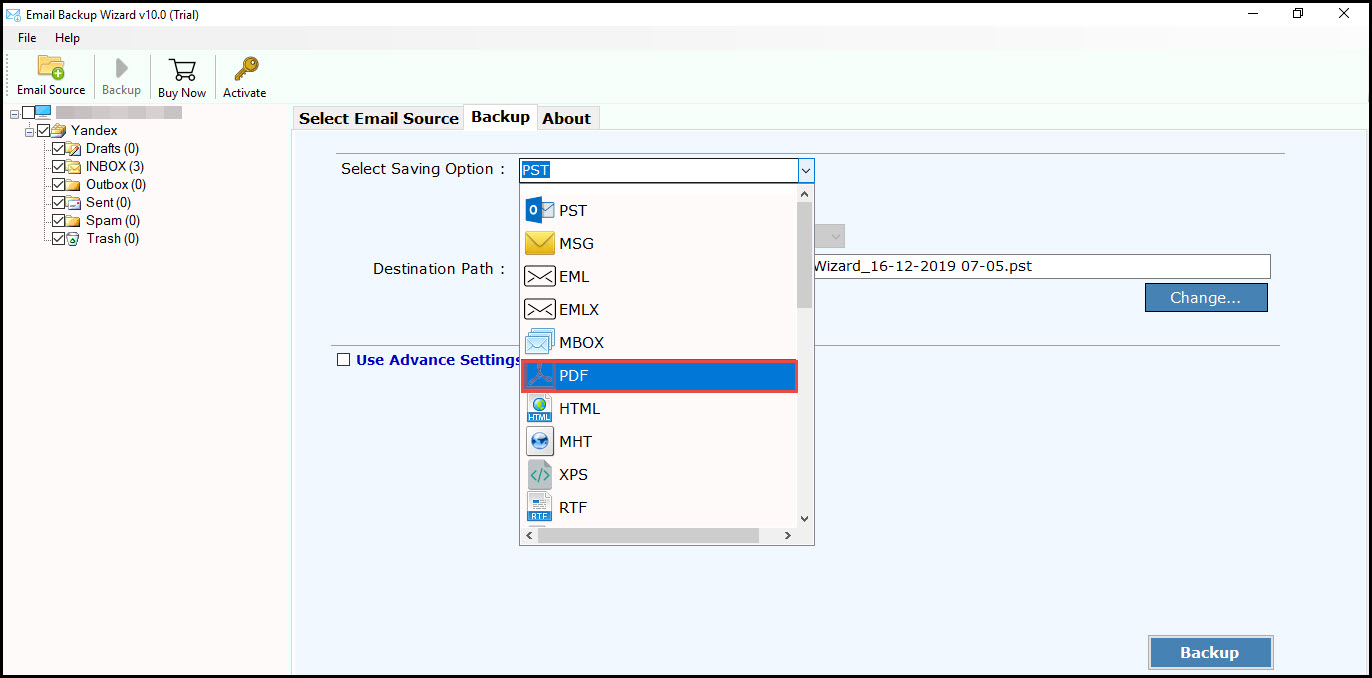 6. After that, define the destination path where you desire to archive Yandex mail file after processing.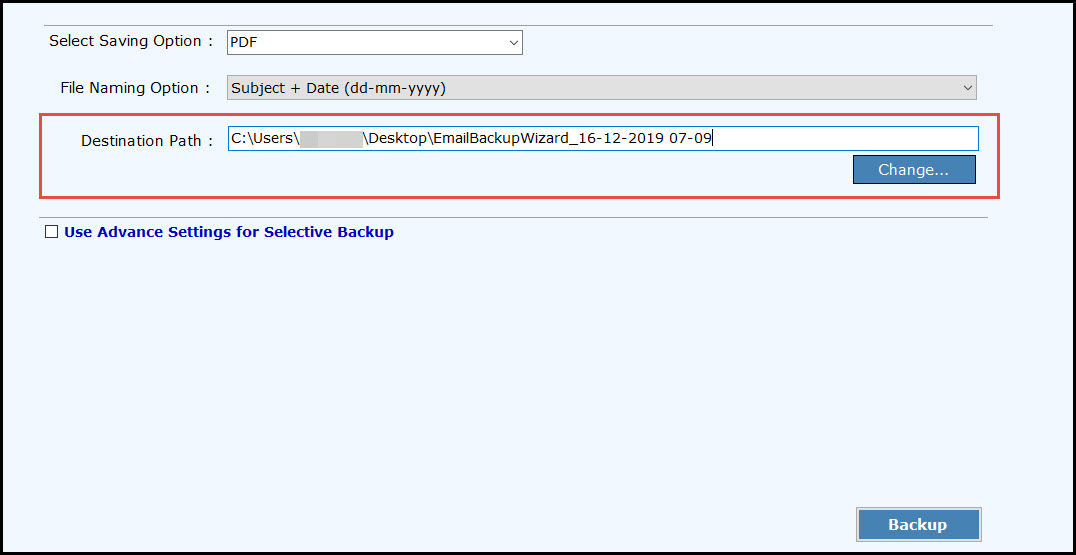 7.  Finally, click on the 'Backup' button to initiate the Yandex email backup procedure.
After you are done with the procedure of backing up Yandex email without any complications. The solution guarantees that the data integrity will be kept intact throughout the procedure. No data loss or data leakage type scenarios will take place while processing Yandex messages.
Challenges in Using the Manual Method
The only manual approach that most of the people recommend is to configure Yandex.mail account in Outlook. But, the following questions need to answer before executing this solution :
What if the person does not know about MS Outlook?
If MS Outlook is unavailable, is this solution workable?
Will data integrity kept intact in the entire procedure?
Apart from all these questions, the major query that strikes in mind is that 'Except PST, what are the other file format options available to archive Yandex mail using Outlook?' The answer to this is Only PST option is provided in MS Outlook to save Yandex emails to hard drive.
The Yandex email backup requirement of business users can differ from the Normal users. Simply the PST option is not at all enough, even to complete their basic requirements. Sometimes users might demand PDF option to access Yandex messages with attachments on their smartphones.
Considering all the above facts, we found that the manual approach is not suitable for archiving Yandex mail. Therefore, we would suggest readers to opt for Yandex Backup tool. It overcomes all the challenges present in the manual method. And you can execute it without any dependency issue.
Prominent Aspects of Yandex Backup Program
We assume that till now you might have created a positive image of our recommended solution. Still, to make the decision easier for you, we are listing down some of the prominent features :
The solution comprises of a simple and self-explanatory user interface.
It provides several options to customize the default settings of backup.
There are more than 10 file format options to backup Yandex email on PC.
Email processing takes place without harming the attachment's integrity.
The proper folder structure is maintained in the resultant backup file of Yandex.
Time for The Verdict
In this blog, we demonstrated a foolproof solution to backup Yandex email. You can test this solution on your own by downloading the trial version of the product. Also, this software's edition is available for free on the official website of the program. All the features are present for testing purposes in this version. The only limitation with the free edition is that it can export only 25 emails from each Yandex mail folders. Afterward, when you get satisfied with the working, you can purchase the full license of the application. This allows you to save Yandex emails to hard drive with attachments in a complete hassle-free manner without any restriction.