How to Migrate Emails from Mailbird to Yahoo Mail Account ?
Overview: Are you looking for a solution to migrate Mailbird to Yahoo Mail ? Or want to know how to upload Mailbird store.db to Yahoo account ? If so, your searches end's here. In this post, we are going to explain how to transfer Mailbird email to Yahoo directly. So, let's read this article and get the all-possible methods or Mailbird to Yahoo Migration solution.
The present world wants innovation in its email platform to meet the requirements. This is the reason why people often want to transfer their email from one email platform to another. Today we will solve one such reason – Mailbird to Yahoo Migration process.
Mailbird is one of the more experienced email client applications. What's more, it was never refreshed with current innovations. Truth be told, a large number of customers are concerned about its email configuration options.
Most of the more experienced customers use Mailbird which is still reliable, innovations have changed and new innovations have appeared. Currently, customers have to change their email application to a webmail platform. As such, here we will illustrate the fastest solution to migrate Mailbird to Yahoo Mail.
"I have various messages in my Mailbird account. I need to change my Mailbird and need to move all messages to another platform. What is the best answer for Mailbird to Yahoo migration process ? I am somewhat confused regarding the Mailbird storage location. If that's not too much trouble, give me the best answer for transferring messages from Mailbird to Yahoo Mail."
A Direct Way – Mailbird to Yahoo Migration Tool
You can use the solution and export Mailbird emails to Yahoo with a professional tool. One of the best applications is the RecoveryTools Mailbird Migrator utility. This solution allows you to move emails from Mailbird to Yahoo Business and Yahoo Mail account directly. There is no need to connect with your account with Mailbird by using IMAP/POP/STMP. It provides a direct way. Download the solution on your computer.
Get the Product:
Steps to Migrate Mailbird Emails to Yahoo
Launch the solution on your computer.
Select the Mailbird database files with options.
Select the required email folders from the list.
Choose the Yahoo option and enter credentials.
Start the process to migrate from Mailbird to Yahoo Mail.
How to Move from Mailbird to Yahoo Mail Account ?
In the first tap, you need to download the solution or launch it on your computer.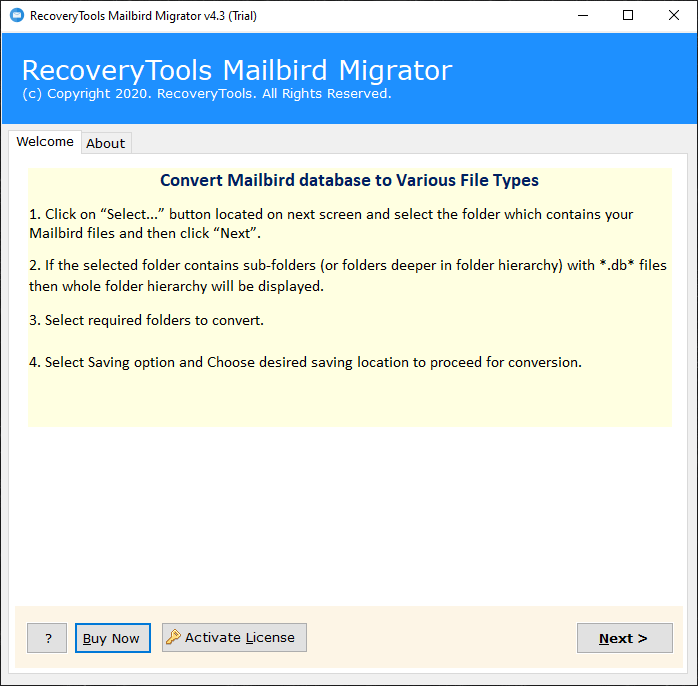 The solution provides auto and manual selection options. You can choose the required option from the list.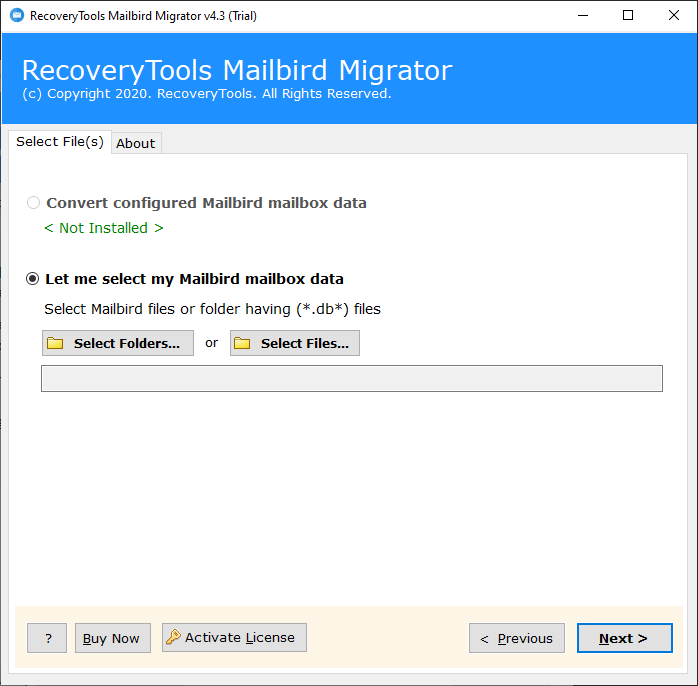 Pick the required user mailbox folders from the list of mailboxes.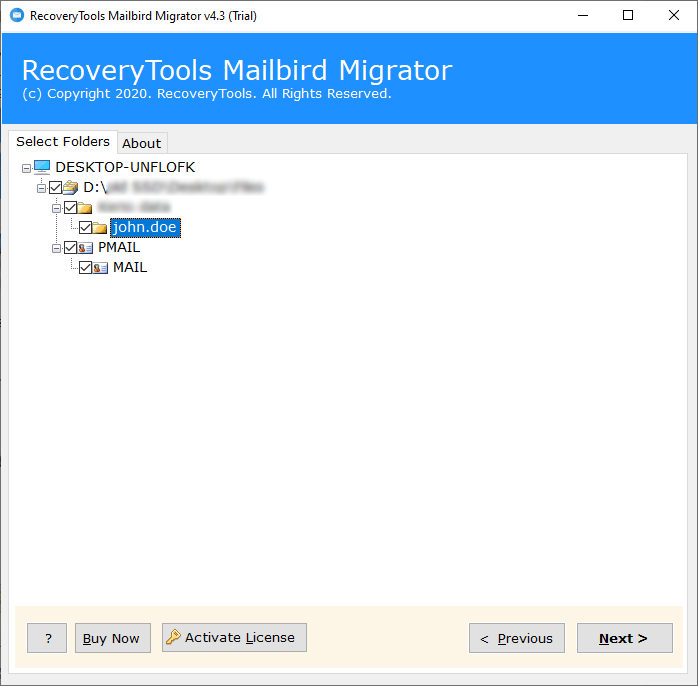 Now, choose the Yahoo Mail option in the list of file saving options.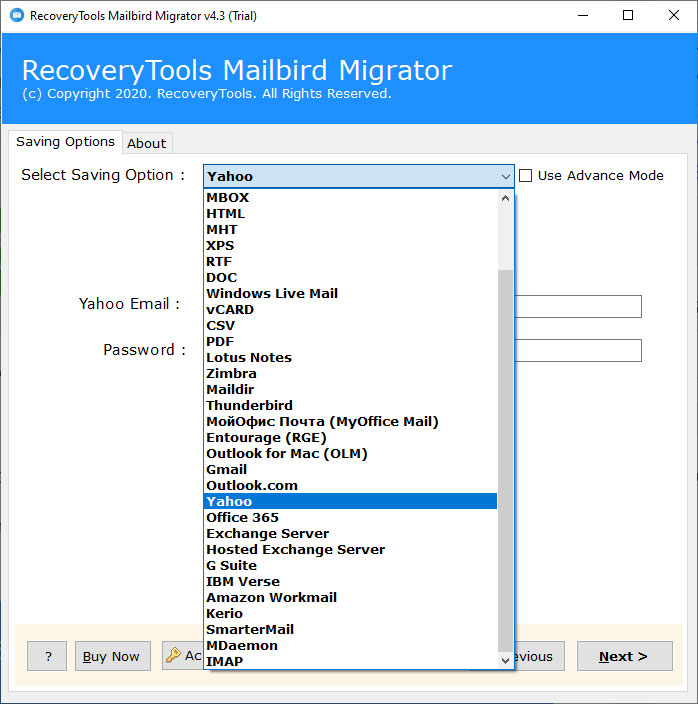 After that, enter the credentials of your Yahoo Mail account.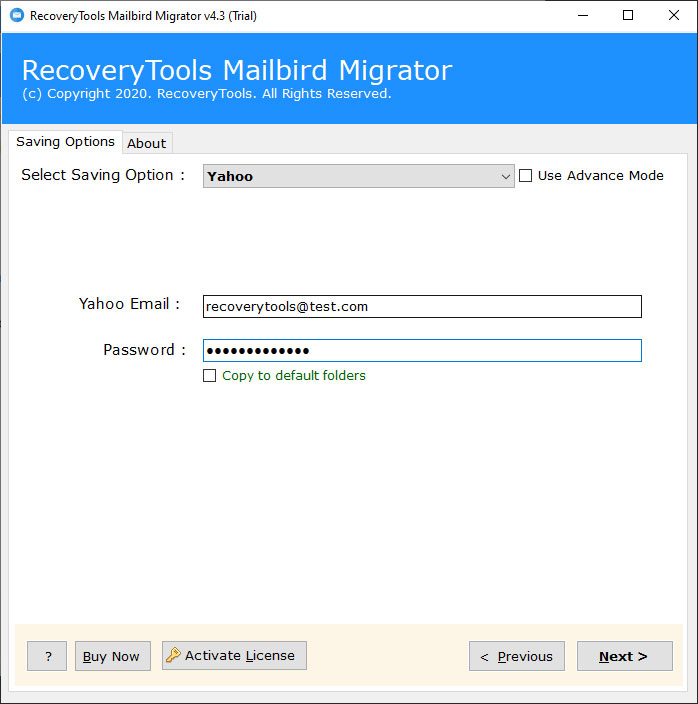 Finally, click on the next button to start the process to move from Mailbird to Yahoo.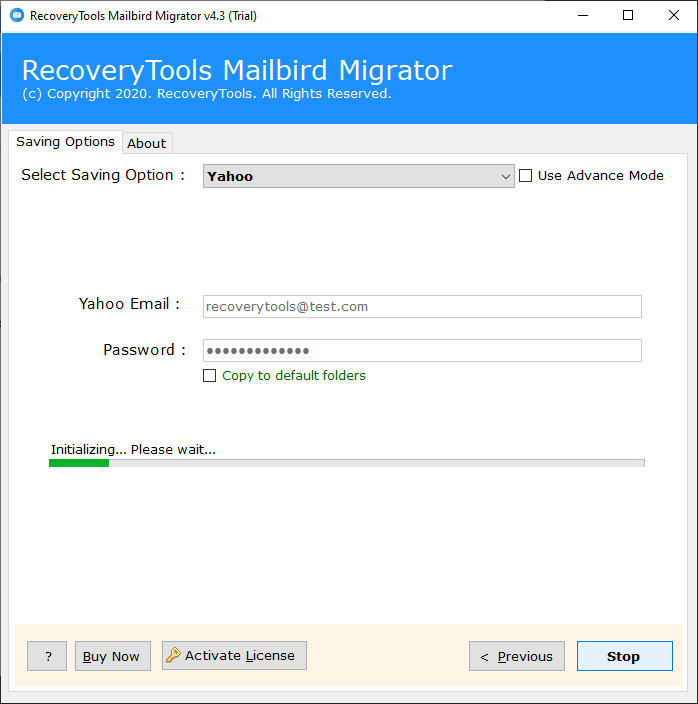 Top Features of Mailbird to Yahoo Migration Tool
100% Secure and Quick Migration:
This program gives a blunder-free method for moving emails from Mailbird to Yahoo Account. It gives a totally protected UI interface to import Mailbird messages to Yahoo accounts with no security limitations. Also, the solution never stores user credentials in the panel.
One more most ideal alternative in this utility is auto-recognize. Anybody can without much of a stretch discover their Mailbird email files information from the default areas with a single tick. This choice is useful for all non-specialized clients to find mailbox data easily.
Double Mode of Selection:
The product gives the option to move multiple Mailbird mailboxes information to Yahoo account. Its double choice alternatives permit you to pick various Mailbird database files immediately. So, you can undoubtedly transfer multiple mailboxes of Mailbird to Yahoo account without Mailbird establishment.
Email Properties and Folder Hierarchy:
The program is created in such a way that gives complete data and components transfer to its client Yahoo account. During the cycle, the product keeps all unique email properties like email, attachments, addresses, and so on. Also, the solution keeps folder hierarchy structure after the complete process.
Windows Supportable Solution:
The software works on all editions of Windows OS such as Windows 11, Windows 10, Windows 8.1, Windows 8, Windows 7, Windows Server 2019, Windows Server 2016, Windows Server 2012, Windows Server 2008, etc.
Conclusion
In this article, we get to know about the complete process to move from Mailbird to Yahoo Mail account. If you are one of them who are looking for a solution to the same issues, then download the solution on your computer. The solution provides a direct way to move from Mailbird to Yahoo Mail. You can also try the solution before purchase the licensed edition of this application. For more, you can contact the technical team.