How to Migrate Emails from GMX Mail to iCloud Account Directly ?
Overview: How can I migrate my emails from GMX Mail to an iCloud account? Are you looking for a solution to solve this query? If so, keep reading this blog and learn about the automatic solution for GMX to iCloud migration.
Expert suggestion for migrating emails from GMX Mail to iCloud is RecoveryTools GMX Backup Wizard. It is the only professional solution that can help GMX users to migrate data in iCloud account. It has many advantages to achieve a successful migration from GMX to iCloud. But, before we discuss that, let us understand why users need to transfer emails from GMX Mail to iCloud.
What are the Reasons responsible for GMX to iCloud Migration ?
As you know, GMX Mail.com is a web portal operated by a German Internet company, United Internet. By using it, the user can enjoy many free services such as news, videos, articles, and webmail applications with unlimited storage and attachments up to 50MB. But, compared to iCloud Mail, it lacks many key features.
iCloud Mail has many useful features to offer mainly for those who work with Mac OS platforms daily. So, if you are someone who has been using Android for a long time and now wants to migrate emails from GMX to iCloud, then you have no choice but to migrate from GMX to iCloud. With the solution mentioned below, you can also get a GMX email on iPhone.
An Instant & Powerful Solution to Migrate GMX Mail to iCloud
GMX backup tool will help you migrate GMX mailbox to iCloud account. It is very simple to use and provides you with the option of directly migrating data. Users can use this utility to easily migrate data from multiple GMX accounts to iCloud accounts one by one. This migration only requires login details for GMX Mail and iCloud accounts. No iCloud service connection or external tools are needed to GMX emails to iCloud migration. It is a quick and reliable solution. Using this, the user can also add GMX Mail to iPhone with all information. It provides results without any compromise.
How to Migrate GMX Mail Emails to iCloud Account ?
There are only a few simple ways to migrate GMX to iCloud with attachments. Let us know the simple steps to migrate email from GMX Mail to iCloud or add GMX email to iPhone.
Before you start, download GMX to the iCloud migration solution by clicking on the green button-download and start normally on your Windows computer.

Launch the utility on your Windows Machine.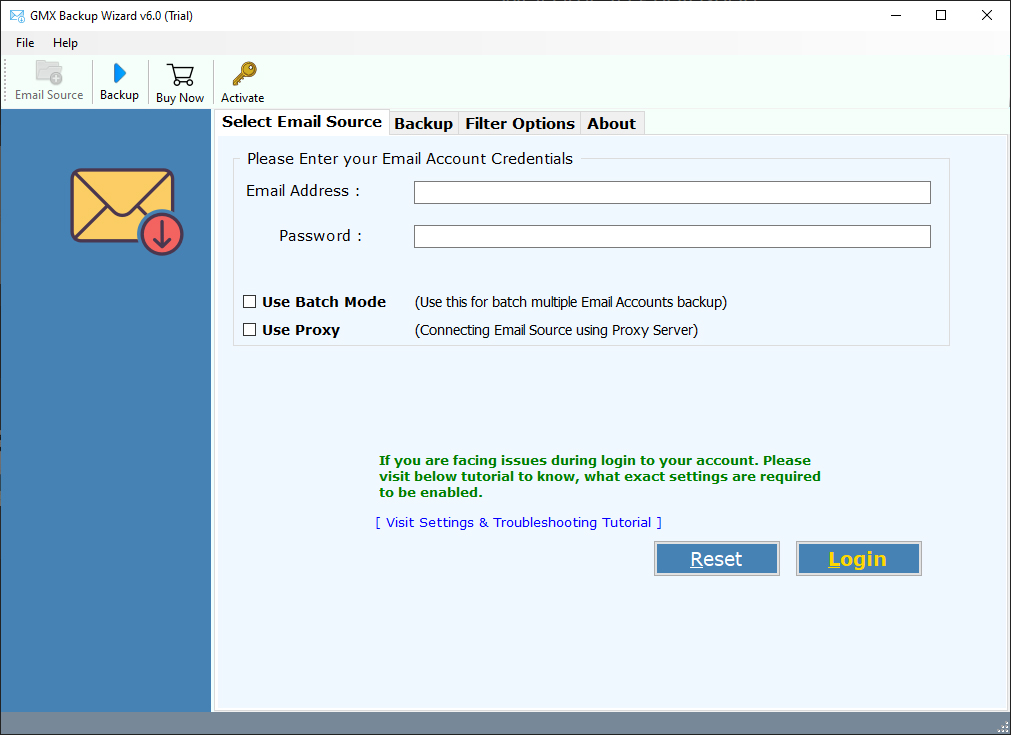 (Use the special option "Batch Mode" if you want to migrate multiple GMX Mail users emails to iCloud account.)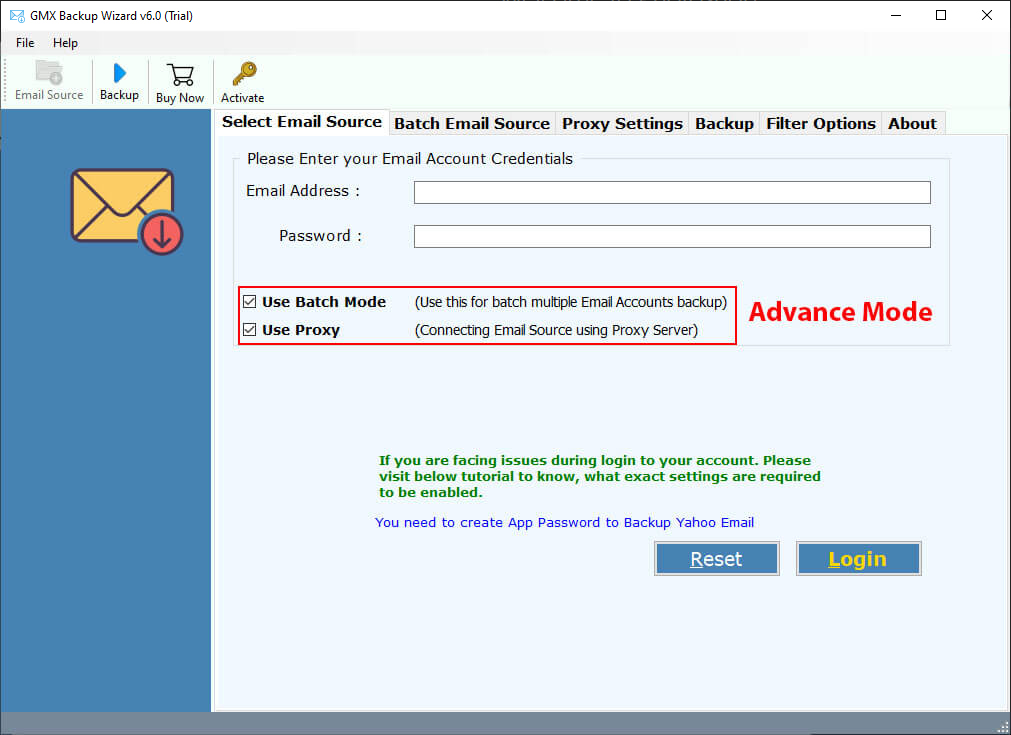 The tool will ask for your email address and password. Fill in these credentials to migrate GMX Mail data to iCloud. Don't forget to click the "Login" tab.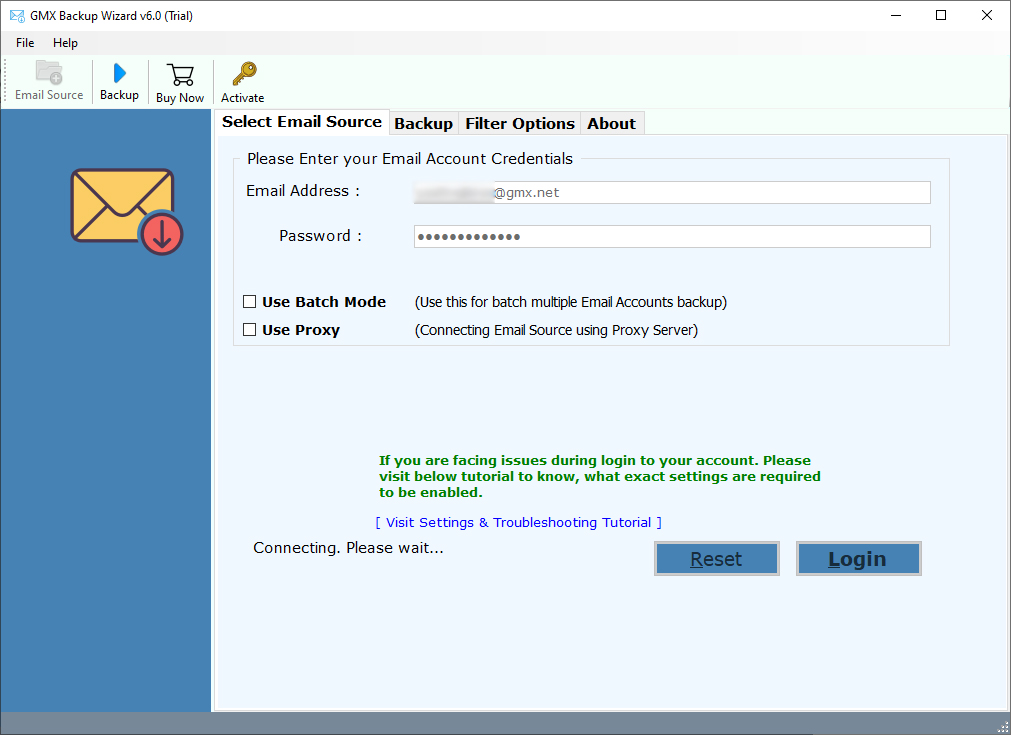 Now, check the required folder from your GMX Mail account and continue the migration process.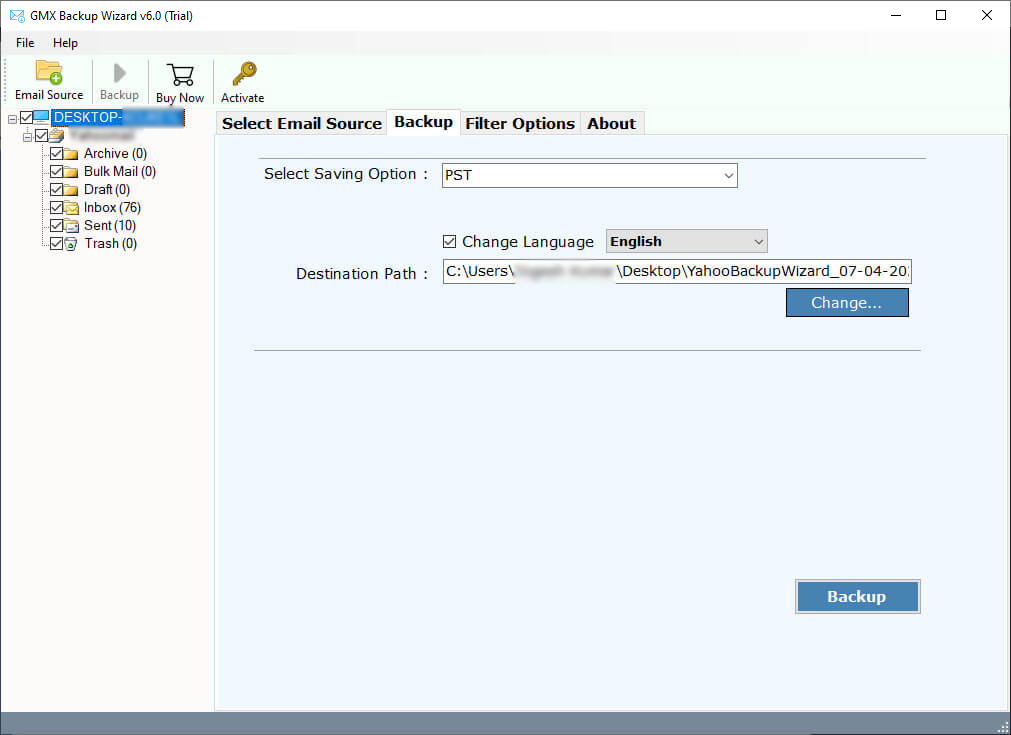 Choose IMAP as the saving option from the list.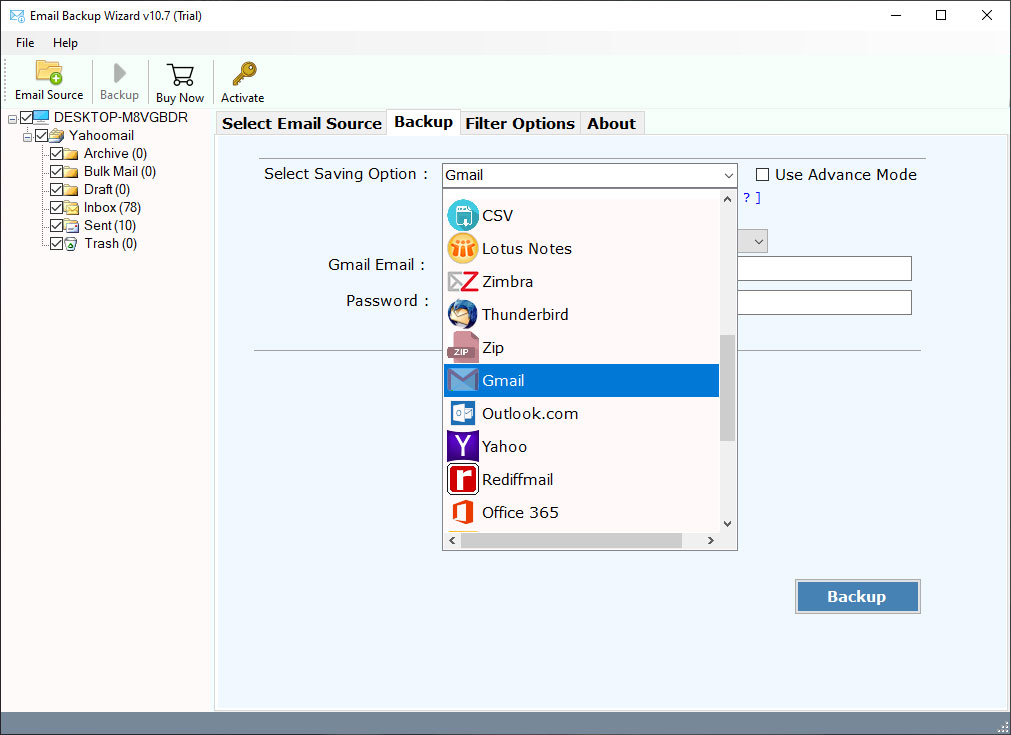 After that, specify all IMAP details, such as email address, password, IMAP host, IMAP port number. At the same time, if necessary, please check the "Use advanced settings for selective backup" option.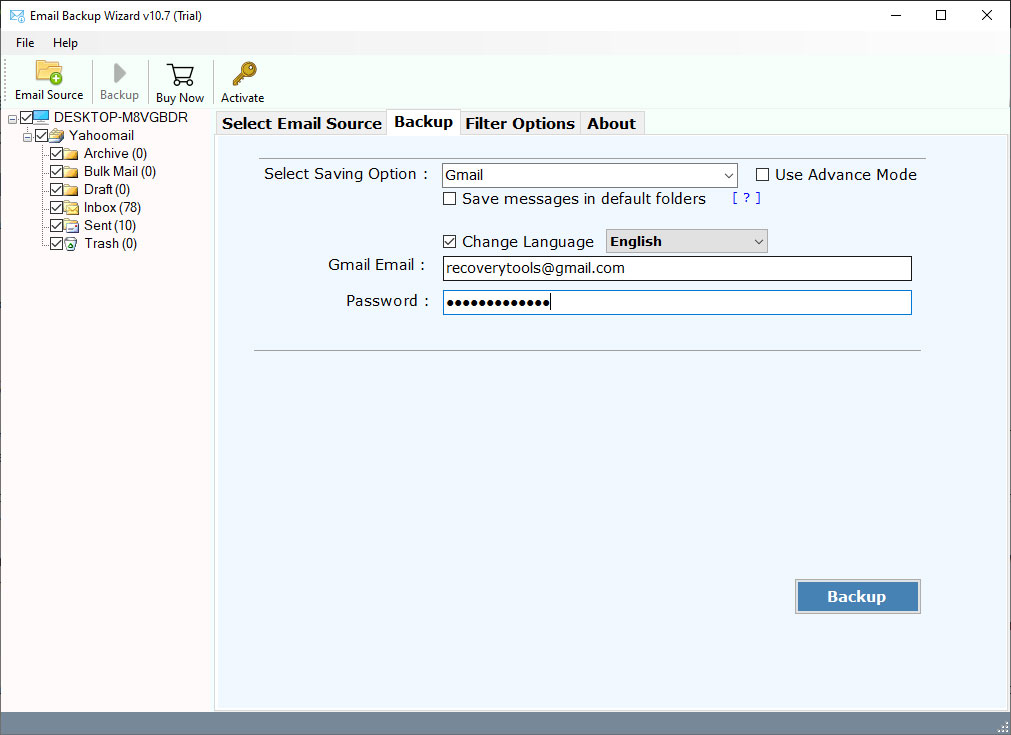 Click on the Backup tab and click and run the process of migrating emails from GMX Mail to iCloud. You can also view a real-time conversion progress report.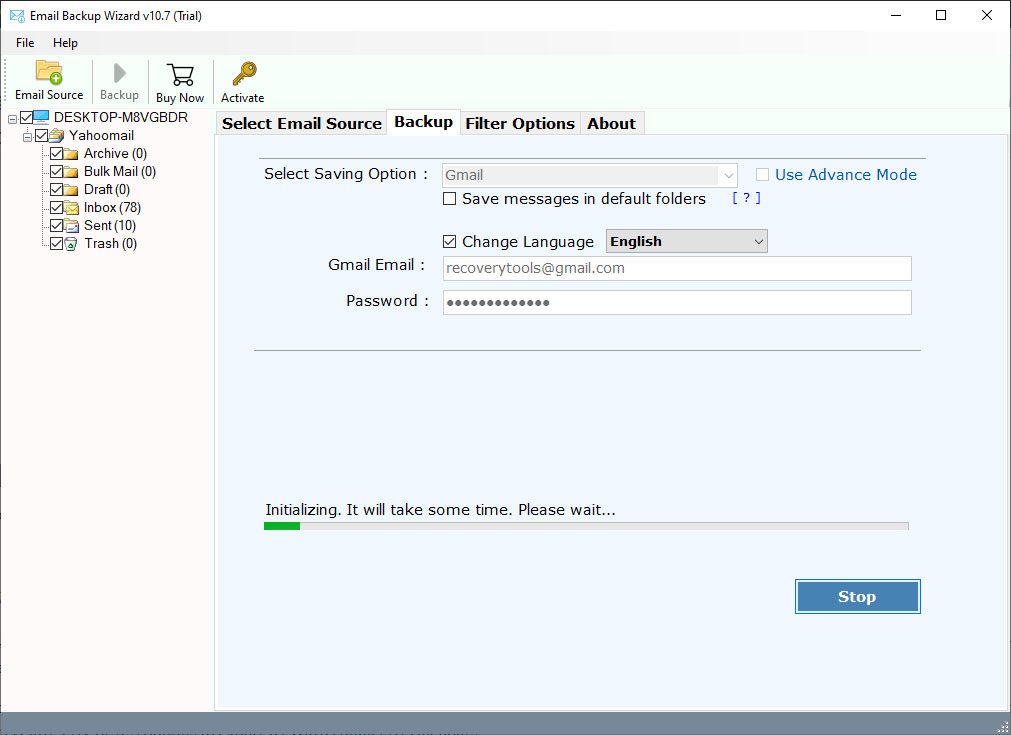 The GMX Mail to iCloud migration ends, tap on the OK tab.
Try it for Free! – No Credit Card Information
Are you not sure about spending money to buy a solution before testing it? No need to worry anymore! We provide you with a free trial version of the software. However, it has restrictions-you can only migrate the 25 most important data items in your GMX account to iCloud Mail. After that, please purchase a license key to complete GMX Mail to iCloud migration without any loss.

Here is the list of some prominent features of GMX to iCloud Migration Tool
The software has many useful features that can meet the needs of users and provide accurate results such as:-
Perform form GMX Mail to iCloud migration directly with attachments and attributes maintained.
No need for Apple, Mac devices, or external tools to migrate emails from GMX to iCloud easily
Transfer the entire GMX account to iCloud or selected mailbox folder during the GMX to iCloud account migration.
Use advanced filters (such as date range, subject, recipient, CC, Bcc, etc.) to export items from your GMX Mail account.
Maintain the original Meta attributes and folder structure of the mailbox during the migration.
It is capable of adding GMX Mail emails in your iPhone with complete information.
Install and run on Windows 10, Windows 8.1, Windows 8, Windows 7, and other versions.
It is completely free from malicious software and brings fruitful results to users, regardless of size.
The Conclusion
In the above blog, we discussed the best way for users to migrate GMX email to iCloud Mail in just a few steps. Using the above solution, you can get GMX Mail to iCloud migration done with just a few clicks. It is a complete and easy-to-use solution. Try it out and get unlimited advantages