How to Migrate Eudora to Lotus Notes with Emails, Contacts, Calendar ?
Karen Chard
~ Modified: 02-06-2022 ~ How To ~ 5 Minutes Reading
Are you finding a method to migrate Eudora to Lotus Notes ? Want to know how to transfer Eudora mail to IBM Lotus Notes with attachments, contacts, calendars. If yes, read this blog to get the information about how to do it.
About Eudora: – Eudora is a desktop-based messaging application that can work on both Microsoft Windows, Apple Macintosh, and Linux OS. Now, Eudora services have come to an end, and its edition 8.0.0. Beta 9 was the last one developed on 4 March 2010. Due to this fact, many people have turned from it to other email applications like Lotus Notes, Outlook, etc.
But, before switching to Lotus Notes, never forget to move emails from Eudora to Lotus Notes. That's why we have come up with an effective way to import emails from Eudora mail to IBM Lotus Notes.
Powerful Benefits of Lotus Notes over Eudora
Lotus Notes email clients give numerous helpful advantages to access emails, contacts for personal or business reasons. Some of them are given below:
In Lotus Notes all data is stored on a domino server and there is an incorporated location for the client's significant data. Clients can access everything over the world by means of the web.
The core position for all your data is on the Domino server, for instance assuming your computer is crashed or your hard disk gets damaged, you don't have to stress over your Lotus Notes information. You can access it on another computer.
With the assistance of Lotus Notes, you can undoubtedly plan meetings and settle issues with all customers and colleagues.
This user will look through all archives and information subject-wise or a specific report without any problem.
Eudora to Lotus Notes Migrator – Expert's Description
The RecoveryTools Eudora Migrator tool has the proficiency to migrate all data like emails, contacts, calendars from Eudora to Lotus Notes client. It preserves the integrity of data and text formatting during the migration. The application maintains all email elements like mail headers (To, From, BCC, CC, Subject) into NSF file format.
The Eudora to Lotus Notes tool also has a free demo version. It is helpful for the users to understand its working.
How to Migrate Emails from Eudora to Lotus Notes with Attachments ?
Firstly, download and install the product on your workstation.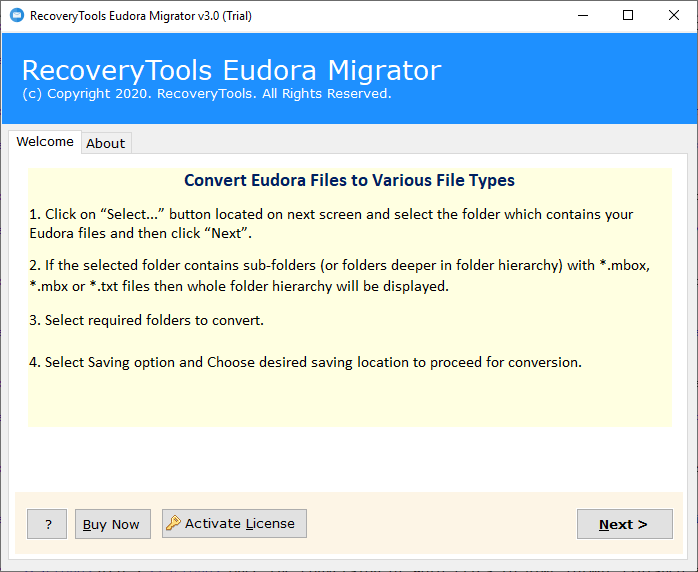 Now, you have two ways to import data into the toolkit:
Manually: Enable the 'let me select my Eudora mailboxes data' to import Eudora profiles folder or Eudora files for conversion
Auto-configuration: Enable the 'Convert configured Eudora mailboxes data' to load data from location of C:\Users\Admin\AppData\Roaming\Thunderbird\profiles
After choosing emails, contacts, and calendars, click on the Next button.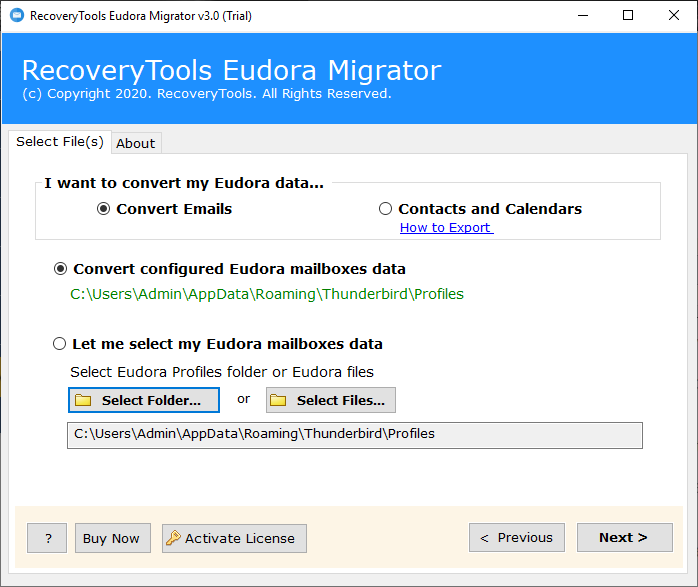 Then, select the desired mailboxes which you need to migrate to Lotus Notes.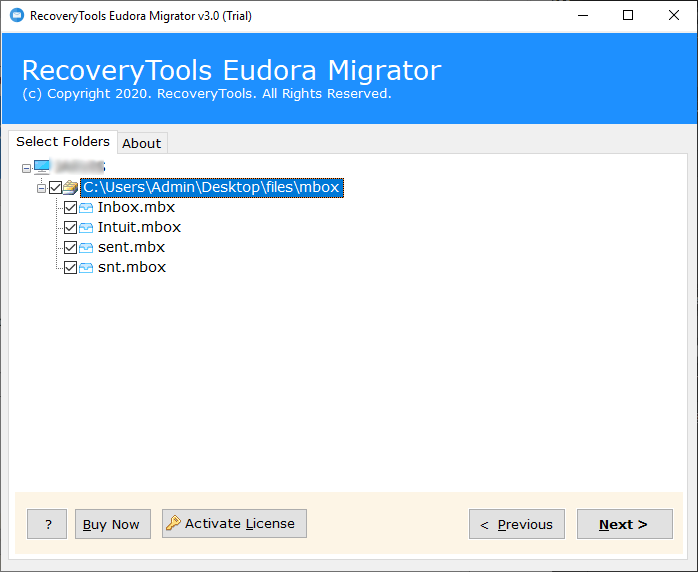 Thereafter, in the saving options list, choose 'Lotus Notes'.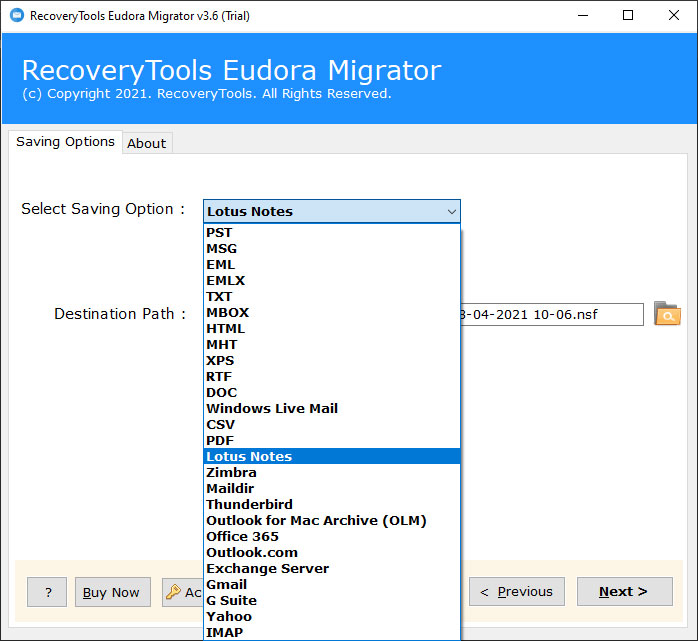 Browse or select any destination location to save the Eudora to Lotus Notes converted data.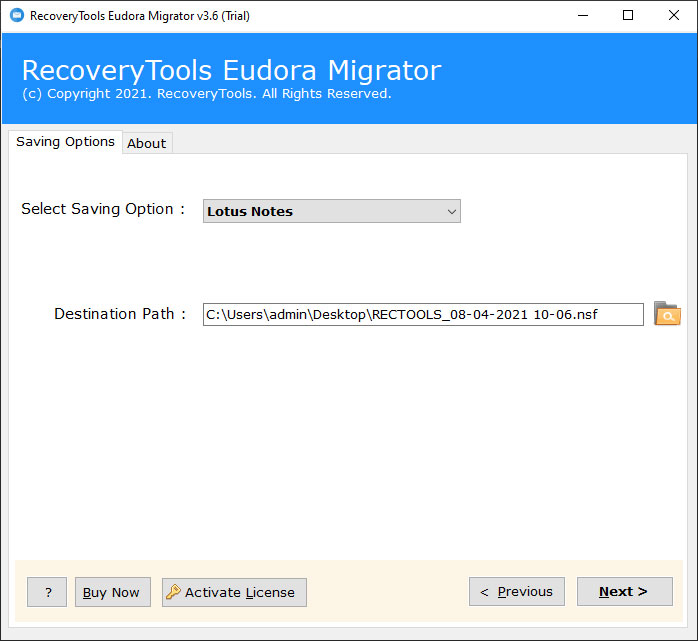 Lastly, click on the convert button to start the conversion. The task to migrate Eudora emails to Lotus Notes is running on the screen.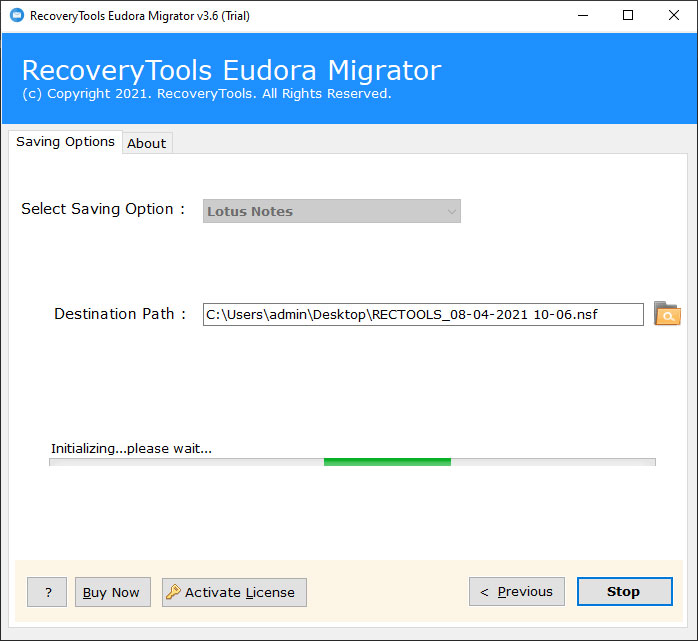 The processing will take some time and will give conversion a complete message at the end.
Advantageous Features of Eudora to IBM Lotus Notes Converter
This tool can auto-discover all Eudora mailboxes from its default storage location.
Users can also manually import data to perform bulk conversion from Eudora to Lotus Notes.
There is a separate option to migrate Eudora contacts, calendars into Lotus Notes.
The software supports both the *.mbox and *.mbx file format without any obstructions.
During the migration of Eudora mail to Lotus Notes, the utility preserves the folder structure.
It keeps intact the email attributes such as email formatting, attachments, images, hyperlinks, etc.
One can install this tool on any edition of Microsoft Windows OS like Windows 10, 8.1, 8, 7, XP, Vista, etc.
There is no requirement for external app client installation in order to implement the conversion task.
The tool gives the ability to execute bulk import of Eudora mailbox to lotus notes email client.
It's a fully automated and secure software that never disturbs the originality of data during the migration.
Frequently Asked User Queries
How to migrate Eudora to Lotus Notes?
Download & Open Eudora to Lotus Notes too.
Choose Eudora *.mbx or *mbox files.
Select required mailboxes for conversion.
Pick Lotus Notes as the saving option.
Start to migrate Eudora to Lotus Notes client.
Does the software delete emails from Eudora mail after migration from Eudora to Lotus Notes ?
No! The software only migrates copy data of Eudora to Lotus Notes client.
Is it possible to transfer Eudora calendars to Lotus Notes with your tool ?
Yes, why not! Enable the 'Contacts and Calendar' option in the tool in order to move calendars from Eudora to Lotus Notes.
Will the tool help to migrate Eudora *.mbx files to Lotus Notes ?
Yes, it can easily transfer Eudora *.mbx data to Lotus Notes email client.
What if I don't have Eudora mail with me but still want to execute the conversion of Eudora mailboxes to Lotus Notes ?
You can still perform the conversion because the software only needs the Eudora *.mbx or *.mbox files for the conversion process.
Conclusion
This post was dedicated to the complete migration of emails, contacts, and calendars from Eudora mail to Lotus Notes. If you don't have Eudora mail on your system but have the Eudora supported files, you can still perform the conversion. No other app configuration is needed to finish the task. Take the help of the free demo edition to get to know the functionality of the software. For full and unlimited migration from Eudora to Lotus Notes, buy the license keys. If you have any other problems or queries, do reach to our technical support team.