How to Convert MyOffice Mail to MHT in Batch ?
Karen Chard
~ Modified: 03-06-2022 ~ MyOffice Mail ~ 5 Minutes Reading
Overview: If you are from one of them who are looking for the solution to export e-mail from Myoffice Mail to MHT but getting issues while conversion or not getting any solution. Then we have an excellent solution for you that is MyOffice Mail to MHT Converter Software. This is one of the best ways to transfer your Mailbox data from MyOffice Mail to MHT in batch.
As we know that MyOffice Mail is the most popular and trusted Email client and mail server available for Russian language users. It is widely used by mostly Russian linguistic users. It allows users to manage the user's personal information, such as emails, contacts, calendars, tasks, notes, attachments, etc.
But the main problem is that the Russian firm has its users globally. So using the MyOffice Email client for the management of email and other information is not a good choice. That is the main reason behind the large no of users wants to convert emails and other important information from MyOffice Mail to MHT and another file format.
It is due to Microsoft being the wonderful source of multiple file-formats and it is globally accepted by millions of users. MHT is a web page archive file format that stores the contents of a web page and includes external documents such as images, applets, Flash animations, etc., to HTML documents. And the advantage of a web archive file is that it allows users to save multiple files in a single .MHT file.
Smart Solution: MyOffice Mail to MHT Converter
There are multiple users who are searching for the solution to upload users' mailboxes from MyOffice Mail to MHT. There is large number of requests we received from various platforms:
We are using MyOffice Mail as source email client and one of our client want to upload their e-mails and attachment in MHT format. First, I searched & tried for various manual methods to do so but unfortunately, I failed to make any impressions about it. Kindly please suggest me a powerful and expertise MyOffice Mail to MHT migration tool which makes all this process very easier for me.
From the above queries, we can analyze that there are a million users who are searching for an excellent and easy way to perform this task. For this kind of user, we have an ultimate RecoveryTools MyOffice Mail Migration tool. That will help users to import email from MyOffice Mail to MHT directly without losing a single bit of data. Also, you can use this application on all editions of Microsoft Windows.
Free Download MyOffice Mail to MHT Converter Tool:
Note: The DEMO version of the software will allow a user to Export the first 25 email messages from MyOffice Mail to MHT. And the best thing about the software is that the software comes up with 20+ saving options. In case Once a user is satisfied with the demo version and is willing to migrate complete data from MyOffice Mailbox to MHT, then the user can purchase the appropriate license to perform the conversion. And
How to Migrate MyOffice Mail to MHT ?
The working of the software is very easy and simplified. You can check the below steps to perform conversion easily:
Step 1.  Install and Run the MyOffice Mail to MHT converter tool.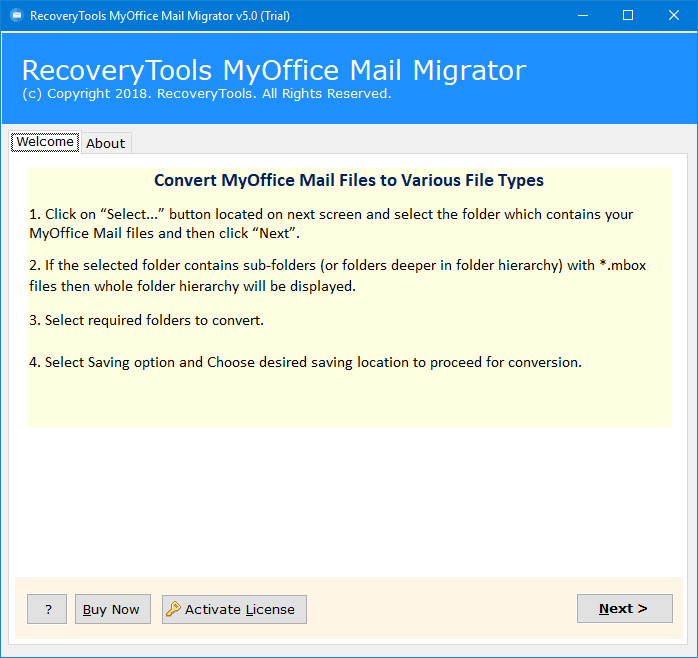 Step 2.  The tool comes up with the dual options either you can migrate configure MyOffice Mailbox data or you can select files/folders to browse the MyOffice Mailbox data.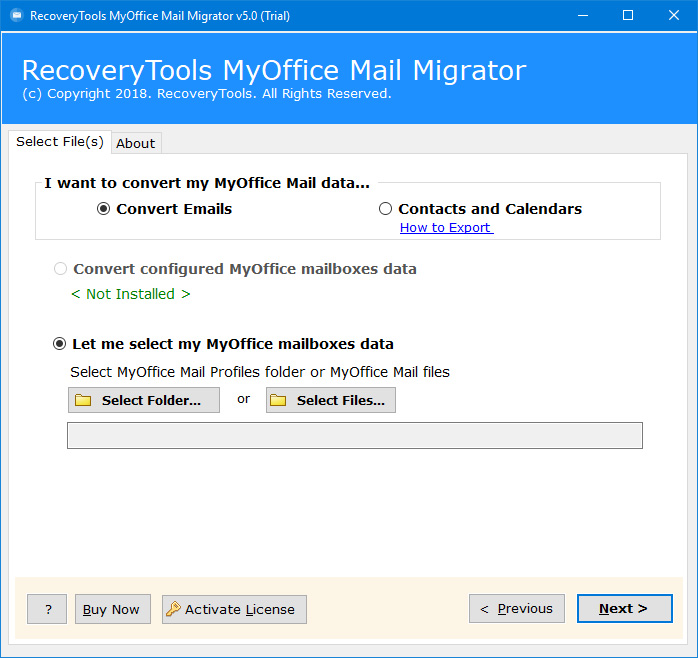 Step 3.  Choose the MyOffice Mailbox folder that you want to convert.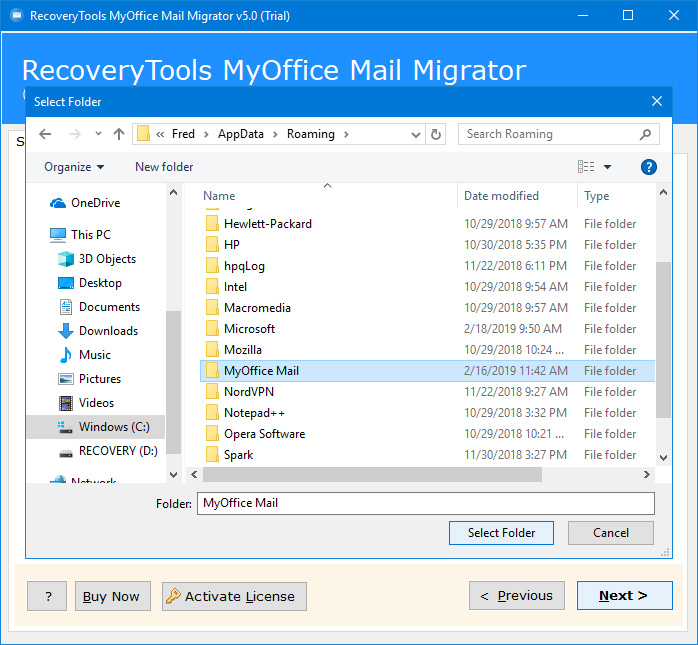 Step 4.  Click on NEXT Button to proceed further.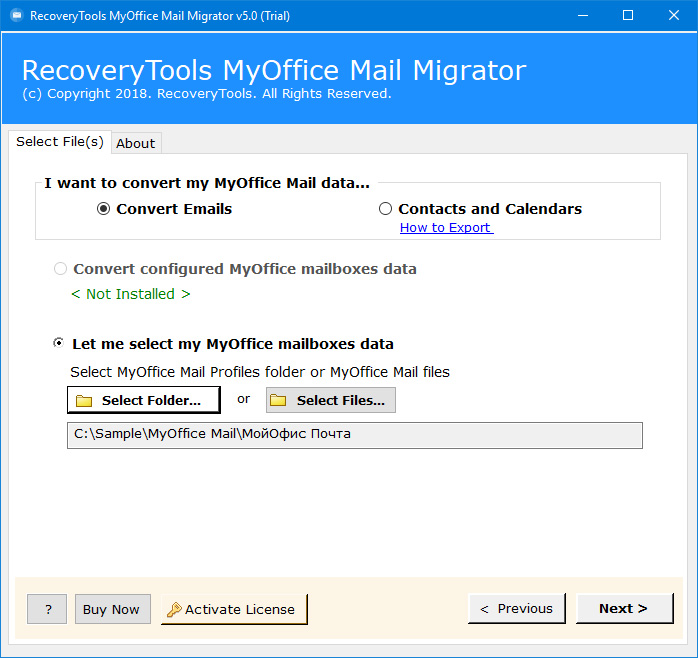 Step 5.  Now you can select mailboxes items that you want to export in MHT Format.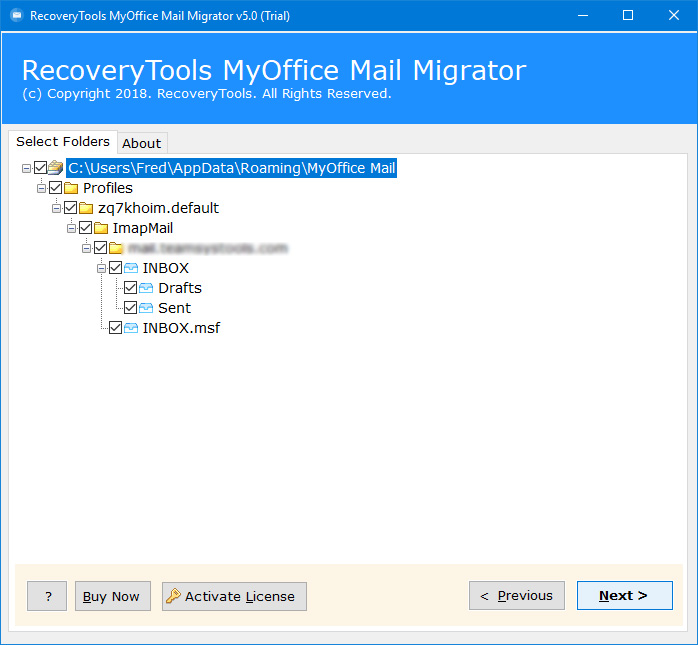 Step 6.  Choose MHT option from the list of 20+ saving format list.
Step 7.  Now click on NEXT button to start the conversion process.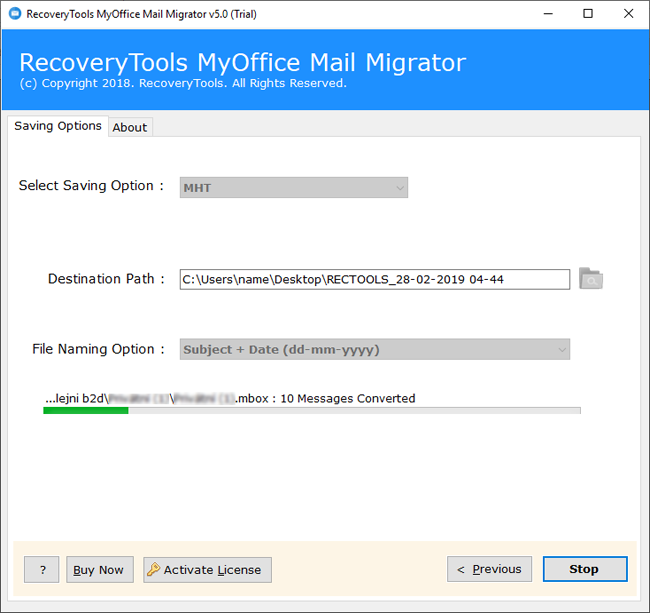 Step 8.  Once migration process finished click on OK button to exit from here.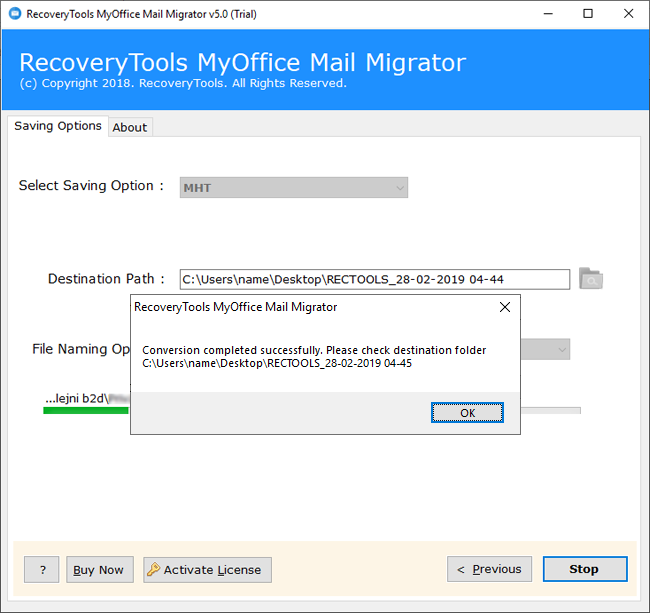 Some Highlighted Features of MyOffice Mail to MHT Converter Tool:
The software preserves all the components of MyOffice Mail during the conversion in a secured environment without making changes in its original content.
Export single or multiple Emails from MyOffice Mail to MHT as the toolkit provides dual ways to load MyOffice Data or the whole folder containing MyOffice Mail i.e. Add Files or Add Folders.
The software is capable to convert unlimited data from MyOffice Mail to MHT without facing any size limitations.
The utility allows the users to convert MyOffice Email, Contacts, Calendars, Tasks, and Notes to another email client.
The interface of this utility is very interactive & user-friendly for technical & non-technical users.
The MyOffice Mail to MHT Migration toolkit is compatible with all the latest versions of Windows 10, Windows 8.1, Windows 8, Windows 7, Windows XP, Windows Vista, etc. for both 32-bit & 64-bit OS editions.
The Verge
In this article, we get to know how can a user migrate MyOffice Mail to MHT format. The amazing and efficient utility proves to be very beneficial for the users to export MyOffice Mail to MHT without making alterations in the original content of the MyOffice Mailbox items. You can evaluate this amazing utility for free by using the Trial edition of the software. For more information, you can also contact us via email or live chat.
Also Read: Convert MyOffice Mail to RTF