How to Transfer Emails from One Gmail Account to Another With Labels?
Karen Chard
~ Modified: 28-01-2020 ~ Google ~ 6 Minutes Reading
In today's post, you are going to track a foolproof solution on how to transfer emails from one Gmail account to another with labels. Just for a while, imagine the following scenario . Just before one minute, you have created a new Gmail tenant for some purpose. But, you do not desire to lose your previous messages of your already existing Gmail account. Now what?
In such cases, organizations seek for a method to move email folders from one Gmail account to another. They wish to have an approach that allows them to perform this entire task without compromising data integrity. It is pretty much obvious that enterprises prefer a solution, which enables them to perform this complete project in an easy way.
Well, now not to think too much over it! Because finally we are here with possible methods. These methods will allow readers to attempt the transferring procedure on their own. This approach involves use of a user-friendly application named as 'Email Backup Software'. It is dedicated software that allows customers to transfer email from one Gmail account to another in 6 simple steps. The solution enables organizational users to accomplish the process quickly and then continue their work with new account without any hurdle.
Transfer Email From One Gmail Account to Another
In general, there exists two methods to move emails from one Gmail account to another. We will provide description of both these approaches. It will your decision to pick anyone of the provided methods. Without wasting much time, lets begin!
"I am the project leader in my company and yesterday, I had created a new Gmail account. The purpose of this is to perform some confidential business tasks through this tenant. Although I have a professional Gmail account but, those confidential activities can't be carried away through that account. Here the problem I had is – I want to have some email folders of my existing Gmail tenant in the new one. Forwarding the messages one-by-one is really going to be irritating for me. It is so because there are more than 1000 messages in each required folders. So, can anyone help me out with a method that fixes my problem? Please ensure that the solution should be workable and does not result in data breach incidences."
#1 : Move One Gmail Account To Another Professionally
Following steps will let you know that how you can quickly transfer email from one Gmail account to another with labels :
1. Download and install the installation file of Email Backup Software on your PC.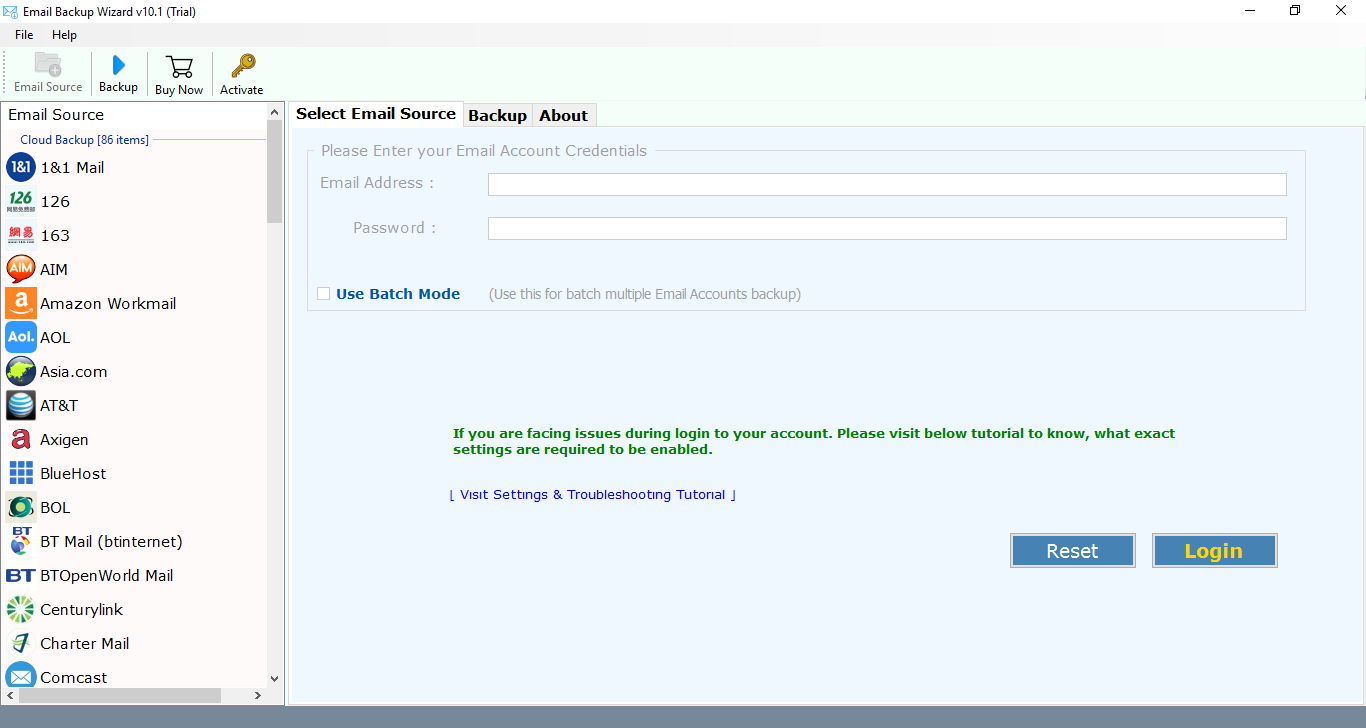 2. Launch the program and select Gmail option from the list of 'Email Source'.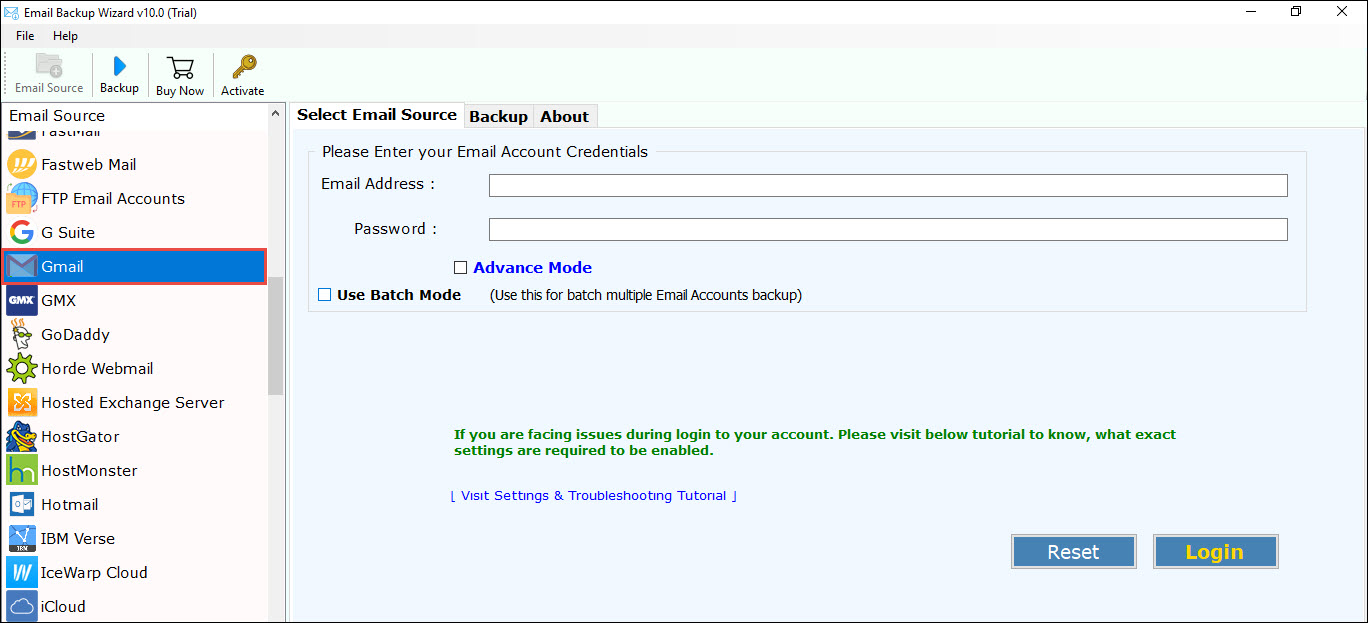 3. Enter credentials of your old Gmail account and then, simply click on Login.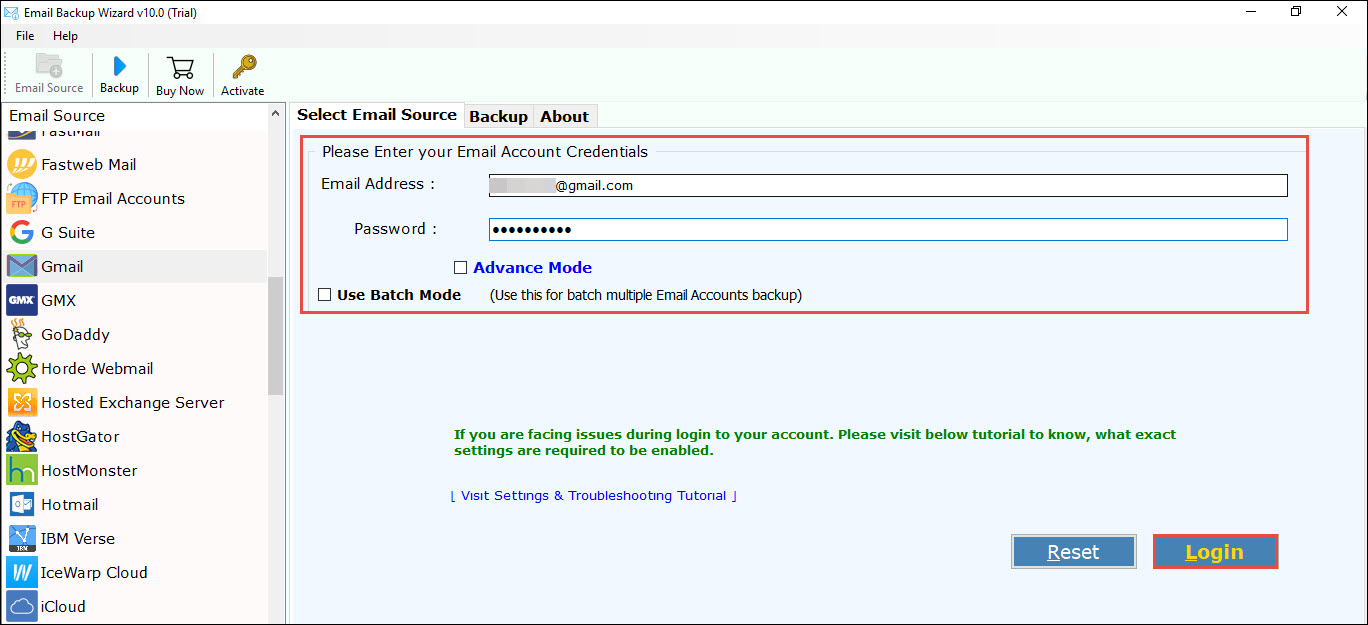 Please Note – You only have to make sure that IMAP is enabled in both the Gmail accounts.
4. Select the folders that you wish to move in the target Gmail account.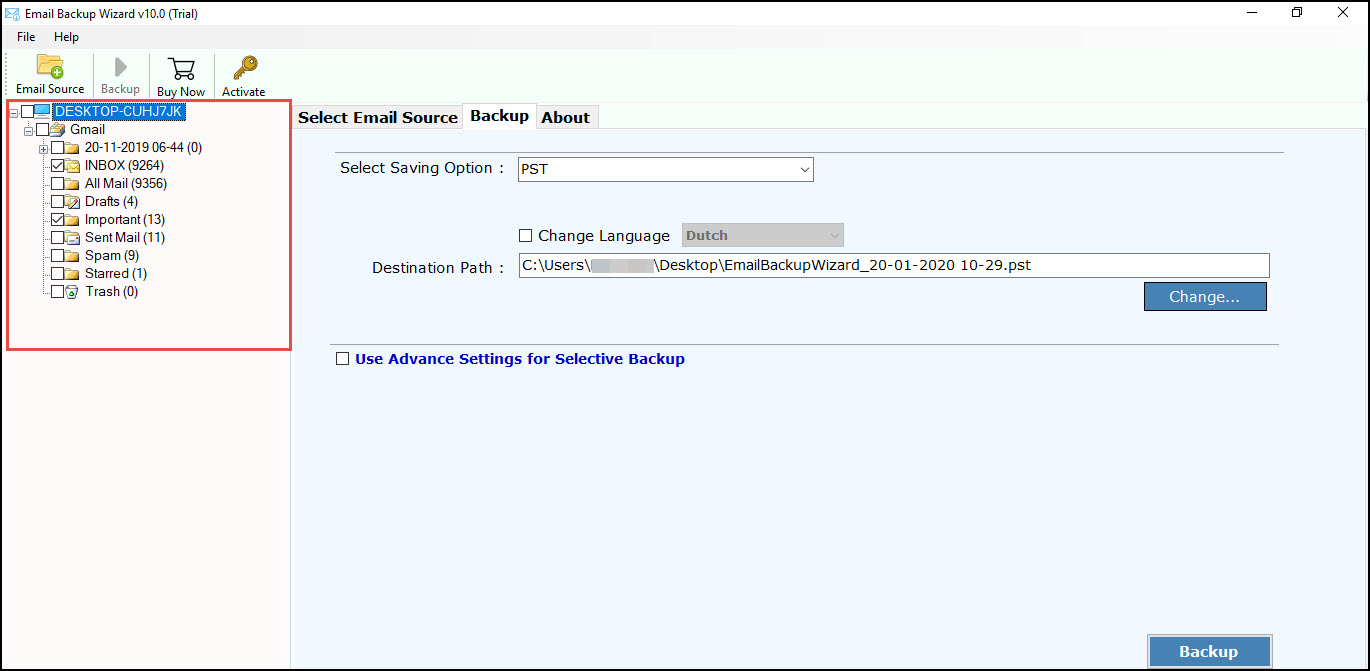 5. Now simply expand the menu of 'Select Saving Option' and choose Gmail.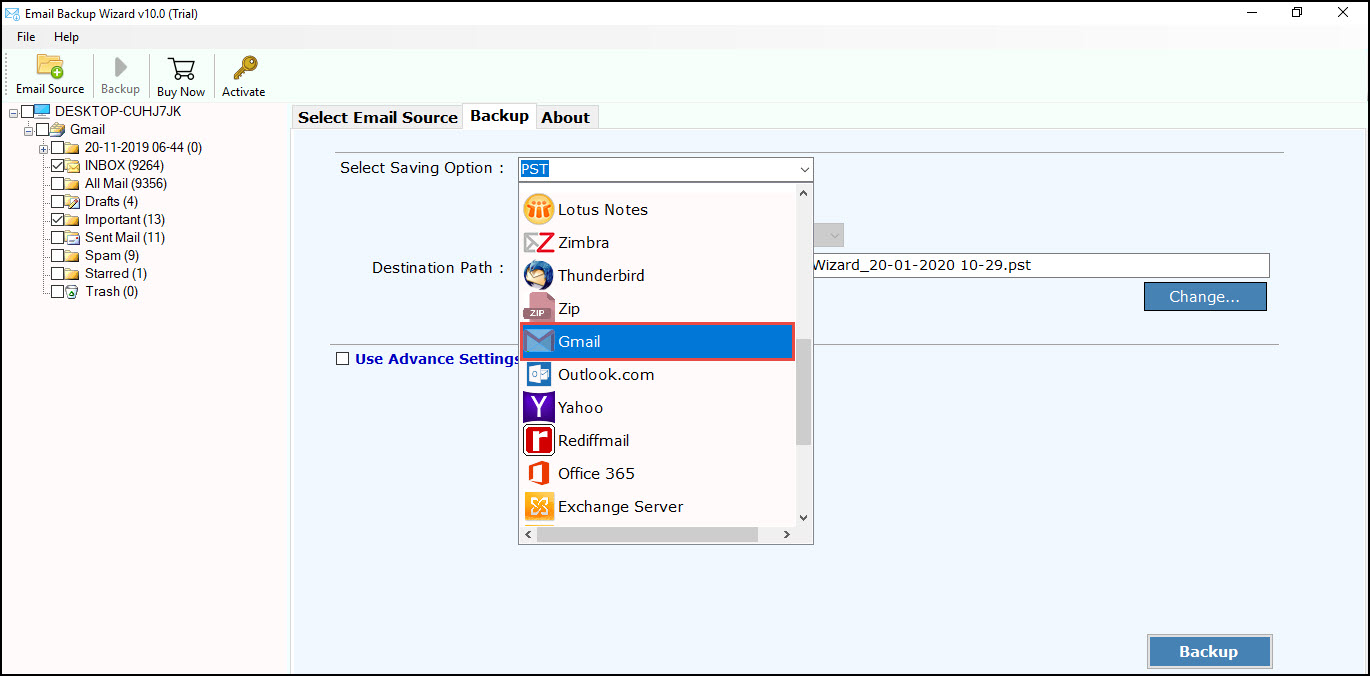 6. Enter credentials of newly created Gmail account and hit on Backup button.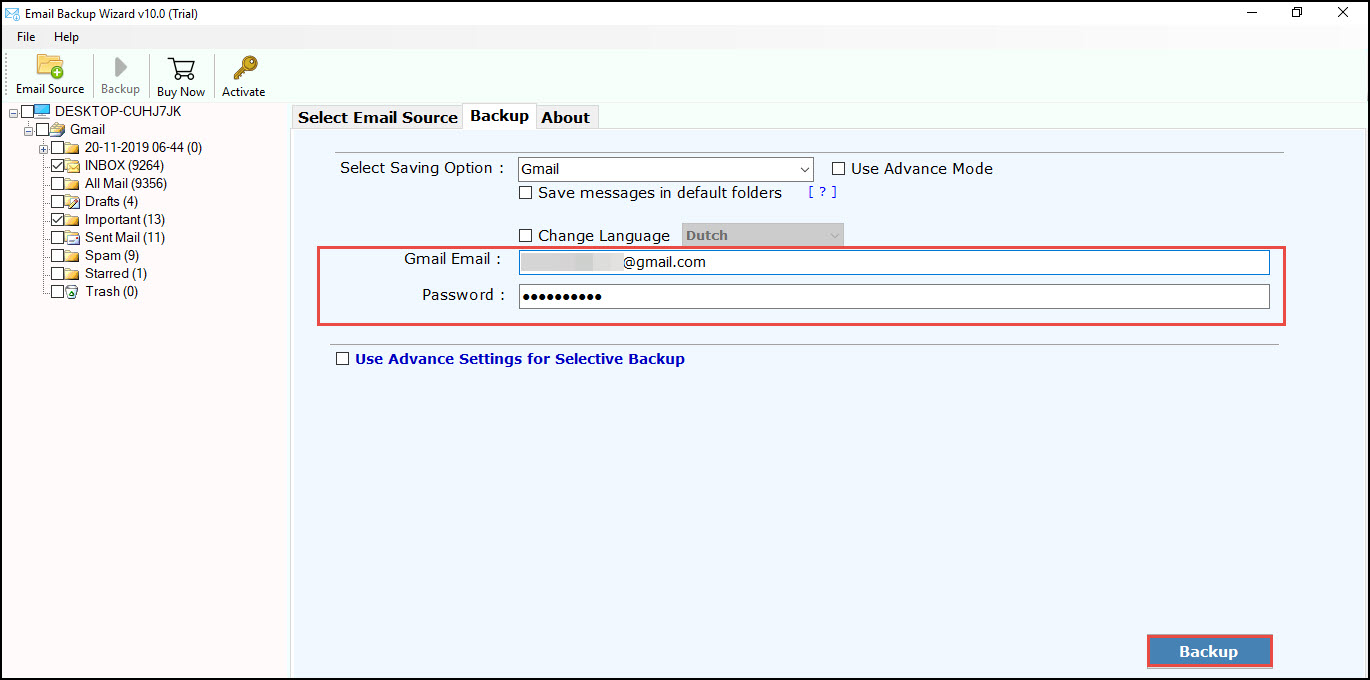 Now in just six steps, you can move email folders from one Gmail account to another. There is no risk of data loss, information breach, and content manipulation via this method. Customers can rely on this solution and test it on their own by trying out its trial version. This edition is available for free to examine the efficiency of the software and understand its simplicity level.
#2 : Move One Gmail Account To Another Manually
This method does not demand for any third-party utility to accomplish the task. But, it demands for high level of knowledge about Gmail technical configuration settings. You can start the process by first enabling the POP server in both the Gmail tenants. Once done, execute following steps to transfer email from one Gmail account to another :
Source Gmail Account
1. Login into your old Gmail account and click on the Gear icon. Select 'Settings' from the displayed menu.
2. Click on Forwarding and POP/IMAP tab to continue with the procedure to move email folders from one Gmail account to another.
3. Select 'Enable POP for all mail' option in the field of 'POP Download'
4. Choose the 'Archive Gmail's copy' option from the dropdown menu of 'When messages are….'
5. Click on Save Changes button to apply the made changes. Logout from old Gmail account and proceed to Step (6).
Destination Gmail Account
1. At this stage, you need to login into the new Gmail tenant. And then, use Step (1) to open mail settings section of this account.
2. Click on Accounts and Import >> Add a mail account
3. This opens a new window where you have enter email id of old Gmail account. Click on Next to move emails from one Gmail account to another
Note – Make sure that Import Emails from my other account (POP3) option is enabled.
4. Now its time to enter the credentials in username and password field.
5.  Select 'POP Server' as 'gmail.com' and 'Port' as 995.
6. Enable the checkbox of 'Always use SSL….'
7. Click on Add Account button and select Yes in the window that pop-ups in front of you. Click on Next to transfer email from one Gmail account to another with labels.
8. Mention your name in the Name text box and click on Next
9. Click on Send Verification and then, immediately login into your old email account. Copy the verification code for authentication purpose.
10. Finally, it is the time where you have to sit patiently and wait for the entire emails to be moved in new Gmail account. This can consume a minute, an hour, and even a day to accomplish this task.
A Tip to Help You – The professional solution enables moving of selective email folders from old Gmail account to the new one. But, this thing can't be done via manual method.
Its Your Time to Make the Decision
The possible ways to transfer emails from one Gmail account to another with labels are described briefly. Well, the professional solution allows users to move email folders with labels and also, enables importing of selected folder. There is no hard server configurations required in this method. We hope that we are able to help you in our best way. In case of some more suggestions, feel free to contact us.