Know How to import MBOX files in Thunderbird – Quality Solution
Karen Chard
~ Modified: 04-01-2021 ~ How To ~ 6 Minutes Reading
Are you looking for the solution of Thunderbird import MBOX file not working? In this blog, we will tell you the solution for this issue. Stay tuned with us and read the full blog.
Thunderbird is a free desktop-based cross-platform email application that is developed by Mozilla Foundation. Everyday many peoples are opting Thunderbird due to its updated features and easy-to-use interface. It also allows configuring of multiple email accounts using POP and IMAP. If user is using Thunderbird, then they might want to import MBOX in Thunderbird as different email application data is saved in MBOX file format.
Import MBOX file not working in Thunderbird – Why?
Just like other email applications, there are multiple add- ons available in Thunderbird which attracts users towards them.  One of the popular add- on is ImportExport Tool. Now Thunderbird doesn't support ImportExport Tool, it has been updated now. ImportExport Tools NG provides the option to import / export files to Thunderbird in various file formats.
This add-on also creates issues to the users at the time of import or export of files. Many times, it creates troubles for the user like Thunderbird import MBOX file not working.
Common issues of Thunderbird import MBOX file not working – Solutions
There are many users who have some kind of queries related to transferring MBOX files into Thunderbird. Some of them are:
ImportExport Tools of Thunderbird does not work in its updated version
Query 1: After updating Thunderbird I am unable to find ImportExport Tools NG. Due to this, I can't do the import process of MBOX files.
As said above ImportExport Tool is an outdated version now. ImportExport Tools is not supported by the version of Thunderbird. Now it has been updated to the ImportExport Tools NG. So, you have to install the new add-on naming ImportExport Tools NG.
Import MBOX file option is not working to complete the import process
Query 2:  After installing Thunderbird, I am unable to find the Import MBOX option in ImportExport Tools NG. Guide me to find it so that I can complete my Import MBOX files procedure.
First, you have to open Thunderbird and make sure you select local folders from the left panel.
After that click on Tools then select ImportExport Tools NG.
In ImportExport Tools NG, go to import MBOX file.
Finally, the import MBOX dialog box will appear and you will be able to import the MBOX files in Thunderbird.
This technique is a little bit dangerous for users as it can lead to data loss. Importing MBOX files can cause to data corruption as well. So, this is not a good option for import MBOX files into Mozilla Thunderbird.
Import MBOX files to Thunderbird
Query 3: Can Thunderbird import MBOX files?
No one can directly import MBOX files into Thunderbird. It can only be done by the use of a Professional tool. By using software solution users can import MBOX files to Thunderbird.
Thunderbird import MBOX file not working – Professional solution
By using manual techniques there is a risk of data loss and data corruption in the import process. So, it's better to use a professional solution for completing the MBOX file import procedure. Users can take the help of Thunderbird import tool to do this process in an easy way.
It helps user in importing all types of MBOX files into Thunderbird application. Here installation of Thunderbird application is necessary to import MBOX to Thunderbird. Tool provides direct option to import MBOX file into Thunderbird by saving MBOX emails and other mailbox items at default Thunderbird profile location.
Now let's discuss the working process of the Thunderbird import tool
How to solve Thunderbird import MBOX file not working – Process
Follow some simple steps to start using the Thunderbird import tool to complete the process smoothly.
1 – Install and run the mentioned software on your system.
2 – Browse the files or folders to load in the application panel.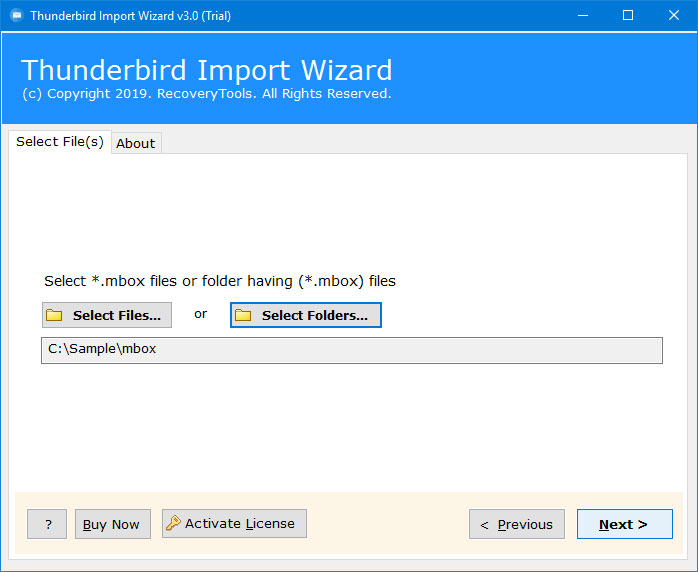 3 – After that, select the folders which you want to migrate.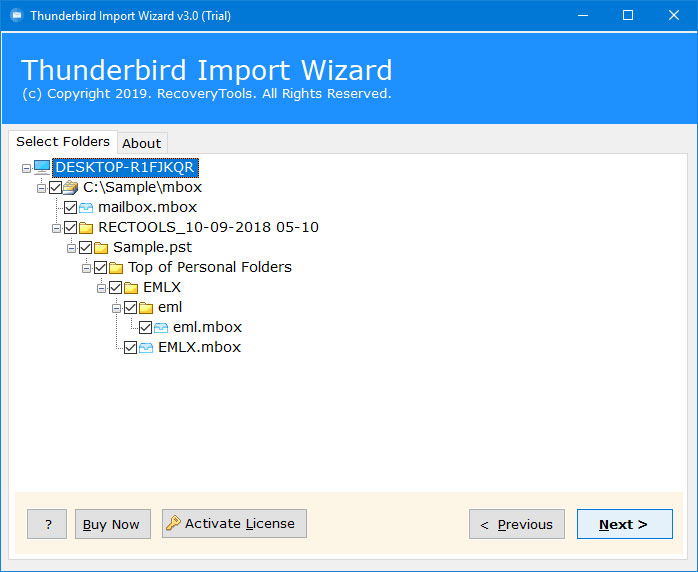 4 – Now, setup MBOX to Thunderbird options.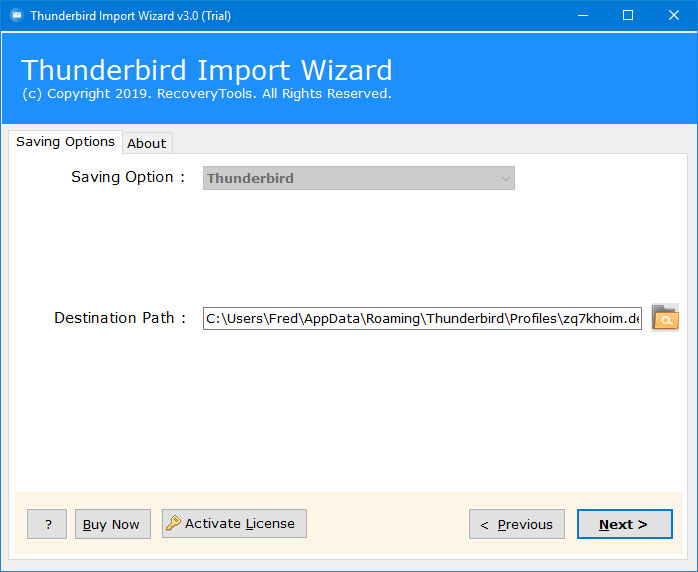 5 – Choose the destination path to save the resultant Thunderbird data.
6 – Thereafter, selecting the destination path, click on "Next" tab to start the import process.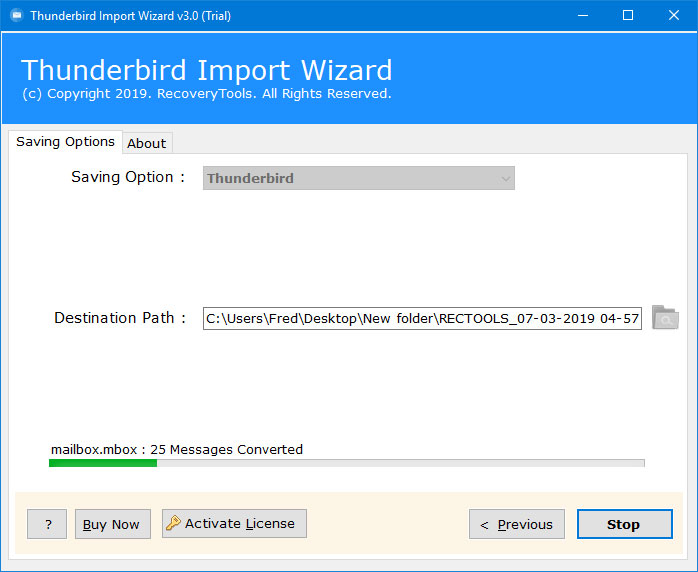 7 – After that,  you have to click on OK and exit from the tool.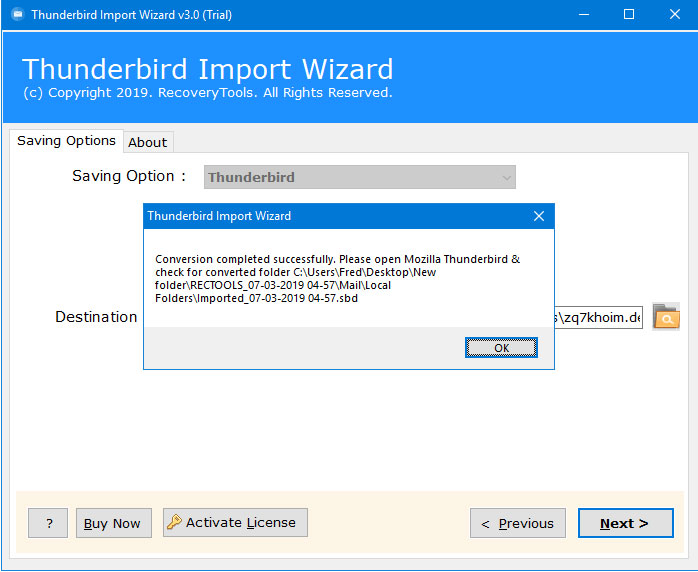 8 – Finally access the resultant Thunderbird data from the destination path or Thunderbird profile path.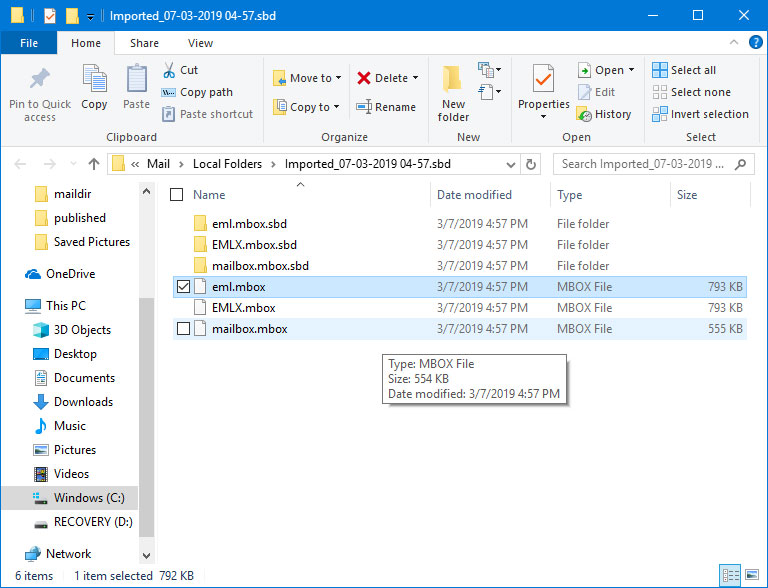 Thunderbird importer is better option for users – Why?
Direct option to import MBOX file into Thunderbird
One of the most common problems that are facing by number of users Thunderbird import MBOX file not working. To do this process manually, a user needs to download Import/Export Add-on. The is nicely overcome by this Thunderbird Import application, as the utility provides a direct option to import MBOX file emails into Thunderbird mailbox location.
Import MBOX Files to Thunderbird with attachments
This software will enable the users to import MBOX files into Thunderbird along with all inserted attachments. At the time of doing, it manually there are various problems faced by users for the migration of MBOX to Thunderbird Mail client. Hence use this professional Thunderbird Import Tool which deals with all these issues & perform migrations of emails along with attachments.
Migrate MBOX Files to Thunderbird profile path
One of the major advantages of this application is that it uploads MBOX file data Straight to Thunderbird Profile without requiring any other mechanism. The software will automatically detect the default Thunderbird Profile location in its panel. After that, software will directly export MBOX files into Thunderbird at default profile path.
Compatible with all types of MBOX files
This above-recommended software is fully compatible with MBOX files of several email clients and exported from webmail services such as Mozilla Thunderbird, SeaMonkey, Eudora Mail, Opera Mail, Google Takeout, etc. Even it supports all MBOX file variants i.e. MBOXO, MBOXRD, MBOXCL, and MBOXCL2.
Final Verdict
In this blog, we have discussed about the Thunderbird import MBOX file not working. There are many users who are facing issues in completing this process. So, here they will find both manual and professional techniques of doing this. But the professional method is more effective method for users. Demo version is also available in which user can save up to 25 items & mails from every folder. Licensed version is also available in which users will get more features.