How to Save Outlook 365 Emails to Hard Drive & USB Drive ?
Karen Chard
~ Modified: 15-02-2021 ~ How To ~ 7 Minutes Reading
"Hi! I am resigning from my job and want to switch to another company. But before all procedures, I am looking for a solution to save emails from Outlook 365 to Hard Drive. I have several emails in my Outlook 365 account. There are lots of personal and professional emails inside the account. So, before leaving the job I want to take a backup of my complete data on local hard drive. Please anyone tell me, how to save emails from Outlook 365 to Hard Drive ?"
Do you want to know the process to save Outlook 365 emails to Hard Drive. If yes, then keep reading this article to find the best possible methods in various savings formats. In this guided write-up, we have suggested both ways to save Outlook 365 emails to Hard Drive.
Outlook 365 is a web email client / online email service provided by Microsoft Corp as a part of an Office 365 subscription. Earlier it was also known as Outlook Web App, but after the launch of Office 365, Microsoft also included it as a part of Office 365. Since it is a part of Office 365, its data is also stored in the cloud. You can easily view your mailbox data but you can only export as .pst format. But many users face some issues while exporting data from Outlook 365 account.
To save emails from Outlook 365 to Hard Drive or Computer on different file formats, you need to use third-party software. RecoveryTools Office 365 Migration Tool is one of the best-rated application in 2021. It gives 25+ Outlook 365 Migration / Backup / Conversion options. But before all the solutions, we need to know the reasons and their solutions.
Why Do We Need to Save Outlook 365 Emails to Hard Drive ?
As we all know the Office (Outlook) 365 account is very useful at the present time, therefore large organizations and home users are having their crucial data on Microsoft Outlook 365 server. When it comes down to it, your data is only as secure as the backup you keep. So, using Office 365 Backup method is a better and a better option. When the user needs to save Outlook 365 email on hard drive, here are some reasons why.
Security: – There used to be a major security flaw with cloud storage, with some cloud providers losing user data to hack. Therefore, many companies and home users preferred to save Outlook 365 emails to Hard Drive as a backup copy.
Cost: – There are many people who have preferred low-cost email platforms. So, hard drives are one of the best and more affordable solutions, as you can get terabytes of storage under 100USD.
Access Your Data on Universal Drives: – You can easily access your cloud Outlook 365 data on Computer, Laptop, Mobile Phones, Tablets, etc. But there are many devices that have only one USB point to access your data. For this, you need to save Outlook 365 Emails to Hard Drive or External Hard Drives.
How to Save Emails from Outlook 365 to Computer Hard Drive ?
Keeping in mind the various aspects and standard requirements of the end-users, we have come up with a straightforward method as well as manual solutions.
Note: – If you are looking for a complete solution that gives accurate results, choose Explanation 1.
How to Save Outlook 365 Emails, Contacts, Calendars to Hard Drive – Professional Solution
The utility for how to save emails from Outlook 365 to Computer is a one-stop solution. You can easily use this application independently on all your Windows workstations or server machines. Also, the software gives the facilities to save Outlook 365 emails to 25+ saving options such as PST, MSG, EMLX, MBOX, PDF, HTML, MHT, XPS, RTF, DOCX, Windows Live Mail, Lotus Notes, Zimbra, Thunderbird, Office 365, Gmail, G Suite, Outlook.com, Yahoo, Rediffmail, IBM Verse, Amazon WorkMail, IceWarp & IMAP accounts.
The utility offers a number of advanced features to make the process to save Outlook 365 emails to hard drive hassle-free. You can easily install this application on all editions of Microsoft Windows Operating systems. Using this application, you can save multiple Outlook 365 mailboxes to Hard Drive at once. In the following section, we will explain the step-by-step process to save Outlook 365 emails to Hard Drive.
Step-1: – First, download & install this application on your computer.
Step-2: – Launch the software on your Windows Computer.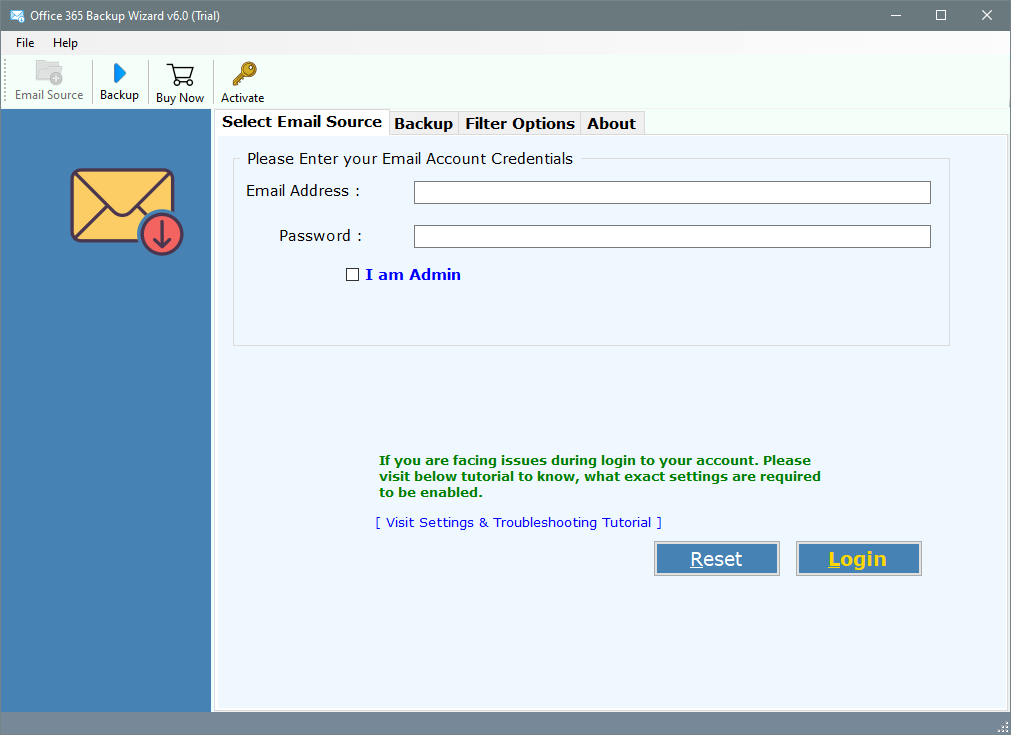 Step-3: – Enter your Office 365 login credentials. You can also choose the "I am Admin" option to login with your administrator account.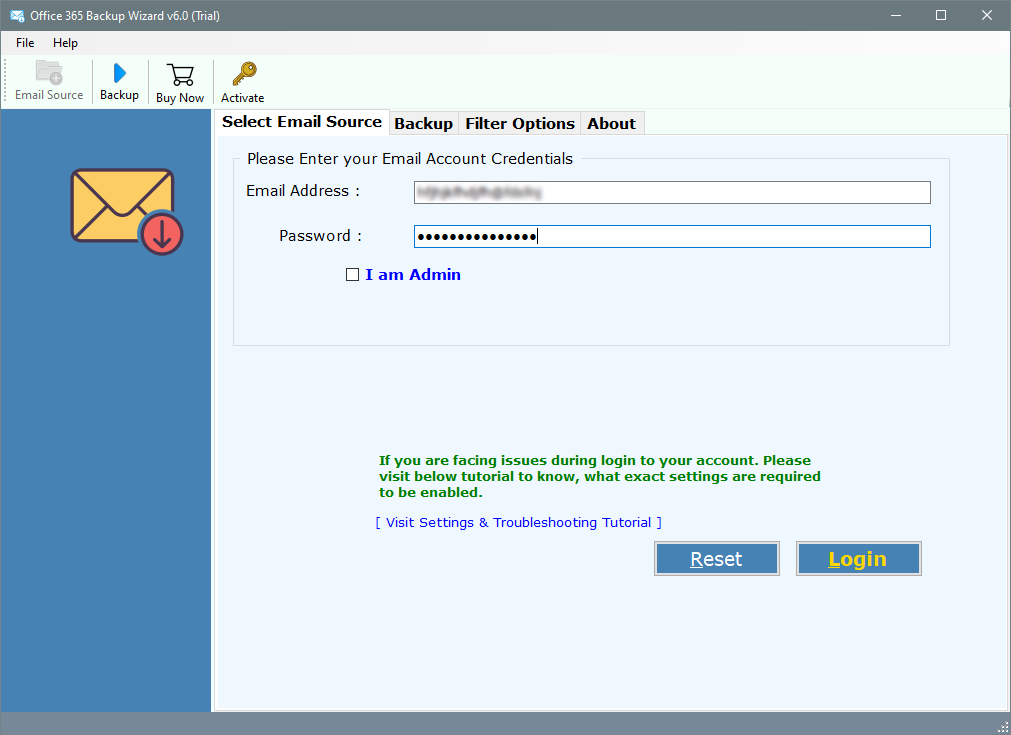 Step-4: – Choose the required Outlook 365 emails, contacts, calendars, etc. folders in the interface.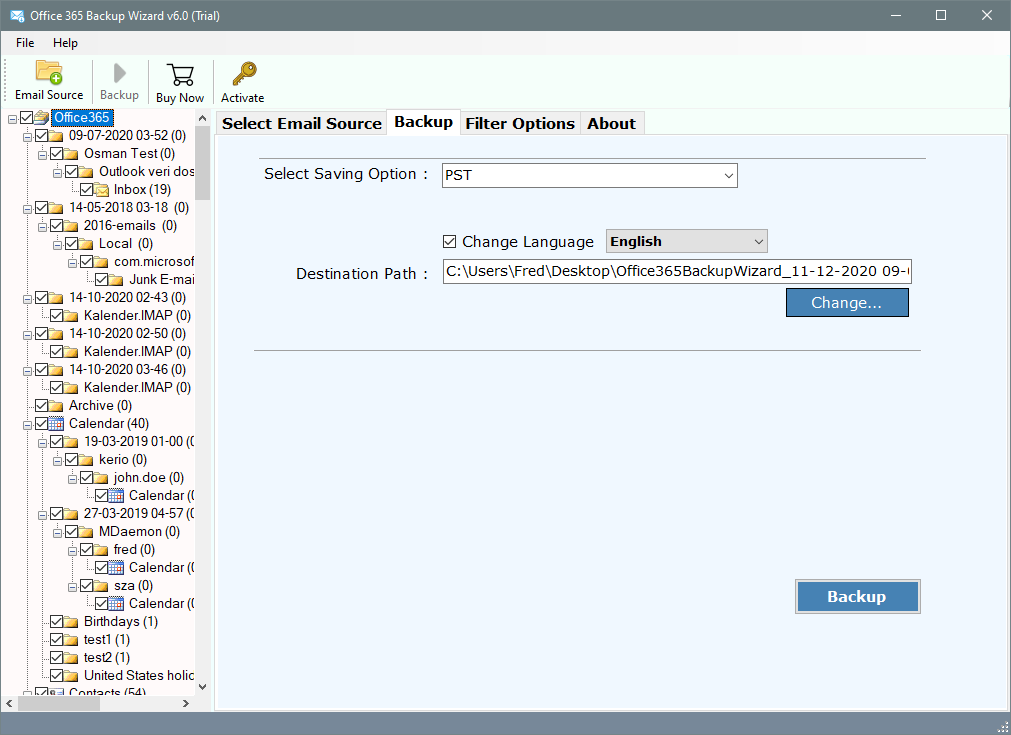 Step-5: – Select your saving file format in the list of file saving options.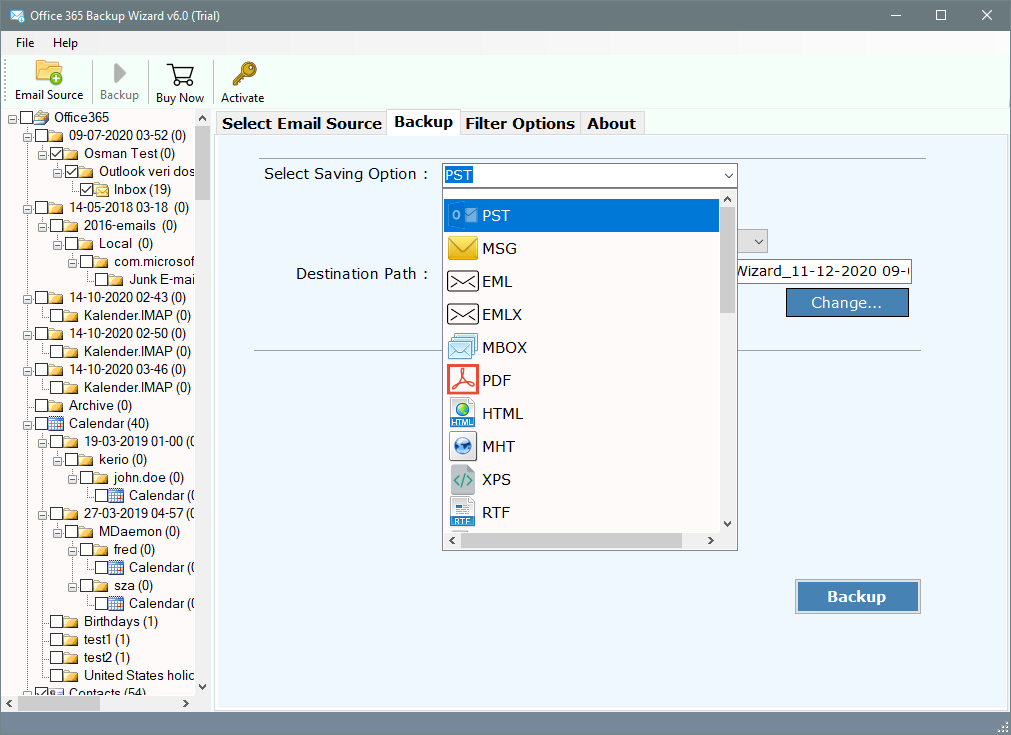 Step-6: – Choose the destination location path and click on the next button to start the process.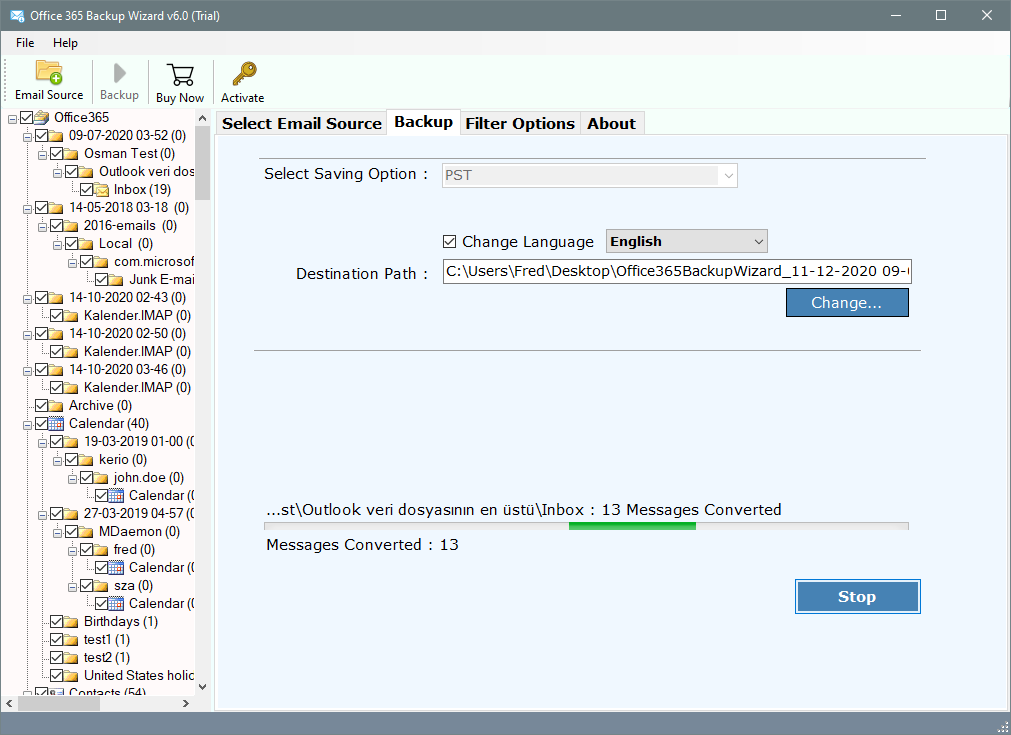 Step-7: – Outlook 365 Emails to Hard Drive saving process is successfully completed.
Learn How to Export Outlook 365 Emails to Hard Drive as PST Format ?
One of the manual methodologies recommends users to export all messages to an individual storage file. Microsoft Outlook desktop client makes a Personal Storage Table or PST document for the whole mailbox. Clients can pick specific folder things to move to another PST document saved with a .pst format. For this, MS Outlook needs to be installed on the computer system. Rehash the steps referenced beneath to save Office 365 messages into PST document.
Initially, configure the Microsoft 365 account on the Outlook desktop app.
At that point, navigate to File >> Import and Export.
Thereafter, this will open the Import and Export Wizard.
Then, choose Export to a File option.
After this, choose 'Outlook data file' to migrate mailboxes to a .pst file.
Likewise, try to mark the checkbox close to Include Subfolders.
At last, hit on the Finish button to begin the export processing.
How to Save Outlook 365 Emails to HTML Format ?
This is one more route on the most proficient method to save Office 365 emails to computer. Using this strategy, different Office 365 messages can be stored in a .html file format. Follow the guidelines beneath to finish this technique:
Initially, move to Mail view and open the mailbox folder that comprises the email file required.
Navigate to the File >> Save As button.
Then, a document explorer window will show up. Next, go to the destination location where the email document should be saved.
At that point, name the document and from Save as Type option choose HTML.
Thereafter, tap on the Save button.
Lastly, rehash this processing again and again for the remainder of the messages.
How to Save Outlook 365 Emails to PDF Format ?
Microsoft doesn't give in-built option to save emails as PDF type. Since there is no immediate method of saving Outlook messages as PDF, an aberrant strategy has been portrayed here. For this, messages first should be saved in a .html format. At that point, open the HTML document in Word lastly save it in PDF format. The following are the step-by-step method to save Office 365 messages as PDF.
Initially, save the email document in the HTML format as portrayed in the past solution.
Then, open Microsoft Word and navigate to File >> Open.
Thereafter, choose the HTML format saved in the initial step.
From that point forward, go to File >> Save As. Also, pick PDF as the document type starting from the drop-down box.
At long last, snap on the Save tab to finish the process.
Conclusion
In the above article, we discussed all the ways to save emails from Outlook 365 to hard drive formats. Using the RecoveryTools solution, you can easily download mailbox items from Outlook 365 Web Client to local desktop computer. While the process, it keeps all email properties, and the email folder hierarchy structure in the original format. The company provides you a free trial edition to export 25 emails from Outlook 365 account to several formats. For more details, you can contact our technical support team.