How to Save All Images from a PDF File ? – Direct Approach
Karen Chard
~ Published: 18-02-2020 ~ PDF ~ 4 Minutes Reading
Do you want to know how to save image from PDF files? If yes, keep reading the following blog and find an appropriate solution to save all images from PDF documents. There are many solutions available in the market. But, the challenge is to find the one that fulfills all your needs appropriately.
Here, we have suggested a very efficient PDF Image Extractor. The utility is best suited to save image from PDF files in batch. Also, there are many different features of this utility that make it the best choice. Also, we have tried to solve the following user queries also:
How do I save an image from a PDF File?
Can I save all images from PDF in a single click?
How can I save an image from a PDF file with the original resolution?
In just a few quick and easy steps, you can accomplish this task without any external help. So, before we discuss more about the solution, first go through the steps to save image from PDF files.
How to Save Image from PDF Document ? – Complete Steps
Follow the given steps and save images from portable document format:
1. The first step is to download the tool on any Windows PC.

2. Secondly, from Select Folders or Select Files options, add the required PDF files.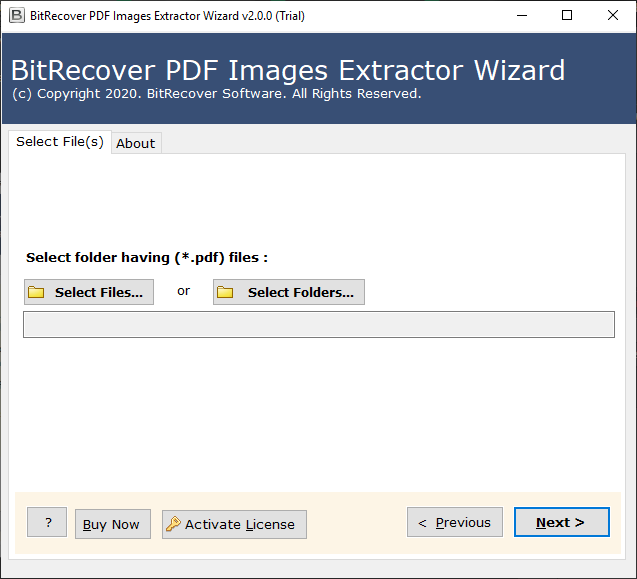 3. After that, choose from the added files and folders to save image from PDF. Click on Next.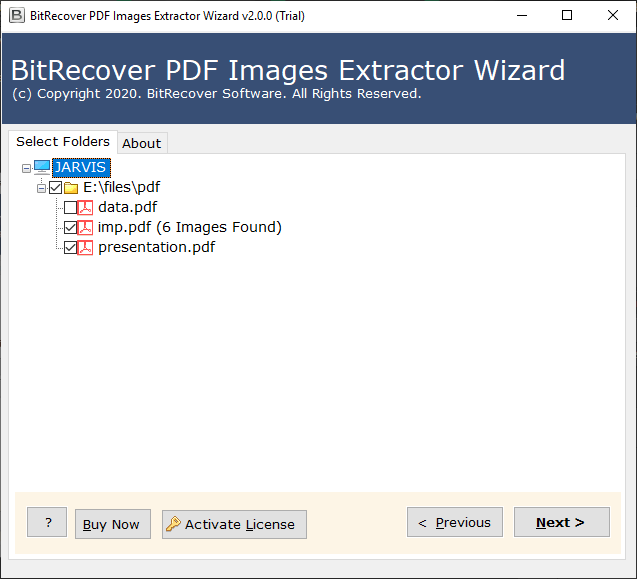 4. Now, you have to select the Destination Path to save images at the required path.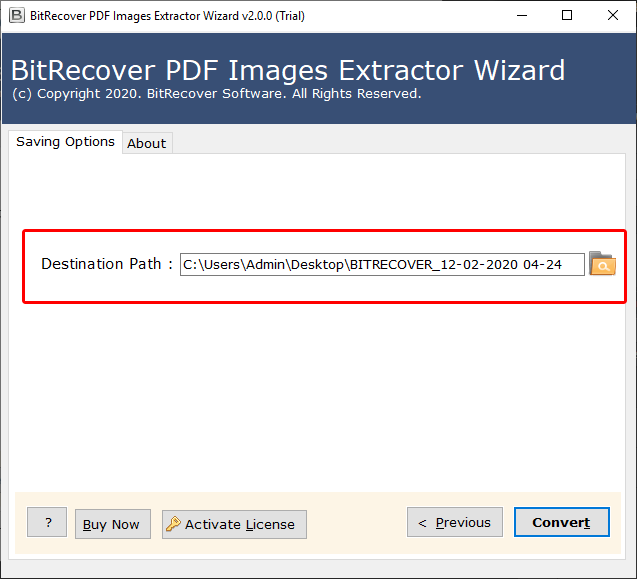 5. Lastly, click on the Convert button to start the saving process.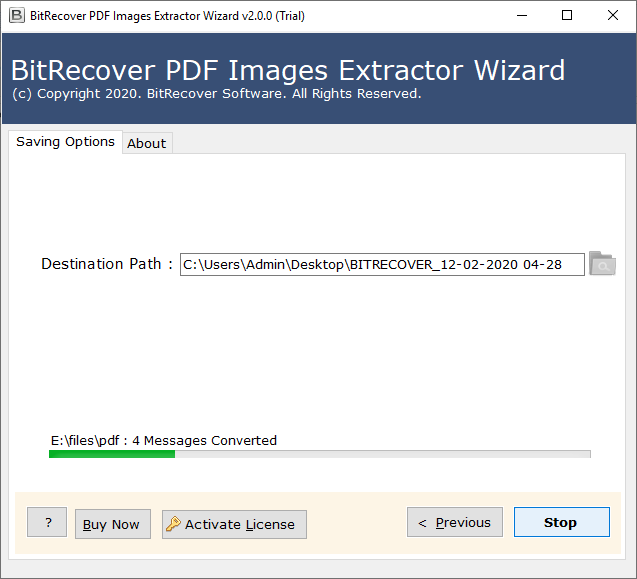 Soon, all the images will be saved at the chosen path from the selected PDF files with original resolution and picture quality.
Solution to Save Image from PDF File
The utility to save image files is completely a professional approach. It has a very simple and self-explanatory user interface. Using this PDF image saving tool, you can save images from multiple PDF documents together without any problem. The utility maintains all the graphics and picture quality of all saved image files. So, there is no risk of any data loss or quality degradation. All types of images can be saved using this tool.
Also, there is a free demo available for this tool to save all images from PDF files. You can download and use it to experience working. But thee demo allows to save images from only the first 5 PDF files and 1 image from each. So, for limitless conversions, you can try the licensed edition.

Tool to Save PDF Images – Important Features
1. The tool supports to save images from all type of PDF files. All the corrupted, encrypted files are supported by our tool.
2. PDF image saving software allows to save images of all formats including JPG, JPEG, BMP, etc. All the image files can be saved to desktop with this solution.
3. The solution is compatible with all the versions of Windows OS. So, you can install it on any latest or older version of Windows.
4. There is an option to add multiple PDF files. With this feature, you can directly save images from PDF files in bulk.
5. The tool is best-suited to save all images from a PDF document with original resolution and quality. There is no risk of any data loss or reduced picture quality.
6. With this utility, you can choose the location or path to save images from PDF. So, the tool gives an option to select the Destination Path also.
7. Also, the tool shows the number of images found in each PDF  added. So, you can check your PDF files for the number of images they contain.
Closing Words
In the above blog, we have given a complete stepwise solution to save image from PDF files. The tool used has a number of features and benefits that make the saving process quick and simple. Also, it allows to save images with original picture quality. You can try the demo version of the tool to experience its working.