How to Import Multiple MBOX Files to Google Workspace Account ?
Karen Chard
~ Modified: 21-01-2023 ~ Google ~ 6 Minutes Reading
Overview: Are you one of those who are looking for a solution to import MBOX to Google Workspace account ? If YES, read this article completely. Here, we will explain the complete process of importing the entire data. So, stay with us.
Google Apps was launched in 2006 and in 2016, it was named G Suite. Later in 2020, it was again rebranded as Google Workspace.
On another hand, MBOX is a computer file. It is used to save email messages with attachments in local computer storage. Many email client applications support MBOX files such as Thunderbird, Apple Mail, Google Takeout, etc. It is one of the oldest email message storage formats. However, there are lots of users who want to know how to import MBOX files to Google Workspace.
Understand by User Query:-
"Hi, I have exported MBOX files from my Personal email account through Thunderbird. I want to import these files into the Google Workspace account. Does anyone know how to import MBOX to Google Workspace? Please Help Me!!!"
Instant Solution: MBOX to Google Workspace Import Tool
We would like to suggest you use RecoveryTools MBOX Migrator Wizard. This application allows you to import multiple files to Google Workspace at once. The software provides dual options to upload the files either by choosing files or folders from the system. Also, after uploading, the software will display the complete preview of the entire data with maintaining the hierarchy of files and folders. Users can easily upload MBOX files from all kinds of Email Clients without facing any kind of issues.
Also, the software supports 20+ formats to export the data such as importing MBOX files to G Suite, importing MBOX to Gmail, MBOX to PDF, MBOX to PST, MBOX to Office 365, MBOX to CSV, MBOX to EML, and others.
Download from Here:
Download for Windows Download for Mac
Note: Free edition allows you to import only a few emails from MBOX to Google Workspace directly. For a complete mailbox, purchase the software key.
Steps to Import MBOX to Google Workspace Account

Launch the application on your PC.
Choose MBOX files with dual options.
Select the G Suite option in the file saving list.
Enter your Google Workspace account details.
Click on the next to import the data.
How to Import MBOX Files to Google Workspace Account – Complete Procedure
Download the software on your Windows and Mac computer. Launch and read all the instructions.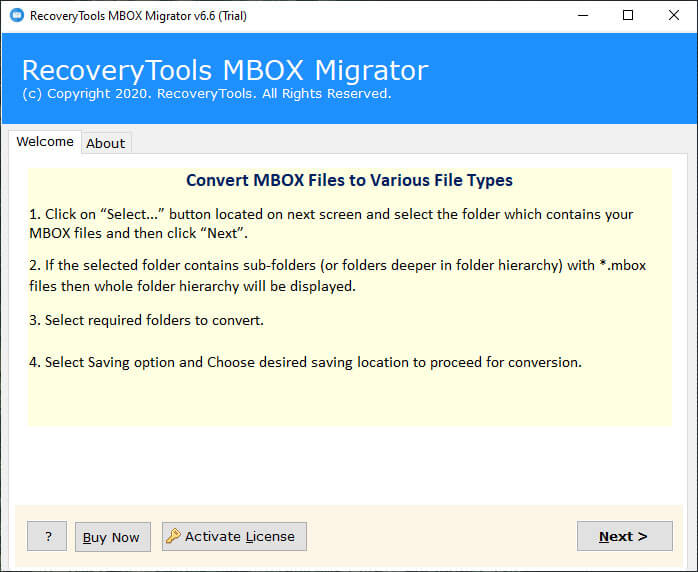 Choose MBOX files with dual selection options – Select Files, Select Folders.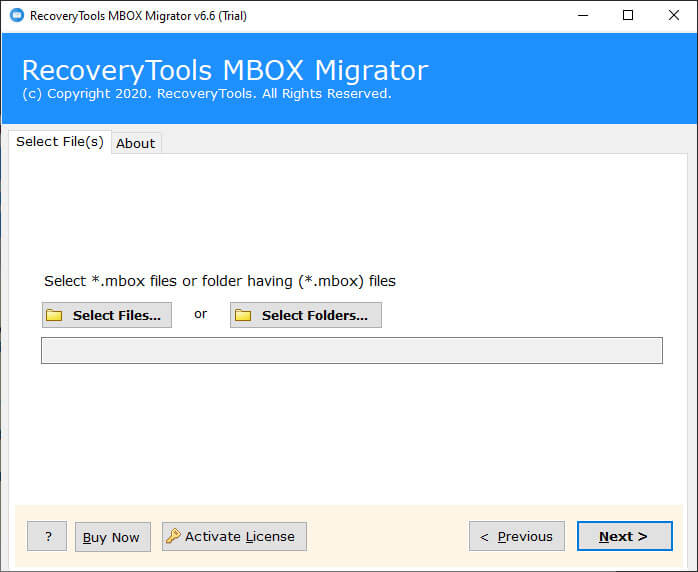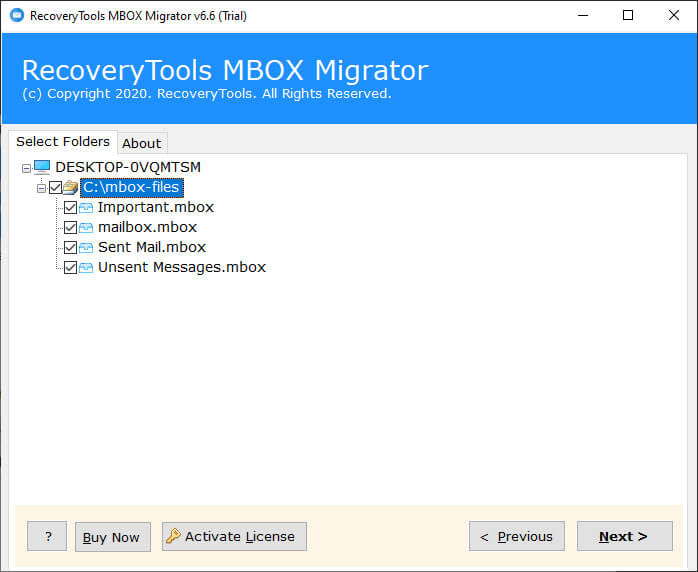 Choose the G Suite option in the list of file-saving options.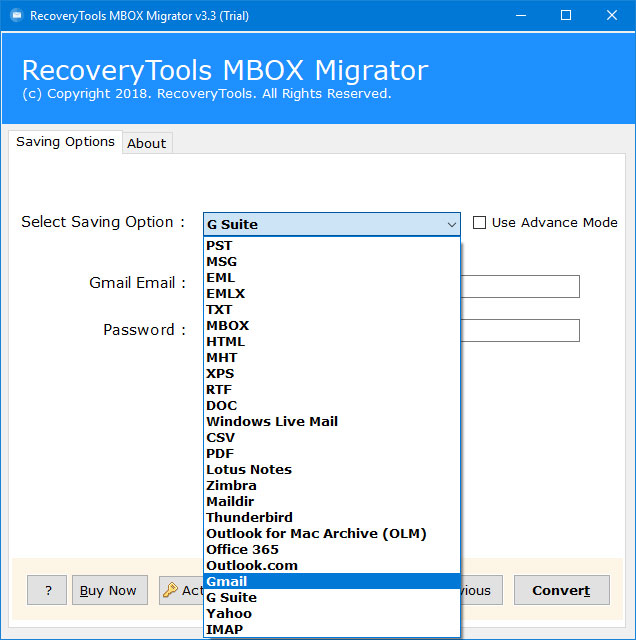 Select the additional filter options if you want to import the selective data.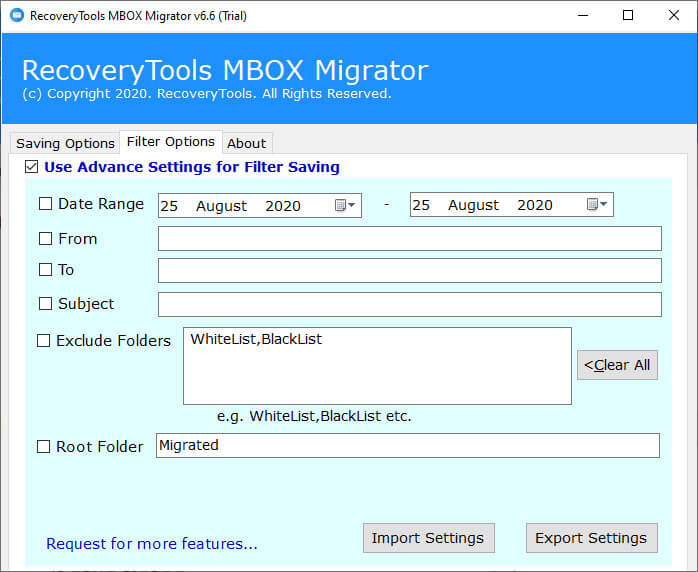 Enter your Google Workspace account credentials in the user interface panel.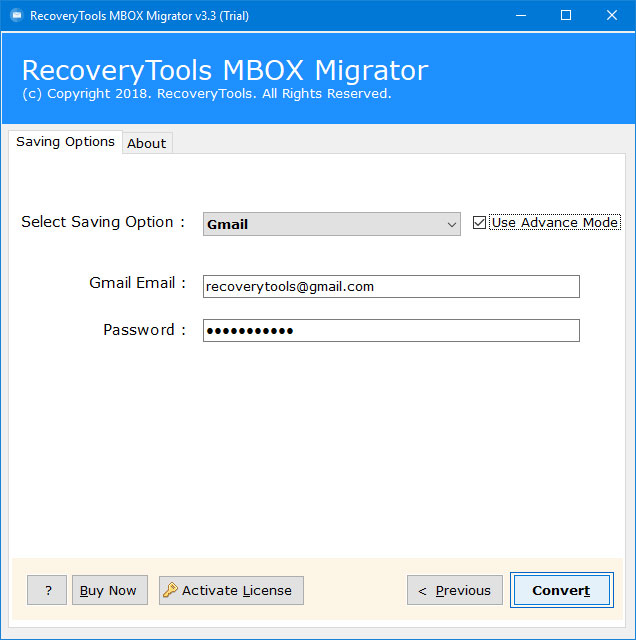 Click on the next button to import the files instantly in multiple numbers.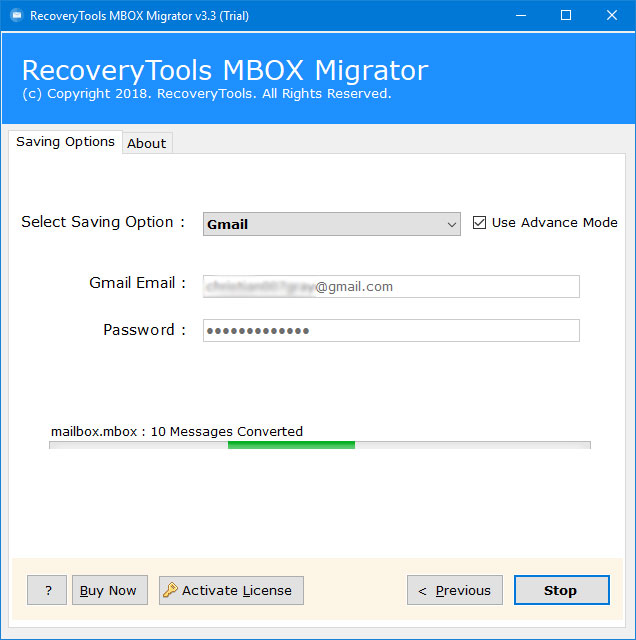 When the process is completed, press the ok key.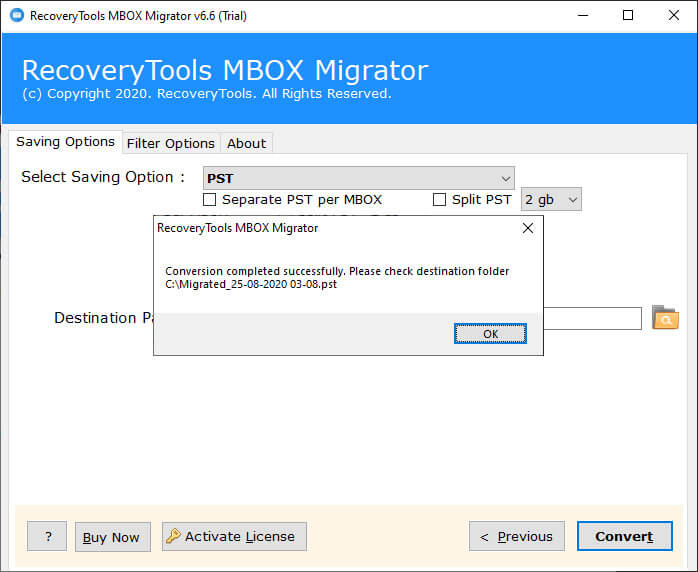 MBOX to Google Workspace Import Tool – Features Explained
Bulk Import Files to Google Workspace:
This tool has the ability to import an unlimited number of files instantly in a single attempt. Also, while importing the entire data there will not be any kind of loss in the hierarchy of files and folders.
Import Emails with Attachments:
If users choose to import only emails, the software will by default include attachments with them whether they are both normal or embedded. This makes the user's tasks easier and helps them to import the data properly to Google Workspace.
Keeps Intact MBOX Folder Hierarchy:
While the users are importing the data, then they no need to worry about maintaining any kind of consistency of the Data. In fact, the utility will automatically maintain the entire data integrity by maintaining the hierarchy of all the files or folders.
Preserves Email Elements:
During the import process, the tool properly sorts emails with attributes that make it easy for users to import the data in the original structure or format. The tool keeps intact all mail headers and it preserves the attachments, images, signatures, hyperlinks, etc.
Runs on All Windows and Mac OS:
It is compatible with all latest and earlier versions of the Microsoft Windows Operating System. You can launch it on Windows 11, Windows 10, Windows 8.1, Windows 8, Server 2019, 2016, 2012, etc. Also, the software runs smoothly on all Mac editions.
No Extra Installation Required:
This application is independent and does not require the installation of any external app in order to import MBOX to Google Workspace. Also, even a user from non-technical background can easily work on this software without the need of any kind of technical guidance.
Common Asked Queries
Can I use your software on my Windows 8 machine?
Yes, this application is compatible with any Windows OS. So, you can easily utilize the tool on your Windows 8 system.
Is there any facility to import MBOX messages of a particular date interval to my Google Workspace account?
Yes, use this tool to selectively import the data. The data filter options will help you to do so just choose the date range option which you need to enable for this.
What are the system requirements to install the given Import tool on my Windows Server 2019 system?
In order to launch this application on any Windows OS, you need to have 256 MB RAM and a minimum of 100 MB of free space on the hard disk.
I want to import Eudora mail MBOX files to Google Workspace. Will the tool allow me to do so?
Yes, why not! This software support MBOX files of any email client so you can efficiently import them to Google Workspace with it.
In Conclusion
Hopefully, now you would have a clear idea regarding the software used to import MBOX to Google Workspace account. The recommended tool is easy to use and comes with an uncluttered Graphical User Interface. You can even take a free trial of this application for evaluating the features of the tool. However, it will facilitate to import of the first 25 email items to Google Workspace. For enjoying unlimited import, please purchase the licensed version of the tool. For more information, contact the support team.