How to Export Emails from Eudora to PST Format ?
Karen Chard
~ Modified: 02-06-2022 ~ How To ~ 5 Minutes Reading
Quick Summary: Learn how to export Eudora to PST format with all mailbox items such as emails, contacts, calendars, etc. This blog covers the complete method for Eudora export to PST format. After reading this post, you can able to convert Eudora *.MBX to PST format easily. So, learn the method & read this post completely.
Eudora Mail was an exceptionally well-known email program previously created and offered by Qualcomm. This email service stores messages in MBX / MBOX format (with a .mbx extension). In recent days, it has halted its development and gave over to Mozilla. Because of some specialized issues.
This is the reason why people are looking for a similar application that gives all the latest updates regularly. Outlook is a similar application but offers many features that are not present in the Eudora platform. Unfortunately, Eudora doesn't support any server connectivity but Outlook is integrity with Exchange Server.
Outlook and other Microsoft products & platforms support PST format to archive and store its mailbox data. This PST format can hold all emails, contacts, notes, reminders, calendars, and other information. This is why people looking for a solution to export Eudora emails to PST format.
Reasons to Export Eudora Mailbox to PST
Listed below are few circumstances when the user needs to Export Eudora Emails to PST:
PST is a robust format by Microsoft that supports all platforms such as Outlook desktop client, Outlook.com, Office 365, Exchange Server, and many more.
It is a single format that stores all your email messages, address book, contact details, calendar entries, and many more.
For converting Eudora to Outlook, we need to export Eudora to PST format first.
A person needs to convert Eudora to PST format for some future references.
The employees of certain organizations need to work with the latest and best technologies.
A Simple Method – Eudora to PST Export Tool
Eudora Migrator by RecoveryTools is a very professional tool to export Eudora emails into PST files. The product provides a wide variety of benefits which was the lack in many applications. It supports to export Eudora emails to 25+ options including PST. Also, a user doesn't require any technical expertise while Eudora Export to PST process.
Download Product:
Steps to Extract Eudora Emails to PST Format
Download the software *.exe file.
Install it and choose Eudora mailboxes.
Pick the required PST option from saving options.
Set destination path to save converted PST files.
Press next to start Export Eudora to PST Process.
How to Export Eudora Emails to PST Format – Complete Process
Get the solution on your workstation. It only supports the Windows environment.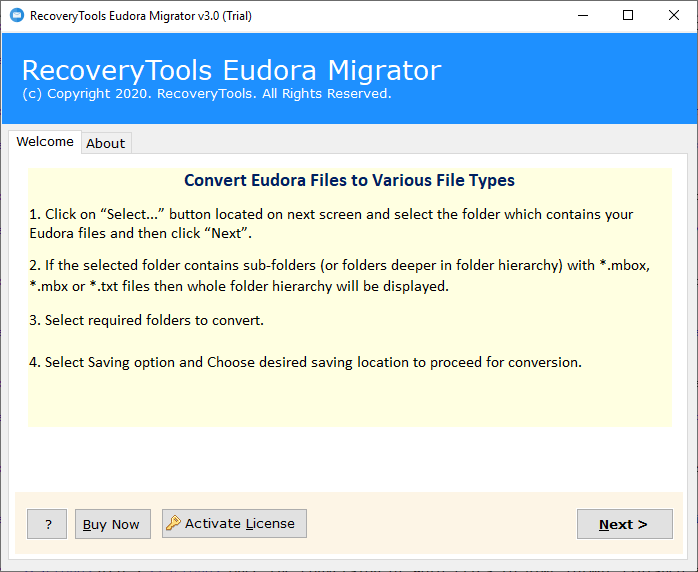 Now, a dual-mode option selection process is available. First is auto mode and another is manual options. It also facilitates the options to convert contacts & calendars separately.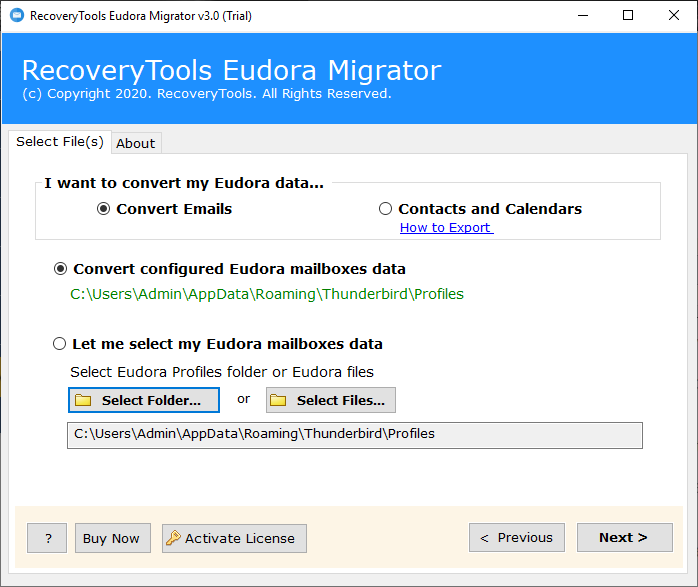 Choose the required data after selected the Mailbox folders of the Eudora client.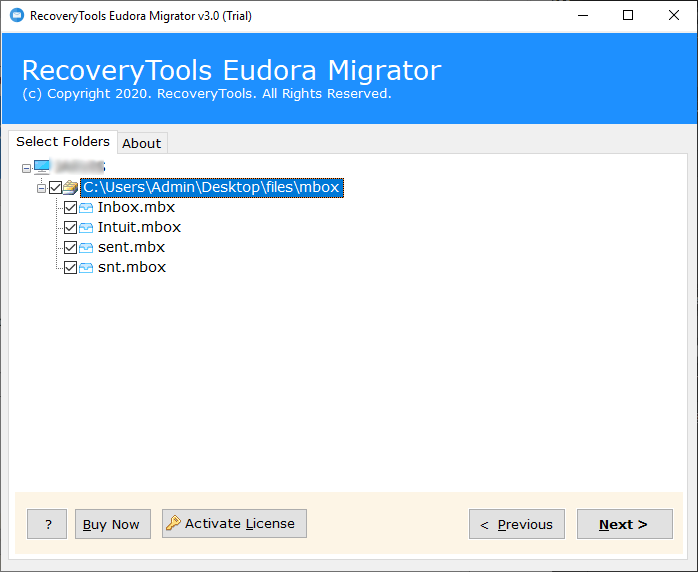 The product offers many saving options choose the PST option in the list.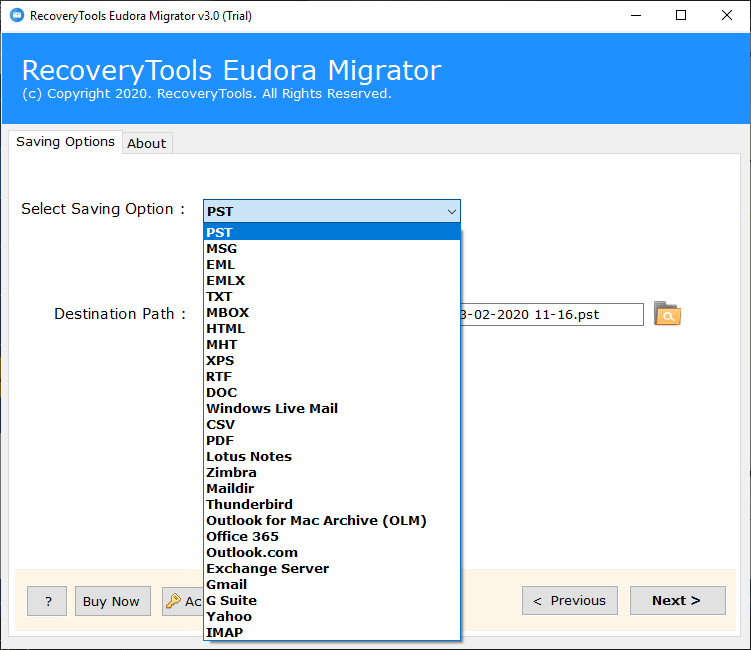 Now is the time to choose your resultant location path.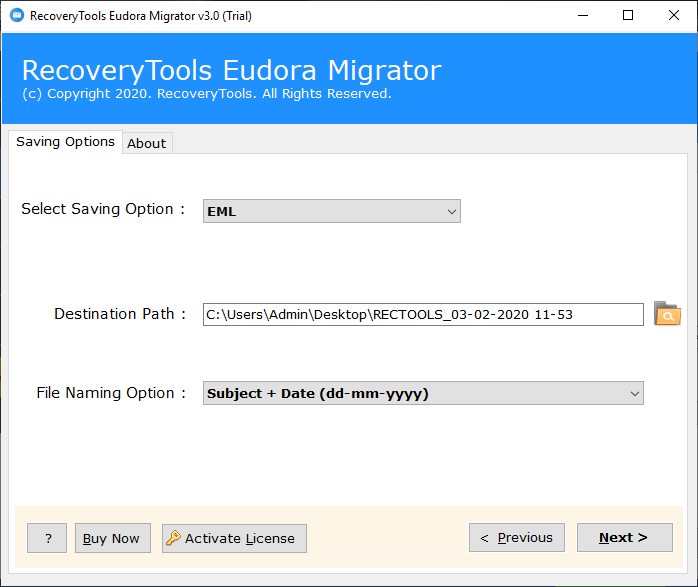 When all is done press the ok button to start the procedure of conversion.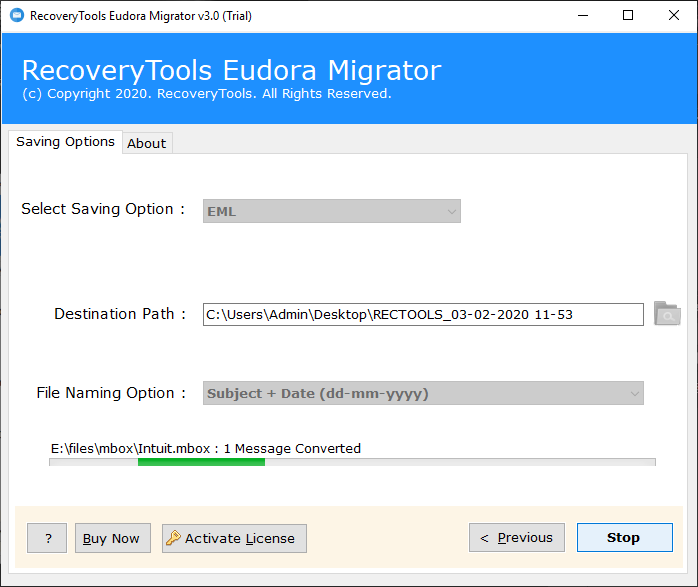 When it has been done, press the desired button.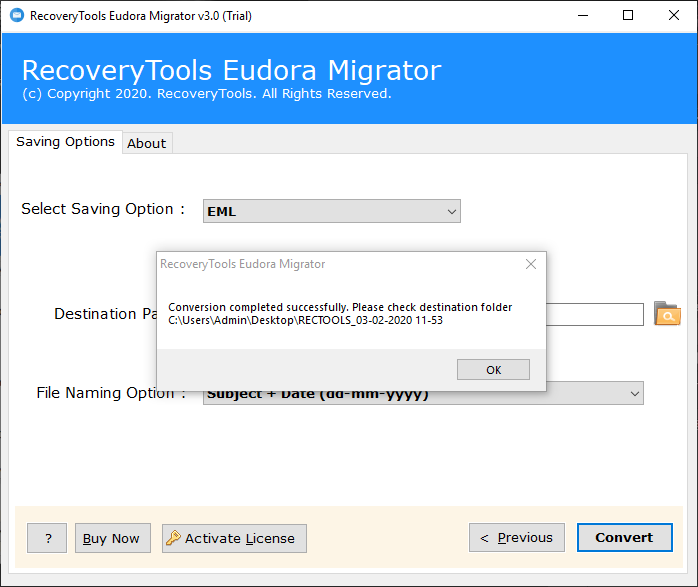 Read Top Features of Exporting Eudora to PST Tool
The process of this application is secure, smooth, and user-friendly to export Eudora to PST format.
The product allows manually selective multiple Eudora mailboxes conversion into PST format with dual-mode.
While the Eudora export to PST process, it doesn't consume a lot of time.
Instant export emails from Eudora to PST format. Just choose your mailbox and select PST format and start the process.
The solution generates UNICODE PST files after complete the conversion process.
There is no technical expertise is required to export Eudora mailboxes to PST.
It is a fully automated Solution which never hampers the originality of the data during migration.
The software keeps your email elements and data integrity while the conversion process.
The product supports both the *.mbx and *.mbox file format without any obstructions.
It works on all editions of Microsoft Windows machines or Server computers including the latest Windows 11.
User Problems Explains
Hi, I have two email accounts data configured in Eudora email client? I want to export both mailboxes in PST format. Which option is suitable to extract all mailbox data in PST?
You can select any option. If you have Eudora mailboxes files, then you can select the manual selection options. Otherwise, you can choose the auto option.
I have Windows 8.1 computer. Does it work on it ?
Definitely, the product supports your Windows 8.1 computer.
I want to extract Eudora contacts to PST format. Does it allow me ?
Sure, choose only contact folders from the list and select PST resultant option.
I have Linux Eudora exported MBX files. Can I use these files on my Windows computer ?
Sure, we have a Windows version of the application that supports all MBX files created by any operating system.
Conclusion
We will conclude that there is a need to export Eudora to PST format by using the RecoveryTools solution. Because Eudora doesn't allow you to extract emails easily. That's why we need a professional tool. We recommend you to download the above solution and export all your messages from Eudora to PST format. For any kind of help, contact the team by chat or email.
Also Read: