Complete Solution – How to Migrate Exchange to Thunderbird?
Karen Chard
~ Modified: 06-06-2022 ~ Exchange Server ~ 5 Minutes Reading
Overview: In this article, we get to know about how to migrate Exchange to Thunderbird Mail clients. One can easily migrate with all mailbox items like emails, contacts, calendars, tasks, notes, journals, etc. This can be done with the help of the tool which can be downloaded for free from here.
For a long period of time, a large number of users are looking for a way to migrate emails to Thunderbird email client. Users want to export Exchange Server mailbox items like Exchange Server 2019, 2016, 2013, 2010, 2007, 2003, 2002, & all other latest as well as the previous versions.
Thunderbird is a free & open-source email client available on Windows, Linux & Mac OS devices. This email client comes up as a news client, RSS, and Chat client, with IMAP, SMTP, & SSL/TLS settings. It enables the users to obtain a personalized email address like the name of your family or your business.
It will make you ready to set up & automatically ready to send & receive. Thunderbird allows an easy & perfect way to add people to your address book simply by clicking on the star icon of email or message. All the message & other data is stored on the cloud while Thunderbird stores it in local storage which is easily accessible for backup purpose.
Let us discuss the complete solution to migrate Exchange data to Thunderbird account instantly without facing any kind of issues.
A Smart Solution – Exchange to Thunderbird Migration
One such application is RecoveryTools Exchange Server Migrator software which provides a direct option to migrate the mailbox to Thunderbird Profile quickly & instantly. The utility maintains the originality of the mailbox items during the complete process. It only requires source login details like User/Domain Name, Password & Server Name.
The software supports both Hosted Exchange Server mailbox items as well On-Premise Exchange Server accounts. Users can migrate their emails & mailbox folders to the default Profile path. Moreover, it has been developed with technoligical algorithm that can be easily utilized by all the users from technical as well as non-technical background.
Free Download Exchange to Thunderbird Migration Toolkit:
Download for Windows Download for Mac
How to Migrate Exchange Emails to Thunderbird?
Install & Run mentioned migration tool & then choose Exchange Server or Hosted Exchange Server
The software asks the users to enter login credentials like Domain/User Name, Password & Server Name. Users can also login using Exchange Administrator account, which helps them to manually or automatically map mailbox folders of multiple users as per requirements.
It will start analyzing & fetching of all the mailbox items in the application panel.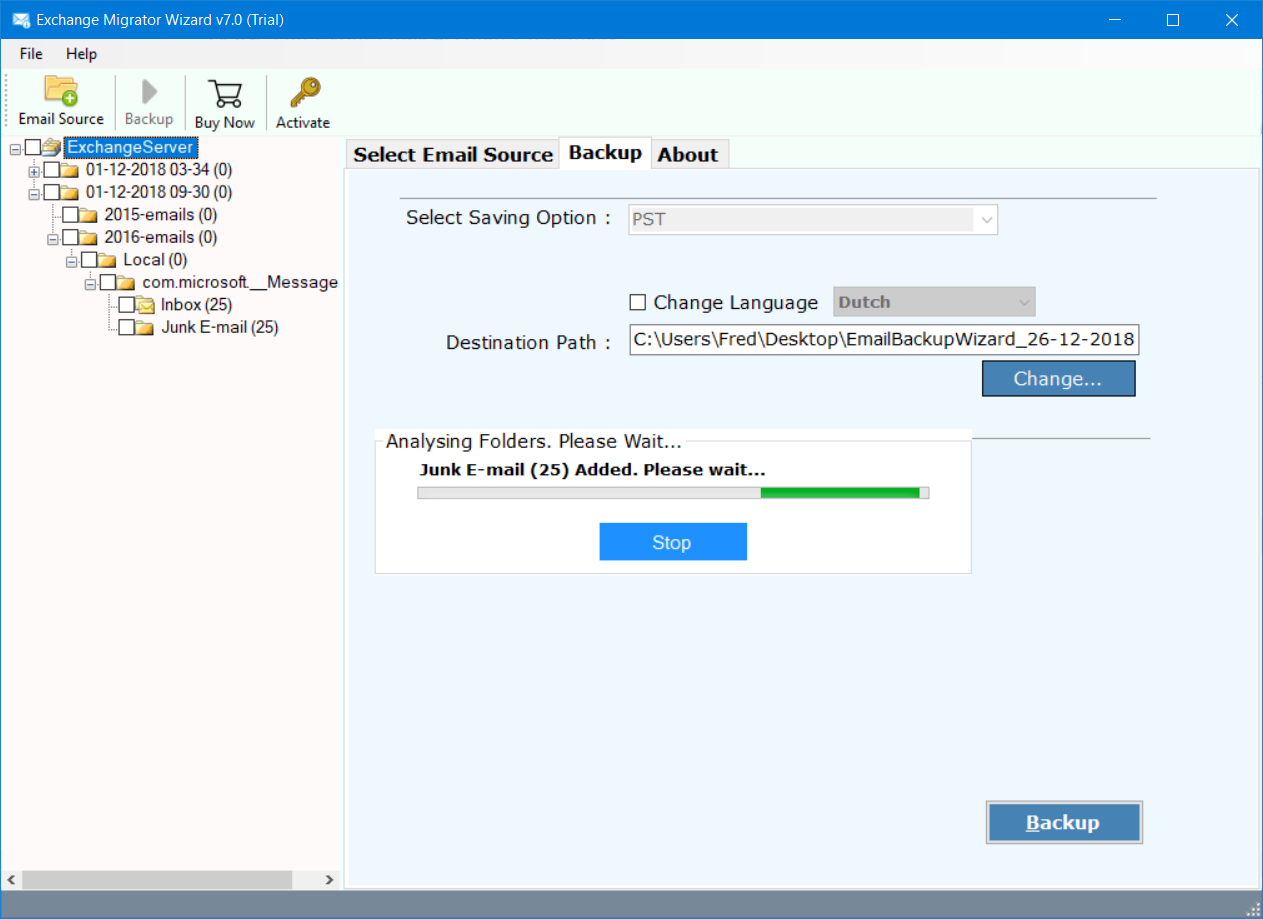 Choose Thunderbird option from the list of 30+ Saving option for the migration options.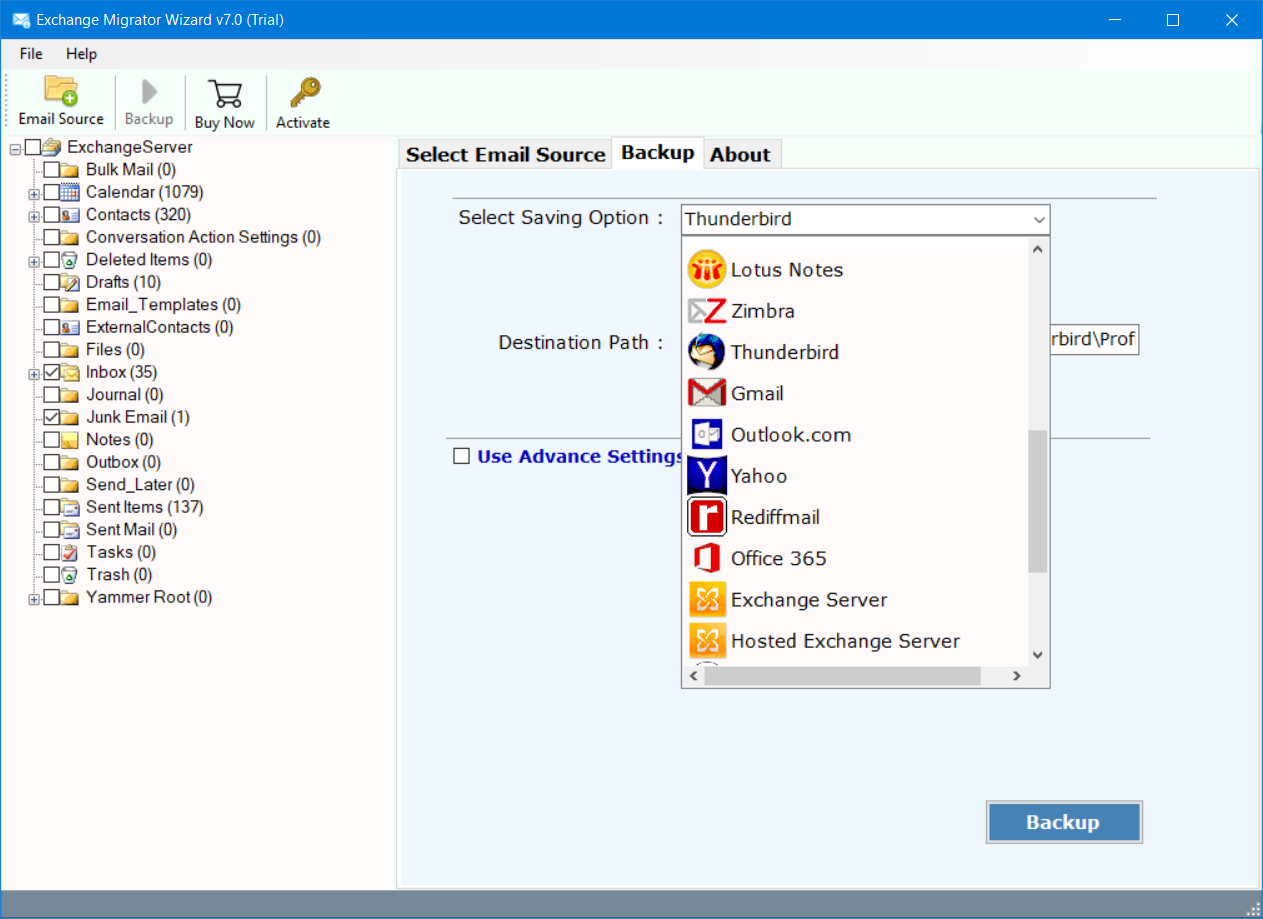 The software will display all the Saving option as well click on Use Advanced Settings for Selective Backup for the migration of selective Exchange mailbox items on the basis of Date Range, To, From & Subject of the utility.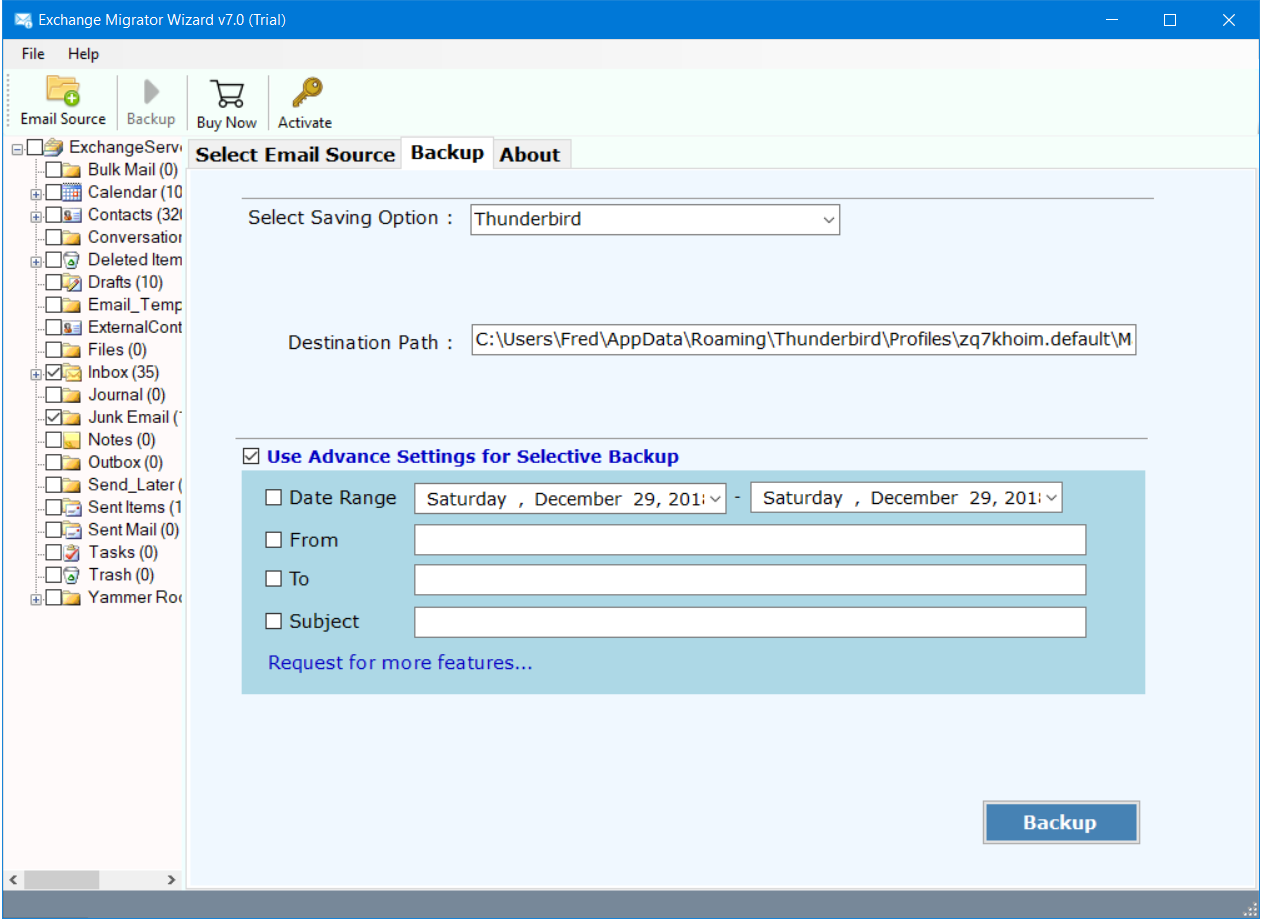 Click on Backup button to initialize the migration options as well as the software will also display the live process.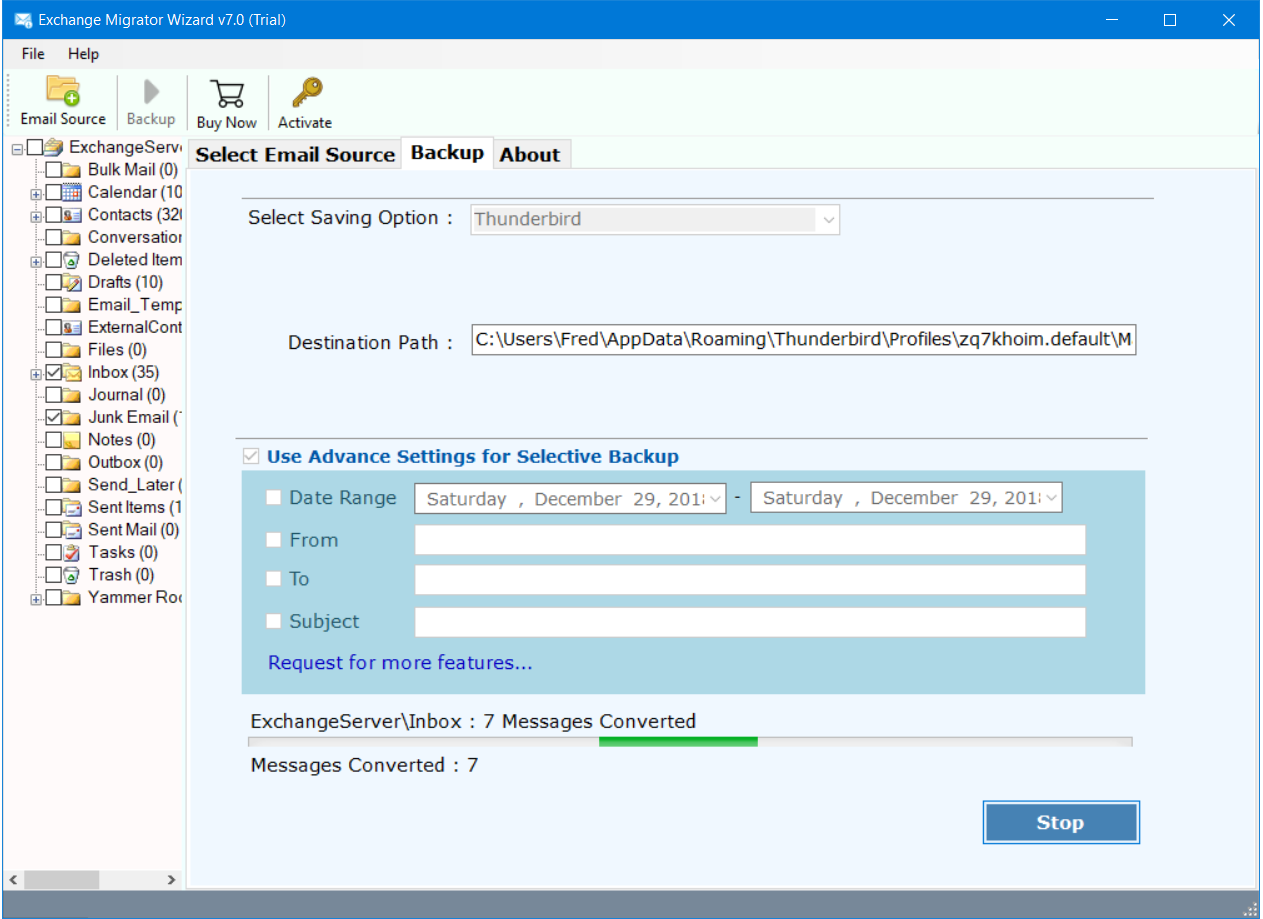 Once the migration process finished successfully. A confirmation message will be displayed to open Mozilla Thunderbird or check the converted folder. At last click on OK button to exit.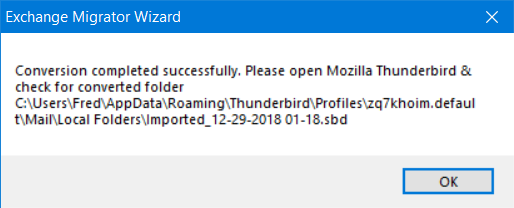 The software will automatically open the resultant migrated file location having all the mailbox folders.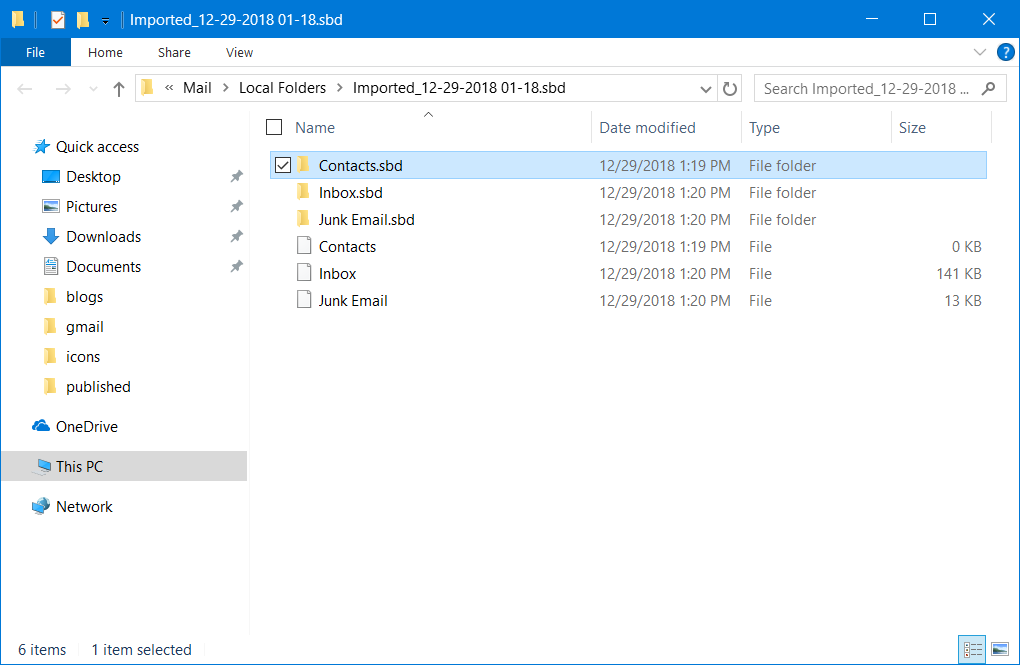 At last the software will generate a SavingLog report including all the information like Start Date & Time, Saving Type, Selected Source File Path, Folder file Path, Items Converted, as well Status of the process.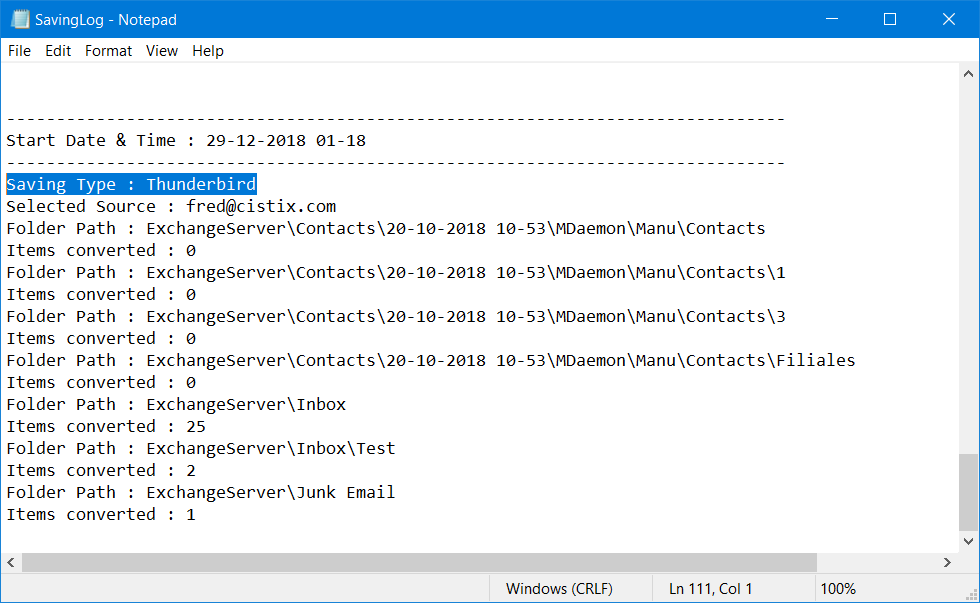 Hence, by performing these simple steps, you can easily migrate Exchange to Thunderbird account without imposing any kind of file size limitations.
Exchange to Thunderbird Migration Tool – Major Features & Benefits:
Just by entering the login credentials of Exchange Server, the entire data including all the mailbox items such as emails, contacts, calendars, and other data will be display on the screen.
Using I am Admin option, users can login using the administrator account to transfer mailbox of multiple users and enable automapping of user's mailbox account.
The tool also comes up with Advanced Filter settings. Users can easily apply filters such as date range, send email address, receiver's email addres, and subject of the message. There are multiple other options also available.
Moreover, the utility has the ability to maintain the on-disk system folder hierarchy of Server. During the migration process, all the mailbox items and hierarchy will not be interchanged or swapped.
The software will automatically detect the default Thunderbird Profile & export all the resultant mailbox items at that location.
This utility comes up with a user-friendly interface that is very easy to use. Any technical or non-technical user can use this software to perform the migration.
The toolkit creates a SavingLog report having all the information such as number of Items converted, source file path, start date & time, saving file type, destination folder path, & final status of the process.
The Verge
In this article, we get to know about how to migrate Exchange to Thunderbird mail client. With all emails, contacts, calendars, tasks, notes, journals, with all inserted attachments. A large number of users want to migrate the mailbox items can easily utilize this software. Use the free trial version of this tool and easily migrate 25 items at once from each folder. For more information, you can contacts with the technical team.